By Jeff White (jwhite@virginia.edu)
VirginiaSports.com
CHARLOTTESVILLE — The Virginia Cavaliers made more than nine 3-pointers in only one game last season: a loss to NC State in which they hit 10 treys. For the season, only ACC team made fewer 3-pointers than UVA, which ranked 12th in the league in 3-point field goal percentage (32.3).
It's still early in the new season, but the Wahoos no longer look like a team that can't shoot straight.
No. 18 Virginia sank 11 treys Monday night in its season-opening win over North Carolina Central at John Paul Jones Arena. Back at JPJ four nights later, the Hoos knocked down 13 long-range shots in an 89-42 rout of Monmouth.
For the season, UVA (2-0) is shooting 48 percent from 3-point range. Five Cavaliers have made at least three treys apiece: senior guard Armaan Franklin (6 for 11), freshman guard Isaac McKneely (5 for 10), sixth-year senior forward Ben Vander Plas (4 for 7), fifth-year senior guard Kihei Clark (4 for 9), and junior guard Reece Beekman (3 for 7).
"Does that guarantee you're going to be banging shots and shooting a [high] percentage [every game]?" Virginia head coach Tony Bennett said after his team's second straight 9 pm. game. "No, but it opens the floor and the threat is there … so that that part was good."
McKneely and Vander Plas, a graduate transfer from Ohio, are new to the program, and each had established himself as a strong 3-point shooter before arriving in Charlottesville. The returning Cavaliers have improved their marksmanship, most notably Franklin, who struggled from 3-point range for much of last season before catching fire in the National Invitation Tournament.
Against Monmouth (0-2), the 6-foot-4 McKneely led Virginia with four 3-pointers, and Franklin, Clark and Vander Plas added two apiece. The 6-foot-8 Vander Plas has bolstered UVA's offense in other ways, too. Twice in the first half he drove along the right baseline and then passed to McKneely for 3-pointers from the left corner.
"He's got very good vision," said Bennett, who played with Vander Plas' father at Green Bay. "He just sees things, and, boy, that makes the game easier for other guys. He creates."
McKneely, who's from the small town of Poca, W.Va., looked tentative in his UVA debut. He played nearly 23 minutes against NCCU but made only 1 of 4 shots.
"I thought he played a little more comfortable today than last game," Bennett said Friday night. "The competition was a little different, but you never know what you're gonna get. And he did that in Italy as well."
The Hoos traveled to Europe in August and played four games in Italy. At various times during the tour, each of UVA's four freshmen stood out, but fans are likely to see only two of those players in action this season. Bennett said Friday night that 6-foot-10 forward Isaac Traudt and 6-foot-5 swingman Leon Bond III are expected to redshirt.
"It's always up to the players," Bennett said.
Bond made his decision before the season-opener. Traudt met with Bennett after not playing against North Carolina Central.
"He just said, 'I think I can really go to work and develop my body,' " Bennett told reporters Friday night.
"Things can always change," Bennett said, "but those guys have a bright future and you just gotta look at the guys who've redshirted in our program, and you can feel pretty good about that."
Other players who've gone that route during Bennett's 14 seasons at UVA include De'Andre Hunter, Jay Huff, Devon Hall, Jack Salt, Kadin Shedrick and Francisco Caffaro.
Traudt, who's from Nebraska, is among the team's most talented 3-point shooters, "and he's showed good stuff," Bennett said, "but like all of those young guys, they have some areas to grow and I think they just feel like this is the best thing. So that'll be good."
The Isaacs are close friends, and they discussed Traudt's options this week.
"I think at first he didn't know if he wanted to," McKneely said, "but I think he sat down with his family and thought about it and decided to redshirt, and I think it's a good decision for him. It's a good time for him to get better and work, and he's still gonna push us in practice. He's been playing really well in practice, but I think this redshirt is good for him. He'll still have four years after this and he's gonna be scary good, especially after getting his redshirt year. I got a lot of faith in him and I can't wait to suit up with him next year, but he's gonna keep working. He's gonna be just fine."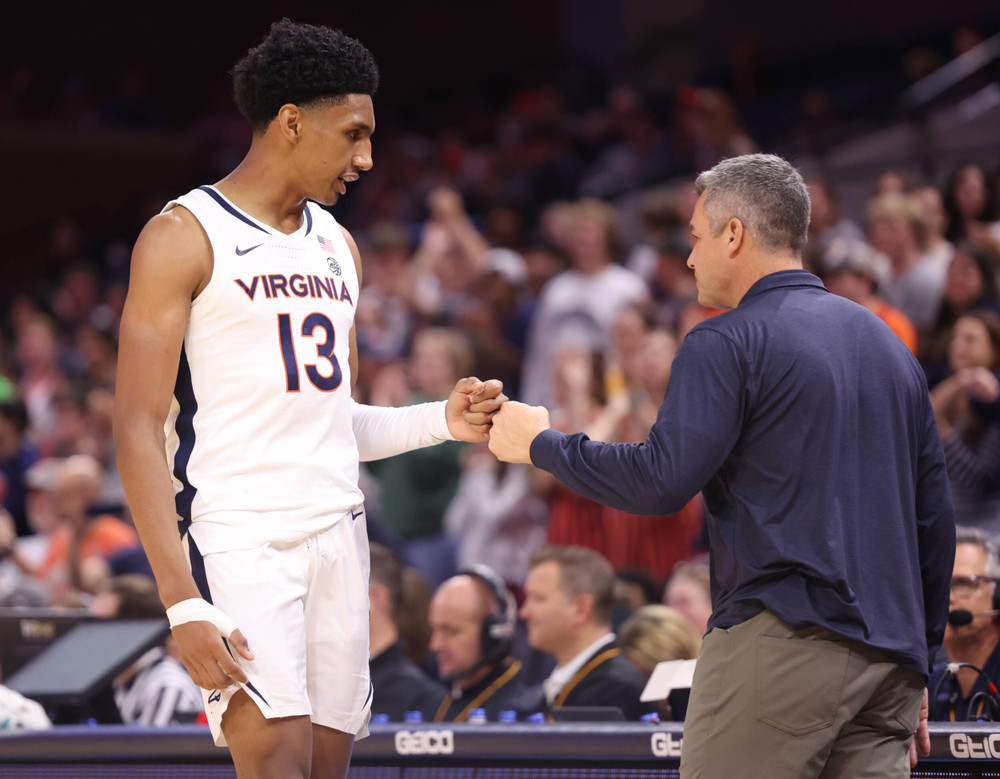 The fourth member of the first-year class, 6-foot-8, 208-pound forward Ryan Dunn, didn't play against NCCU. Bennett put him in at the 12:31 mark of the first half against Monmouth, and Dunn made it a night to remember.
"I'm not gonna lie," Dunn said, "for me, the first two minutes of the game, I was kind of nervous, because it was my first time ever in collegiate basketball. But again, it's a sport I play and I love, so once I got the flow of it, it was kind of just playing to play."
Dunn made his first shot as a Cavalier—a 3-point from the right wing—and finished with 13 points, six rebounds, two steals, two assists and three blocked shots in 26-plus minutes.
"I was really glad to see Ryan get out there," Bennett said. "You saw his length and athleticism, which was good and defensively, he made some plays."
Monmouth head coach King Rice wasn't as excited to see Dunn, who's from Freeport, N.Y., in orange and blue. Rice, a former North Carolina, hasn't forgotten that at one point in the recruiting process Dunn appeared headed to Iona.
"I wish Rick Pitino would have gotten that kid," Rice said, smiling. "Rick was the only guy recruiting him, and then Tony saw him late and he ends up at Virginia."
Rice is in his 12th year at Monmouth, which played UVA at JPJ in November 2017. He remembers being impressed that night by Hunter, then an inexperienced redshirt freshman. Hunter, of course, went on to help Virginia capture the NCAA title in 2019 and now plays for the NBA's Atlanta Hawks.
Dunn reminds him of Hunter at that stage, Rice said. "You can tell he's young, and when he grows into that body, with that skill set, it's going to be: Wow! He'll be giving people problems for a long, long time."
The Hawks gave Virginia problems for the game's first 10 minutes Friday night. The Cavaliers didn't take their first lead until the 12:31 mark, and two minutes later it was a two-point game. But once the Hoos heated up, they never cooled down.
"The wheels fell off on my boys," Rice said, "and that's OK. We'll live to fight another day."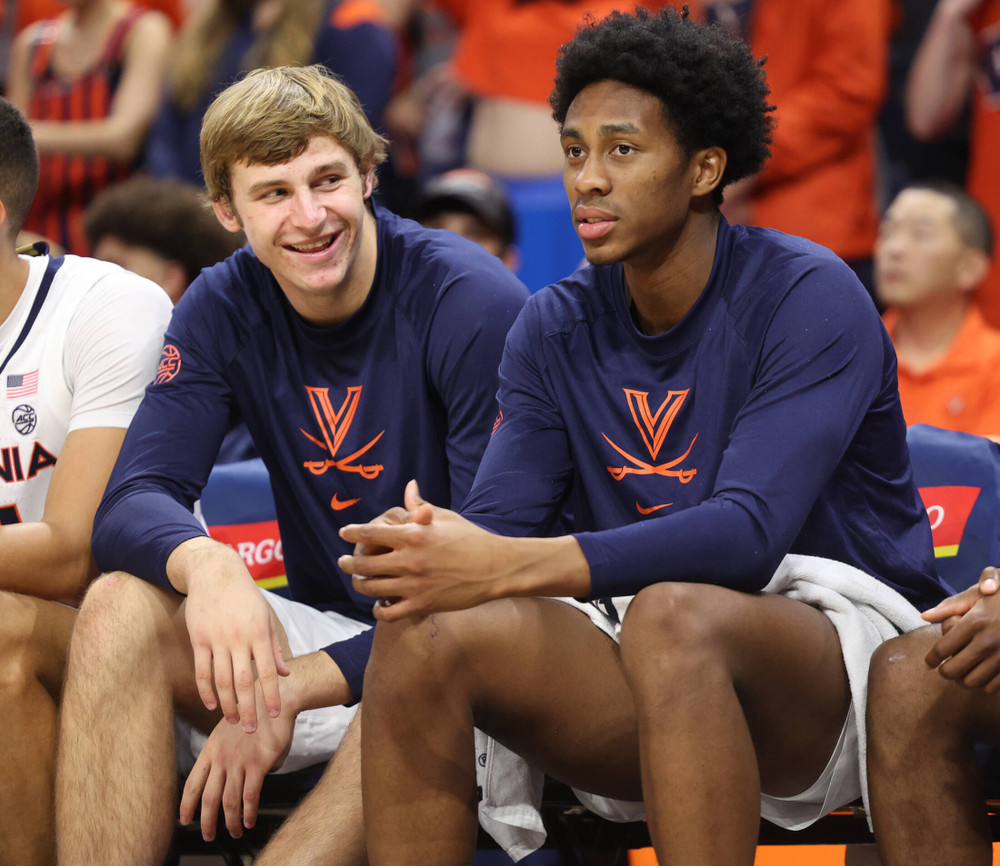 UP NEXT: Virginia's three-game homestand ends Monday night. In a game to air on ACC Network, UVA hosts Northern Iowa (1-1) at 8 o'clock.
That'll be the second all-time meeting between those programs. In December 2013, the Cavaliers defeated the Panthers 57-43 at JPJ.
Northern Iowa lost Friday night at Richmond.
SOUND BITES: Not since Nov. 16, 2018, when the Hoos hammered Coppin State 97-40, had they won by such a large margin. Among the postgame comments Friday night:
* Bennett: "I think [the Hawks] got tired and then we had some openings, but I don't have many complaints as far as how they were today after the first five minutes."
* Bennett on his team's 23 assists: "You love that when the guys make the extra pass, and it just was good to see that ball moving."
* Bennett on Vander Plas: "He fits. You could put him anywhere with any team and he's gonna help them, the way he plays."
* Dunn on his UVA debut: "It's only one game. We have a whole season, so [Saturday] I have to just let that go and focus on [the next] game."
* Dunn on the team's summer tour: "Italy was an amazing trip. I think off the court we got to bond as well as a team and get to know each other, and for us four [freshmen], learning about the older guys and understanding what they do and seeing them on the court playing and not just in practice was a great experience."
* Rice: "This is my 12th year, and you're going to have some nights like this."
To receive Jeff White's articles by email, click the appropriate box in this link to subscribe.