By Jeff White (jwhite@virginia.edu)
VirginiaSports.com
CHARLOTTESVILLE — As Sunday gave way to Monday, additional details continued to emerge about the shooting that took the lives of three University of Virginia students and injured two others on Grounds.
The news that football players Devin Chandler, Lavel Davis Jr. and D'Sean Perry had been killed after returning from a field trip rocked every part of the University community. The men's basketball team gathered virtually on a Zoom call Monday morning to discuss the situation. After UVA's game against Northern Iowa, scheduled for that night at John Paul Jones Arena, was canceled, the team gathered at the home of head coach Tony Bennett and his wife, Laurel.
"The best thing we did was get together," associate head coach Jason Williford said from Las Vegas, where the 16th-ranked Wahoos will play in the Continental Tire Main Event this weekend. "We needed to be around each other on Monday when we got that news. We just told the guys, 'If you need to talk, we're here.' "
Later Monday night, the players headed to the South Lawn for the student-led vigil. They returned to JPJ for practice on Tuesday morning.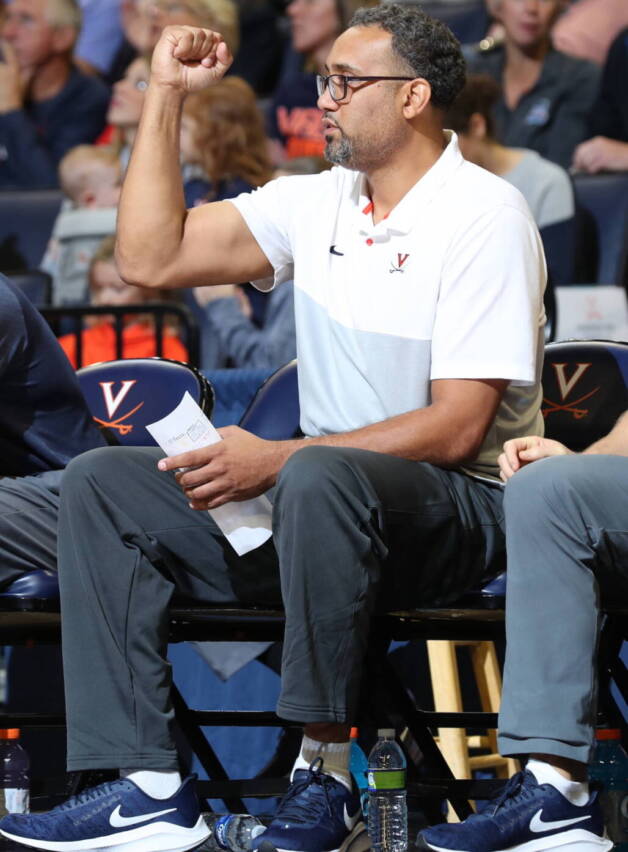 "The mood was somber, and guys were noticeably more quiet than normal," Williford said. "But I think for them, and I can just speak personally, anything that happens like this, a lot of times your sport and being with your teammates becomes the outlet. And so I think they used that as their outlet and tried to be somewhat normal and get back into whatever a normal routine is now. And I think being able to be on the floor allowed them, at least for those two hours, to not have to focus and deal with what's going on and give them a little bit of a reprieve from that."
Bennett said: "It's been really sad and really hard, and a number of our players are close with the football team, and specifically with those guys [who were killed]. We've talked about trying to be together and the things that are going on. I just keep thinking about that football program, those players and those coaches, and then the families and what they're going through."
The first UVA team to return to competition after the shootings was women's basketball. In Chicago, the Cavaliers rallied to defeat host Loyola 68-62 on Wednesday night.
"This was difficult," Amaka Agugua-Hamilton, who's in her first year as Virginia's head coach, said afterward.
"Our community's hurting. Our university is hurting. Our athletic department is hurting. Our football team is hurting, all those student-athletes and our players. We had several players that were very close to those three amazing young men, and just for us to have the courage to come out here and compete and band together and fight through adversity is very inspiring."
Her players "were emotional in warm-ups," Agugua-Hamilton said. "They were emotional all day, but they wanted to play, so I stood behind them. I wanted them to be able to make that decision and they wanted to play to honor [Chandler, Davis and Perry], and I think they did that tonight."
The Cavaliers wore patches on the sleeves of their shooting shirts with the numbers 1, 15 and 41—those of Davis, Chandler and Perry, respectively—in hearts above the words "UVAStrong," and they'll continue to do so for the rest of the season.
Bennett's team will pay tribute to the fallen players in similar fashion.
"I just want to remember those guys," Williford said. "They were taken way too soon. Lavel, I knew. I had several interactions with him. My boys knew him. He was like a gentle giant. That one hit me hard.
"Nothing prepares you for these situations. There's no handbook for this. But if you've got faith, you've got to rely on that to get through this, and we'll get through. We're going to be UVA Strong."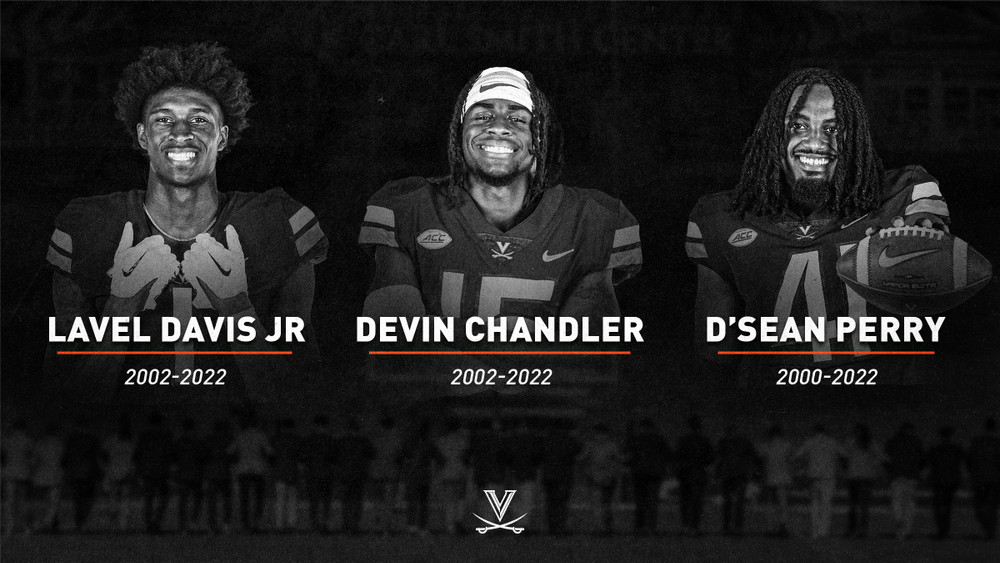 Bennett said he takes some comfort in knowing that the victims had "real faith in something other than just this world. The sadness and the mourning and the pain is for all those left behind, but I truly believe they're rejoicing and experiencing something beyond their greatest imaginations, because of what they stood for and what they believed. I hold to that, and I certainly mourn them. We all do, and our hearts break for their families and that team."
Virginia's coaches have heard from others in the profession, including Scott Drew, head coach of the Baylor men's basketball team.
"They've got a lot of people praying for them," Drew told reporters this week.
No. 16 UVA (2-0) will play two games in Las Vegas. The first is Friday at 7 p.m. Eastern against No. 5 Baylor (3-0). Virginia will face No. 8 UCLA or No. 19 Illinois on Sunday.
"This is such an elite tournament we're in," Bennett said. "You just have to be as ready as you can. You kind of have to compartmentalize. It doesn't mean you forget, but you go out and take a step forward. But of course there's sadness, of course your thoughts shift to things.
"It's not like it's going to go away. This is such a big burden for young people and those families and that football program. And, again, everyone has different ways they try to respect and honor and pay tribute. We'll try to go out and be ready as we can and play as hard as we can."
Williford said: "Emotionally, it's been a rough week, and we've got really good opponents in this event. It'll be hard, but we'll have to find a way to muster up the energy and do it for those guys."
A UVA alumnus, Williford is tight with several members of the football staff, including associate head coach Marques Hagans, assistant coach Chris Slade and director of high school relations Blanda Wolfe.
"I know how close Marques was to his receivers," Williford said. "They were like family to him."
Injured in the shooting were Mike Hollins, a running back on the football team, and Marlee Morgan, a student-manager in UVA's track & field program.
"I pray for the families of the victims, I pray for the coaches. I pray for our administration, the University, the community," Williford said. "That vigil was special, the students being able to come together. I couldn't put into words what it would feel like for the parents to get that call. But I just want them to know that we all have them in our thoughts and in our prayers. Whatever we can do on our end to help, we'll do it."
To receive Jeff White's articles by email, click the appropriate box in this link to subscribe.