By Jeff White (jwhite@virginia.edu)
VirginiaSports.com
CHARLOTTESVILLE — In its next game, the University of Virginia men's basketball team will face an opponent whose roster includes 7-foot-1 Hunter Dickinson, 6-foot-8 Jett Howard, 6-foot-7 Terrance Williams II and 6-foot-10 Tarris Reed Jr.
"They're big," UVA head coach Tony Bennett said of the Michigan Wolverines.
That wasn't the case with Virginia's opponent Friday night at John Paul Jones Arena. The University of Maryland Eastern Shore's tallest starter is 6-foot-5 Nathaniel Pollard Jr., and the fifth-ranked Cavaliers, not surprisingly, dominated inside in a 72-45 victory.
In the first 38 minutes, the Wahoos (5-0) hit only two 3-pointers, and they finished 5 for 15 from beyond the arc. It didn't matter against the overmatched Hawks (2-4).
Senior forward Jayden Gardner, who led Virginia in scoring in 2021-22, hasn't been as productive this season, in part because the team has more options offensively, including 6-foot-8 Ben Vander Plas, a graduate transfer from Ohio. Against UMES, however, Gardner was virtually unstoppable. In his 25 minutes, he made 12 of 15 shots from the floor, plus 2 of 5 free throws, for a 26-point outburst.
At 6-foot-6, Gardner isn't tall for a post player, but he's a powerfully built 233-pounder with crafty moves around the basket.
"He's got the weight advantage, he's got the size advantage, the maturity advantage, the skill advantage, and the toughness advantage," UMES head coach Jason Crafton said, "and he took advantage of it."
Gardner averaged 15.3 points per game in 2021-22, his first season at UVA. He came into the UMES game averaging 7.8 points and shooting only 35 percent from the floor, but he looked comfortable and confident from the start Friday night. He scored 18 points as UVA built a 40-22 halftime lead.
"I thought he played well offensively for sure," Bennett said, "and the guys did a really good job of finding him and he did a good job sealing and finishing and slowed down … And so that was good to see, because I think he's been a little bit rushed at times, but we're going to need that that offensive punch that he gives us, because when he's aggressive, but not rushing, that's when he's at his best and I think that really helps us."
UMES also struggled to contain Kadin Shedrick. The 6-foot-11 redshirt junior scored 13 points and added three rebounds, a career-high three steals and two blocked shots in his 17 minutes.
"Going into the game, we knew that they were much smaller than us," Shedrick said. "So I think it just came naturally. We should be able to get buckets inside, [and] our guards came out and helped us get the ball inside."
Gardner said: "The guys were feeding us tonight. So I think it just goes back to what I said about [this being an] unselfish team, because you don't know whose night it could be."
Virginia starts three guards—fifth-year senior Kihei Clark, junior Reece Beekman and senior Armaan Franklin—and they combined for 13 assists Friday night. Beekman scored nine points, and Clark and Franklin added five apiece.
"We neutralized their best guards, and that was a key for us," Crafton said. "We said, 'If we're going to lose, we're going to lose on their forwards making foul-line jump shots,' and Gardner made a whole lot of those bad boys."
As they did last weekend in Las Vegas, where they won the Continental Tire Main Event, the Cavaliers wore warmup shirts bearing the names and jersey numbers of Devin Chandler (15), Lavel Davis Jr. (1) and D'Sean Perry (41). A moment of silence was held before the game to honor the memories of the three UVA football players, who were shot and killed Nov. 13 after returning from a class field trip to Washington, D.C.
"I continue to think about the football team, the staff and those families," Bennett said, "and I think about them all the time."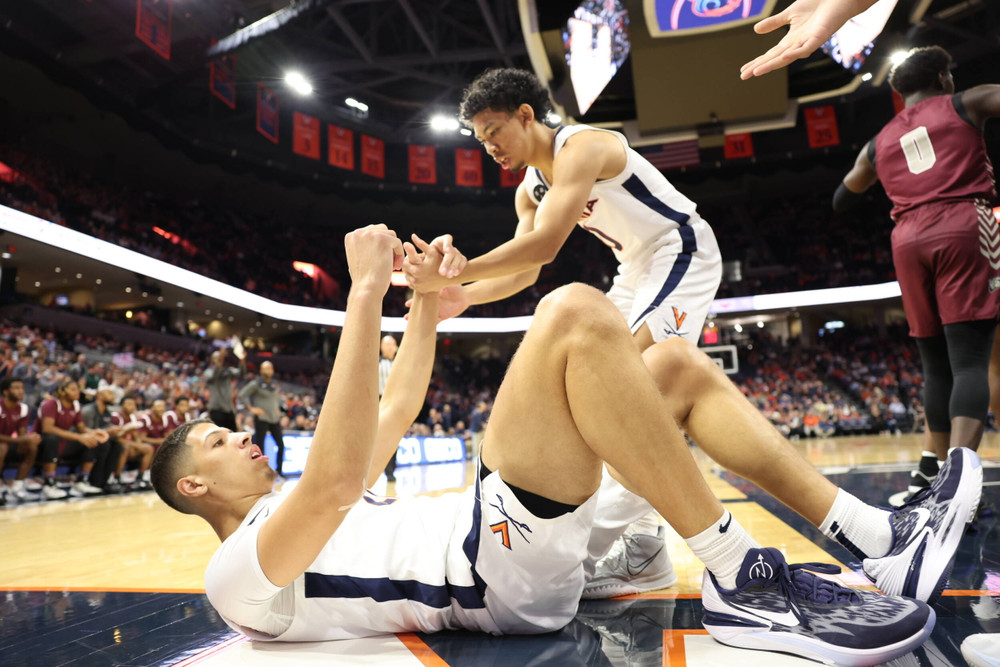 UP NEXT: The Cavaliers travel to Ann Arbor, Mich., for their ACC/Big Ten Challenge matchup. At 9:30 p.m. Tuesday, in a game to air on ESPN, Virginia (5-0) takes on Michigan (5-1) at the Crisler Center.
It's an arena with which Bennett, a former assistant at Wisconsin, is familiar. "Every game will present different challenges," he said. "Now you'll go in a hostile environment against a high-quality team with size and ability, and you'll have to do the same and outlast 'em."
In Dickinson, who's listed at 260 pounds, the Wolverines have an old-school center who's at his best on the low block. A product of the storied program at DeMatha Catholic High in Hyattsville, Md., Dickinson, is averaging 18.5 points and 9.5 rebounds, and he's shooting 60 percent from the floor.
Shedrick said Friday night that he had yet to begin studying the Wolverines, but "I know they have Hunter Dickinson. He's an elite talent. I'm looking forward to the challenge."
Michigan's head coach, Juwan Howard, starred as part of the Fab Five at the Big Ten school. He has two sons on the team: Jace Howard, a junior guard, and Jett Howard, a freshman guard who's averaging 15.2 points per game.
The Virginia-Michigan series, which dates back to 1951, is tied 2-2. In the teams' most recent meeting, on Nov. 29, 2011, the Hoos defeated the No. 14 Wolverines 70-58 in an ACC/Big Ten Challenge game at JPJ.
Virginia's record in the Challenge is 13-8. UVA lost 75-74 to Iowa last season at JPJ.
SOUND BITES: The win raised Bennett's record at UVA, where he's in his 14th season, to 321-117. The program's all-time winningest coach, Terry Holland, went 326-173 in 16 seasons. Among the postgame comments Friday night:
* Shedrick, who's second on the team (behind Beekman) in steals this season: "In my head I see it as a competition with Reece. I let him know. I'm like, 'I'm right behind you, bro. I'm gonna get you.' … I've just been trying to play with active hands and my long arms and it's worked so far."
* Shedrick on the Cavaliers' improved depth this season: "It could be anybody any night, and obviously today was it Jayden's night."
* Gardner: "We've got a lot of capable scorers and we're just gonna keep playing together. And we're playing very unselfish basketball right now. I think we had 18 assists tonight."
* Crafton on the Cavaliers: "Their overall length and size at every position is good, outside of the point guard spot. You feel like you've got an opening for two seconds, and then it's gone. I thought they had a great game plan, and I thought we struggled to score against their length, their size and just their overall girth."
To receive Jeff White's articles by email, click the appropriate box in this link to subscribe.