By Jeff White (jwhite@virginia.edu)
VirginiaSports.com
ANN ARBOR, Mich. — At the Continental Tire Main Event in Las Vegas, the University of Virginia men's basketball team proved it could defeat talented opponents away from the friendly surroundings of John Paul Jones Arena. The Cavaliers beat Baylor in their tournament opener in Vegas and then topped Illinois, whose fans dominated the crowd at T-Mobile Arena.
Not until late Tuesday night, however, had UVA been tested in a true road game. And that made the third-ranked Wahoos' achievement that much more impressive.
Virginia, which trailed by 11 points at halftime, rallied to edge Michigan 70-68 in an ACC/Big Ten Challenge game at the Crisler Center.
The Fighting Illini "have a lot of fans," UVA junior guard Reece Beekman said, "but coming in we kind of knew this would be our first road test, and we wanted to just show that we could play in this environment and go through adversity. Down 11 at the half on the road, it's not easy to come back from, so everybody showing poise and leadership was [crucial] for us tonight."
Michigan (5-2) missed five of its first six shots from the floor, and UVA led 9-2 four minutes into the game, to the dismay of all but the smattering of orange-clad fans in the crowd of 11,000. But the Wolverines soon heated up against an uncharacteristically generous Virginia defense. Michigan hit 18 of its final 25 shots from the floor in the first half, including seven 3-pointers, and led 45-34 at the break.
Offense wasn't an issue for the Wahoos, who shot 56 percent from the floor in the first 20 minutes, but they struggled to get stops, and it's not hard to guess how that went over with Tony Bennett. Back in the locker room, UVA's head coach channeled his biggest mentor: his father. In his legendary coaching career, Dick Bennett won big at several schools, including Wisconsin, and at the heart of his philosophy was a commitment to rugged man-to-man defense.
"As my father would have told me many times, take your tuxedo off and start getting gritty and playing some real defense, because I thought we were playing with our tuxedos on," said Tony Bennett, who's familiar with the Crisler Center from his days as a Wisconsin assistant.
"We didn't want to get dirty. We weren't pressuring the ball. We weren't bothering shots … And so at halftime we just said, 'Look, either we're going to toughen up and try to make them earn and get stingy defensively, or we're not going to be able to get back in this thing, and let's make it hard.' "
That's exactly what happened. By the 15:43 mark of the second half, UVA had cut Michigan's lead to two points. The Wolverines pulled away again and led by six midway through the second half, but the Hoos kept battling against a talented opponent led by 7-foot-1, 260-pound Hunter Dickinson, who's from Alexandria, Va. Point guard Kihei Clark's two free throws tied the game at 58-58, and forward Ben Vander Plas scored on an up-and-under move to put Virginia ahead 60-58 with 7:26 to play.
Vander Plas, a graduate transfer from Ohio University, hit a jump hook to make it 62-60. Then he buried a 3-pointer to push the Cavaliers' lead to 65-60 with 5:14 to play.
"I remember in the first half a couple of times when Dickinson was guarding me, I had a couple of open looks I didn't shoot and guys were telling me to let it go," Vander Plas said. "So I caught that one and hesitated for a second, but I had a little bit of space and had to let that one go."
Now it was Michigan's turn to rally. The Hoos went cold, and the Wolverines scored six straight points. Virginia refused to break. With 39.9 seconds left, another one of the Cavaliers' many veterans, fifth-year senior forward Jayden Gardner, made a jump shot from the right elbow.
"That was a big-time shot he hit," Bennett said.
Gardner's basket put the Hoos back up, 67-66, and then junior guard Reece Beekman was intentionally fouled after coming up with the game's biggest steal. Beekman split a pair of free throws, after which Clark went 2 for 2 from the line to make it 70-66 with 14.2 seconds left.
More drama followed. The final two of Dickinson's game-high 23 points cut Virginia's lead to 70-68 with 6.9 seconds remaining, and then the Wolverines fouled Armaan Franklin.
A senior guard who began his college career at Indiana and knows Big Ten arenas well, Franklin could have sealed the victory for UVA. He missed both free throws, however, giving Michigan a chance to force overtime or win in regulation. But freshman guard Jett Howard, blanketed by Gardner and Beekman on the right wing, lost control of the ball as he was rising for a 3-point attempt. Time expired, and the Cavaliers could finally exhale.
"You just can't lose your way," Bennett said. "No matter how it looks, you just keep chipping away, and that's what the guys did."
Bennett's halftime message had the desired effect on his players, Vander Plas said. "Coach let us know the things we were lacking in the first half, and I think we all knew it. But that's a time when you kind of need that kick in the butt, and we got that from him. We just knew we had to take one possession at a time. That's kind of the biggest thing we talked about amongst ourselves. We were down nine or 11 at the half, and you're not gonna get 11 points in one play. So we talked about one bucket, one stop at a time, and we did that for 20 minutes."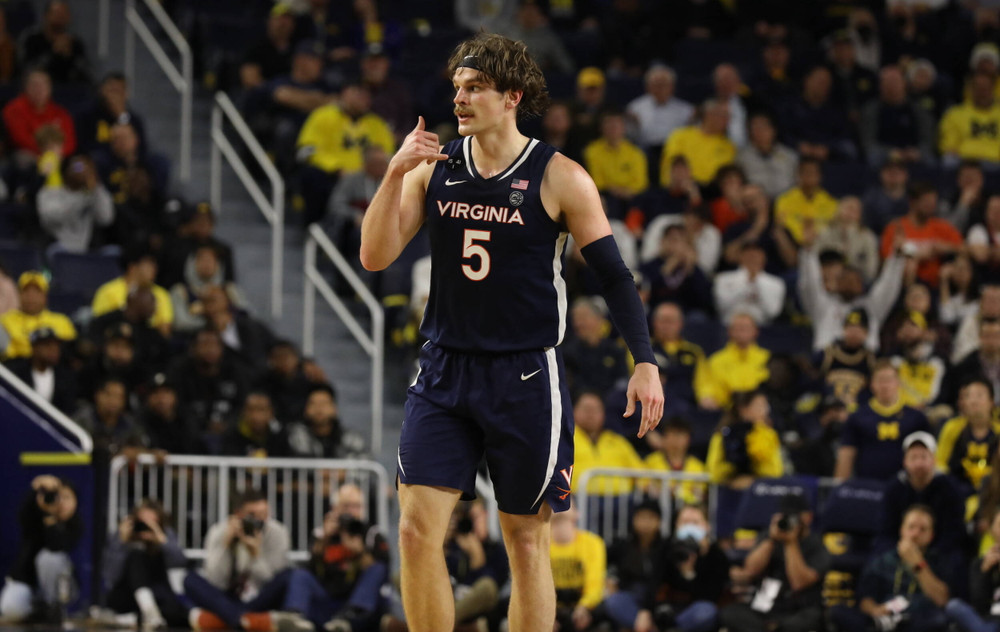 This was the first meeting between these programs since Nov. 29, 2011, when the Hoos defeated the No. 14 Wolverines 70-58 in an ACC/Big Ten Challenge game at JPJ. It came less than three weeks after three UVA football players were shot and killed in Charlottesville, Va. Both teams wore warmup shirts honoring the victims—Devin Chandler, Lavel Davis Jr. and D'Sean Perry—and a moment of silence was observed before the game, which started at 9:36 p.m.
The Cavaliers' cheering section included Braxton Key, an important member of the team that won the NCAA title in 2019. Key now plays for the Detroit Pistons, and he hustled over to Ann Arbor after their home game against the New York Knicks earlier Tuesday night.
Key caught a vintage second-half performance from his former team. Five players scored in double figures for Virginia: Beekman (season-high 18 points), Clark (16), Gardner (12), Kadin Shedrick (12) and Vander Plas (10). Of those five, only Beekman has been in college fewer than four years.
"That stuff, that matters," Bennett said of his team's experience. "There's no substitute for it. I've said that a hundred times and I think that was important."
In a show of support for the United States men's soccer team, Vander Plas wore a Christian Pulisic jersey for most of the day, and he put it back on after the game at the Crisler Center. Pulisic, of course, scored the winning goal in the U.S.'s win over Iran in the World Cup on Tuesday afternoon.
"It's been a good day," Vander Plas said, smiling.
UP NEXT: The Cavaliers are back home Saturday for their ACC opener. At 2 p.m., UVA hosts Florida State at John Paul Jones Arena. The game will air on ESPN2.
The Seminoles lead the series 28-26 and have won two of the past three meetings. The most recent was on Feb. 26 at JPJ, where UVA led by 10 points with 3:26 remaining and seemed headed for a satisfying Senior Day victory. But the Noles made their final eight shots from the floor, including a last-second 3-pointer that lifted them to a 64-63 victory.
FSU (1-7) hosts No. 5 Purdue (6-0) in Tallahassee on Wednesday night.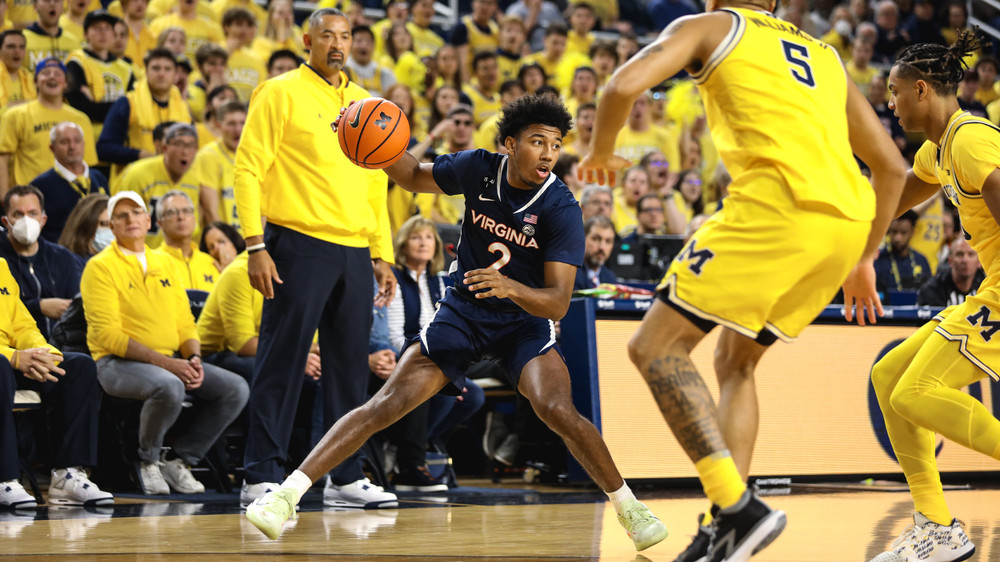 SOUND BITES: This is the final season of the ACC/Big Ten Challenge, and Virginia finishes with a 14-8 record in the event. Among the postgame comments Tuesday night:
* Bennett on Vander Plas: "He really gave us a great lift, as did Jayden."
* Bennett on the continued growth of Beekman, who left the game briefly after hurting his ankle in the second half but still totaled 18 points, four rebounds, a game-high five assists, one steal and only one turnover: "He's just more aggressive, and he's attacking more. He's more athletic. He's stronger. His outside shot has improved. He's an upperclassman, and he's playing like that. He's assertive and aggressive and making some plays, and then defensively doing the job."
* Bennett on the atmosphere at the Crisler Center, where maize-shirted Michigan students sat directly behind the team's benches: "It got pretty intense in here."
* Bennett: "We've got a good schedule for sure, and it tests you. Win or lose, you see where you've got some holes."
* Beekman on his steal in the final minute: "It was just instincts."
* Gardner, who also pulled down a game-high 11 rebounds, on his jumper in the final minute: "I've played [too many] years of college basketball to just stop shooting the basketball. I got a good look. I got a lot of good looks tonight that didn't fall, so if [the defender is] gonna stay dropped off on me, I gotta shoot that shot for my teammates. I can't let my teammates down."
* Gardner on the final play: "I was just trying to make sure [Howard] didn't get that shot off. But once I saw the ball slipped, I kind of just jumped straight up in the air, so nothing could happen."
* Gardner: "That was a great road win, because that was our first true test against a big post presence like [Dickinson]. And he's all of 7-1, 270. He was a load."
* Clark: "It feels really good. I think we did what we usually do: got stops, made some shots. We played our game in the second half, and people made tough shots down the stretch. We said, 'We've been here before.' They made a lot of shots in the first half, so we tried to grind them out in the second and I think we did that, so it feels good to get out of here with a win."
To receive Jeff White's articles by email, click the appropriate box in this link to subscribe.