By Jeff White (jwhite@virginia.edu)
VirginiaSports.com
CHARLOTTESVILLE — Tony Bennett's counterparts in the Atlantic Coast Conference would probably swear that Kihei Clark has been in the league a dozen years. The reality is different, of course, but it's true that Clark has distinguished himself in countless ACC battles during his University of Virginia career.
"He's like a coach on the floor, and he impacts every game he plays because of his high basketball IQ," Florida State head coach Leonard Hamilton said Saturday at John Paul Jones Arena.
"I very seldom see him make a bad decision, and that's rare … I told him as I shook his hand, 'I'll be glad when you're gone.' He smiled."
As a freshman in 2018-19, Clark played a key role in UVA's run to the NCAA title. Now a fifth-year senior, the 5-foot-10 point guard scored a game-high 18 points Saturday at JPJ to help No. 3 Virginia defeat FSU 62-57 in the ACC opener for both teams.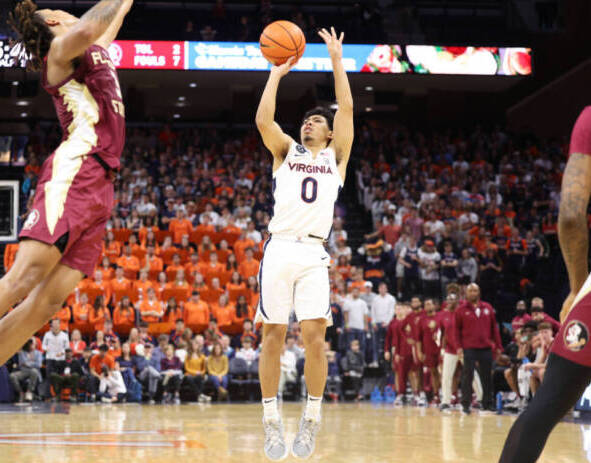 When the teams met at JPJ last season, the Seminoles won 64-63 on a last-second 3-pointer by Matthew Cleveland. Clark experienced the pain of that Senior Day defeat, as did Jayden Gardner, Reece Beekman, Kadin Shedrick, Armaan Franklin and Francisco Caffaro, all of whom are also back at UVA this season. But FSU's visit Saturday marked the ACC debuts of three UVA players: sixth-year senior Ben Vander Plas and freshmen Ryan Dunn and Isaac McKneely.
All contributed to a victory that pushed the Wahoos' record in ACC openers under Bennett to 14-0.
The 6-foot-8 Dunn played a career-high 15 minutes and finished with four points (4 for 4 from the line) and five rebounds. He drew the assignment of guarding FSU's leading scorer, Darin Green Jr., and acquitted himself well.
"I thought that was important, because [Green] can get it going, you saw that," Bennett said.
The 6-foot-8 Vander Plas is a graduate transfer from Ohio University, where he was an All-Mid-American Conference selection. He played 26 minutes off the bench against FSU and totaled seven points, four rebounds, one assist and one blocked shot.
"I thought Ben had a good second half," Bennett said. "First half, he was a little bit sluggish, I thought … But Ben's a connector. He understands the game, whether he needs to score something in the post, grab a rebound. He hadn't played Florida State, but being in so many games and understanding that is a valuable asset for us."
McKneely, a 6-foot-4 guard, scored four points, grabbed five rebounds and came up with one steal in 18 minutes.
"I think Isaac McNeely and Ryan both have improved," Bennett said. "It's a lot for a first-year, but I thought they've gotten better in their limited time, and Isaac today he took shots that I was glad that he took and made some plays. I know he wants that ball-handling turnover at the end back, but I thought he guarded well."
McKneely, who's from the small town of Poca, W.Va., has played in every game this season. Dunn's role hasn't been as well-defined, but he's learning quickly, Bennett said. "He's getting a little more comfortable defensively and he's utilizing his defense, trying not to foul and just playing alert, sound defensive basketball."
Dunn has a long wingspan, and that "can bother an offensive player," Bennett said. "It can block a shot, it can deflect the ball or go get a [difficult] rebound."
Bennett's growing confidence in Dunn, who's from Freeport, N.Y., was evident Saturday. Dunn played most of the final nine minutes.
"I think it was a great experience to play in [an] ACC game for the first time," Dunn said, "but also playing late, when we needed to get stops and we needed to get buckets as well. Offensively, I just trusted Kihei. We trusted him to go get to the rim to score, but defensively, that's kind of where I needed to be at … to get stops and get rebounds."
The Cavaliers (7-0, 1-0) came in shooting 50 percent from the floor (45.2 percent from 3-point range) and averaging 76.7 points per game, but nothing came easily for them against FSU (1-9, 0-1). This is not a vintage Leonard Hamilton team, by any means, but the Seminoles played well against No. 5 Purdue in the ACC/Big Ten Challenge, and their defense posed problems for UVA on Saturday.
At the half, Virginia trailed 22-21 and had made only 6 of 26 shots (23.1 percent) from the floor.
"The way they guard, that's what makes it very interesting," Bennett said. "They switch everything, one through five, and they force you to make plays, and if you can't make plays or knock down a few shots, it's going to be really difficult to beat them. And in the second half, we opened it up a little more and said, 'Go make plays. You're going to have to make some plays off the dribble, drive, kick, swing.' "
With five minutes remaining, UVA led 49-37 and appeared to have matters under control, to the relief of the crowd of 14,280. But FSU scored 20 points in the final 4:33, and not until Beekman sank two free throws with seven seconds remaining was the outcome settled.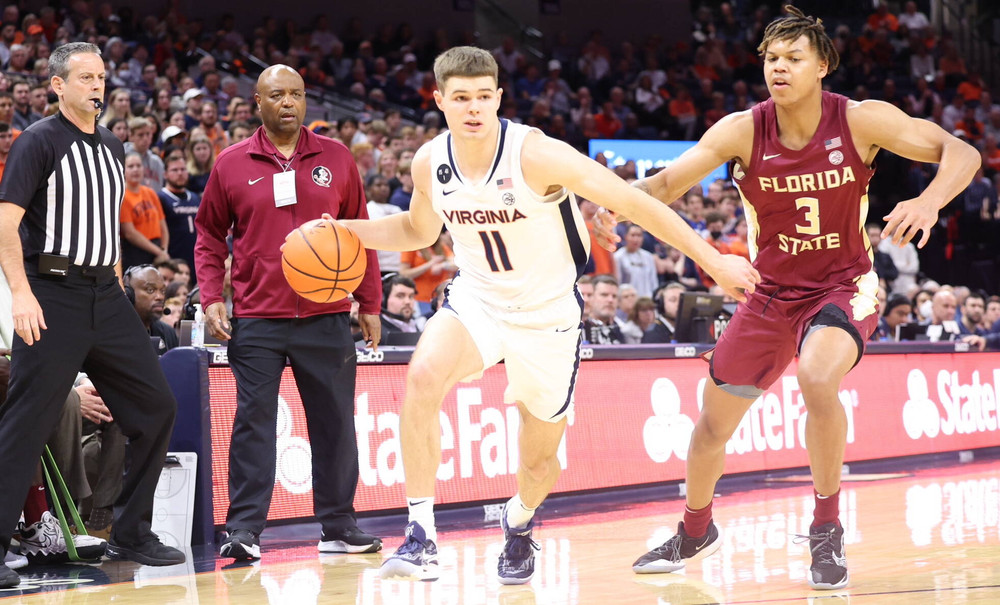 The Cavaliers played solid defense for the most part Saturday—FSU finished 21 of 62 (32.8 percent) from the floor—and made 21 of 26 free throws. It all helped on an afternoon when UVA, which came in shooting 45.2 percent from 3-point range, hit only 5 of 19 attempts from beyond the arc.
Gardner, a 6-foot-6 forward, had 10 points, a team-high seven rebounds, two steals and two blocked shots. Five of his rebounds came at the offensive end. Beekman, playing on a sore ankle he'd injured Wednesday night in UVA's win at Michigan in the ACC/Big Ten Challenge, contributed seven points, four rebounds and a game-high five assists.
"These games come down to making some plays, knocking down free throws at the right times, hitting a big shot, getting a big stop, a blocked shot or an offensive rebound," Bennett said.
After taking an elbow to the face, 6-foot-11 Kadin Shedrick missed much of the second half, but he still finished with six rebounds and four blocked shots. Shedrick, a redshirt junior, was on the receiving end of a similar blow late in the Michigan game.
"We're gonna have to put the headgear on him next game," Bennett said, smiling.
UP NEXT: In its last game before breaking for final exams, Virginia (7-0) hosts James Madison (7-2) at 8 p.m. Tuesday. The game will air on ACC Network.
UVA led the series 11-0 before taking on JMU in Harrisonburg last season. In front of a sellout crowd, there were six lead changes in the final four minutes. The Dukes went ahead for good with 1:10 remaining and held on for a 52-49 victory that unleashed a frenzied celebration at the 8,500-seat Atlantic Union Bank Center.
JMU is in its third season under head coach Mark Byington, who was the director of men's basketball operations at UVA in 2004-05. The Dukes' director of player development and recruiting is Calvin Baker, who played for Bennett at Virginia.
The Dukes hammered Eastern Kentucky 97-80 in Harrisonburg on Friday night.
"They can score and they're good and they took it to us last year," Bennett said, "and we'll have to be ready."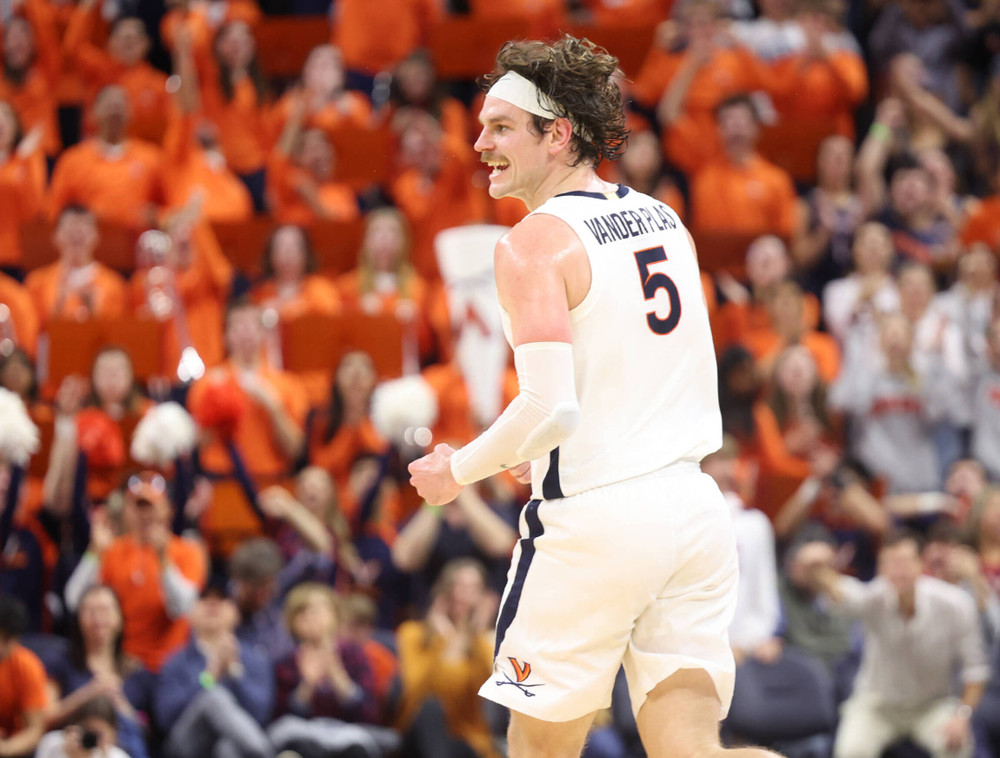 SOUND BITES: With the win, UVA cut Florida State's series lead to 28-27. Among the postgame comments at JPJ:
* Bennett on his exchange with FSU's Matthew Cleveland in the handshake line: "I said, 'You're the guy that made the shot last year against us, right?' I said, 'I thought it might be coming down to something like that again,' and he just smiled."
* Bennett on Virginia's strong start to the second half: "You try to see what's going on and where you maybe need to make an adjustment and look at some different things, and just recommit to it. That's important for us. You hope not to be in that spot. But coming out of the halftime is always important."
* Bennett on the Cavaliers' ranking and other potential distractions: "None of that stuff matters. What matters is how you practice. Then you step onto the court in the game, and all the other stuff is fluff. It's what you do between the lines. It's you, your opponent, and the officials. That's what it is, and nothing else matters."
* Hamilton: "I've always had a tremendous amount of respect for what Virginia Cavalier basketball stands for, and Tony has done a tremendous job of developing a system offensively and defensively. It works for them, and we knew that it was gonna be a typical hard-fought game on both sides."
* Hamilton on the experience and talent of Clark and Beekman: "I think that's a strength of their team, and I think they exploited it. I also think from our standpoint we just didn't quite have the same juice coming out in the second half, and that's mental. Being able to play while you're fatigued, that's a learned skill that you have to overcome. We're not quite there yet. And I thought their energy, they turned it up a little bit. I thought they were much more aggressive, and they moved the ball a little quicker and we had a period where they had us back on our heels. We'd close it, and they took it back again. And it was just nip and tuck there at the end, and we were just kind of hanging on."
* Hamilton on Clark: "For a little guy, his strength is his IQ."
* Clark on facing the Seminoles: "They play a lot of guys, they sub and [put] fresh legs on you, they pick up full [court], they make it hard, and when they're able to switch everything, it makes it hard on you when you're on offense … But you play for these type of games and these moments. It's a great battle, and I always look forward to playing those guys."
To receive Jeff White's articles by email, click the appropriate box in this link to subscribe.