By Jeff White (jwhite@virginia.edu)
VirginiaSports.com
CHARLOTTESVILLE — Flip the calendar back 12 months. The University of Virginia men's basketball team staggered into exam break with a 6-4 record last December after losing to James Madison in Harrisonburg.
The Cavaliers are in a much more desirable place this year. With 10 days to prepare not for only for finals, but for a visit from top-ranked Houston, UVA is unbeaten and ranked No. 3 nationally.
Virginia improved to 8-0 with a 55-50 victory over JMU on Tuesday night at John Paul Jones Arena. The Wahoos lost junior guard Reece Beekman, perhaps their best all-around player, to a leg injury less than four minutes into the game, and they shot poorly: 5 of 21 from 3-point range and 12 of 24 from the line. But they defended with passion and made enough plays late to hold off the Dukes (7-3).
"It was just one of those hard-fought games that I would call beautiful," UVA head coach Tony Bennett said, smiling.
Earlier Tuesday night, No. 2 Texas lost to No. 17 Illinois at Madison Square Garden, an outcome that might well add another storyline to UVA's next game.
Houston (9-0) will play twice more before coming to Charlottesville: Saturday against No. 8 Alabama on Saturday and Tuesday against North Carolina A&T. If the Cougars win both—and both are at their Fertitta Center—the Dec. 17 game at JPJ is likely to be a rare matchup between teams ranked Nos. 1 and 2 in The Associated Press poll.
"We've been taking these games one game at a time," Virginia forward Jayden Gardner said Tuesday night. "JMU, we lost to them last year, so it was good to get the win this year. But now the next opponent is Houston, and we owe them one, and they're coming here. So I think it's gonna be a big, giant atmosphere. I know the young guys haven't experienced what it's like to play Houston, but they're very tough and physical and we have a long time to prepare for them."
Last November, in front of a sellout crowd at the Fertitta Center and an ESPN audience, the Cougars crushed the Cavaliers 67-47.
Houston went on to reach the NCAA tournament's Elite Eight. Virginia, which had been a fixture in the NCAAs under Bennett, ended up in the National Invitation Tournament for the first time since 2012-13.
His 14th team at UVA has a higher ceiling. To a core of such returning players as Beekman, Gardner, Kihei Clark, Armaan Franklin, Kadin Shedrick and Francisco Caffaro, the Cavaliers added graduate transfer Ben Vander Plas and four freshmen, two of whom, forward Ryan Dunn and Isaac McKneely, had significant roles against JMU.
Bennett has "a special team here and older guys that are mature, that know how to play and how to play with each other and are good in certain moments," said JMU head coach Mark Byington, who was the director of men's basketball operations at UVA in 2004-05. "So to beat a team like that you're gonna have to do something extra, and that's the part we didn't have today."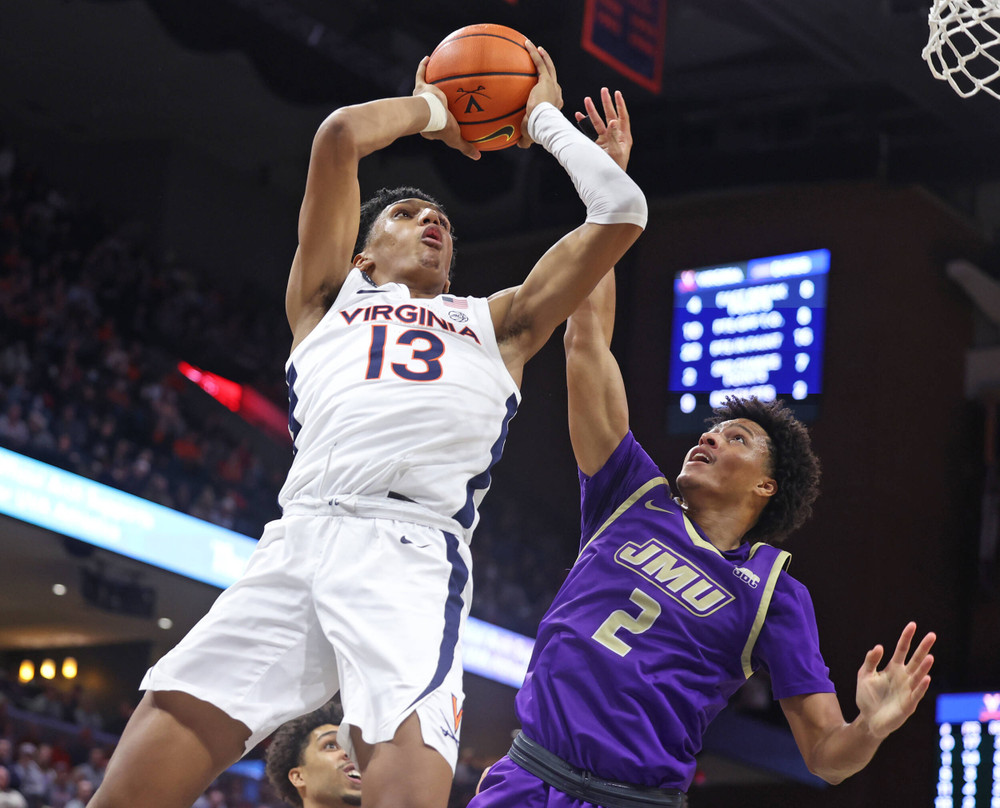 The Dukes, who came in leading the nation in scoring (93.3 points per game), found the going tougher against Virginia's trademark Pack Line defense. They scored only 20 points in the first half. Led by graduate student Takal Molson, who finished with a game-high 20 points, JMU had more success after intermission but was never able to take the lead.
After a Molson 3-pointer made it 42-42 with 7:46 to play, Gardner scored the game's next five points. With 1:00 remaining, Molson drove past Dunn for a layup that cut Virginia's lead to 52-50, but the 6-foot-8 freshman made up for his defensive lapse.
Clark passed to Dunn, who drove along the right baseline, leaped toward the basket and banked in a contested layup to make it a four-point game with 35.1 seconds to play.
"That was a heck of a play," Bennett said. "He hung in the air and finished."
Dunn wasn't done. He forced Molson into a turnover with 9.9 seconds remaining, and the Cavaliers' victory was at last secure.
"After I got scored on, I was kind of mad at myself," Dunn said. "I knew we needed to get a stop during that time. I was trusting myself to slide and [Molson] hit me with a good move … So we came back down just trying to get offense and I just kind of decided that if I get it I'm going be aggressive and try to make a play … As a freshman, you make mistakes like that, but being able to come through in the clutch like that, it was a good feeling for me."
Dunn played 18 minutes and 40 seconds, a season high, and finished with four points, five rebounds and three blocked shots. His first two basket came on a transition dunk that brought the home fans in the crowd of 14,193 to their feet with about eight minutes left in the first half.
"That was an electric play," Bennett said.
Dunn had missed a fast-break layup about four minutes earlier, and "so I had to go try to dunk it to give us a spark," he said. "And then when it went in, the place erupted. I was just trying to give a spark, and I think that happened."
Without Beekman, a lockdown defender who came in leading the team in assists and tied with Shedrick for the lead in steals, the Cavaliers needed all the contributions they could get Tuesday night. The 6-foot-3 junior landed awkwardly after scoring in transition with 16:33 left in the first half and had to come out of the game. He didn't return.
"He's been so important for us, he and Kihei," Bennett said. "So for us to gut that out against a team like JMU without Reece, and then giving all those other guys opportunities, was a challenge. That was the challenge in the game: All right, we haven't played without Reece all year, and now we're gonna have to put some different guys in there and play a lot of minutes."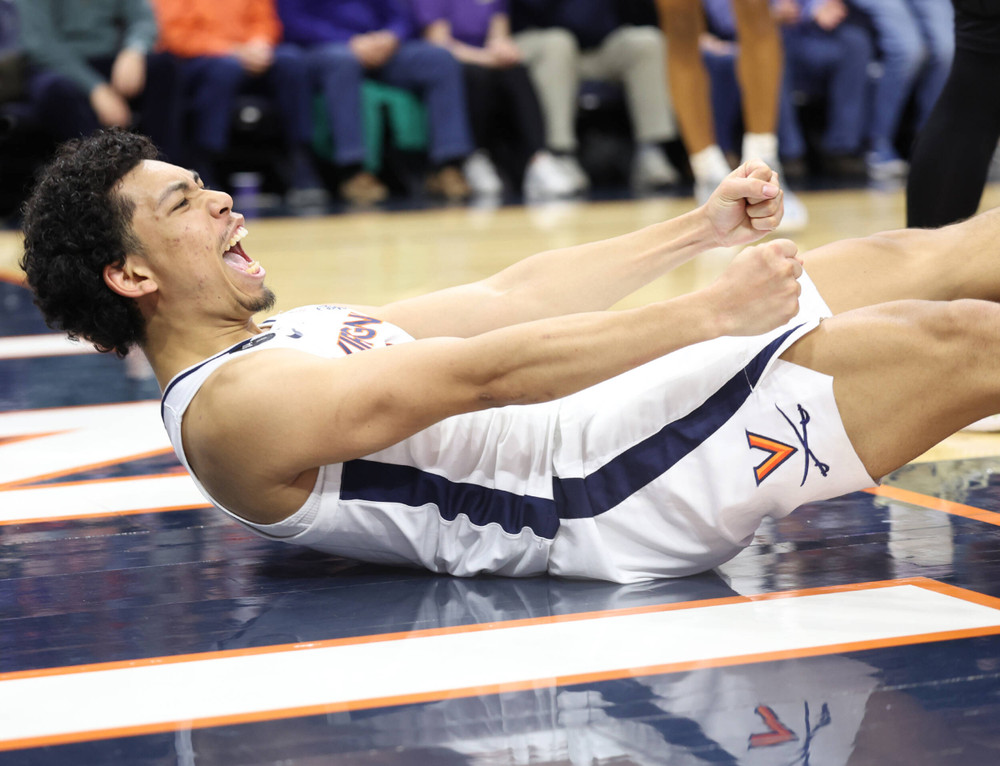 How freshmen like Dunn and McKneely would respond in such a situation was unclear, but Bennett had no doubts about Clark, the 5-foot-10 point guard who as a freshman in 2018-19 helped the Hoos win the NCAA title.
Clark led Virginia with 18 points and seven assists Tuesday night and played 38 minutes and 56 seconds of the 40-minute game.
"I thought I gave him only 28 seconds [on the bench], but he got a minute and four, so actually he had plenty of rest," Bennett said, smiling.
Clark made only 6 of 12 free throws, perhaps partly because of fatigue, Bennett said, "but you could see how tough-minded he was."
Byington will attest to that. After JMU recorded its first-ever win over UVA last year in Harrisonburg, Byington said Tuesday night, he told Clark that "he was one of my favorite players to watch in college, and I thought that was a good-bye. And then sure enough, he comes back this year."
Now a fifth-year senior, Clark has "seen everything, and nothing you're going to do is going to surprise him," Byington said. "There's nothing Kihei Clark hasn't seen out there, and he's poised. You can't rattle him … He's a special player."
The 6-foot-6 Gardner, a former East Carolina standout who's in his second year at Virginia, finished with 14 points, eight rebounds, two steals and two blocked shots in one of his best all-around performances. He was especially proud of the Cavaliers' defensive effort against JMU's high-scoring offense.
"It's tough to lose your best defender, but we had guys step up," Gardner said "We just trust our slides and we just trust what we do, and we trust the Pack. So that's what we're gonna do. We're gonna defend."
The Cavaliers are also going to share the ball. Of their 19 field goals Tuesday night, 14 were assisted.
"Our guys, they're all unselfish," Bennett said. "They really are. We don't have greedy guys … This is an 'us' or a 'we' team if I've ever had one."
Now comes an extended break from competition for the Cavaliers, though they'll  practice periodically throughout the exam period. Having Beekman on the court would improve Virginia's chances against Houston on Dec. 17, but it's too early to know if he'll be available.
"We'll get him evaluated and treatment, and hopefully he can heal up," Bennett said. "A lot of guys can heal up now."
To receive Jeff White's articles by email, click the appropriate box in this link to subscribe.