By Jeff White (jwhite@virginia.edu)
VirginiaSports.com
CHARLOTTESVILLE — That blur near midcourt at John Paul Jones Arena on Wednesday night? That was Kihei Clark doing Kihei Clark things.
In the latest NET rankings of Division I men's basketball teams, the University of Virginia is No. 18, and the University of Albany is No. 318. Yet 17 minutes into the game Wednesday night at JPJ, they were tied, and the home fans had fallen silent.
"I thought we executed our game plan perfectly," UAlbany head coach Dwayne Killings said.
No. 0 blew up that plan. After a three-point play by Armaan Franklin gave UVA a 27-24 lead, Clark swiped the ball from UAlbany guard Malik Edmead near midcourt and dribbled in for a layup. Moments later, the 5-foot-10 point guard did it again, picking Edmead's pocket and punctuating the steal with another layup to make it 31-24. The applause threatened to shake the building.
"The crowd finally woke up … and we got into the game," Virginia forward Jayden Gardner said. "That's what Kihei does."
Clark has been making big plays for the Cavaliers since 2018-19, when as a freshman he helped them win the NCAA title. No UVA fan will soon forget The Pass, Clark's last-second assist to Mamadi Diakite in the Elite Eight that year, and he rescued his team again Wednesday night.
"He makes two steals that really change the complexion of the game," said Killings, a graduate of Hampton University. "It gave them the momentum that they needed and they never looked back, and I thought that really crushed our spirit."
UVA, ranked No. 13 in the latest Associated Press poll, gave up 14 points in the final 4:12 Wednesday night, much to Bennett's displeasure, and was far from perfect in its first game since Dec. 20. Still, led by veterans Franklin, Clark and Gardner, the Hoos closed the non-conference portion of their regular-season schedule with a 66-46 win over UAlbany.
"If we're not right, anybody will play with us," said Bennett, whose team improved to 9-2 overall. "And if we're right, we'll play with anybody, and that's just reality. We were a little so-so to start and Albany banged some shots, but I thought our defense kind of toughened up, and [Clark's steals] ignited us."
When he played for the NBA's Charlotte Hornets, Bennett saw teammate Muggsy Bogues steal the ball from the same opponent on back-to-back plays. Until Wednesday night, however, Bennett had never seen it happen in a college game.
"That was impressive," he said of Clark's feat, which awakened not only the crowd but the other Cavaliers.
"It just ignited our defense," Bennett said.
The Great Danes (5-10) scored only eight points in the first 15 minutes of the second half, and with Virginia leading 58-32, Clark left the game to a warm ovation from the crowd. In 26-plus minutes, he'd totaled a season-high 10 assists, eight points, four rebounds and two steals.
"Clark's one of the best guards in the country," Killings said.
So is Reece Beekman, a 6-foot-3 junior who watched from the Cavaliers' bench Wednesday night. Beekman has been dealing with a hamstring injury he suffered Dec. 6 against James Madison. He played Dec. 17 against Houston and three nights later against Miami—Virginia's only losses—but clearly wasn't at full strength.
"We need Reece as close to 100 percent as possible," Bennett said Wednesday night. "I think it's improving, it just didn't feel quite right."
And so, after conferring with UVA's medical staff, Bennett chose to rest the lock-down defender on Wednesday night. Beekman will be re-evaluated before Virginia's game at Georgia Tech on Saturday, and "hopefully he'll be good to go," Bennett said.
With Beekman out, freshman Isaac McKneely started for the first time as a Cavalier and scored five points on 2-for-7 shooting. For the season, McKneely is shooting 30.4 percent from the floor, but Bennett wants him to keep firing.
"Be assertive," Bennett said he told McKneely. "He's been given a green light as long as [he's] not doing crazy stuff."
Bennett had the same message for Franklin coming into the game. A 6-foot-4 senior, Franklin missed all seven of his field-goal attempts and didn't score in Virginia's 66-64 loss at Miami.
"I challenged Armaan after the Miami game," Bennett said, "and he came back and he practiced really tough and hard-nosed, and I thought he brought that into the game, with the shots he took, the way he defended. I always tell our guys, very few guys can play so flawless and perfect. You're gonna make some mistakes, but can you play through [them] and beyond and get to the next play and not let it affect other parts of your game? And I thought that's what he did."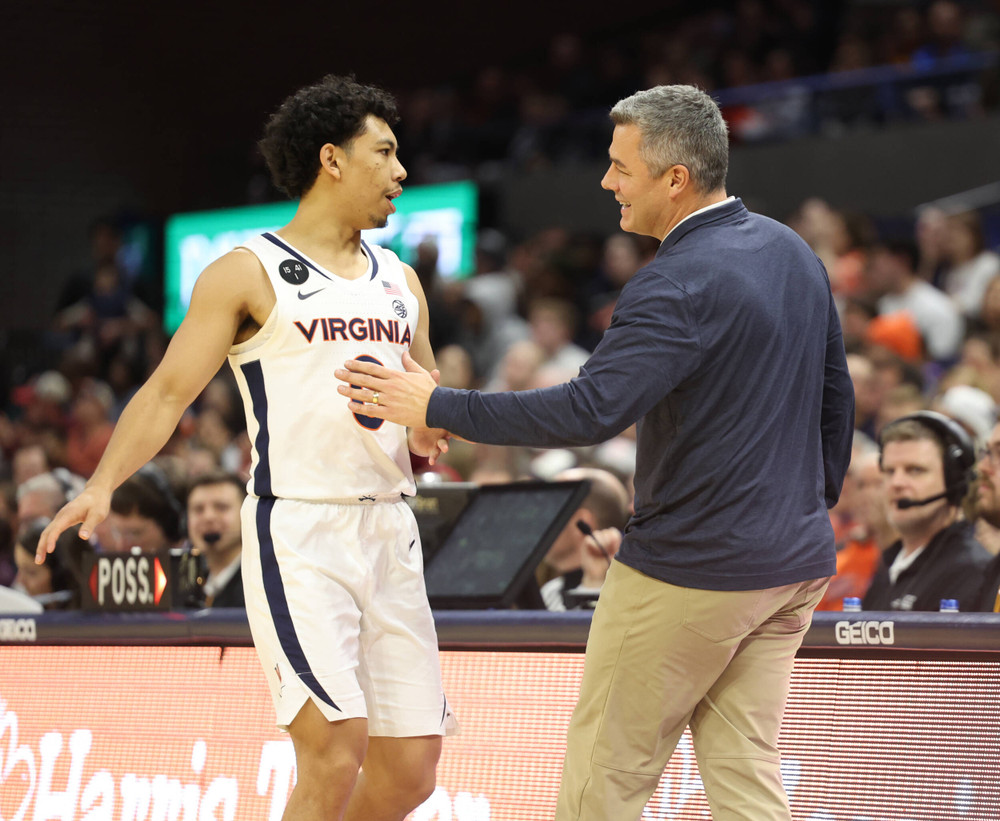 Franklin missed his first four shots against UAlbany, but he made seven of his final nine attempts, including three 3-pointers. He finished with 20 points, his most since he scored 26 in Virginia's Nov. 18 win over Baylor in Las Vegas.
"Just be aggressive, hunt your shots, but knowing the right time to take a shot," Franklin said of Bennett's counsel. "And if you miss a shot, just keep being aggressive, keep being on attack and hunting shots. Honestly, just go out there and have fun. That was the message today: just trying to have fun."
Bennett praised Franklin's defense on 6-foot-5 Gerald Drumgoole Jr., who came in as UAlbany's leading scorer (14.3 ppg). Drumgoole made only 2 of 12 shots Wednesday night and finished with seven points.
"They're a really good program for a reason," Killings said of the Cavaliers. "They make it really hard to score. I thought they did a great job of taking out our leading scorer and really the heart and soul of our team."
Like McKneely, graduate transfer Ben Vander Plas started for the first time as a Cavalier on Wednesday night. Foul trouble limited the 6-foot-8 forward to 15 minutes, but Gardner made up for Vander Plas' off night. Gardner made 7 of 11 shots from the floor and finished with 16 points, a game-high seven rebounds and two blocked shots.
In a reserve role for the first time this season, 6-foot-11 Kadin Shedrick contributed eight points, six rebounds, one assist and one block in 22 minutes.
Shedrick "gave us a nice lift off the bench and did some good things," Bennett said.
UP NEXT: The Cavaliers' 18 remaining regular-season games are against ACC opponents, starting Saturday in Atlanta. In a New Year's Eve matinee, UVA (9-2, 1-1) meets Georgia Tech (7-5, 0-2) at noon. ACC Network will carry the game.
The Hoos have won nine straight over the Yellow Jackets and lead the series 46-40.
Virginia doesn't play at home again until Jan. 7, when Syracuse visits JPJ for a 5 p.m. game, UVA plays at Pitt on Tuesday night. The 9 o'clock game will air on ACC Network.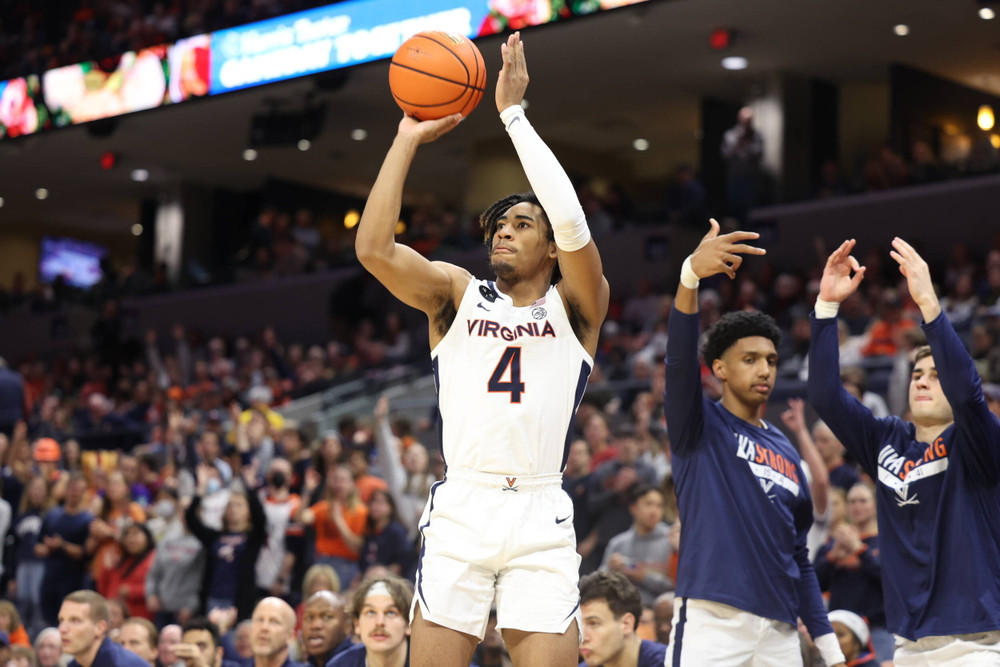 SOUND BITES: This was only the second game between these programs. The first was on March 16, 2007, in Columbus, Ohio, where Virginia defeated UAlbany 84-57 in the NCAA tournament's first round. Among the postgame comments Wednesday night:
* Bennett on tinkering with the starting lineup: "We're still trying to, in a way, find the right rotations, and then without Reece, it changed things."
* Bennett on McKneely's stint at point guard for the short-handed Hoos: "I thought he was solid … Hopefully we won't have to worry about that moving forward, but if so, this was valuable experience."
* Franklin on the losses to Houston and Miami, teams ranked Nos. 3 and 14 in the latest AP poll: "You take what you need from [a] game, and then ultimately you gotta let it go. We have a lot of games left. We can't just sit there and dwell on those last two games. We know what we have to correct and we made a concerted effort in practice to correct those things. So just take what we need from those practices and those games and just leaving those games behind us."
* Gardner: "We're just trying to find our identity and getting back to what we do and just getting back out here and having fun. These two losses haven't been fun for the team. So we [have been working on] getting back to what we do and playing our style of basketball, Virginia basketball."
* Killings: "It was a great honor to bring our program here to Virginia. I love what Coach Bennett does as a head coach. The way he builds his programs, the way he builds teams. I've known him for a long time."
To receive Jeff White's articles by email, click the appropriate box in this link to subscribe.