By Jeff White (jwhite@virginia.edu)
VirginiaSports.com
PITTSBURGH — In nearly 25 percent of its games this season, the University of Virginia men's basketball team has held its opponent to 50 points or fewer. That made the Cavaliers' second-half defense all the more stunning late Tuesday night at the Petersen Events Center.
After limiting the Pitt Panthers to 23 points in the first half, No. 11 UVA gave up 45 in the final 20 minutes. The Wahoos made enough shots to win, scoring 33 points in the first and 32 in the second, but they couldn't overcome their uncharacteristic breakdowns at the other end.
"It stings, because this one, if we just would have tightened the defense up, I think it would have been there for us," head coach Tony Bennett said after Virginia's 68-65 loss to Pitt.
The Panthers (11-4 overall, 4-0 ACC) snapped an eight-game losing streak in the series, defeating Virginia for the first time since Jan. 4, 2017. Four players scored in double figures for UVA (10-3, 2-2), which shot 42.9 percent from 3-point range and 47.3 percent overall. Offense wasn't the issue for Virginia in this one.
"We just couldn't get stops late," senior guard Armaan Franklin said. "Not being able to defend the ball screen really hurt us today, and they made some big shots, so credit to them."
Bennett wasn't the only one irked by the Cavaliers' inability to keep Pitt away from the basket in the second half.
"Everybody was displeased with the defensive part," Franklin said. "We know we have to depend on [gritty defense]. We'll take a look at the film and see what we could have done better, but we're not happy with how we played on defense that second half."
Virginia led 33-23 at halftime and, after fifth-year senior Kihei Clark (game-high 17 points) scored on a drive, 44-32 with 15:58 left. But the Panthers, backed by a boisterous crowd, refused to concede.
With UVA offering little resistance, Pitt ran off 14 straight points to take its first lead of the game. Another run, this one 7-0, put the Panthers up 60-55 with 3:59 to play, but the Hoos battled back. Clark passed to 6-foot-11 redshirt junior Kadin Shedrick for a contested layup that made it a three-point game, and then junior guard Reece Beekman assisted freshman guard Isaac McKneely on an NBA-length trey with 1:44 remaining.
That made it 60-60, and after Pitt's Nike Sibande missed a dunk attempt, Virginia had an opportunity to regain the lead. But little went right for the Cavaliers in the final 75 seconds. Shedrick was called for an illegal screen at the 1:11 mark, and then another defensive breakdown resulted in a wide-open layup for Pitt center Federiko Federiko. The Cavaliers' next possession ended with a shot-clock violation, after which they were forced to foul. The Panthers went 6 for 6 from the line in the final 28 seconds to hold off the Hoos, whose final points came on a Beekman trey as time expired.
Virginia wasn't happy with the call on Shedrick, but the game was lost elsewhere, Bennett said. "You give up 45 points [in a half] and struggle like that, you got to take a look at some other stuff."
The Panthers, who knocked off then-No. 25 North Carolina in the same arena Friday afternoon, shot 51.7 percent from the floor in the second half against Virginia.
That the game was close at the end wasn't necessarily a surprise, "because Pitt's good and they're tough," Bennett said. "But it was too easy for them, and if it's too easy for an offensive team, you're not going to beat a good team. They say good teams will destroy poor execution, and that's what it felt like. Our defense wasn't executing the way it has to be. First things first, you've got to get back with all your might and stop the ball and keep it in front. We just look stretched, and, again, the ball was at the rim in the paint, and you won't beat a lot of people if you do that consistently."
The Cavaliers came in ranked 11th nationally in scoring defense (58.3 ppg), but they've been less than dominant on the backboards this season, and that was an issue again Tuesday night. Pitt outrebounded Virginia 32-28. Guards Beekman, Clark and Franklin, who stand 6-foot-3, 5-foot-10 and 6-foot-4, respectively, accounted for half of UVA's 28 boards.
"This game, not good," Bennett said of the Cavaliers' rebounding on a night when they played without reserve center Francisco Caffaro, a 7-foot-1, 254-pound fifth-year senior.
Caffaro, who has a foot injury, might have provided some rim protection, Bennett acknowledged. But UVA's defense has to be solid before the opponent "gets in the lane that deep," Bennett said, "and that was the issue."
Bennett, whose father grew up in the Pittsburgh, said he told his players that this is "a blue-collar game, this is a blue-collar town, it's a blue-collar team. We try to build our program that way at Virginia. But tonight it looked like [Pitt was the] more aggressive, tough-minded team, definitely in the second half. We ran some really good action and got good looks and played a nice brand of basketball, with some decent stops, in the first half, but you have to sustain it."
Pitt's players came out for pregame warmups in T-shirts bearing the phrase Chasing Millions. That's the name of former Pitt football standout Damar Hamlin's foundation. Hamlin, now a safety for the Buffalo Bills, collapsed Monday night against the Cincinnati Bengals. He had to be resuscitated on the field and remains hospitalized.
A video tribute to Hamlin played at the Petersen Events Center during a first-half TV timeout.
"Obviously everyone saw what happened last night," Pitt head men's basketball coach Jeff Capel said at his postgame press conference. "Guys on our team know him. He's part of our community, our athletic department. I got to know him. He's an unbelievable young man and has a great spirit. Every time I saw him he was in a good mood. Just an unbelievable personality. So our thoughts and prayers are with him, his family, the Bills family and everyone in the NFL. We know he's a fighter and he'll continue to fight."
As tipoff approached, Capel's players switched to T-shirts with the message Pitt Stands with UVA. Before the game, a moment of silence was held in memory of the UVA football players—Devin Chandler, Lavel Davis Jr. and D'Sean Perry—who were shot and killed on Nov. 13 after returning from a class field trip to Washington, D.C.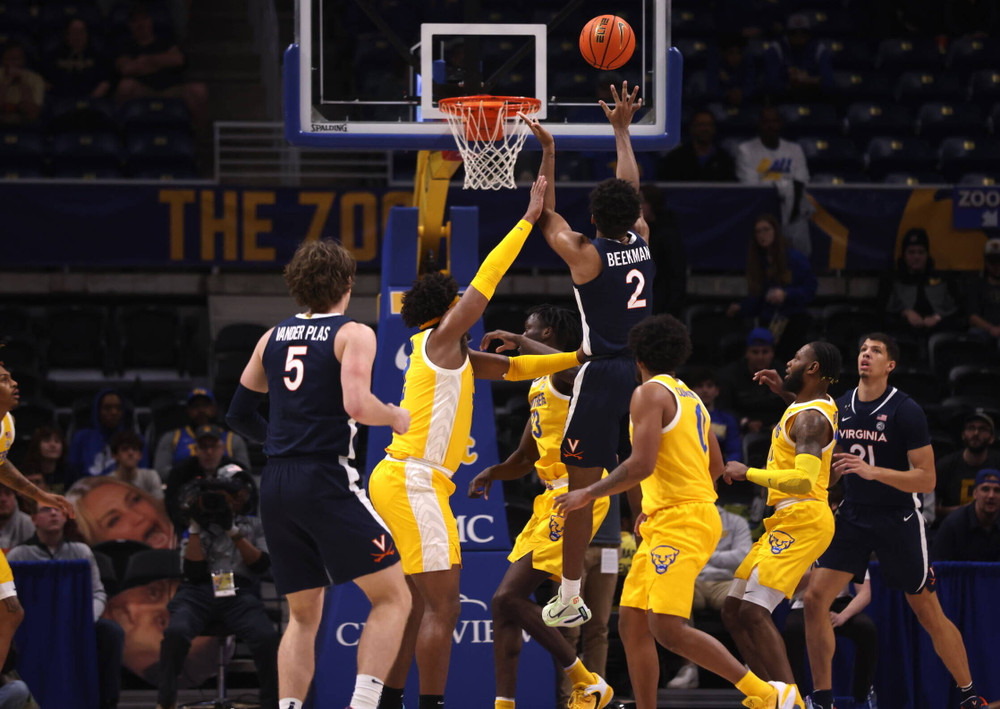 HOME AGAIN: The Cavaliers' next two games are at John Paul Jones Arena. The first is Saturday, when UVA hosts Syracuse (10-5, 3-1) in a 5 p.m. game to air on ACC Network. The Hoos host North Carolina next Tuesday in their fourth 9 p.m. game of the season. (Another game started at 9:30 p.m.)
Syracuse rallied to win 70-69 at Louisville on Tuesday night.
Virginia has won three straight over the Orange and leads the series 11-6. The Cavaliers carved up Georgia Tech's zone defenses in Atlanta on Saturday. That might help prepare his team for Syracuse's trademark zone, "but you better tighten up the defense or it won't matter," Bennett said.
Bennett remains tied with Terry Holland for the most coaching victories in program history. Bennett's record in 14th season at UVA is 326-120. Holland went 326-173 in 16 seasons with the Cavaliers.
SOUND BITES: UVA, which leads the series with Pitt 19-5, attempted a season-low four free throws Tuesday night. Among the postgame comments:
* Bennett: "You can't give up 45 points in the second half and expect to [win]. We still had a chance, but that won't cut it defensively, and we'll just have to go back to the drawing board."
* Capel: "Everyone on our team stepped up. We made big plays and were unbelievably connected. We beat a really good basketball team and a really good program. I'm proud of that."
* Bennett on Pitt, which finished 11-21 last season: "I'm happy for Jeff. Discouraged about our performance, but I'm happy for Jeff, because he's a good man … He coaches the right way, and he's got a good, tough team."
* Clark on UVA's second-half defense: "Just breakdowns on our part. We'll just look at the film and then go from that."
* Franklin (14 points) on his recent strong play: "I'm just trusting my work, staying confident, moving on the ball, moving off the ball, setting screens for my teammates, things like that."
To receive Jeff White's articles by email, click the appropriate box in this link to subscribe.