By Jeff White (jwhite@virginia.edu)
VirginiaSports.com
CHARLOTTESVILLE — If there weren't a few twists and turns, it wouldn't be a Virginia-Syracuse men's basketball game, and the home fans endured some anxious moments late in the second half at John Paul Jones Arena.
After the 11th-ranked Cavaliers went up by 22 points with 11:34 remaining, the outcome seemed all but settled. But the Orange responded with 13 straight points during a stretch of seven-plus minutes in which UVA failed to score.
In the end, though, the Wahoos pulled through, as they have so many times during Tony Bennett's glorious tenure as their head coach, and a much-anticipated celebration could begin. The final was 73-66, and the victory made Bennett, who's in his 14th season at UVA, the winningest coach in program history.
"To pass Coach Holland, he's amazing," Bennett said during a postgame ceremony.
He'd been tied with Terry Holland, whose wife, Ann, sat courtside across from the UVA bench Saturday night. In 16 seasons with the Cavaliers, Holland posted a record of 326-173 and led them to the Final Four twice.
Bennett's first chance to set the record came Tuesday night at Pitt, where Virginia led by 10 at the halftime but ended up losing 68-65. The Hoos returned home determined to make amends for their second-half breakdowns, and they never trailed against Syracuse.
"We just wanted to really try to win out with our defense," Bennett said, "knowing that the offense could come and go."
In the crowd of 14,217 were Bennett's wife, Laurel, and their children, Anna and Eli, and he thanked them after the game for their support. Bennett, who received a commemorative ball from University president Jim Ryan, also thanked the players and staffers who have helped him build a 327-120 record at UVA.
"This is not a 'me' award," said Bennett, who guided the Cavaliers to the NCAA title in 2018-19. "This is an 'us' [award]. When I look around and when I see that banner, that banner, that banner, I realize it's better than I deserve, and that's a result of these guys."
In the locker room afterward, Jayden Gardner and Francisco Caffaro dumped a cooler of water on their unsuspecting coach, and Bennett was still drying off when he arrived at his postgame press conference.
"He got drenched," freshman guard Isaac McKneely said later, smiling.
McKneely and senior guard Armaan Franklin each made four 3-pointers for the Hoos (11-3 overall, 3-2 ACC), who also received sizable contributions from guards Kihei Clark and Reece Beekman and center Kadin Shedrick.
The 5-foot-10 Clark, a fifth-year senior, had 11 of Virginia's 22 assists. Beekman, a 6-foot-3 junior, finished with 13 points, seven assists and two steals, and he was 5 for 6 from the line in the final 1:18 to help keep Syracuse (10-6, 3-2) at bay.
Shedrick, a 6-foot-11 redshirt junior, totaled 11 points, seven rebounds, four blocked shots and three steals.
Against the Orange's trademark 2-3 zone, the Cavaliers hit their first four shots, including three Franklin treys. On a night when they finished 12 of 26 from 3-point range, the Hoos made 7 of their first 11 attempts from beyond the arc. Clark and Beekman took turns working the high post in Virginia's zone offense, and time and again they set up their teammates for open looks from the perimeter.
"When you play against their zone, you can't just live and die by the 3, but you have to live a little bit by the 3, or maybe more than a little," said Bennett, whose record against Syracuse is 11-3. "You have to make 3s."
Franklin, who's shooting 41.4 percent from long range, leads the Hoos in 3-point attempts with 70. The 6-foot-4 McKneely has been hesitant at times to shoot this season, but he was 4 for 7 from beyond the arc Saturday. For the season, he's 22 of 58 (37.9 percent).
"I told him, 'Take the parking brake off … If you have a rhythm shot, take it. Be assertive,' " Bennett said. "It's a process for everyone, but we needed that and he's rising up and bouncing up and hitting some shots, and I want him to keep developing … He's going in the right direction."
A basket by power forward Jayden Gardner (10 points) put the Cavaliers up 35-18 with 3:42 left in the first half, and the crowd had reason to believe a blowout was taking shape. But Syracuse scored the final eight points of the first half, and it was unclear how the Hoos would respond after intermission.
Franklin provided the first clue. He opened the second-half scoring with a step-back 3-pointer that made it 38-26, and the Hoos were back on track. Franklin's trey started a 12-0 run, and Syracuse's first points of the second half didn't come until the 14:26 mark.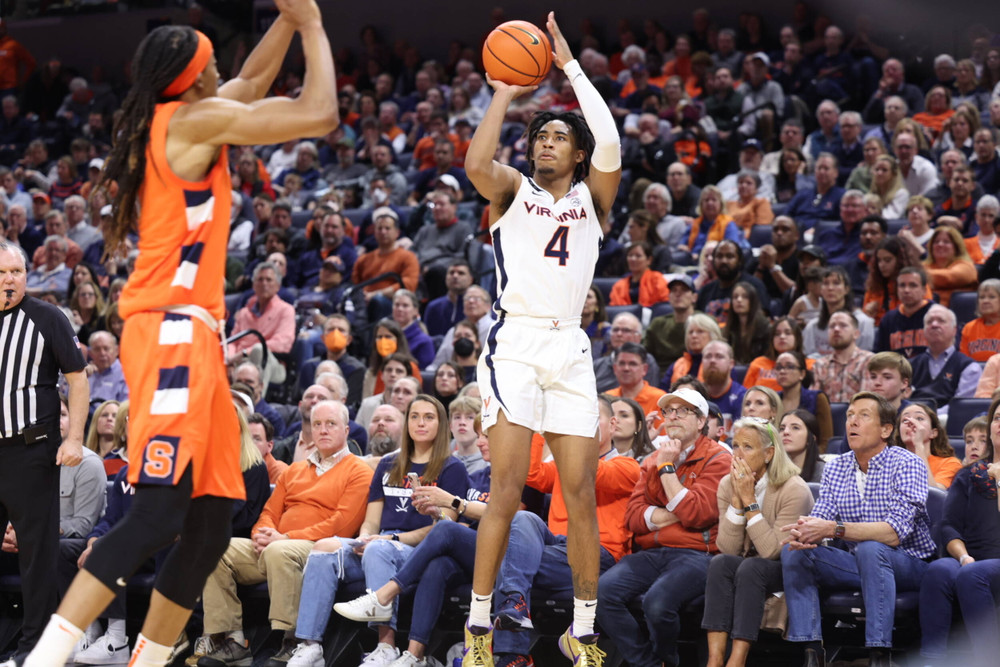 Against the Cavaliers' Pack Line defense, the Orange turned the ball over 16 times. Those mistakes led to 23 points for the Cavaliers, who punished Syracuse with 19 fast-break points.
"That was a key for us, for sure," Bennett said.
His counterpart, Jim Boeheim, is in his 47th season as Syracuse's head coach. Boeheim coached against Holland and worked with him on a USA Basketball committee, and he's been battling Bennett for close to a decade. (Syracuse joined the ACC in July 2013.)
"Just a brilliant coach," Boeheim said of Holland. "Just the nicest man I know. If not the nicest, he's in the running, and Tony's the same way. Virginia's been lucky to get those two guys to come here and coach. Tony Bennett's a great coach. It's pretty simple. He's a great coach, and Terry was a great coach and did a great job here."
After the final horn sounded and the teams shook hands, the Orange headed to its locker room. The Cavaliers remained on the court, and a video tribute to Bennett played to a rapt audience. He later took the microphone and delivered characteristically gracious remarks.
His final words to the crowd: "Thank you for your support, blessings to Coach Holland, and, as always, go Hoos!"
THE LATE SHOW: The Cavaliers are back at JPJ on Tuesday night to meet ACC rival North Carolina (11-5, 3-2). ESPN will televise the 9 o'clock clash. That will mark the fifth time this season a UVA game has started at 9 p.m. or later.
UNC, which is in its second season under head coach Hubert Davis, has won two straight over Virginia. When the Tar Heels defeated UVA last January, that was their first win in the series since Feb. 28, 2017. They met again in last year's ACC tournament, and Carolina again won handily.
North Carolina won at home Saturday afternoon, thrashing Notre Dame 81-64.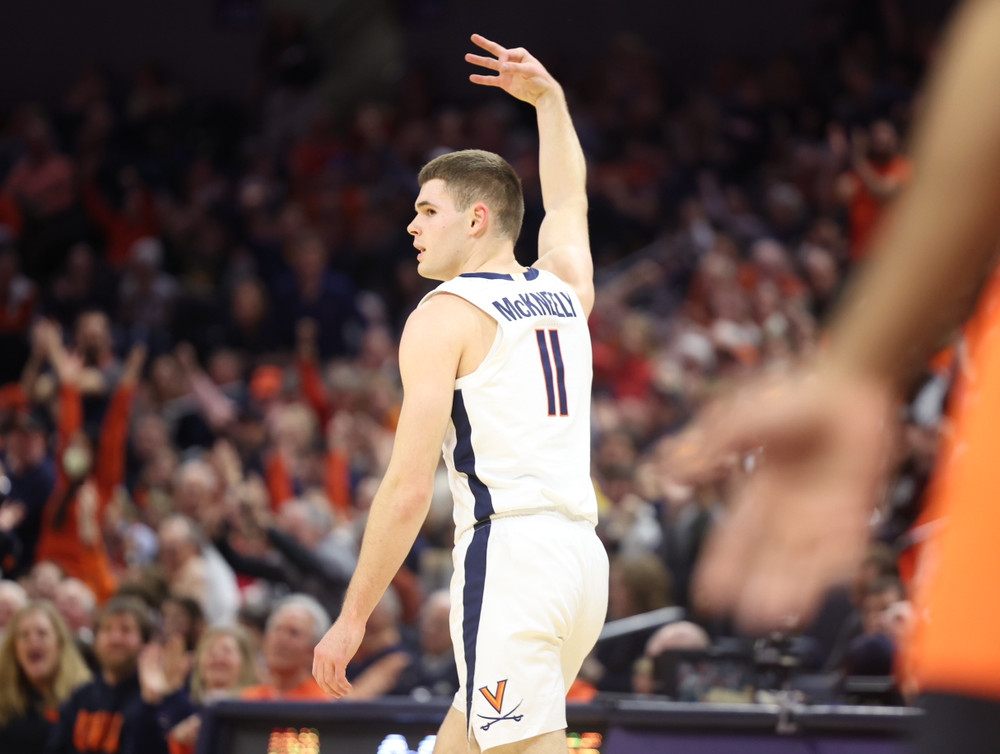 SOUND BITES: The victory was UVA's fourth straight over the Orange. Among the postgame comments:
* Bennett on the milestone: "Again, I don't deserve this …  I didn't even know I wanted to coach this long or do this, but here I am. I kind of take a step back and say, 'Wow,' because Coach Holland is the best. There have been so many cool things that have happened, but I'm just kind of glad now we can move on and keep trying to become a better defensive team."
* Bennett on UVA's second-half struggles against Pitt: "When you get maybe exposed like that, it always makes you recommit and say, 'How can we do this? How can we tighten the screws in the areas we need to and become the team that's gonna give us the best chance to have success.' You've got to have guys that when you go through the hard [things] say, 'OK, what can we do to improve?' "
* Boeheim: "Virginia's really good, and it's a learning experience for some of [Syracuse's] young guys. I think they'll learn from it. I think they're getting better, and I think our team is getting better, but we just made too many mistakes today."
* Boeheim on Syracuse freshman Maliq Brown and Justin Taylor, who are from Central Virginia and played extensively at JPJ: "I think they're both good players. I think they need this year [to learn]. I think most freshmen, they need that first year to figure out what you've got to do."
* McKneely on the locker-room scene: "It was just a cool moment. I'm proud of Coach Bennett. He deserves it, and he's one of the best for a reason. Once again, I'm really proud of him, and I wouldn't want to play for anybody else."
* McKneely on Bennett's message to him: "He kind of feels that sometimes I'm not taking the shots I should when they're there. Coach Bennett has trust in me, and that makes me really happy to hear that from the head coach, that he wants me to shoot more. I'm sure a lot of people would want to have that problem. I'm just trying to be more aggressive each time we come out, and I'm getting more and more comfortable with every single game. I'm just going to keep letting them fly when they're there, and credit to my teammates for getting me the ball in open spots."
* McKneely on his first experience with Syracuse's famed 2-3 zone: "It's really different, I've never seen anything like it, but … all of [the UVA players] in the high post area did a good job of kicking it out and finding shooters."
* McKneely on Franklin: "Armaan played great tonight, made his first three 3s, and that really got us going, got the energy in the building [up]."
* Franklin on his advice for McKneely: "Just tell him to shoot the ball. Honestly, that's all I can tell him. He knows he can shoot the ball. We all know what he can do. It's just a matter of him stepping up and not passing up shots."
* Franklin, who transferred from Indiana to UVA after the 2020-21 season, on being part of Bennett's historic win: "It's a really great feeling. The energy in [the locker room] was great. He had the water bath after, the cold water, which was pretty cool. Just being able to be a part of some of those wins for a great coach like him, and I'm just excited and glad I chose to come here and play for him."
To receive Jeff White's articles by email, click the appropriate box in this link to subscribe.