By Jeff White (jwhite@virginia.edu)
VirginiaSports.com
CHARLOTTESVILLE, Va. — What works against one basketball team might not work against another. And so when Virginia visits ACC foe Florida State on Saturday, there's no guarantee head coach Tony Bennett will break out a lineup consisting of an undersized center and four guards.
For at least one game, however, that combination helped produce a memorable victory for the Cavaliers. With 15:12 to play late Tuesday night at John Paul Jones Arena, 6-foot-4 freshman Isaac McKneely checked into the game for No. 13 UVA, joining 5-foot-10 Kihei Clark, 6-foot-3 Reece Beekman, 6-foot-4 Armaan Franklin and 6-foot-8 Ben Vander Plas, who usually plays power forward.
With starters Kadin Shedrick (6-foot-11) and Jayden Gardner (6-foot-6) cheering from the bench, that quintet played the rest of the way in Virginia's 65-58 victory over North Carolina before an amped-up crowd of 15,629.
"I really liked the second half," Bennett said.
So did the Wahoos' fans, who provided a decided home-court advantage in the second half. The Hoos (12-3 overall, 4-2 ACC) trailed by seven with 15 minutes remaining, but then ran off 11 straight points, the first four by Vander Plas, a graduate transfer from Ohio University.
"Games kind of ebb and flow, and certain things work offensively or get you good looks, and some things don't look so good," Bennett said. "We were struggling really to just shoot the ball and score in that first half and parts of the second, and then we said, 'Let's go small and take a look at a few things,' and I think it just started opening things up."
The game took an unexpected turn during UNC's second possession. Armando Bacot, a 6-foot-11 center who punished the Hoos last season, went down with an apparent ankle injury at the 18:42 mark. The reigning ACC Player of the Week, Bacot left the game and didn't return.
"They were obviously without Armando, and they don't have [injured 6-foot-11 Pete] Nance, either," Bennett said. "But, again, that doesn't take away from how hard our guys played. We're imperfect, I get that, but [UVA's players] stayed true to trying to guard hard and get good shots."
With Bacot, 6-foot-10 freshman Jalen Washington, who came in averaging 2.2 points per game, played extensively, and his length bothered the Hoos in the first half.
"Look, without Armando, that affects them a lot," Bennett said, "I get that. But I think they have a pretty special budding player in Washington. He's really good. You can just feel it and see it."
Washington scored 12 points in the first half. He scored only a single point in the final 20 minutes, though, in large part because of the 236-pound Vander Plas' physical defense.
"I just thought he kind of walled up and got under him," Bennett said, "and maybe [Washington] was fatigued."
Virginia was short-handed for part of the game as well. After taking a blow to the face, McKneely headed to the bench, towel to his mouth, at the 8:44 mark of the first half. He didn't return until he replaced 7-foot-1 Francisco Caffaro with 15:12 to play.
He's become more assertive in recent games, and McKneely was anything but tentative in his first game with the Tar Heels (11-6, 3-3). His 3-pointer with 9:53 remaining pushed Virginia's lead to 49-42. McKneely struck again at the 6:17 mark, pulling up on a drive and banking in a shot to put the Hoos up 56-49.
Finally, after the second of Carolina guard Caleb Love's three late treys, McKneely coolly hit a deep 3-pointer from in front of the UVA bench as the shot clock was winding down. That made it 61-55 with 2:18 left. Love answered with his final 3-pointer, but Beekman sliced through the Heels' defense and threw down an emphatic dunk, and Vander Plas followed with a steal and a slam to close out the scoring.
Vander Plas finished with 17 points, eight rebounds, a career-best three blocked shots and two steals in 26-plus minutes off the bench. Not since Dec. 20 had he scored in double figures, but he was 6 of 10 from floor (and 3 of 7 from 3-point range) Tuesday night.
"That small lineup, it did hurt us," UNC head coach Hubert Davis said. "[Vander Plas] can cause some problems, because he's a big that can shoot the ball from the outside, and so if you put a traditional big on him, now he has the ability to space [the court], and in transition he's not going to the front of the rim, he's spotting up from 3, so that's different. Then if you put a smaller guy on him, he has the ability, he's big enough and skilled enough to be able to post up."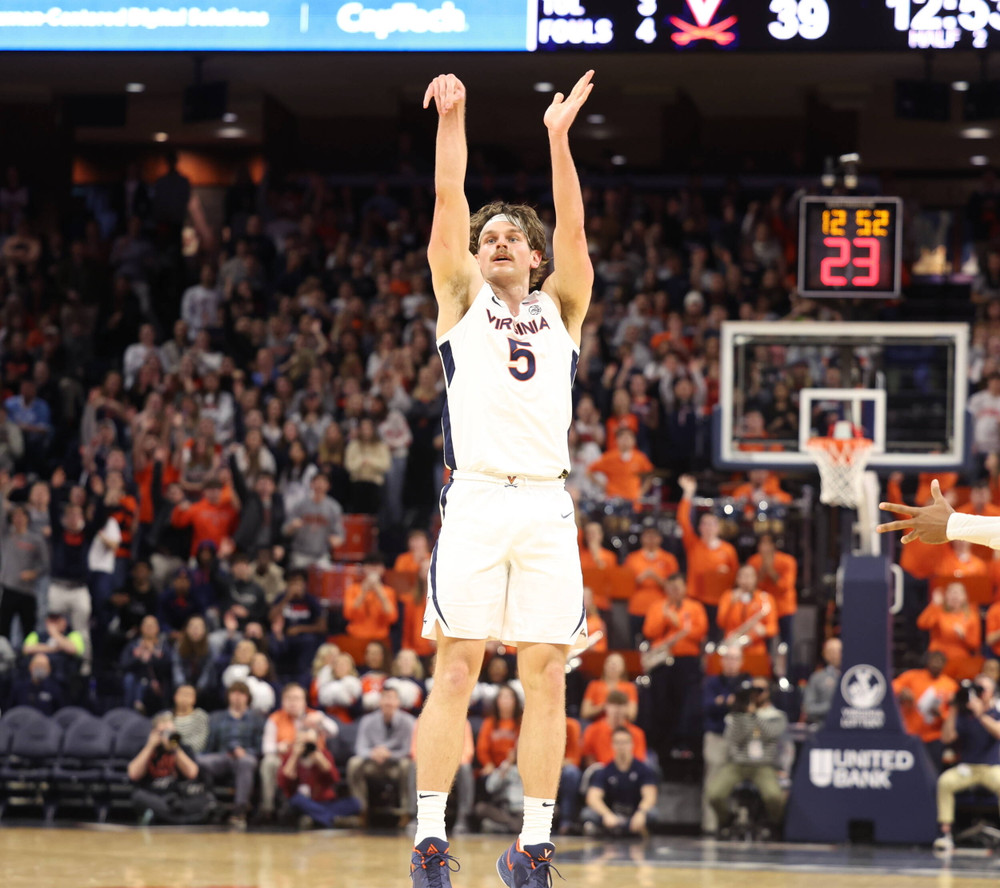 Vander Plas credited extra sessions with staffers Johnny Carpenter and Isaiah Wilkins for his breakthrough.
"They're in the gym with me every day shooting, and everybody is always just telling me to keep shooting, keep shooting, almost to the point where it gets like, 'I got it, guys,' " Vander Plas said, smiling. "But they stay on me … And then once you see the first one go in, the confidence goes up, so that was fun."
Virginia made only 9 of 24 shots from the floor in the first half—Vander Plas was 1 for 4, and Franklin was 0 for 5—and trailed by nine with 3:35 to play. But the Hoos closed the half with a flourish and went into the break down only two.
"Just getting that little momentum before halftime is obviously huge," Vander Plas said. "We hit a couple of shots, and I think Kihei took a charge on the sideline, across from our bench. Just those energy plays when shots aren't necessarily falling, if you're able to continue to do things like that, you just build off that."
On a night when his outside shot wasn't falling, Franklin found other ways to contribute. He scored repeatedly in the low post and finished with 12 points, a game-high nine rebounds and three blocks. The rebounds and blocks were career highs for Franklin, a transfer from Indiana who's in his second season at UVA.
"I was proud of him," Bennett said, "and I know he was frustrated. He missed some free throws. Again, guys don't miss free throws on purpose, I get that, so we'll get to work [on that]. But to make some tough plays, physical plays was important for all of them."
Beekman, a junior, was pivotal too. He turned an ankle Nov. 29 in Virginia's win at Michigan and then strained a hamstring Dec. 6 in a victory over James Madison at JPJ. For the most part, he's played through the injuries, but Tuesday night marked the first time he's flashed his superior athleticism since the JMU game.
"It's been a while," Beekman said of his late-game dunk against UNC.
Beekman finished with 13 points, five assists, five steals, two rebounds and one block.
"I think for sure his health is improved, and that's helped a lot," Bennett said.
SOUTHBOUND: Long gone are the days when UVA played a home-and-home series with each of its ACC counterparts. Virginia will meet some teams twice this season, however, and Florida State is one of them.
The Cavaliers opened ACC play Dec. 3 with a 62-57 win over the Seminoles at JPJ. The rematch is Saturday in Tallahassee, Fla., and the 4 p.m. game will air on ESPN2.
Florida State (5-11, 3-2), which is coming off a win over Georgia Tech, meets Wake Forest at 9 p.m. Wednesday in Winston-Salem, N.C.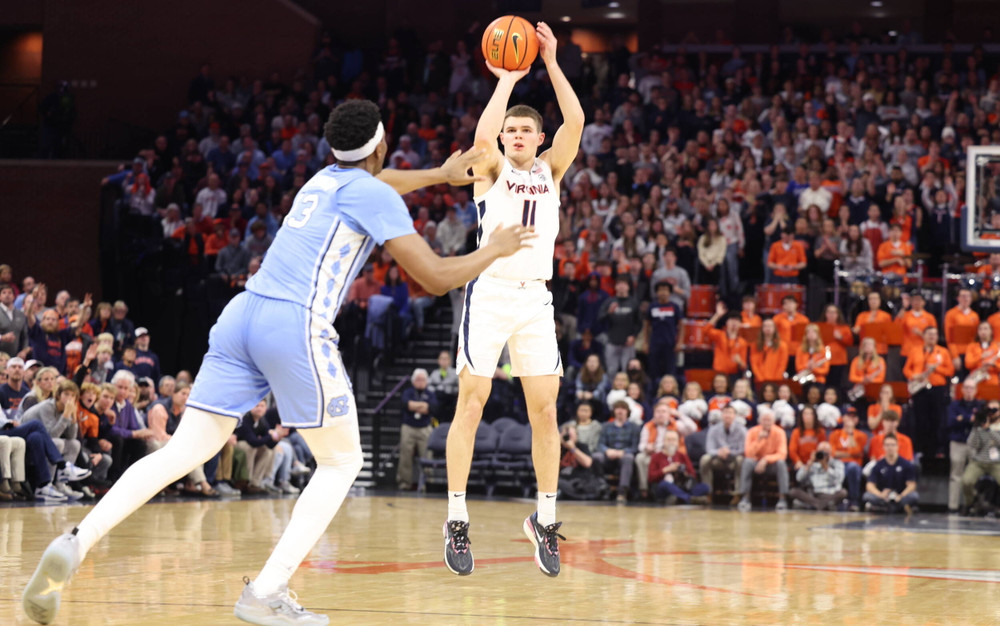 SOUND BITES: The victory was the Hoos' eighth straight over the Heels at JPJ. Among the postgame comments Tuesday night:
* Bennett on Vander Plas: "He had a hard first half, but you saw his ability … to pass and think the game, use his hands, use his mind. That's his greatest asset, and his completeness. Against Illinois, Michigan, he's had some games that, I don't want to say he won by himself, because they're [team victories], but he's been the difference for us in a number of games, and this second half was crucial. Part of playing is you're gonna struggle. Guys are going to struggle in stretches, but will you stay faithful, and just keep playing and not lose your way? And so it was good to see that for him in the second half."
* Bennett: "Both teams were a little fatigued at the end, but it just came down to who was going to be able to kind of gut it out and be that way. And I think the crowd helped, but I liked what I saw on the glass."
* Bennett on Beekman: "Reece is not going to talk a lot, but he'll talk to his players, and he's such a quality player. I love seeing young men find their way and emerge and become more assertive and just trust their teammates, trust their own game, and play with a sense of reckless abandon, so to speak, and with soundness. I don't know if those go together, but you want to be sort of fearless and stay within your game, but that sort of idea, and I'm starting to see that, just the evolution of him."
* Davis on Washington's performance: "I've said this to [the media], and I've said this to the team a number of times, that your number is going to be called. And I can't tell you when, where, how and the manner in which it's going to be called, but your responsibility and your job is when it's called, you need to be ready, and his number was called tonight. It was called for him to play extended minutes … and I thought he played fantastic. To be a freshman, to be on the road, to get extended minutes. I was very pleased with him and very proud of him."
* Davis on UVA: "I really feel like the thing that really hurt us was just one-on-one dribble drives to the basket. I know [Vander Plas] played extremely well and he played a huge part in them being successful in the second half, but I thought our inability to win our one-on-one matchups and be able to guard our guy and stop him from just straight line drives to the basket, I think that hurt us the most."
* Davis on Beekman: "He is extremely talented. He's quick. He has an ability to penetrate and get to the basket, and he's an excellent finisher, but he can also distribute the basketball. A lot of his drives are just straight-line drives."
* Davis on playing without Bacot and Nance: "It just doesn't matter. It's an L. It's our sixth loss. We needed to be better to win here and we have enough. We have enough on this stat sheet to have won this game tonight, and we didn't get it done."
* Beekman on his hamstring: "I would say pretty close [to 100 percent]. Still treating it day to day. A lot of time with [athletic trainer Ethan Saliba] working and just strengthening stuff."
* Beekman on McKneely: "He's coming along great. Since the summer I've always had high expectations for him, and he's definitely living up to that."
To receive Jeff White's articles by email, click the appropriate box in this link to subscribe.