By Jeff White (jwhite@virginia.edu)
VirginiaSports.com
TALLAHASSEE, Fla. — While their teammates slumbered at a hotel near the Florida State campus, a group of University of Virginia men's basketball players woke up early Saturday morning, put on practice gear, and bused over to the Donald L. Tucker Center.
Inside the Seminoles' arena, Ben Vander Plas went to one end of the court, where, with staffer Johnny Carpenter rebounding, the 6-foot-8 forward put up shot after shot. Those extra reps paid dividends later in the day, when Vander Plas scored 15 points in UVA's 67-58 win over FSU.
At the other end of the court, the workout led by associate head coach Jason Williford, assistant coach Kyle Getter and graduate assistant Isaiah Wilkins was more intense. Among the players running through a variety of drills were Isaac Traudt and Leon Bond III, who make up half of the Cavaliers' first-year class.
Unlike Isaac McKneely and Ryan Dunn, however, Traudt and Bond haven't played this season. Both opted to redshirt, and they'll be watching from the bench Wednesday night when No. 10 UVA (13-3, 5-2) hosts Virginia Tech (11-6, 1-5) at John Paul Jones Arena.
"I see this as a learning and growth opportunity," said Bond, 6-foot-5, 200-pound swingman from Wauwatosa, Wis., near Milwaukee.
Bond arrived at UVA in June knowing there was a strong possibility he would sit out this season. Not so Traudt, a 6-foot-10, 225-pound forward from Grand Island, Neb. "I was hoping to play a little bit," he said.
Early in the fall, though, head coach Tony Bennett "talked to me and said, 'There might be games where you might play some, and there might be games you might play not at all,' " Traudt recalled.
"So he just kind of gave me the decision to redshirt, and at first I said no. But I didn't get in the first game, and after watching the athleticism and speed, I felt like it would be good for me to take a developmental year and redshirt to try to get to that level for next year."
This is Bennett's 14th season at UVA, where he's posted a record of 329-120, and his program has a long tradition of redshirting players. The list of players who chose that route includes Devon Hall, Mamadi Diakite, Jay Huff, De'Andre Hunter, Francisco Caffaro and Kadin Shedrick.
"Coach Bennett told me a lot about the guys that came through here and redshirted, and how much it helped them," Bond said, "and it gives you an extra year. It's literally just an extra year to get better, and that payoff, when it comes, it's going to be really good."
In recruiting, Williford said, "I think we identify guys that understand what it's going to take, and they understand that we're big on development and they might have to wait a year or two. It might not come right away.
"Fortunately, the kids that we're looking at and targeting haven't been tainted with having to play and be the guy right away. I think they all want to do that to some degree, but it is a process. I wish more parents and kids understood that it's a process and it doesn't always happen right away."
With the advent of the transfer portal, there's no guarantee Virginia will reap all the benefits of a player's developmental year. He might leave for another school before exhausting his eligibility at UVA.
"I think it makes it more difficult," Williford said, "but the way we recruit, we kind of put everything on the table. We're transparent, so the high school guys understand that if they're ready, they'll play. If not, we've discussed potential redshirting, and we leave it up to them.
"With this class, with Leon and Traudt, even Ryan, they all understood that [redshirting] could be an option."
Bond acknowledged that "the dream situation for most people isn't to come in and redshirt, but I look at it now and I'm getting so much better. And l'm having fun with it and just developing my game into the player that I want to be."'
Williford played forward for the Hoos in the 1990s and started 83 games during his college career. As a freshman, though, he played only 36 minutes, and Williford realized later that a redshirt year would have made sense for him.
He's discussed his experience with UVA players who were considering a redshirt year. With Traudt and Bond, though, "I didn't have to break out the 36-minutes-as-a-freshman story," Williford said, laughing. "Now, with De'Andre, we talked about that, but with these guys, I think they understood it, and they saw what was in front of them. There's a lot of experience in front of them, and playing time was going to be a little harder to [come by] this year, and I think they embraced that."
Not everyone back in their respective hometowns was as enthusiastic, at least initially.
"My family thought was a good decision for me, just getting bigger, getting stronger.," Bond said, "but I definitely had some friends who were like, 'No, bro, you can definitely make a push to play.' "
Bond said he assured them that "it's the right decision, it's a mature decision. It's going to work out in the end."
Traudt said his family "felt it was best for me too, but a lot of people back home were kind of questioning the decision. So I just basically told them I thought it was best for me and they supported that."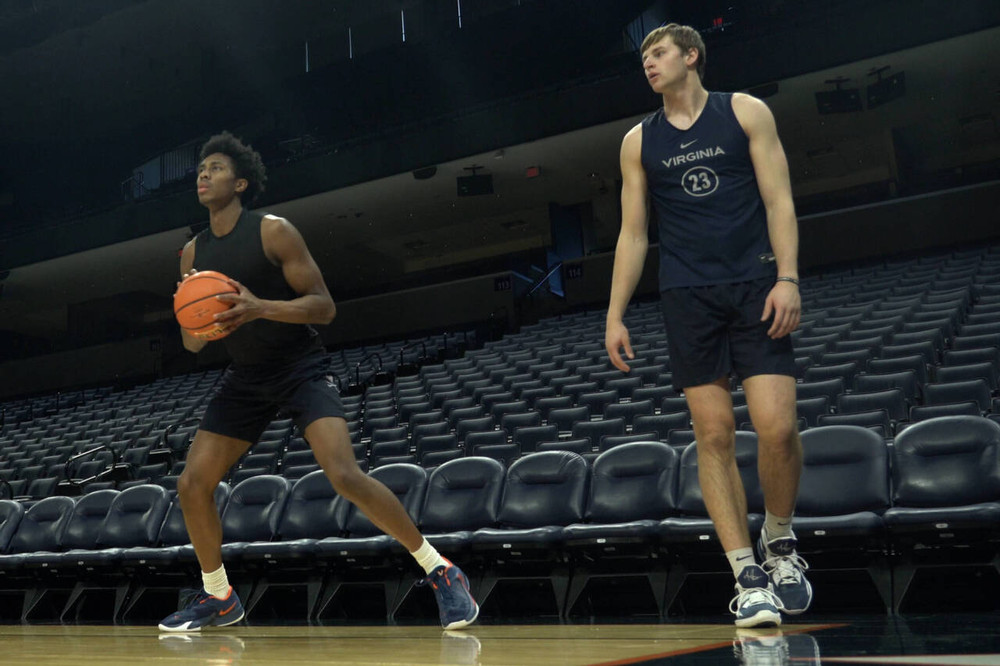 In practice, Traudt and Bond play leading roles on the Green Machine, the scout team whose members wear green pinnies during drills. They also train together in grueling game-day sessions often run by Getter and Wilkins.
The goal, Traudt said, is "to kind of just let loose and work on every single aspect of your game. There's really no pressure or anything. You're not in a game or anything, so you can just expand your game as much as you possibly can. I think that's the benefit of the redshirt year."
When the Cavaliers toured Italy in August, Traudt roomed with McKneely and Bond with Dunn, and they've kept those living arrangements during the school year. Traudt is as quiet as Bond is ebullient, but they've become good friends.
"We're just working at it, grinding at it," Bond said. "We're together for at least five hours a day doing our Green Machine stuff and redshirting stuff, so we've definitely become closer."
Having a partner "helps a lot," Traudt said, "especially because Leon's a good friend, obviously. So just being with him every day going through it makes it a lot easier, because going through it by yourself, that wouldn't be fun. You'd just be alone all the time. So it's nice to have somebody to work out with that much. "
They also spend extra time in the weight room with Mike Curtis, the team's strength and conditioning coach, whom Bond delights in needling.
"What's up, M.C.? You see this body? It's a machine," Bond said, flexing his muscles during a break in the morning workout in Tallahassee.
Curtis, for his part, declined to look up from his laptop, but he later said Bond's buoyant's personality reminds him of former Virginia standout Justin Anderson's.
Also like Anderson, Bond can throw down highlight-reel dunks, but he said he's working with Curtis on "getting quicker feet," among other things. As for Traudt, he said he doesn't have specific goals, but because "there's no reason to save myself for games, [Curtis] just kind of just empties the tank every single workout. I can definitely see that progress in the weight room because of that."
Traudt, known around the program as "Fish," is an elite shooter who, during a recent workout at JPJ, made 37 top-of-the-key 3-pointers in two minutes. Bond, an explosive athlete, wasn't a polished shooter when he joined the program, but he's making progress. In the two-minute drill, Bond hit 29 treys from the top of the key.
"That's probably the area that I've seen the most growth: my shooting ability," Bond said. "I'm not gonna lie, I came in here and my shot was a little sketchy, but now going through it, I'm making 3s at a high level. I'm taking shots off the dribble, and I've really seen improvement in my shot."
At the Donald L. Tucker Center, the coaches split Bond, Traudt, Chase Coleman, Taine Murray, Dante Harris, Tristan How, Markus Rouse and Bryce Walker into two four-man teams.
Near the end of the session, Traudt hit three long, contested 3-pointers in a row, and Bond couldn't contain himself.
"That boy's got a burner!" Bond yelled, bouncing up and down. "That boy's got a burner."
Traudt and Bond flashed their skills in Italy, and they're eager to make their UVA debuts in 2023-24. For now, they remain on the bench during the games, cheering on their teammates.
They'd rather be on the court, of course, but "it's not horrible," Traudt said, "because we still get a good lift and a workout in before, so it's not like I'm just kind of sitting there doing nothing all day. I think having that lift and workout every single game day makes me feel I've accomplished something."
To receive Jeff White's articles by email, click the appropriate box in this link to subscribe.