By Jeff White (jwhite@virginia.edu)
VirginiaSports.com
CHARLOTTESVILLE — With time running out in the first half, University of Virginia junior Reece Beekman drove down the lane and soared for a thunderous dunk that brought at least two of the VIPs in the capacity crowd—Ty Jerome and Steph Curry—to their feet at John Paul Jones Arena.
That was far from the only highlight Wednesday night, and Beekman, who finished with 11 points and seven assists, wasn't the only guard to shine for No. 10 UVA against ACC rival Virginia Tech in this Commonwealth Clash battle.
Kihei Clark, a fifth-year senior who's tormented the Hokies multiple times during his lengthy career, scored a season-high 20 points and added five assists, and senior Armaan Franklin recorded 15 points (on 6-for-9 shooting) and five rebounds. Off the bench, freshman Isaac McKneely added seven points.
"There were a couple good guards in attendance tonight, so I think they wanted to play well, [and] they sure did," Virginia head coach Tony Bennett said a smile after his team's 78-68 victory.
Jerome, one of the heroes of the Cavaliers' run to the NCAA title in 2018-19, when Clark was a freshman, now plays for the reigning NBA champion Golden State Warriors. Jerome paid a visit to JPJ on Wednesday night and brought two teammates with him: Curry and Moses Moody.
Curry's father, Dell, starred at Virginia Tech and then had an stellar career in the NBA, where his teammates in Charlotte for three seasons included Bennett. Steph Curry, of course, is a two-time NBA MVP with a legendary shooting touch, and his presence courtside in Charlottesville created considerable buzz, and not only among starstruck fans.
Did Clark and his fellow guards have something to prove with Jerome and Curry in the house? "Maybe a little bit," Clark said, then laughed.  "You go out and you try to play your game and take the opportunities as they come, but obviously, it gives a little extra motivation with them on the sideline."
For the Wahoos (14-3 overall, 6-2 ACC), the victory was their fourth straight. They're "maybe a little bit better than I thought they were," Virginia Tech head coach Mike Young, "and I knew they were really good."
The Hokies (11-7, 1-6) arrived at JPJ on a five-game losing streak, but four of those defeats had come with senior guard Hunter Cattoor out with an elbow injury. Cattoor returned Wednesday night, totaled 11 points and five assists, and put constant pressure on UVA's defense.
"He's like the tides," Young said. "He raises all of our ships, along with [forward Justyn] Mutts. He makes everybody better."
At full strength, the Hokies had more success against Virginia's Pack Line than most teams do, shooting 44.4 percent from 3-point range and 49.1 percent overall. But the Hoos, who finished with a season-low five turnovers, were ruthlessly efficient on offense, and that allowed them to parry every Tech surge.
Like Clark, Franklin and Beekman, post players Jayden Gardner (12 points) and Ben Vander Plas (10) scored in double figures for Virginia.
"Rarely will you hear me say this, but we had to score," said Bennett, whose record against the Hokies is 18-8. "We had a hard time stopping them, and we ran good offense and the guards made timely, big baskets, but they put a lot of pressure on you."
The Cavaliers led by nine at the break, but the Hokies wouldn't go away. Tech cut Virginia's lead to 51-49 with 12:18 remaining, and it was a three-point game with eight minutes to play. Virginia finally broke things open with a 9-2 run. It started with a Clark trey. Then, after a steal by Beekman, Gardner was fouled while scoring in transition and added the free throw. Tech's MJ Collins scored on a stickback, but McKneely answered with a 3-pointer, and suddenly it was 68-57.
"They've got a really good outfit," Young said. "I tell you, if there are 10 teams out there better than them nationally, I'd like to see them. They're very good, and so are we. We're gonna be fine. We're gonna figure it out."
Virginia's winning streak has coincided with Bennett's move to a smaller lineup that features the 6-foot-8 Vander Plas at center. That's meant less playing time for 6-foot-11 Kadin Shedrick and 7-foot-1 Francisco Caffaro and more for Ryan Dunn, a 6-foot-8 freshman who played 24-plus minutes Wednesday night.
Dunn scored only three points, but he grabbed three rebounds, blocked a game-high three shots and had two steals. "He was a difference defensively for us with his length," Bennett said.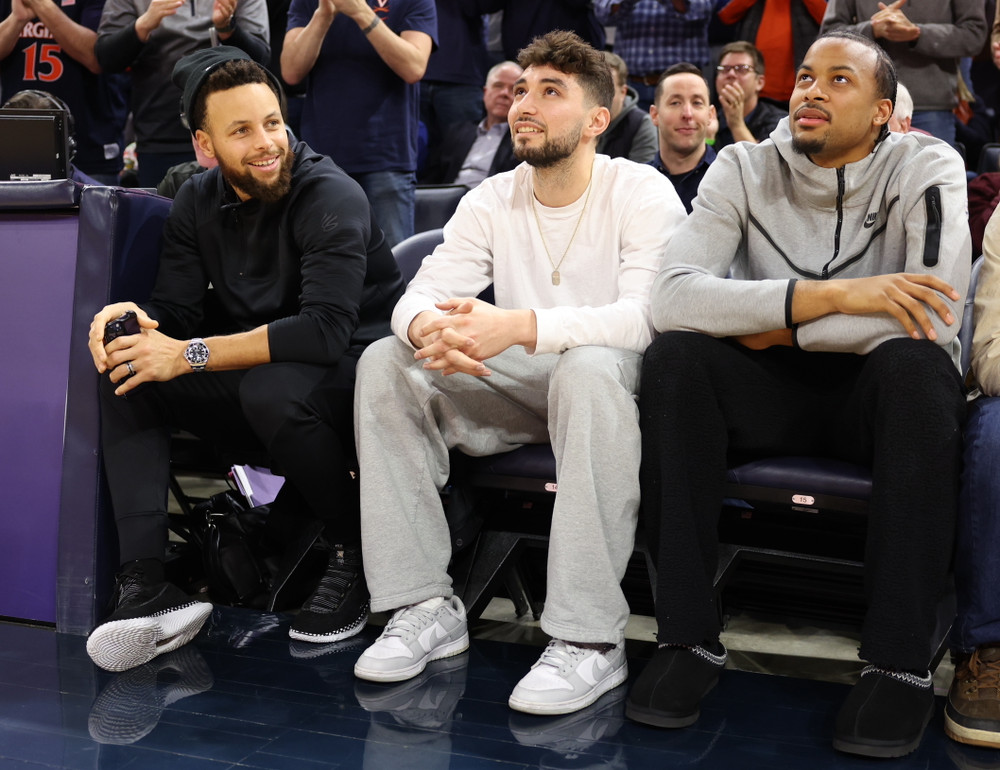 The 5-foot-10 Clark doesn't have Dunn's wingspan, height or athleticism, but he's one of the craftiest guards in the college game and a player whom opposing coaches will be happy to see leave Charlottesville. As a sophomore in 2019-20, his 3-pointer in the final seconds lifted UVA to a dramatic win over Virginia Tech in Blacksburg, and Clark provided more highlights Wednesday night.
"He made some real clever plays," Bennett said," and then he hit a couple of big-time 3s."
After four productive seasons at Virginia, Clark considered pursuing a pro career, but he decided to use his extra year of eligibility, and for that the program is grateful. Clark's 111 wins are the most in program history.
"He's such a competitor, Kihei is," Bennett said, "and he's just like Ty. When you look across the court you see him and then you think of Kihei. They're an important part of the fabric of this program and what's taken place and hopefully what will continue.
"A guy his size doesn't get to where he is without having a fierce side of him. [Clark is a] competitor, and he wants to win, and that's what he's done most of his career. But he's still coachable. It's good to have him back, for sure. I'm glad he made that decision."
In addition to making eight 3-pointers, Virginia had five three-point plays: two by Beekman and one each from Dunn, Franklin and Gardner.
"It's just kind of taking what the defense gives you," Bennett said of the Cavaliers' ability to finish through contact.
The night ended happily for the Hoos, as Beekman dribbled out the clock and the home fans stood and cheered. UVA leads the series 97-58 and has won six of its past eight meetings with Virginia Tech. They'll clash again Feb. 4 in Blacksburg.
"It's a healthy rivalry," Bennett said. "I have a ton of respect for Coach Young. He's a very good coach, their players are sound and tough and good … So they'll be ready, hopefully we'll be ready, and it'll be a probably another high-level game."
UP NEXT: Virginia heads to Tobacco Road for the first time this season. At 2 p.m. Saturday, in an ACC game to air on ESPNU, UVA meets Wake Forest (14-5, 6-2) in Winston-Salem, N.C.
The Demon Deacons gave Clemson its first ACC loss on Tuesday night, winning 87-77 at Lawrence Joel Coliseum. Wake is 10-0 at home this season.
Virginia had won nine straight over the Deacons before losing 63-55 to them at JPJ last January. That was the teams' only meeting in 2021-22.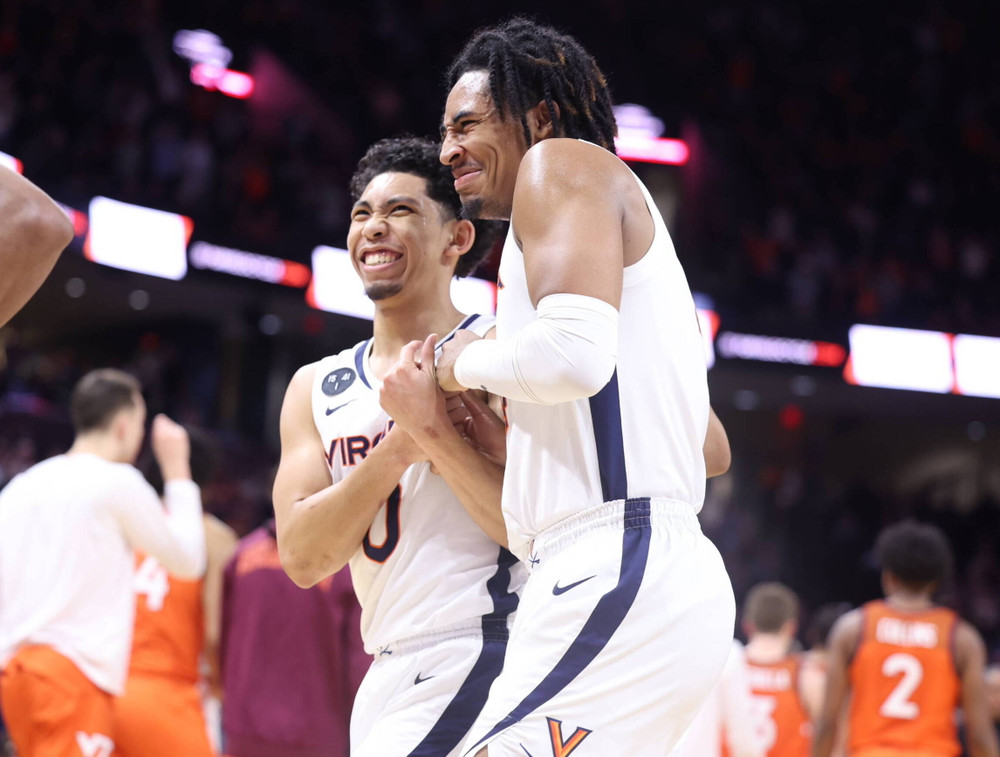 SOUND BITES: The crowd included not only the three NBA players but ACC commissioner Jim Phillips and former Virginia Tech quarterback Michael Vick. Among the postgame comments:
* Young on Clark: "He's more explosive this year and he looks a little bigger and stronger. You know what high regard we hold that young person in, in our camp."
* Bennett on Virginia's ball security: "Possessions matter in games like this, and both of us try to do some similar things. We try to really jam the lane, make it hard [to penetrate]. We're not out there denying and pressuring passing lanes. But there's a lot of traffic if you put it on the floor, and then there's the obviously some individual quick hands."
* Gardner on the Cavaliers' offensive efficiency: "We're just playing off each other, and when guys shoot the ball well—I-Mac, Armaan, Kihei, Reece—we're a tough team to beat."
* Clark on becoming UVA's all-time leader in victories: "Kind of like what Coach Bennett says, it's a team award, right? With the players that I've been playing with from my first year up until now, I've played with some great guys, so it means a lot to just be in that conversation, of course."
* Clark on the praise he receives fron opposing coaches: "They're just tipping their hat to you, and you just acknowledge it, but obviously it feels good. Obviously, you're doing something right if they don't want to play against you."
* Gardner on Dunn's development: "I think him just being active on the defensive end has been a real asset for us. He's getting steals, he's getting blocks, and even though he's young, his offense is still coming along, defensively he's been tremendous. He's all over and active and just helping guys on the court. So I think with the increased playing time, he's getting really more comfortable out there."
* Clark on the UVA guards' chemistry: "It's just trust. We trust each other 100 percent and believe in each other. When guys shoot their shots, you think it's going in, and on the defensive end, I'm taking our three guards against anybody else."
To receive Jeff White's articles by email, click the appropriate box in this link to subscribe.