By Jeff White (jwhite@virginia.edu)
VirginiaSports.com
WINSTON-SALEM, N.C. — The atmosphere at Lawrence Joel Coliseum on Saturday afternoon was the best, Tony Bennett said, that he's experienced there in his 14 seasons as head men's basketball coach at the University of Virginia.
There were more than a few orange-clad fans in the crowd of 12,443, but Wake Forest supporters far outnumbered them, and it was anything but a hospitable environment for 10th-ranked UVA. But if the Cavaliers looked rattled at times in the second half, they always recovered, and they left town with an immensely satisfying 76-67 victory over the Demon Deacons, who were 10-0 at home this season.
"They came in here, they took the hit, and then they won the game," Wake head coach Steve Forbes said of the Wahoos (15-3 overall, 7-2 ACC).
The Hoos stunned Wake (14-6, 6-3) in the first half with a 17-0 run that featured 5-for-5 shooting from 3-point range. After missing its first six shots from beyond the arc Saturday, UVA hit its next seven: three by Armaan Franklin, two by Kihei Clark and one each by Reece Beekman and Isaac McKneely.
"Shooting is a funny thing," Bennett said, "but if it's a good shot, you have to take it with confidence, and guys work at it."
For the game, Virginia went 15 for 34 from long range, its season high in each category. Franklin led the Cavaliers with five treys, matching his career high, and McKneely added three. Clark, Beekman and Ben Vander Plas hit two 3-pointers apiece, and Ryan Dunn made one.
"They're a really good basketball team, an elite team," Forbes said. "Everybody talks about their defense, but they're really good on offense. I guess they showed it today … They got Franklin going, but they spread it out. It's not just one guy. They had a bunch of guys make 3s on us."
A 22-1 run gave Virginia a 34-15 lead with 5:40 left in the first half, and Wake appeared on the verge of collapse. But the Deacons rallied behind 6-foot-6 swing Damari Monsanto, who scored 11 points in the final 4:08 of the half.
The Deacons went into the break down 42-32, and they kept coming after intermission, with their fans in full voice. Two free throws by Cameron Hildreth cut UVA's lead to four with 13:02 remaining. McKneely answered with a 3-pointer, but the Cavaliers didn't score again for more than three minutes.
Monsanto, who finished with a career-high 25 points, trimmed Virginia's lead to three with a trey at the 8:59 mark, and then teammate Tyree Appleby hit two free throws to make it a one-point game.
That was as close as Wake got. Appleby had a chance to put the Deacons ahead, but Dunn, a 6-foot-8 freshman, blocked his shot. Franklin grabbed the rebound, and Virginia scored the next six points.
"I thought he was special today," Clark, a fifth-year senior, said of Dunn, who contributed five points, a career-best eight rebounds and stellar defense in a career-high 30 minutes and 11 seconds off the bench.
"Ryan, he's so mobile," Bennett said, "and he's wired to defend and rebound … We needed Ryan's mobility, and I thought he was really good."
Dunn's blocked shot wasn't his only highlight. With 4:30 to play, after Franklin missed inside, Dunn soared for the rebound and threw down a vicious dunk that pushed Virginia's lead to 63-56.
"A lot of the guys said that it was kind of surreal, but I wasn't really focused on that," Dunn said. "I wanted to go get the rebound, [and Wake players] were in there, so I just jumped, and then I just saw the ball. I didn't see anything else, just ball."
Monsanto's sixth trey cut Virginia's lead to 71-64, and his seventh made it a four-point game with 52.5 seconds to play. The home fans roared, but the Hoos went 5 of 6 from the line in the final 41.9 seconds—Clark was 4 for 4, and Franklin was 1 for 2—to improve to 6-2 away from John Paul Jones Arena.
"Road games are big for us," Franklin said, "just being able to come into a hostile environment where the crowd is not in your favor, be able to, in a sense, quiet them up, that's what we enjoy doing. We enjoy playing on the road, take it as a challenge. I think we responded well when they made a run today."
The win was Bennett's 400th as a head coach. He was 69-33 at Washington State, and he's now 331-120 with the Cavaliers. His best teams at UVA have excelled away from JPJ, and his latest group is proving tough on the road, too.
"You have really good players and you have a good staff, all that, but you try to have a system that doesn't waver, that is sound," Bennett said. "Can you get back [on defense]? Can you be sound? Do you know who you are? We talked about before the game [being] simple, faithful and purposeful. Simple in terms of don't overcomplicate this, you know what you have to do; be faithful to who you are, your kind of true self as a team, and then do it with great purpose and passion."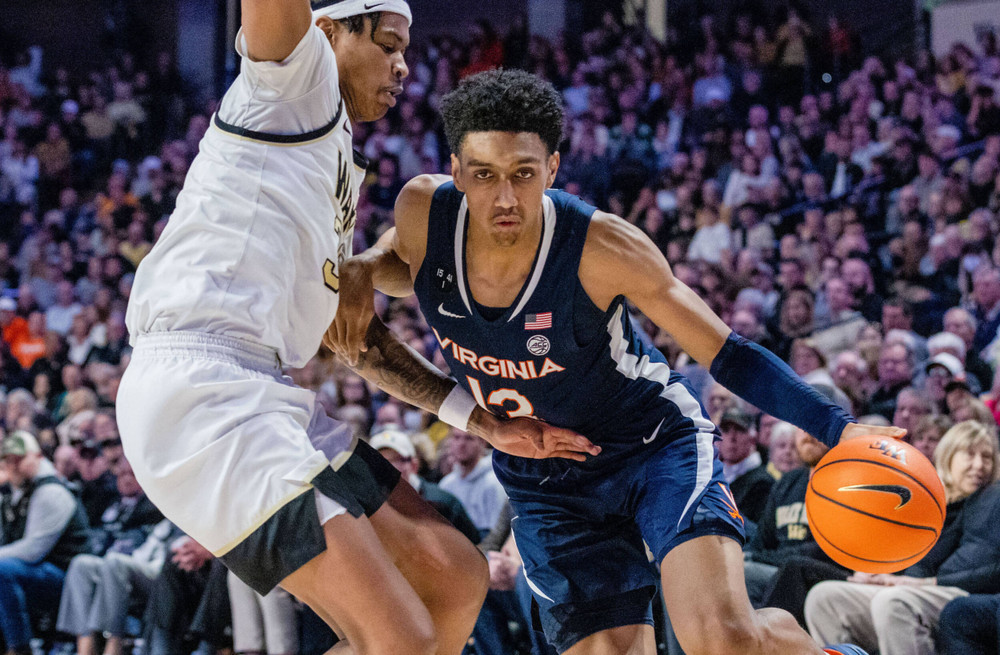 This is the third season in which Clark and Beekman have started alongside each other in the backcourt, and at least one of them is almost always on the court during key stretches. On Saturday, however, Beekman went to the bench with his fourth foul at the 12:12 mark of the second half, and Clark joined him there with 10:45 to play after picking up his fourth personal.
With his two best ball-handers and perimeter defenders on the bench, Bennett went with a lineup of McKneely, Dunn, Vander Plas, Franklin and Jayden Gardner. With 7:38 remaining, though, Bennett put both Clark and Beekman back in, and each made it to the final horn.
"I just didn't want to pick up a foul, and obviously my defense [slipped] a little bit," Clark said. "At the end I was just trying to stay in front and wall up as best as possible, but playing with four fouls is definitely hard."
Franklin finished with 25 points and a career-best 10 rebounds for his first double-double. Also scoring in double figures for Virginia were Clark (12 points) and McKneely (11 points), and Beekman had a game-high six assists.
"It was a good team win today," said Clark, who's been part of more victories than any other player in program history.
The crowd included Bennett's wife and their children, Anna and Eli. Anna, who attends Wake, wore a Virginia T-shirt and sat behind the Cavaliers' bench. Her father said he never doubted where his daughter's support would lie Saturday.
"Not at all," Bennett said, smiling, "and I told her, 'Go recruit some of your friends that have spent time and ate meals at our house and stayed over, to pull for us.' But no, I'm glad she can hold her head high. Last year we couldn't get it done for her, and she can yell. I actually found that out there sitting there. And she loves this school. [Wake] is similar to Virginia. This is a wonderful school, and Coach Forbes and his staff have done a really good job these last two years. They're building it, and so it was a high-level, good game, and my daughter is happy."
WINTER BREAK: The Cavaliers don't play again until next Saturday. In a noon game to air on Regional Sports Networks, Virginia hosts Boston College at John Paul Jones Arena.
BC (9-11, 3-6), which is in its second season under head coach Earl Grant, ended a four-game losing streak Saturday afternoon with an 84-72 victory over Notre Dame in South Bend, Ind.
The Cavaliers have won three straight over the Eagles and lead the series 18-8. UVA plays at BC on Feb. 22.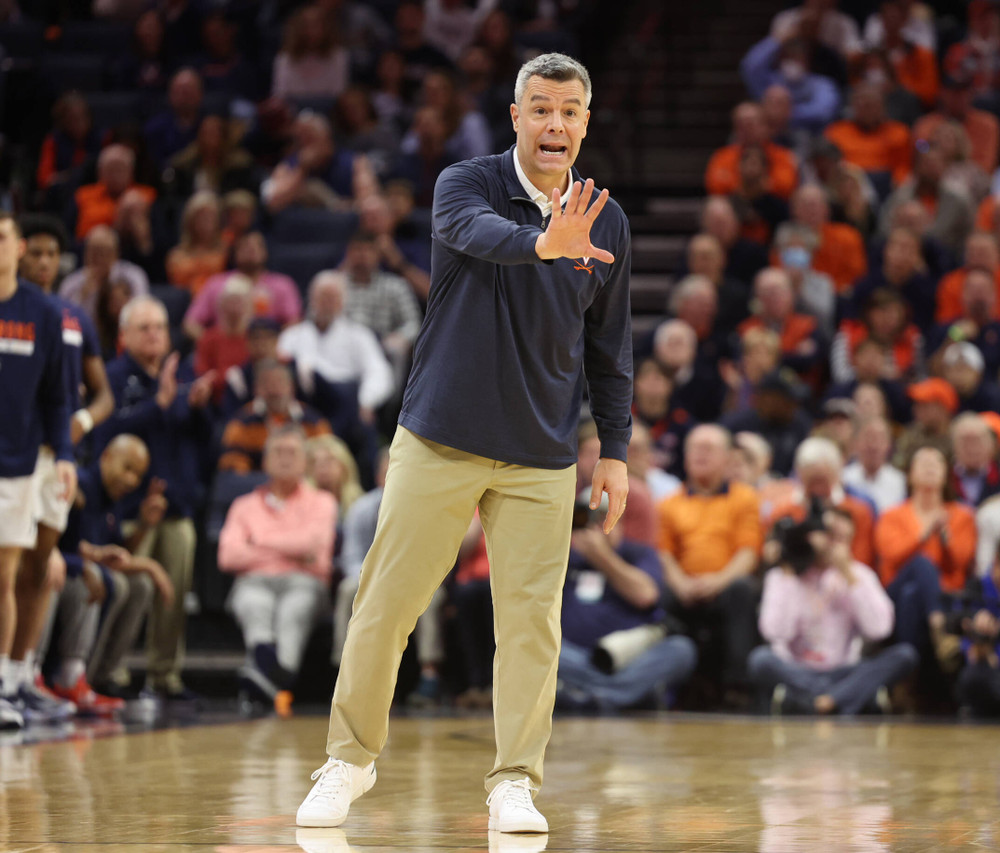 SOUND BITES: The victory was the Cavaliers' 10th over the Deacons in their past 11 meetings. Among the postgame comments:
* Franklin on UVA's 3-point shooting spree: "You're getting open looks, swinging the ball, trusting each other's movement, everybody's looking for each other, and everybody knows everybody can knock the shot down. So just being able to move the ball like that and see the shots go in is a tribute to the work we put in in the offseason."
* Bennett on the contributions of freshmen McKneely and Dunn: "This isn't the first time. They've been doing this. We've been playing some solid basketball, and those two have been an important part of it."
* Bennett on Virginia's 15 3-point attempts in the second half: "Yeah, that's a ton of 3s. I have to go back and look [at the film], but I think I was okay with the majority of it. You can't live and die by that, you have to try to mix it up. But [the Deacons] were jamming the lane and switching and doing a good job of their switches, so we couldn't get it [inside]."
* Dunn on Bennett's message to him: "He said the offense is going to come, but just keep doing the little things. So today with [Wake's] big lineup … I was able to use my athleticism."
* Dunn on the Cavaliers' poise: "We trust ourselves. We're able to make mistakes and to play through it. We were just able to calm everything down, relax. I trust my guards, I trust my seniors and my upperclassmen to get buckets and to score for us. We weren't nervous at all."
* Franklin on having Clark and Beekman for the final stretch: "I know they're veteran players, and they know how to control themselves when they have four fouls. So being able to still be defensively sound and stay in front of their man and not foul out, I credit them for that. That's a hard thing to do."
* Clark on UVA's success away from JPJ: "I think it's the defense. If the defense can travel, obviously it helps a lot. I thought we got some good stops, especially in the first half, and then in the second half just tried to get that mentality of getting the ball stopped and plugging the gaps. I thought we made it difficult on them for the most part."
To receive Jeff White's articles by email, click the appropriate box in this link to subscribe.