By Jeff White (jwhite@virginia.edu)
VirginiaSports.com
WINSTON-SALEM, N.C. — As a high-level ACC men's basketball game unfolded at Lawrence Joel Coliseum, Wake Forest students seated near Virginia's bench tried their best to bait Dante Harris on Saturday afternoon.
"Go back to Georgetown!" they yelled, among other things.
That's not going to happen. Harris, a 6-foot point guard, is a Cavalier now, and he's loving his new team and new school.
"It's been great," said Harris, who transferred to UVA midyear. "Just the atmosphere here, the culture here, it feels so family-like. I clicked with the team so fast. It's like I've been here [for years], with how well I clicked with them."
Harris, who was born in Washington, D.C., moved in his early teens to Tennessee with his little sister and their father. He attended Alcoa High, a public school, for two years before transferring in the summer of 2018 to Lakeway Christian Academy in White Pine, Tenn., about 40 miles east of Knoxville.
Lakeway had a new coach, Curtis Staples—the same Curtis Staples who ranks first in career 3-pointers (413) at UVA—and her and Harris bonded immediately.
"He kind of became my son," Staples recalled this week. "It was one of those things where from the time I met him and saw him, I knew he had potential."
Harris averaged 30.6 points and 9.0 assists per game as a Lakeway Christian junior, and in October 2019, on the eve of his senior season, he committed to Georgetown.
"Georgetown had the best opportunity for him to come in and play right away," Staples said, "and it fit his style, because Dante scored a lot of points in high school. He had four 50-point games his senior year, and I said, 'Georgetown is going to let you just play.' And I was hoping that long-term it would work, but things changed for him. But by being a solid player while he was there, he proved that he could play at a very high level."
As a freshman in 2020-21, Harris started 20 games and was named the Big East tournament's Most Outstanding Player after helping the Hoyas capture the championship.
"He's a dynamic player," UVA head coach Tony Bennett said.
As a sophomore, Harris averaged 11.9 points and was first on the team in assists and second in steals. Early in his junior year at the Washington, D.C., school, however, he left the team for personal reasons, and in early December he entered the transfer portal.
"I don't have any hate towards Georgetown at all," Harris said. "I just felt like we have a purpose in life, and sometimes if your time is up somewhere, God will let you know. So I just felt like that was my time."
In high school, he had no contact with UVA. But once Harris put his name in the portal, Staples reached out to the Cavaliers' coaching staff.
"Curtis made a call and wanted to see if we'd be interested, and that was all she wrote," said associate head coach Jason Williford, who played with Staples at Virginia in 1994-95.
The Wahoos already knew a little about Harris, having scrimmaged Georgetown before his sophomore season. "There was some familiarity with who he was," Williford said. "Obviously, we did our homework, went back and watched a lot of film, asked a lot of questions, but it was good timing."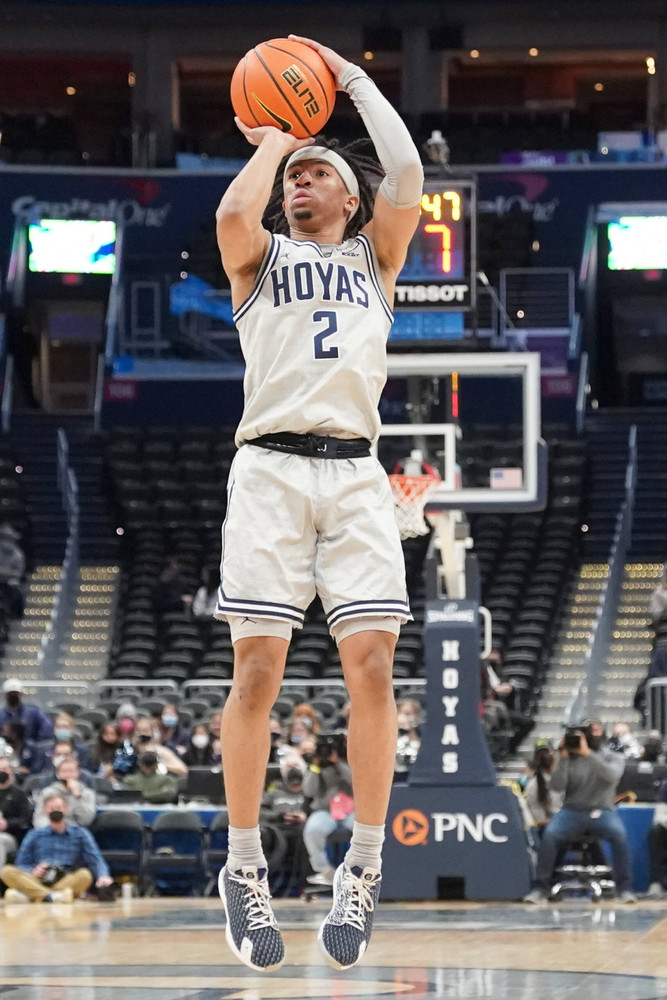 Virginia plays two point guards regularly. Kihei Clark, a fifth-year senior, is in his final season of eligibility, and junior Reece Beekman is drawing interest from NBA teams. Two high school seniors signed with the Hoos in November, but neither is a point guard. And so Harris has filled a critical hole.
"I'm always thinking about what UVA needs," Staples said. "That never changes. In this situation, I did realize that Kihei was leaving and thought it might be a great opportunity for Dante. I didn't know what they had in the burner, what was going on, so I only reached out initially to say, 'What are you guys looking for, for next year?' And then our conversations led to what their needs were."
Staples proved crucial in the process, Bennett said. "You feel good when you know someone and you can say, 'Tell us about this young man. Tell us about his game. You coached him, you've been around him through everything. Can you validate certain things?' And of course you do all your homework, but that helped out a lot, and that's great, when someone from the Virginia basketball family can help you out."
Harris, who has relatives in D.C. and Fredericksburg, didn't take long to pick a new school.
"It was kind of a no-brainer," he said. "Virginia's one of the top programs in the nation. Who wouldn't want to go here, honestly?"
Harris enrolled at UVA this month with three seasons of eligibility remaining. (The NCAA granted an extra year of eligibility to basketball players who competed during the COVID-19 pandemic in 2020-21.) Harris won't play for the Cavaliers this season, but he practices and travels with the team, and he's learning Bennett's trademark Pack Line defense.
"It was a blessing, honestly," Harris said, "to be able to come in midseason and actually practice and get started with my classes, get ahead, not worry about playing right now. I can focus on my academics, so that's big as well."
Still, he said, "I don't think I've ever had a season where I didn't participate. It's kind of hard when I'm watching them play. I just can't wait to be out there."
Virginia's scout team is known as the Green Machine, and Harris has made a strong group even more formidable. Other players in green pinnies include freshmen Isaac Traudt and Leon Bond III, senior Chase Coleman and graduate assistant Isaiah Wilkins, a former UVA standout.
"That's scary," Bond said with a smile when asked about the addition of Harris. "It's a bad day [for the starters]."
The Green Machine puts "a lot of pressure on our defense in practice," Bennett said. "When they're attacking us, our defense has to be sharper. I always say their job is to make the coaches really angry with the first group."
Harris said: "We're just trying to help out as much as we can and make the starters work, try to do everything we can to get them prepared for the games ahead."
He's made a positive impression already.
"He's lightning quick," Williford said. "He's very good in the midrange, and I think he's a really good on-ball defender. Some of the other stuff will come, as far as knowing our Pack principles. He'll get all of that. But his quickness and his ability to create his own shot, I'm not sure we've had a guy as dynamic as him in that regard."
For Harris to have an extra semester to learn the Cavaliers' system is "incredibly valuable," Bennett said, "because now he'll be part of that developmental group, form bonds, travel with us, doing everything but play. He can work with [strength and conditioning coach Mike] Curtis, work with us. As opposed to coming in in the summer, in June, I think it's a tremendous advantage."
Harris' goals for the rest of the season? "I just want to get better at my decision-making, improve my shot more and just be a leader. Lead the guys and do everything I can to help the team win."
Bennett's attention to detail has impressed Harris, who said practices at UVA differ from those he went through at Georgetown. "We do a lot of skill work, and I feel like that's still important to this day," he said.
Harris is also soaking up everything he can from the 5-foot-10 Clark, who as a freshman in 2018-19 helped Virginia win the NCAA title.
"He's a veteran guard that knows things I don't," Harris sad. "so he can teach me how to run this system and how he's been effective and things of that nature. So just being able to learn from him now, it's just a blessing."
Harris, who's living with teammate Ben Vander Plas, majored in sociology at Georgetown, "and I'm going to continue that here," he said, "unless I find something that excites me more."
The Cavaliers (15-3 overall, 7-2 ACC) defeated Wake Forest 76-67, and they're ranked No. 7 nationally. Their next game is Saturday afternoon against Boston College at John Paul Jones Arena, and Harris won't be hard to spot on the Hoos' bench.
"I've been having fun on the sideline," he said.
His new coach has noticed. "What's really encouraging to see, to me, is his exuberance or his joy on the bench, to cheer for his newfound teammates," Bennett said. "He really is happy and cares for them. He said, 'I'm so excited to be here.' He learned a lot where he was, but you can just feel it and see it, and we're excited that he's here."
So is Staples.
"I know a lot of people don't believe me, they think that I'm just saying it, because I love Virginia, but I don't push players there," he said. "I just happen to know a little bit more about that place than other schools. But at the same time, I don't do that. In this case, I was just elated that it worked out for all parties."
To receive Jeff White's articles by email, click the appropriate box in this link to subscribe.