By Jeff White (jwhite@virginia.edu)
VirginiaSports.com
CHARLOTTESVILLE, Va. — They know they're building momentum and piling up victories, Jayden Gardner said, but he and his University of Virginia basketball teammates are focusing on other things.
"We're not keeping track of the winning streak," Gardner told reporters Saturday afternoon at John Paul Jones Arena. "We're just keeping track of the next opponent."
The seventh-ranked Cavaliers visit ACC rival Syracuse on Monday night, and they'll carry a six-game winning streak with them to New York. After a sluggish start Saturday, the Wahoos had little difficulty in a 76-57 victory over Boston College at JPJ.
Four players scored in double figures for Virginia (16-3 overall, 8-2 ACC), which shot 50.8 percent from the floor. Had the Hoos been more accurate from 3-point range—they were 6 for 21—their shooting percentage would have been even impressive. They were 24 for 38 (63.2 percent) from inside the arc.
"You can't live and die by [3-pointers]," UVA head coach Tony Bennett said, "so I thought there was a decent mix."
Early in the game, 7-foot, 250-pound center Quinten Post had his way with the Hoos, and his second trey put the Eagles up 16-13. But Post eventually cooled off, thanks in part to 6-foot-11 Kadin Shedrick's defensive efforts, and Virginia freshman Ryan Dunn tied the game at 21-21 with a spectacular putback dunk.
The Cavaliers went ahead to stay on a 3-pointer by senior guard Armaan Franklin with 9:35 left in the first half, and they led 35-27 at the break. Their lead grew to 27 in the second half before Boston College closed the game with eight straight points.
"They do a really good job of grinding on both ends, offensively and defensively," BC head coach Earl Grant said.
This is the Hoos' 14th season under Bennett, and his program has been known for its stifling man-to-man defense. But he's also had teams that were formidable on offense, too, and his latest group is starting to fit that description.
In each of its past three games, Virginia has scored at least 76 points. Only four times this season have the Cavaliers scored fewer than 65, and they're 11-0 when scoring at least 70. For the season, seven players are averaging at least 6.6 points per game apiece for Virginia.
"It's probably really tough to scout us when you have a lot of guys that do a lot of different things," Gardner said. "Plus, everybody's capable."
Gardner, a 6-foot-6 fifth-year senior, scored 18 points, on 8-for-12 shooting. Franklin finished with 18 points, too, and hit three of the Cavaliers' six treys. Freshman guard Isaac McKneely had 12 points off the bench, and junior guard Reece Beekman scored 11 points to go with his game-high eight assists.
UVA starters Ben Vander Plas and Kihei Clark combined for only nine points against BC (10-12, 4-7), but each has had high-scoring games this season.
"Different guys are doing different things," Bennett said. "We have good balance."
And that makes it difficult for opponents "to zero in or key in on one guy," Bennett said. "They have to say, 'All right, if we're gonna shade this way or double [team], there's other guys.' I think when your attack is balanced, it's the best kind of basketball, and certainly you feed hot hands if they're going."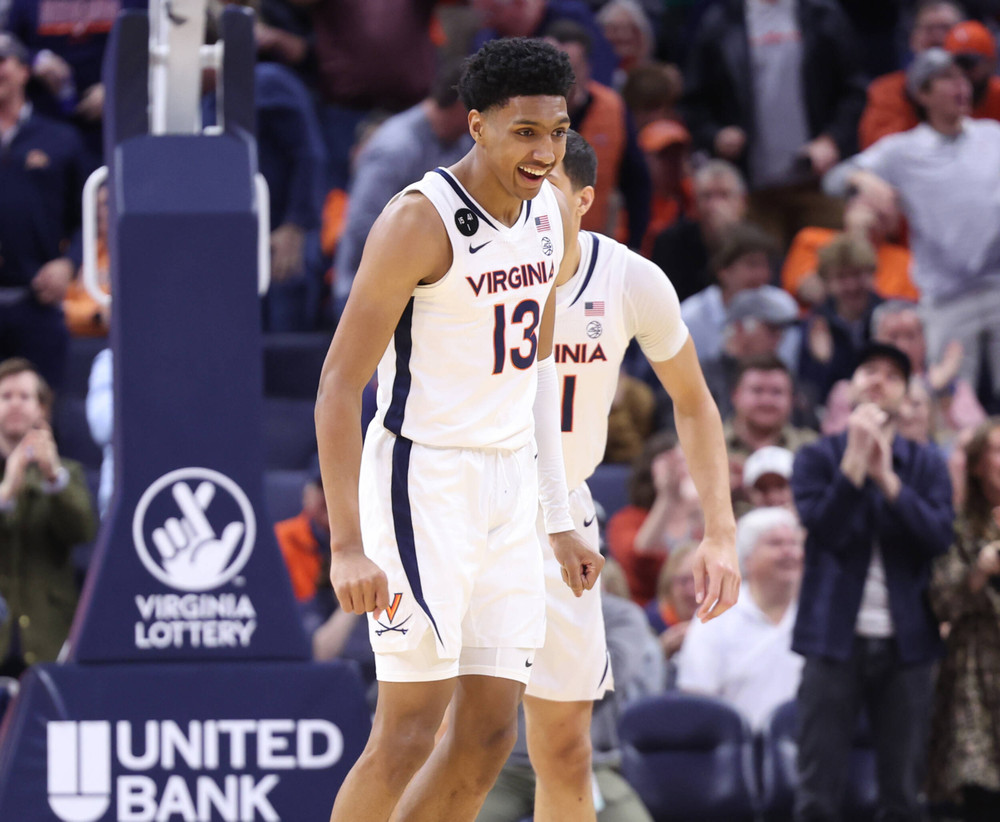 Dunn, a 6-foot-8 forward, is not yet a prolific scorer. He's averaging a modest 3.0 points per game, but that belies his ever-increasing value to the team. In 15-plus minutes off the bench against BC, Dunn hit all three of shots from the floor, grabbed four rebounds, made two steals, blocked a shot, and had an assist.
"His ability on defense to just be a nightmare is something we need," Gardner said, "and it's scary to see what he's going to be down the line."
Dunn, who's from Long Island, N.Y., is the younger brother of Justin Dunn, a pitcher for the Cincinnati Reds. The elder Dunn starred at Boston College, and that was motivation for his kid brother.
"One hundred percent," Ryan Dunn said, smiling.
Dunn's first dunk whipped the crowd of 14,629 into a frenzy. His second slam threatened to bring the building down. After a BC miss, Beekman dribbled up the left side of the court in transition.
"I just kind of looked at him," said Dunn, who was across the court from Beekman. "He saw me, and I kind of threw him [a hand gesture] up."
A moment after he crossed midcourt, Beekman threw a pass toward the basket. Seemingly from out of nowhere, Dunn arrived, grabbed the ball in midair and slammed it home to make it 26-21.
"I try to bring energy as much as I can," Dunn said, and playing "with that type of intensity and passion is kind of a big thing for me."
Like players such as Akil Mitchell, Justin Anderson, Darion Atkins, Mamadi Diakite and Braxton Key before him at UVA, Dunn is showing the ability to "make a play out of nowhere," Bennett said, "whether it's [grabbing] an offensive rebound, defensively a blocked shot, or coming back and snagging a rebound."
Post, who began his college career at Mississippi State, scored 16 points in the first half and finished with a game-high 24, but guard Makai Ashton-Langford (12) was the only other Eagle to score in double figures. BC turned the ball over 16 times, and the Cavaliers turned those mistakes into 14 points.
"They just do a really good job of having good maturity," Grant said, "So the last thing you want to do is give them opportunities to get some easy baskets, and I thought that was a difference in the game. In the first half, we had nine turnovers. And it really wasn't forced turnovers. We just weren't as good with the ball as we needed to be and they got some run-outs."
Virginia also dominated the backboards, outrebounding BC 33-25. The 6-foot-4 Franklin led the Hoos with seven rebounds, and Gardner pulled down six. UVA parlayed its nine offensive rebounds into 15 second-chance points.
"This is a really challenging place to play when you have young guys," said Grant, a former Clemson assistant.
WORTHY CAUSE: For the game, Cavaliers' coaches and staffers wore basketball shoes painted by cancer patients during the Shoes 4 Hope event at the UVA Children's Hospital.
The idea, Bennett said, came from Ben Herold, a fourth-year student at the University. The shoes will be auctioned off, with the proceeds benefiting the Coaches vs. Cancer fundraiser.
"Ben did a good job," Bennett said, "and we're grateful for all those young people, those families and those that are battling. Hopefully this will raise more awareness, and we'll all do our part."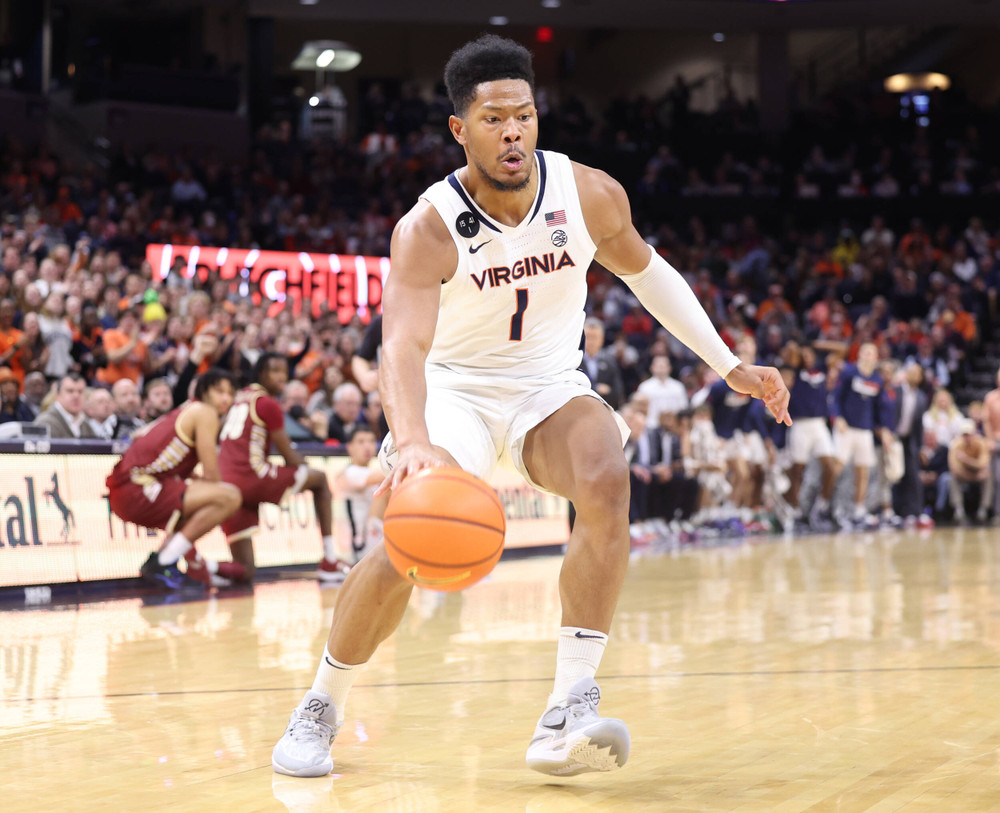 BACK AT IT: At 7 p.m. Monday, Virginia takes on Syracuse for the second time this month. In a game to air to ESPN, the Cavaliers play the Orange in the JMA Wireless Dome.
When the teams met Jan. 7 at JPJ, UVA defeated Syracuse 73-66, a victory that made Bennett the winningest coach in program history.
The Orange played at Virginia Tech on Saturday night. Syracuse went into that game at 13-8 overall and 6-4 in ACC play.
The Cavaliers have won four straight over the Orange and lead the series 12-6.
SOUND BITES: Virginia has won four straight over BC and leads the series 19-8. Among the postgame comments at JPJ:
* Bennett on Dunn's emergence: "Our defense has always been at its best when we've had an active mobile, athletic kind of forward … so he's starting to understand that and embrace that."
* Grant on the Hoos' offense: "They move you from side to side, and so your defense has to be really disciplined, and you've got to be disciplined for 30 seconds. They got us to break down a few times, and they made some 3s because of it."
* Grant on his team's struggles against Virginia's Pack Line defense: "I don't think it was necessarily not being able to penetrate. I think it was offensive maturity. OK, you can't penetrate in the first 16 seconds, but there's 14 more seconds that you can continue to swing the ball and look for something."
* Grant on the Cavaliers' unselfishness: "I thought Virginia was a lot more mature, obviously they're older, so they should be, but they were able to really turn down a shot that was OK to look for a good shot. And then they would say, 'Well, how about this shot? It's a great shot.' And it might take 30 seconds."
* Gardner on playing at Syracuse: "Quick turnaround. Get in [to practice at JPJ] tomorrow, get our business done, and we'll be on the road and hopefully take care of that game."
To receive Jeff White's articles by email, click the appropriate box in this link to subscribe.