By Jeff White (jwhite@virginia.edu)
VirginiaSports.com
SYRACUSE, N.Y. — Two teams playing on short rest Monday night produced an ACC men's basketball game that was far from an instant classic. That didn't make its latest victory any less satisfying for sixth-ranked Virginia.
 Not every game is going to be a blowout where we're having 70-point, 80-point nights," UVA forward Jayden Gardner said. "This one was a grind-it-out game, and it's good to find different ways to win, so when we have this experience later in March, then we know what to do with it."
With 85 seconds to play, Gardner missed a baseline jumper that would have pushed the Cavaliers' lead over Syracuse to four points. From there, however, he contributed one big play after another at the JMA Wireless Dome.
With 60 seconds remaining, the 6-foot-6 Gardner stepped in front of the driving Jesse Edwards and took a charge, sending the Orange's center, who'd totaled 14 points and seven rebounds, to the bench with his fifth foul.
With 33 seconds remaining, Gardner hit a midrange jumper that put UVA ahead 66-62.
"You just gotta have a shooter's mentality, a Kobe Bryant mentality," Gardner said. "Next shot. I missed a good look on the baseline, so I made it up on defense and finished the game on offense."
Finally, after Syracuse guard Judah Mintz missed a 3-point attempt, Gardner grabbed his game-high eighth rebound and passed the ball to teammate Armaan Franklin, who was fouled with 13.6 seconds to play.
Franklin went 1 for 2 from the line, and UVA walked off with a 67-62 victory. The win was the seventh straight for the Wahoos (17-3 overall, 9-2 ACC) and gave them a regular-season sweep of the Orange (13-10, 6-6).
"They beat us, just like they beat everyone else," Syracuse head coach Jim Boeheim said.
Both teams played Saturday in the Commonwealth of Virginia. UVA defeated Boston College 76-57 in Charlottesville that afternoon, and Syracuse lost 85-70 to Virginia Tech in Blacksburg that night.
Coming off that defeat, the Orange was eager to make amends Monday night, and the Cavaliers appeared vulnerable for much of the game. Syracuse scored 26 points in the paint in the first half, "and I thought we looked a bit lifeless," Virginia head coach Tony Bennett said. "We just weren't flying around and scrapping the way you have to on the road, or in any ACC game."
UVA wasn't perfect in the second half, either. A 12-0 run put Syracuse up 51-46 with 12:04 remaining, and the home fans in the crowd of 19,272 roared their approval. But the Hoos slowly, steadily flipped momentum back in their favor.
With 7:31 remaining, Franklin's second 3-pointer tied the game at 54-54. His third trey made it 57-54 with 5:48 to play. The Orange rallied to tie the game, but junior guard Reece Beekman's two free throws put Virginia ahead 59-57 with 4:01 left.
It was 59-58 when a crucial sequence unfolded. UVA forward Ben Vander Plas missed a shot inside and then, as he went for the rebound, noticed he was out of bounds. "And so I had make sure I re-established my feet back in," Vander Plas said.
Having done so, he grabbed the ball and passed it out to Franklin, who swung it to Clark for a 3-pointer that made it 62-58 with 3:06 left.
"I thought that was such a pivotal play," Bennett said.
There were more to come. Clark hit both ends of a one-and-one with 2:35 remaining to extend Virginia's lead to six, and then Gardner took over in the final minute.
"We got a little bit of experience on this team," said Clark, who contributed 12 points and a season-high 10 assists. "Guys made some timely plays."
Unless he somehow comes up with another season of eligibility and decides to return to UVA for a sixth year, Clark has played his last game at Syracuse. He'll leave with a 4-0 record at the erstwhile Carrier Dome.
The Orange, meanwhile, was left to rue its fifth straight loss to UVA and ninth in the teams' past 10 meetings. Syracuse made only 3 of 15 attempts from 3-point range and shot 11 for 18 from the line.
"We had open shots, a lot of open shots, and you're not going to beat Virginia if you shoot 3 for 15," Boeheim said. "They're a really good team. You can't miss seven free throws."
Franklin, a 6-foot-4 senior, finished with 12 points. Vander Plas, a sixth-year senior who transferred from Ohio University to UVA last spring, contributed seven points, seven rebounds and a season-high six assists.
"Winning on the road in college basketball is tough," Vander Plas said, "so any time you can get one, regardless of how ugly it can be, road wins are really, really big."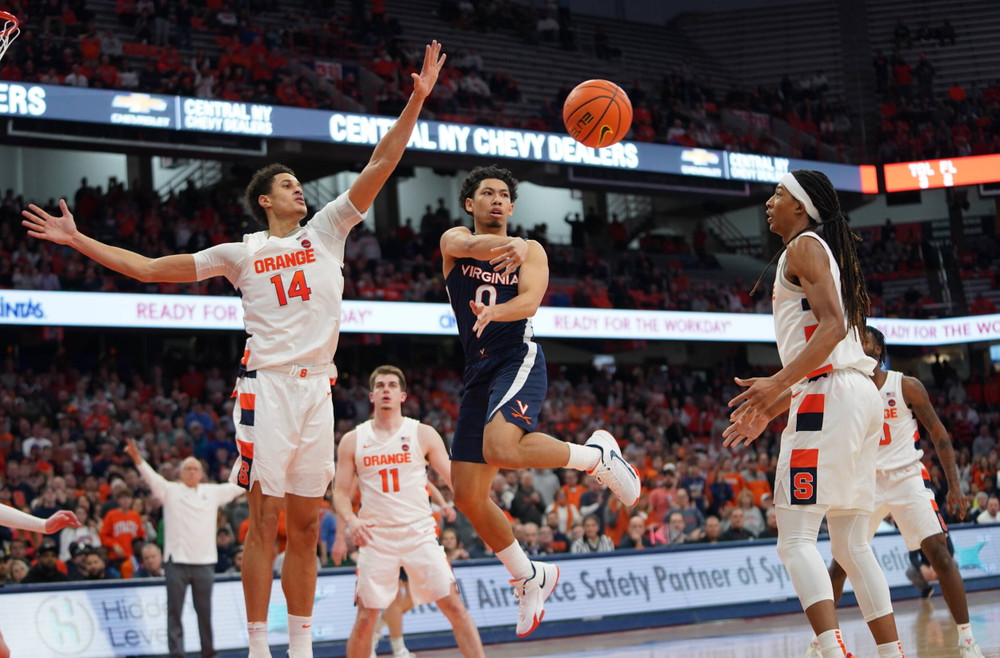 The Cavaliers shot well in the first half and led by one at the break, but Bennett was far from pleased when he addressed his team in the locker room. Not only was Syracuse scoring at will around the basket, UVA was giving up open shots from the outside. For the Hoos, the Orange wasn't capitalizing on those looks.
"I thought in the first half, as they say, we were neither fish nor fowl," Bennett said.
He smiled. "Our players have never heard that. When I say that, they're like, 'What are you talking about? 'But we were neither. We weren't taking the lane away, we weren't bothering shots, they were beating us. The second half, we said let's take something away."
Gardner said: "We had tired legs out there in the first half, and I think it showed, but we were able to be resilient and fought back in the second half."
When the ball came to the 6-foot-11 Edwards in the post, the Hoos trapped him, and he had four turnovers. Virginia also battled at the other end, coming up with 10 offensive rebounds after intermission.
"In the first half we got off to a good start offensively and made a lot of shots, and then Syracuse really took it to us," Bennett said. "Then in the second half we got more aggressive, flew around, played even a little harder offensively with cuts and offensive rebounds, and then it just a game of ebbs and flows."
UP NEXT: Virginia is on the road again Saturday, this time in Blacksburg. In a Smithfield Commonwealth Clash game that ESPN2 will air, UVA takes on Virginia Tech at noon at Cassell Coliseum.
The Hokies are "tough-minded and they're battling and we know that environment," Bennett said. "You're going to have play 40 minutes. Anything less probably doesn't cut it."
Tech (13-8, 3-7), seeking its third straight win, plays No. 23 Miami (16-5, 7-4) on Tuesday night in Coral Gables, Fla.
This will be the second meeting between UVA and Tech in three weeks. The Cavaliers defeated the Hokies 78-68 on Jan. 18 at John Paul Jones Arena. Clark led Virginia with 20 points and five assists, and Franklin contributed 15 points (on 6-for-9 shooting) and five rebounds.
UVA leads the series 97-58 and has won six of its past eight meetings with Tech. The Hoos are seeking their first win in Blacksburg since Feb. 18, 2019.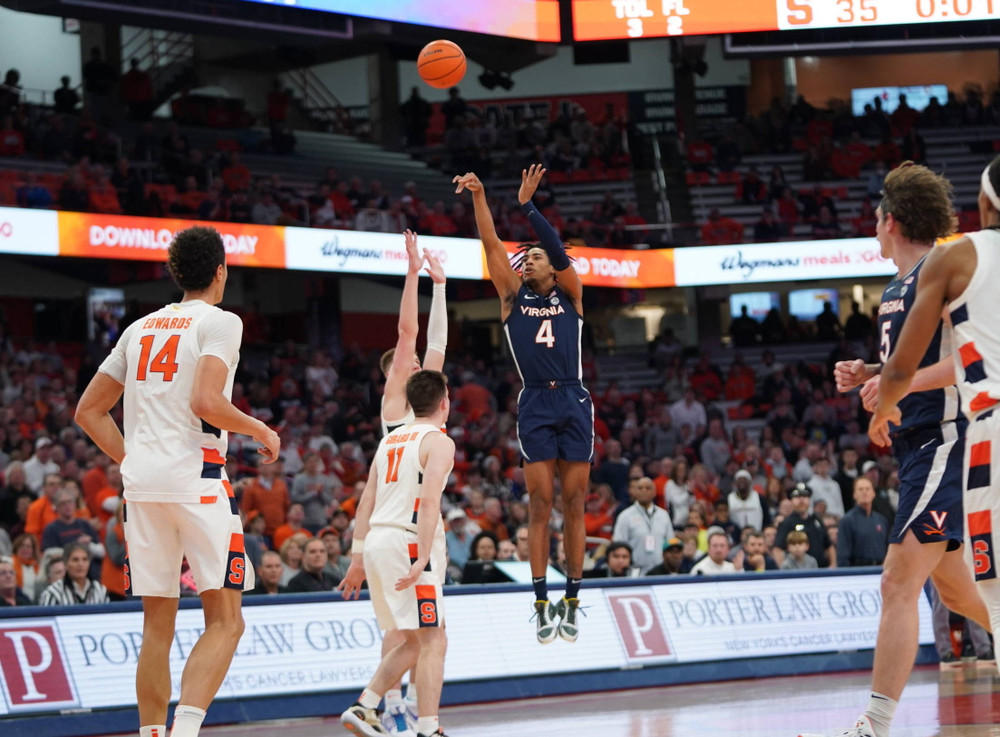 SOUND BITES: The crowd included two players from the NFC champion Philadelphia Eagles—Jalen Hurts and Brandon Graham—and they saw Bennett improve his record against Syracuse to 12-3. Among the postgame comments:
* Bennett on Gardner's late heroics: "He made a huge bucket, took a big charge. It was great to see."
* Bennett on UVA's second-half tactics: "We had to trap Edwards. We couldn't handle him one on one. And we tried to protect the paint more and get on the glass and just held ourselves in there enough so that some plays could be made and then it kind of came down to that at the end."
* Bennett: "I think in the first half none of us were pleased with our defensive focus, tenacity, and the way we have to play. When you give them 26 points in the paint, that's not going to get it done. So I thought [the Cavaliers] rallied and were better in the second half. Guys had to step up, make a big shot, a hustle play here and there, and that's what it takes. This is just how it is. You're getting everybody's best shot … We found a way, but there's more there, and I'll keep challenging our guys to give more."
* Vander Plas on his first experience with Syracuse's famous domed arena: "Everyone was talking about it coming in, and you hear about how big it is, the depth perception and all that. We came to shootaround [Monday morning] and got some shots up. It wasn't anything too bad. The lighting is really good in here, so everything's pretty bright, so that was helpful. But it is a little bit different with how far it drops back, so a little bit of an adjustment there."
* Bennett on UVA's success from beyond the arc (9 for 21) against the Orange's trademark 2-3 zone defense: "You can't live and die [with 3-pointers], but they do such a good job that you've got to hit a few of those."
* Bennett on the value of road wins: "You gotta become battle-tested. In these games, you have to make plays down the stretch, you gotta come up with a key stop, you gotta make big free throws, you gotta knock down a 3, get an offensive rebound. So the more you're in those spots and the more you have success, or failure, you learn."
* Clark on the charge Gardner took on Edwards: "I think it was the stop that we needed down the stretch."
* Gardner on waiting for the official's ruling on the play: "If he called block, that would be demoralizing. But picking up his fifth foul, we got [Edwards] out of the game and we got the ball back. It was huge for us."
To receive Jeff White's articles by email, click the appropriate box in this link to subscribe.