By Jeff White (jwhite@virginia.edu)
VirginiaSports.com
CHARLOTTESVILLE, Va. — His team, coming off a lackluster performance in Blacksburg, displayed a renewed commitment to defense Tuesday night, and that pleased Tony Bennett. But with Duke coming to town and the postseason approaching, the University of Virginia's longtime head coach wants to see more of that from his players.
One game of inspired defense isn't enough for Bennett.
"If want to be as good as we can, everyone has to be committed," he said late Tuesday night after No. 8 UVA defeated No. 22 NC State 63-50 at John Paul Jones Arena.
"It won't be perfect, but it has to be a little tougher, sounder mindset. I was pleased that the guys established that and they'll need to continue to establish it at our next practice, and moving forward."
Against Virginia Tech on Saturday, UVA gave up 40 points in the paint and lost 74-68. The Hokies shot 50.9 percent from the floor and seemed to come up with a key basket every time they needed one at Cassell Coliseum.
"Virginia Tech, that wasn't us," UVA forward Jayden Gardner said Tuesday night. "That wasn't how we want to be looked at, portrayed, so we're just getting back to what we do."
Back in Charlottesville, Bennett challenged his players. "There was a pretty clear message sent in the last couple days of practice," he said, "and I thought the guys responded."
That message, junior guard Reece Beekman said, was to "just get back to our ways and get back to the [Pack Line defense] and kind of just do what we know we could do and know what we're capable of."
The Cavaliers (18-4 overall, 10-3 ACC) have played stretches of suffocating defense this season, "but sometimes it fades away," Beekman said, "so we just wanted to come back and kind of just re-establish ourselves this game and just get back to our pathway."
Virginia did so in impressive fashion. The Wahoos led for the final 37 minutes and 11 seconds Tuesday night and hounded two of the Wolfpack's best players—6-foot-9, 275-pound DJ Burns Jr. and 6-foot-1 Jarkel Joiner—into subpar outings. The 50 points were 10 fewer than NC State's previous low this season.
"Tough place to play," State head coach Kevin Keatts said of JPJ. "Not a lot of people are going to win here."
The Wolfpack (19-6, 9-5) came in averaging 79.6 points per game, the most in the ACC. That offense sputtered Tuesday night, when the Pack shot only 29.6 percent overall and 33.3 percent from the floor. State's 20 first-half points were a season low.
"In the past, we've been able to control the tempo and to get those guys to play a little bit faster and even turn them over, but we couldn't tonight," Keatts said.
Wolfpack guard Terquavion Smith, a projected first-round NBA pick, scored a game-high 19 points but missed 13 of 20 from the floor from the floor. Guard Casey Morsell, who began his college career at UVA, added 18 points (on 6-for-11 shooting), but Joiner was 2 for 14 from the floor, and Burns turned the ball over six times. Most of Burns' mistakes came when the Hoos trapped him in the post.
"I thought we were ready," Bennett said. "Just tried to make them earn. They have an inside-outside attack with Burns and obviously Smith and Joiner. They've been playing terrific basketball with Casey, and Casey played well tonight. But we tried to be back, be ready, get into the ball and tried to be a little sounder and outlast and not yield [as much as] we did last game."
On a night when State put up 27 shots from beyond the arc (and made only eight of them), Virginia attempted eight 3-pointers, nearly 13 fewer than its average. Two of those 3-point shots went in, both by freshman guard Isaac McKneely. The Cavaliers dominated inside, scoring 32 points in the paint.
"I thought they did to us what Virginia Tech did to them," Keatts said.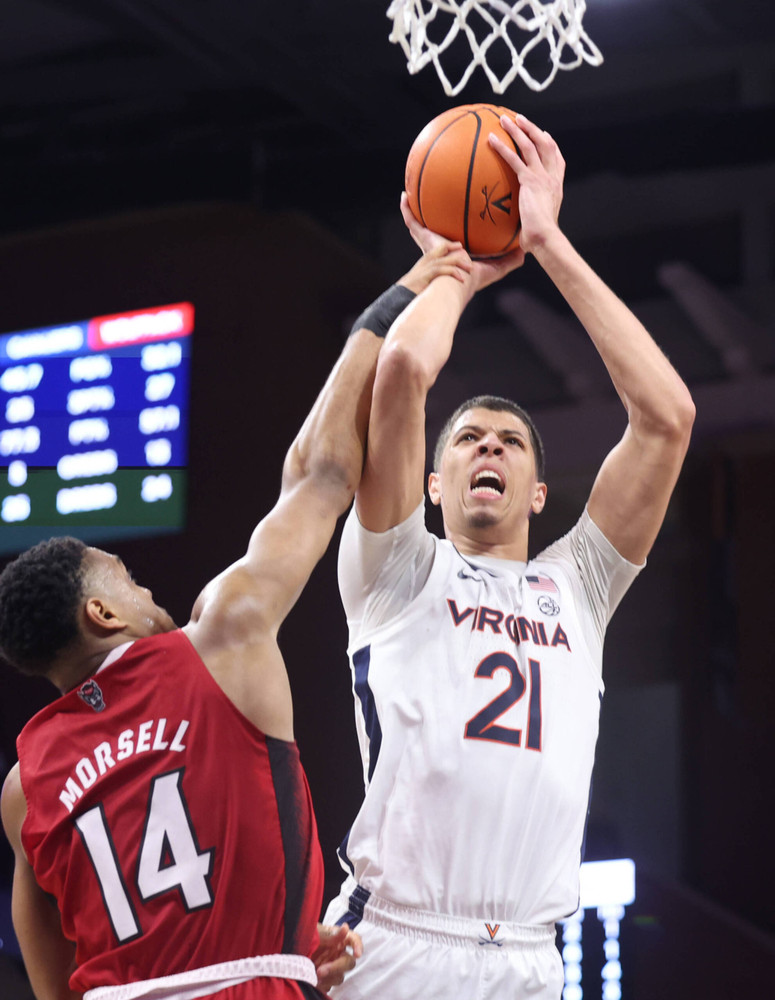 Kadin Shedrick came off the bench to play a significant role in the Hoos' victory, an encouraging sign for a team with championship ambitions. A 6-foot-11 redshirt junior, Shedrick started 14 of Virginia's first 15 games this season, but his playing time has dipped recently, and Bennett didn't use him against the Hokies.
Shedrick practiced well Sunday and Monday, Bennett said, and he entered the game at the 16:59 mark of the first half to a warm ovation from the crowd of 14,070. He earned more applause with his play, totaling 10 points, six rebounds and one blocked shot in 26-plus minutes.
"I think it's a great lesson," Bennett said. "It's why you keep working and you stay ready. Kadin practiced well for the last couple practices and the practices matter. He came ready and he kept himself ready."
Bennett favors a tight rotation, but UVA's players are advised "to stay ready," Gardner said, "and I think Kadin has done a great job staying in the lab, working. It's happened to everybody. Every guy has their lull and they have bad stretches. So it's about who's ready to play when someone else has a bad game. So I think we have the depth and the mindset to go out and attack that when it's my time or their time or anybody's time to step up."
Gardner (18 points) led Virginia in scoring for the fourth straight game, and McKneely sparkled off the bench, totaling eight points, four rebounds, two assists and two blocked shots, one of which came when State had cut its deficit to nine late in the game.
"We needed that block," Bennett said.
Veteran point guard Kihei Clark led the Hoos with six assists, and Beekman, in a characteristically stellar all-around performance, finished with 15 points, four assists, three rebounds and three steals. He also defended Smith, who came in as the ACC's leading scorer.
The key to slowing Smith, Beekman said, was "staying on his hip for most of the night. He's a great player, with great shot-making ability. So I know just we [placed] an emphasis on kind of guarding your yard and guarding your man, and I feel like we did a great job in doing that today."
In his first game at JPJ since transferring to NC State, Morsell shined. In his two seasons as a Cavalier, he was 25 for 123 from 3-point range (20.3 percent). But Morsell came into this game shooting 43.9 percent from beyond the arc, and he was 4 for 9 on 3-pointers.
"He's a fine young man," Bennett said. "I guess it wasn't meant to be [for Morsell at UVA]. I wish it would have, but he's really playing good ball. He's a key for that team, and I wish him nothing but the best and I'm proud of the way he's developed. And I know what he and his family are about … It's worked out well for him and it's worked out well for us."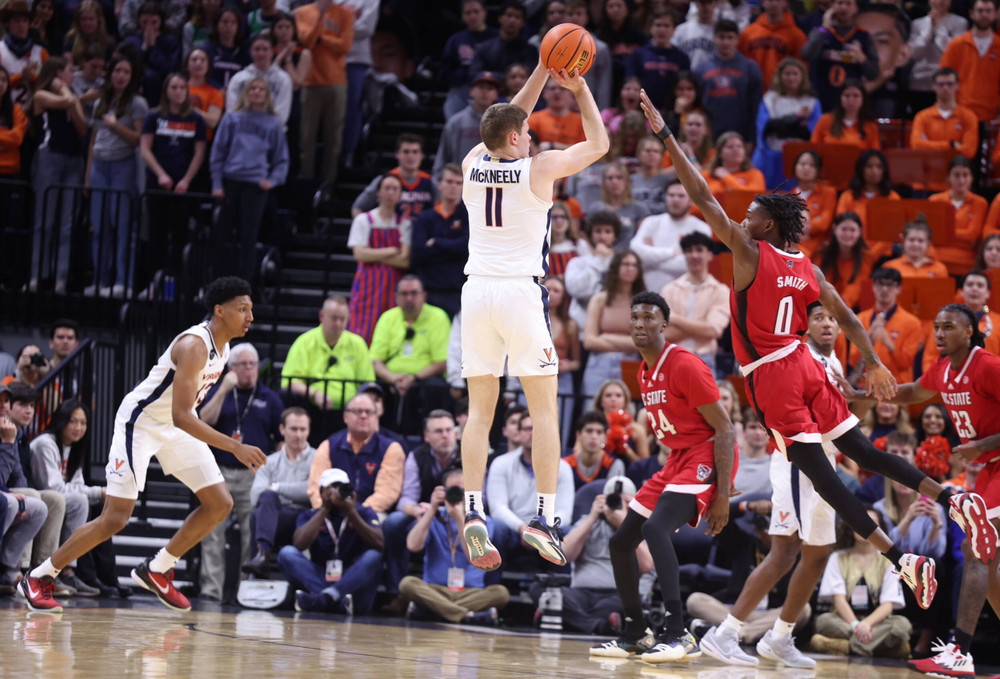 SOUND BITES: The win improved Bennett's record against NC State as UVA's head coach to 15-5. Among the comments after the 9 p.m. game:
* Bennett: "That's how you got to win games. As it gets to this point, you better, as I've said, be hard to score against and not have too many breakdowns … But I thought everybody gave us a good lift. Isaac McNeely certainly did, and the [other] guys played well, but I was so happy for Kadin to respond like that and help us out, and that made our defense different."
* Bennett on the effectiveness of UVA's post traps: "You can't take away everything, Sometimes you make the mistake of trying to do everything perfect and treat it almost like a calculus problem. You've got to execute, and sometimes it's what you do best against what they do best. And then if it's really hurting, you adjust. Simplicity with hard, tough execution is the way, and guys have to continue to understand that. And if they do, they'll have chances. and if they don't, and we don't, then it'll be a struggle."
* Bennett on having multiple options in the frontcourt: "Different guys at different times. That's why you always stay ready."
* Beekman on Shedrick: "He hasn't been playing the last couple of games. So he showed a lot of toughness today just coming in and having the right mindset."
* Beekman on the challenge of facing an uptempo team like NC State: "It's kind of like we're opposites. They like to get down, we like to get back in transition … So it was just [a matter of which team was] gonna be more resilient today. That was us."
* Gardner: "NC State has a very potent offense, they can get really hot, and I think we just did a great job of eliminating the guards as well as the big men."
* Keatts: "Give Virginia a lot of credit. I thought they came out with a lot of energy and fire … I thought their guards did a great job of controlling tempo."
* Keatts on the Cavaliers' success in disrupting State's offense: "I thought their defense tightened up a little bit. I thought they were in more gaps than they had been in the past."
* Keatts on Gardner: "He's a throwback, because you typically don't see post guys that can make 15- to 18-foot jump shots … and I think that's what makes him such a tough matchup."
To receive Jeff White's articles by email, click the appropriate box in this link to subscribe.