By Jeff White (jwhite@virginia.edu)
VirginiaSports.com
LOUISVILLE, Ky. — The sound of the final horn did not trigger a celebration among Virginia's players Wednesday night. It prompted a more muted response.
"It was a sigh of relief," senior guard Armaan Franklin said after seventh-ranked UVA defeated Louisville 61-58 at the KFC Yum! Center.
Conventional wisdom held the Cavaliers (20-4 12-3) would have their way with the ACC's last-place team, but little unfolded as expected in this one. At the end of a game in which UVA again struggled from the free-throw line, Louisville had the ball down three with the shot clock off. But the Cards found no holes in Virginia's Pack Line defense and ended up settling for a contested 3-pointer.
It didn't come close to going in. UVA forward Ben Vander Plas grabbed the rebound and was fouled with seven-tenths of a second remaining. Vander Plas missed the front end of a one-and-one, but time expired, and the Wahoos exhaled.
Virginia and Louisville meet again in the March 4 regular-season finale at John Paul Jones Arena. The Hoos hope to be sharper in the rematch, but they showed Wednesday night that they can prevail when they're out of sync.
"Just a gutsy win," point guard Kihei Clark said. "You got to grind those out. It wasn't the greatest atmosphere in here, but you got to dig deep and just find a way to win. Those matter too. Any road win in the ACC counts."
This is Clark's fifth year at UVA, and he's accustomed to playing in front of large, rowdy crowds at the 22,090-seat KFC Yum! Center. "I think it's the best ACC arena, in my opinion, other than JPJ," Clark said.
Not this year. With the Cardinals (3-23, 1-14) struggling in their first season under head coach Kenny Payne, attendance has plummeted at their home games, and Virginia's visit drew a paltry crowd of 11,570.
"It didn't have the same life," Clark said.
The Louisville fans who showed up had more to cheer than usual. With 5:18 left in the first half, Mike James' free throws put the Cards ahead up 26-17, and their supporters dared to dream an upset might be brewing.
"We got off to a slow start," Franklin said.
The Hoos eventually picked up the pace. Louisville didn't score again in the half, and UVA ran off 12 straight points to take a 29-26 lead into the break. The Cavaliers continued to click early in the second half and led by seven with 15 minutes to play. But the Cards refused to go away, and they went up 42-41 on a 3-pointer by JJ Traynor with 10:17 remaining, bringing the home fans to their feet.
Louisville's lead didn't last. On UVA's next possession, Clark, who finished with a game-high six assists, passed to freshman guard Isaac McKneely for a 3-pointer that made it 44-42.
"That was a big, big shot," Clark said. "I-Mac, we have all the confidence in the world in him and I know he's got all the confidence in himself."
McKneely hit another trey with 3:45 left to stretch the Hoos' lead to 58-50, but his first one was especially important, head coach Tony Bennett said.
"You could feel [the momentum shift]," Bennett said, "because certainly the crowd was starting to get into it and those guys, they're scrapping. It's tough to be in the spot Louisville's in. Those young men are battling and they want to get a victory, and obviously we've been playing well. But there's not a lot of separation [in ACC games]."
Case in point: Virginia Tech, which defeated UVA in Blacksburg early this month, lost Wednesday night in Atlanta to Georgia Tech, which was tied with Notre Dame for 13th place in the ACC.
"I don't care if it's first, second or third [place] teams," Bennett said, "or teams that don't have a good record. It's not gonna make a difference. I believe that. So take my hat off to those guys for working hard, but we got to keep working and I'm thankful for the win and to get out of here and get ready for the next one."
Franklin led Virginia with 14 points, 12 of which came in the first half. Clark had 14 points and four assists to go with his six assists, and senior Jayden Garden contributed 10 points. Vander Plas, a graduate transfer from Ohio University, recorded his first double-double as a Cavalier: 10 points and a season-high 11 rebounds.
"Winning on the road is difficult, anywhere you go," Vander Plas said, "so it's always good to get one on the road."
With 5:16 to play, Clark scored on a drive that gave the Cavaliers a 10-point lead, and they appeared to be in control. But the Cards, who were coming off a strong performance in a road loss to then-No. 19 Miami, battled back, and two free throws by guard El Ellis (game-high 21 points) made it 60-56 with 1:16 left.
In their overtime win over Duke at JPJ last weekend, the Hoos made only 9 of 22 free throws, and they were 1 for 3 from the line in the final 50 seconds Wednesday night (and 9 for 16 overall). Clark missed the front end of a one-and-one with 30 seconds left and the score 61-58, giving new life to the Cards.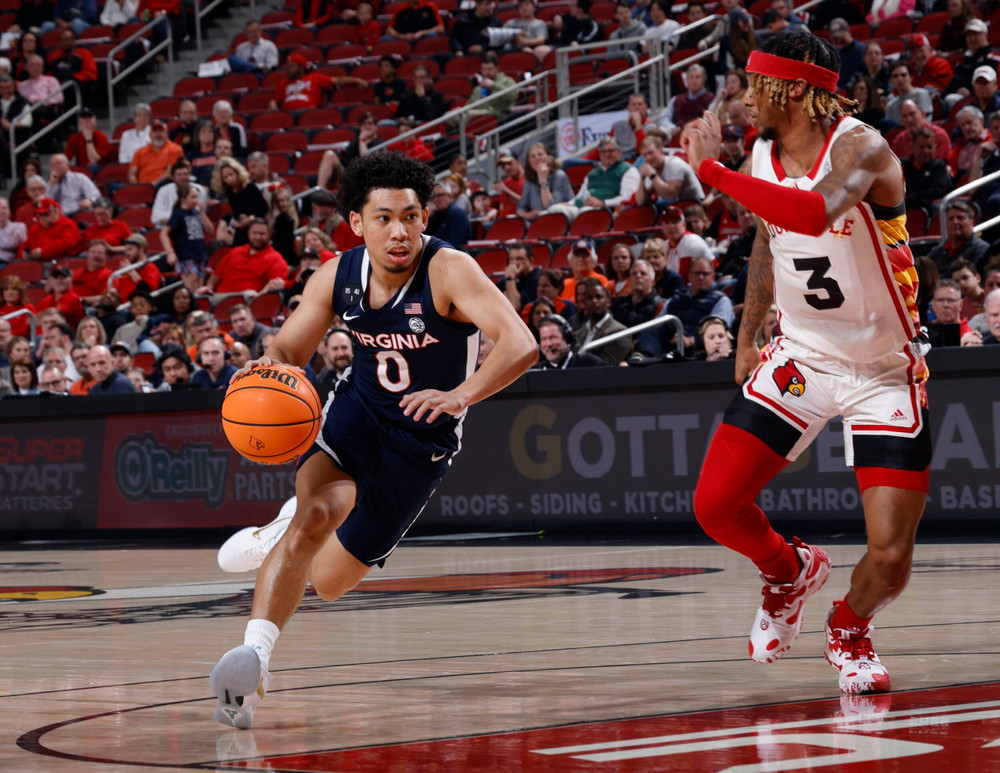 For the final 2:51, Bennett played four guards—Clark, Franklin, McKneely and Reece Beekman—alongside the 6-foot-8 Vander Plas, and that group hounded the Cards on the final possession.
"That's what we pride ourselves on," Franklin, said, "just buckling down and not letting them get a good shot off."
Louisville looked and looked for open 3-pointer. None presented itself, and Kamari Lands (1 for 7 from the floor) forced up a shot with the clock running down.
The key for the Cavaliers, Vander Plas said, was "just a lot of really good perimeter defenders. It's nice to be out on the court with those four guys. They're just flying around, and on ball screens I do what I can to help them out, and they smothered them on that last possession. It's really fun to watch Reece and those guys just move their feet the way they do it."
Vander Plas smiled. 'I'm a little jealous of that ability. But that was a great, great defensive possession."
Clark said: "We were just trying not to give up a 3. I thought they had a chance maybe to get a quick layup and cut it to one. But it was a good defensive stand."
The Hoos are tied with Pittsburgh for first in the ACC standings, and their latest victory moved Clark into first place on the list of the league's all-time winningest players. Shane Battier won 70 ACC regular-season and tournament games in his four years at Duke. Clark is at 71 and counting.
"He's had five years to do it, and Battier had four," Bennett said, "but still, it means he's won a lot of games. So I'm grateful for that and excited."
UP NEXT: Three of Virginia's final five regular-season games are at John Paul Jones Arena, starting Saturday against Notre Dame (10-16, 2-13). The noon game will air on ESPN2.
The Fighting Irish's longtime head coach, Mike Brey, is stepping down at the end of this season. Notre Dame lost 68-64 to Duke at Cameron Indoor Stadium on Tuesday night.
The Cavaliers are 16-3 all-time against the Irish. In the teams' only meeting in 2021-22, however, Notre Dame prevailed at home.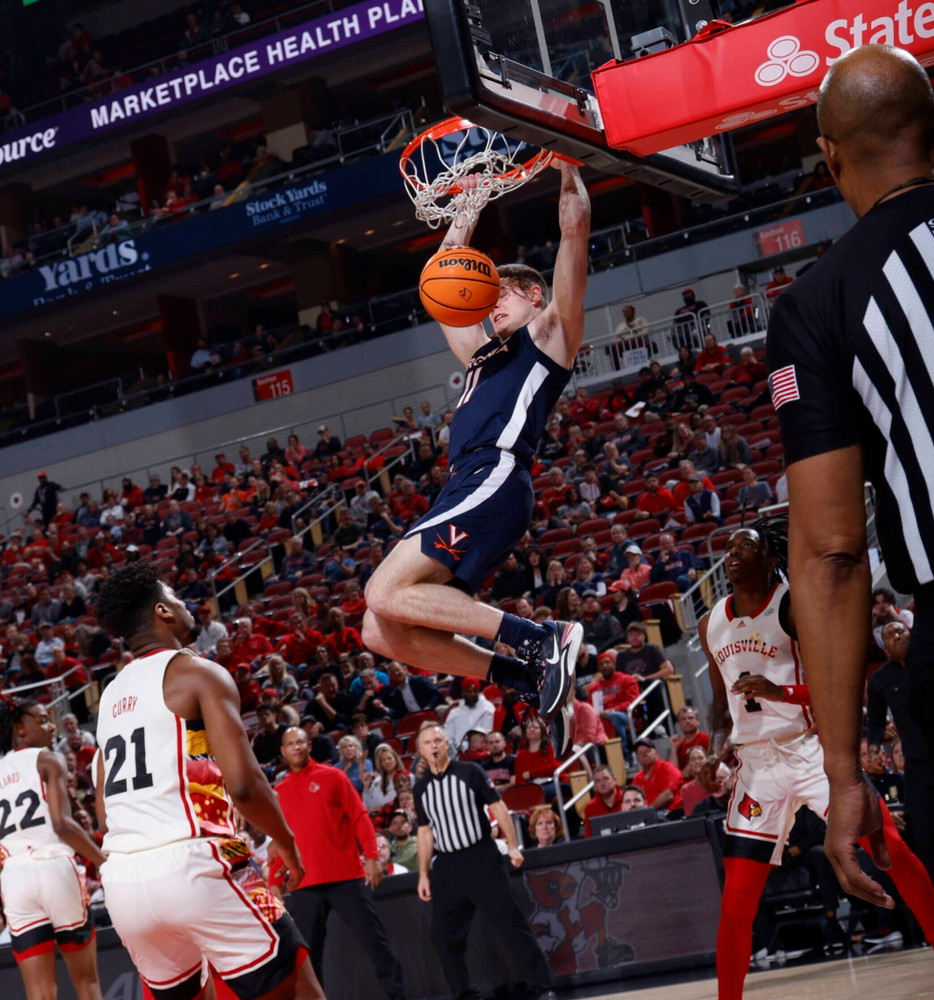 SOUND BITES: Bennett, who's in his 14th season at UVA, improved his record against Louisville to 16-2. Among the postgame comments Wednesday night:
* Bennett, whose father, Dick, was a legendary coach, on the late-season grind: "My dad said it's steel-toed boots and hard hats this time of year. He said that's what it is, and you have to have that mindset."
* Payne: "Credit to Virginia, you can see why they are a top-10 team. They're experienced, they are veterans, they know how to play, they play great together. The moment you break down, they burn you. The moment you relax, they burn you. The moment that you're not in tune, they burn you. They're not doing it with an abundance of talent, they're just doing it by being solid. They're doing it by executing. They're doing it by playing together."
* Payne on his team's final possession: "I understand the emotions of the game: 'We've got to get a 3, we have to get a 3 …' That's not what we really needed. We could have taken a quick two."
* Franklin on UVA's win: "I think's that's what good teams do, being able to stay with it even though things aren't going right. [The Cardinals] play really hard. Their record doesn't reflect who they are as a team. They play really hard, and they played us really tough."
* Bennett: "I thought we had stretches of good defense, but we're not a team that just separates all the time. We missed some front ends of bonuses and missed a couple of close ones that perhaps could have made that a little more comfortable at the end. I think we were up 10 with five [minutes remaining]. But again, good defensive stand the last possession …  I thought our guys covered for each other and guarded that 3-point line well."
* Bennett on his players saying they lacked the necessary energy Wednesday night: "Those are excuses …You've got to come ready. It's a privilege to play. You got to come ready no matter who and you're in a race."
To receive Jeff White's articles by email, click the appropriate box in this link to subscribe.