By Jeff White (jwhite@virginia.edu)
VirginiaSports.com
CHESTNUT HILL, Mass. — To reach the visiting team's locker room at Conte Forum, Virginia's players and coaches had to trudge past the throng of Boston College students who stormed the court at the final buzzer Wednesday night.
The sixth-ranked Wahoos were as somber as the Eagles and their supporters were joyous. Rarely do the Hoos play as poorly at both ends of the court as they did in this ACC game. Boston College, which 11 days earlier had lost by 30 points to NC State on the same floor, led for the final 29 minutes and 18 seconds Wednesday night and won 63-48.
The 48 points were a season low for UVA (21-5, 13-4), which fell into a tie with Pittsburgh (20-8, 13-4) for second place in the ACC, a half-game behind Miami (23-5, 14-4). The Cavaliers shot 19 percent from 3-point range and 32.2 percent overall, and they struggled on defense, too.
The Eagles (14-15, 8-10) made 40 percent of their 3-point attempts and shot 52 percent overall.
"Credit to Boston College," UVA head coach Tony Bennett said. "They really played hard. They were physical offensively [with] how hard they cut, moved, attacked the lane, and then defensively they pressured the ball and they just got after us."
The Hoos arrived in New England with a four-game winning streak, but two of those victories had been less than convincing. After defeating Duke in overtime on Feb. 15, Virginia held on for a three-point victory at Louisville and then a two-point win over Notre Dame, which missed an open 3-pointer on the game's final play at John Paul Jones Arena.
"I feel like the past couple games we haven't been playing our best," freshman guard Isaac McKneely said. "Offensively, we haven't been moving like we should. Defensively, we've been having some breakdowns, and we kind of deserve this tonight. The past couple games haven't been great. So all we can do now is just learn from this and take the kick in the mouth and just bounce back next game."
Bennett said: "There are very few teams who have a big margin for error in the country. Our guys have done a terrific job to put ourselves in this spot, but our margin has been very thin … We've been in so many close games this year, and we've been fortunate to win obviously the majority of them, but we have not shot the ball well [recently], whether it's finishing or sometimes even at the free-throw line. And that showed up again and I didn't even think we got great looks."
The near-capacity crowd at 8,606-seat Conte Forum included more than a few UVA fans, but they had little to cheer. At the end of a first half in which Virginia shot 1 for 10 from 3-point range, the Eagles led by seven. The Cavaliers scored the first points of the second half, on a jump shot by forward Jayden Gardner, but BC answered with a 10-2 run, and its fans grew louder with every basket.
"I thought the students were alive," Bennett said. "People get behind teams that really battle and play hard, and I think they sensed, boy, I think we're gonna get these guys. As the thing wore on, you could feel the crowd get into it."
Midway through the second half, back-to-back field goals by Gardner (team-high 16 points) cut the Hoos' deficit to seven. Again, though, the Eagles responded, and there was little suspense the rest of the way.
"We usually string together a couple of stops, and there were just no stops," said Gardner, the only Cavalier to score in double figures. "We were trading [baskets] back and forth, and you can't trade back and forth when you're down seven, you're down 10. You got to get multiple stops. But sometimes the ball doesn't fall and you can't get any stops, and unfortunately it was one of those games tonight."
The BC team that won Wednesday night bore little resemblance to the one Virginia defeated 76-57 at JPJ on Jan. 28. In that game, the Hoos shot 50.8 percent from the floor overall and 63.2 percent inside the arc.
"We played very well against them at our place," Bennett said, "shot it well, got it going, but this was all them, for sure."
When the Hoos had the ball Wednesday night, the Eagles frustrated them with "their on-ball defense, their help defense and just their physicality," Bennett said. "And when we did get there, we had a hard time finishing. They did a good job of challenging or contesting our shots. We just kind of went in there, and sometimes it looked like we just threw 'em up there and hoped it was going in."
The Cavaliers were hoping to break out of their "funk on offense," Gardner said, "because the last two games we won it with our defense, but we're still kind of in a lull. So we're just gonna keep working and get back to our way, because we know we win on defense, first and foremost, so we need to lock in on that end. Shots will fall. It's the game of basketball."
A sequence late in the first half gave the Eagles reason to believe this might be their night. With 1.4 seconds on the shot clock, BC inbounded from the baseline near its basket. The ball went to guard Makai Ashton-Langford, who put up a contested 3-pointer. It dropped through as the shot clock expired to push the Eagles' lead to seven.
"That hurt," Bennett said. "I thought we had a good [defensive] stand … We've had some bounces go our way and some fortunate things happen, and today when it was the end of the shot clock or we maybe had one of our few good defensive stands, they did make a couple of tough shots."
The Cavaliers held 7-foot, 250-pound center Quinten Post to eight points (on 4-for-14 shooting) and forced him into four turnovers, but the Eagles "had their way with their guards attacking the paint and getting into our defense," Bennett said.
For most of the season, Bennett said, Virginia's Pack Line defense has been "kind of bending but not breaking, and it broke many times tonight. So we've got to regroup and battle and get ourselves ready for the next one."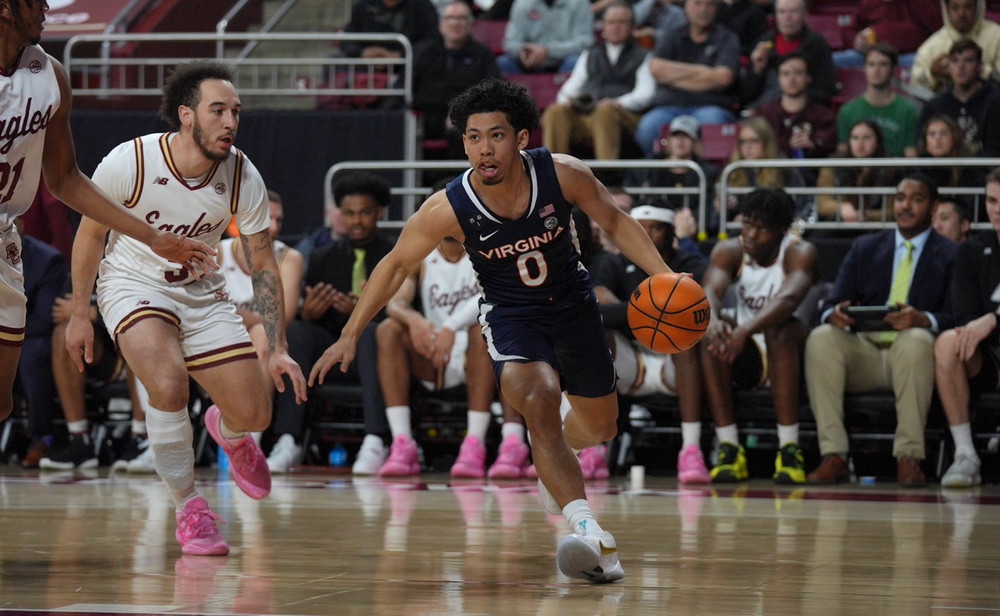 ONE MORE FOR THE ROAD: Virginia closes the regular season with back-to-back games in Charlottesville. First, though, the Cavaliers will play Saturday night in Chapel Hill, N.C.
In a 6 o'clock game to air on ESPN, UVA meets North Carolina (17-11, 9-8) at the Dean E. Smith Center.
The Hoos ended a two-game losing streak in the series Jan. 10 by defeating the Tar Heels 65-58 at JPJ. Carolina, however, played without 6-foot-11 Pete Nance for all of that game and without 6-foot-11 Armando Bacot, its top big man, for all but the first 78 seconds.
Bacot is "one of the best in our league and very physical," Bennett said, "and so we have a great challenge and another great opportunity and hopefully we'll perform better than we did tonight. And it'll take a lot."
UNC, which is in danger of missing the NCAA tournament, rallied to win 63-59 at Notre Dame late Wednesday night.
SOUND BITES: The loss was only the Cavaliers' second in their past 12 meetings with Boston College, which is in its second year under head coach Earl Grant. Among the postgame comments:
* Grant: "I think we're moving in the right direction. I thought tonight was a great test. We were excited about the challenge. We were excited going into it. We knew it would be hard, but we wanted to see what we were."
* McKneely: "BC really got up into us and made us work. I think that kind of disrupted our offense a little bit, but we weren't moving like we should and like we have in the past. But all we can do is just go look back at the film, just keep working. The offense is going to come and go, but the defense can't."
* McKneely: "We still got a chance to make big things out of this season and we're going to continue to do that. This is a tough loss, but we're just going to keep going forward."
* Bennett, who's in his 14th season at UVA, on the scene at Conte Forum: "I think it was probably the best atmosphere we've had since we've been here."
* Bennett on his team's recent play: "We've got to try to figure out how to just find a way to get out of some of the shooting slumps and be ready, start to finish."
* Bennett on BC's defensive intensity: "You love that when you're coaching that, and they put us on our heels. It was a lot for some of our guys, and we have to learn from that because of what we got coming up. Guys have put themselves in a great spot, I told them, but in that game, at times it looked like we were on our heels on both ends of the floor, and you won't win at this stage of the year against teams that are playing tough like that."
* Gardner on Bennett's postgame message: "This was not UVA basketball, not our way. We gotta get back to that."
To receive Jeff White's articles by email, click the appropriate box in this link to subscribe.