By Jeff White (jwhite@virginia.edu)
VirginiaSports.com
CHARLOTTESVILLE, Va. — Every day at work, Clint Peay sees reminders of the University of Virginia and its storied men's soccer program. His colleagues in the New England Revolution organization include Bruce Arena, for whom Peay played at UVA, and former Cavalier standouts Curt Onalfo, Richie Williams and Chris Tierney. The Revolution's players include Henry Kessler, a star on the Virginia team that reached the NCAA championship game in 2019.
"It's a good group," Peay said, "a bunch of guys who spent some time together while we were at UVA, so we're close."
Arena is head coach of the Revolution, one of Major League Soccer's charter clubs. Peay is head coach of the Revolution II, which competes in MLS NEXT Pro. His charge is to "help players that started in our academy [rise in the professional ranks]," Peay said, "or if they're someone we brought in that we believe has potential, help them, because they're not ready yet, to achieve that goal. Learning how to win and being competitive is a part of development, so certainly that's not something that we want to disregard, but ultimately it's more focused on how we can progress our individuals."
Peay grew up in Columbia, Md., about 20 miles southwest of Baltimore, and was a Parade All-American at Oakland Mills High. He was in high school when he saw UVA play for the first time, in an NCAA tournament game at Loyola College in Baltimore.
"I instantly fell in love with the colors, the players, just everything about them," Peay recalled. "I knew right then and there that I had a love for UVA."
The Cavaliers won a share of their first NCAA title in 1989. Peay enrolled at UVA two years later and found himself on a team loaded with elite players, including Richie Williams, Claudio Reyna, Erik Imler, Bren Crawley, Brian Bates, A.J. Wood and Jeff Causey.
"I was blown away," Peay said. "It was a unique time in soccer, I'd say, in this country, where those talented players did go to college. I think it was even more unique that so many of us amassed at one school. We had some fun playing together and really enjoyed it."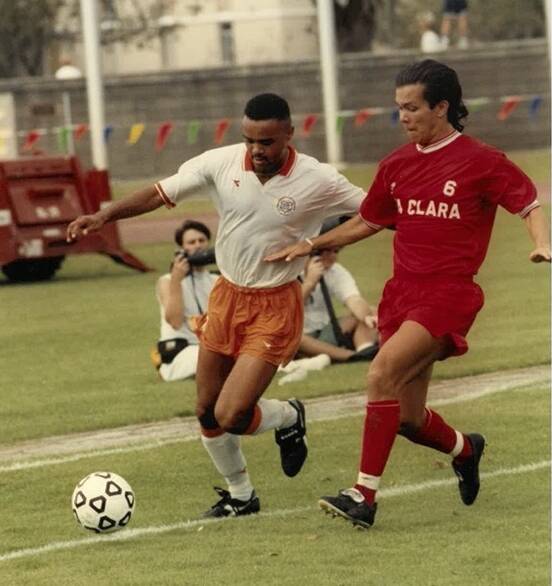 In 1991, Peay's first college season, the Wahoos swept the ACC and NCAA titles. They did so again in 1992, '93 and '94.
"Incredible," said current Virginia head coach George Gelnovatch, who was one of Arena's assistants during Peay's college career.
"I think a lot of people have that dream of winning," Peay said, "and the next thing you know you're on the stage and you actually do it. That part was surreal, and once you kind of get the lay of the land, you look around and say, 'Wow, we have a lot of talent here.' "
He remembers a regular-season game at Clemson early in his senior season.
"We're down 4-1 at halftime," Peay said. "I know Bruce had a few choice words for us at halftime to light a fire in our bellies, and we ended up winning the game 6-4. I think that moment and that game said a lot about our group, that never-die kind of attitude and the belief that we were capable of doing big things. And I think over the course of the four years, the guys around me proved that. It was a good time."
Peay, a center back for the Hoos, was named to the All-ACC first team in 1992 and '94. He was a second-team All-American in 1992.
"Very confident, good presence and tactical awareness," said Gelnovatch, who has won two NCAA titles as Virginia's head coach. "He was hard to press, because he was good with the ball and he could see a press coming and get it off his feet at the right time. But he was also a very underrated athletic defender. Not that he wasn't athletic; he just looked smooth. When he was chasing somebody down or 1-v-1 defending, it didn't look hard for him. He was pretty smooth about it and almost matter of fact about it."
That was the golden age of NCAA men's soccer, a time when the best players routinely stayed in college for four years. Today, many of the most talented players skip college altogether, and those who enroll often leave early.
"These teams that win championships or get to the College Cup, they're almost always dismantled the next year, because there's three- or four-plus guys that sign professionally, and it's hard to get that rhythm," said Gelnovatch, who took over as Virginia's head coach in January 1996 after Arena left to coach D.C. United in the new MLS. "I can't even put my brain in that space to think about not worrying about that dynamic of losing guys."
Peay said: "Obviously things have changed. Places like our organization, New England, and Major League Soccer have offered more opportunities for young players to go from being youth players to being professionals, so that's made the sport evolve. But I think there's still a valuable part that college athletics has to play, especially for soccer. Not everyone has a pathway straight to the pros, and I think for some guys we have in our organization, it's going to be a great place for them to grow and continue to learn their craft and mature a little bit. Hopefully on the back end they can get that opportunity to be a pro if they still want to."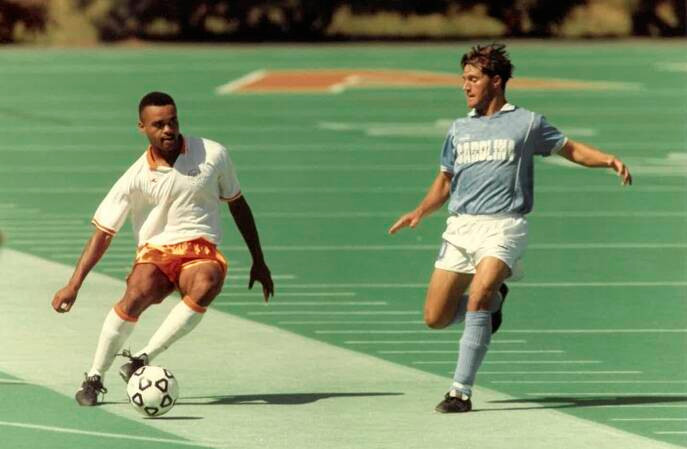 Peay looks back fondly on his time at UVA. "Obviously, the people that I met over my four years, whether they were teammates or otherwise in the athletic department, were great. We had an athletic department that cared about our sport and treated us well, and just the joy of playing with such talented guys is all I could ask for in a college experience."
Still, Peay said, coming from Columbia, a planned community that opened in 1967, he encountered some culture shock at UVA. "It was a community where, I wouldn't say that people didn't see white or black, but there was a mix of races. And so I grew up in high school and an environment in Columbia where I was around a lot of people of different races—Black, white, Asian, Indian, it didn't matter. And so to be honest, going to UVA, I sometimes felt uncomfortable, because there was a little bit more of a clash of races at the school. So that was probably in a lot of ways a wakeup call for me.
"The Black community was very tight-knit there at UVA. I was a guy who could kind of mix from this race to that race, and I was now in an environment where people were a little bit more guarded. At times, I'll have to admit, it kind of threw me off. It just wasn't what I was used to. I don't think it was a bad thing. Obviously for young college students, you're kind of experimenting a little bit about who you are and what you're all about, so there was a little bit of that. I would say I enjoyed my experience there at college, and I never tried to limit myself to one type of race or the other race or segregate myself from people. I tried to be open to everybody."
After graduating from the University, where he majored in rhetoric and communication studies, Peay played professionally for D.C. United, where he was reunited with Arena.  Before retiring as a player, Peay helped United capture three MLS titles. He also represented the United States at the Summer Olympics in 1996.
Arena was head coach of that U.S. team, whose roster included six players from UVA: Peay, Reyna, Wood, Brandon Pollard, Damian Silvera and Billy Walsh.
"My Olympic experience from a playing standpoint was really quite amazing.," Peay said. "Our first game was against Argentina at a sold-out Legion Field in Birmingham, Ala. It was the first time I'd played in front of so many people."
Reyna scored about 30 seconds in the match to put the U.S. up 1-0. Argentina rallied to win 3-1, but the U.S. defeated Tunisia 2-0 at Legion Field and then tied Portugal 1-1 before more than 58,000 fans at RFK Stadium in Washington, D.C.
That wasn't enough to send the U.S. through to the knockout rounds, but "we had a strong bracket, and I thought we made a good account of ourselves," Peay said. "But I didn't step one foot in the Olympic Village and never saw Atlanta. I didn't do the [opening and closing] ceremonies. So when I look back on it, I feel like we definitely missed something there, but that's just sort of the nature of the beast with [Olympic] soccer, with stadiums all around the country."
He didn't immediately move into coaching once his playing career ended.
"I think there was a part of me that thought about it in the background," Peay said, "but I also had other interests at the time and wanted to explore some other possibilities. Originally I went out and I became a financial planner. It was kind of around the time when the dot.com bubble burst, so that didn't go over so well. I found myself coaching a girls team at the time and really enjoying it. That pull of soccer, wanting to be around it, just kind of brought me back. Ever since I've kind of jumped in all the way, I've never regretted being a coach and love every day."
He served an assistant at Georgetown (2003), Davidson (2004-07) and George Mason (2008) before taking over as head coach of the men's team at Richmond. After four seasons at UR, he joined the technical staff of the United States' U17 boys national team, and later was head coach the U14 boys national team (2016-18) and the U15 boys national team (2019). Then came a year as an assistant with North Carolina FC, which competed in the United Soccer League.
In November 2019, Peay was hired as head coach of the Revolution II. The team is based in Foxborough, Mass., about 30 miles southwest of Boston, and Peay and his family live nearby. He and his wife have three children.
He keeps up with many of his former UVA teammates. "There's a bunch of guys on a text chain, and you name it, they want to talk about it," Peay said, smiling. "So I hear from those guys quite regularly. Obviously, I'm working with a bunch of guys now who are alums, and there are a few other guys out there that we catch up with every now and then and connect. They're family, they're friends for life, and I have wonderful memories with a lot of these guys."
Soccer has never been more popular in the United States, and "it's great to see," Peay said. "I've been watching professional soccer for a long time, and I remember when you could barely watch an abbreviated game from the German Bundesliga back in the day, and now you can watch any game around the world almost. I think the popularity of the sport has grown tremendously, and I love it. I just love it."
To receive Jeff White's articles by email, click the appropriate box in this link to subscribe.