By Jeff White (jwhite@virginia.edu)
VirginiaSports.com
GREENSBORO, N.C. — Their focus Friday will be on Clemson, the team they'll meet that night in the ACC tournament's second semifinal. But the second-seeded Virginia Cavaliers took the time Thursday night to celebrate an emphatic win over No. 7 seed North Carolina.
Dealt a major blow Wednesday afternoon when their tallest starter, 6-foot-8 Ben Vander Plas, suffered a season-ending injury in practice at John Paul Jones Arena, the Wahoos could have unraveled against a UNC team that needed a win to bolster its slim NCAA tournament résumé.
Instead, the Hoos went ahead to stay with an 11-0 run in the first half and then parried every Carolina challenge the rest of the way.
"This is a close-knit team, and we talk about lifting each other up," head coach Tony Bennett said after UVA's 68-59 victory at the Greensboro Coliseum. "Unity is one of our big pillars … We just said, 'We've got to be true to who we are and kind of double down on it,' and I thought the guys played as hard as they could. Losing a guy that's played a lot, that's always tough, but this group rallied around that and each other and came out and played against a team that was playing some hot basketball."
In the first semifinal Friday, top-seeded Miami will take on fourth-seeded Duke at 7 p.m. UVA (24-6) and third-seeded Clemson (23-9) will follow at approximately 9:30 p.m. Clemson crushed sixth-seeded NC State 80-54 in the last quarterfinal Thursday night.
This will be the second meeting between the Cavaliers and the Tigers in less than two weeks. Virginia defeated Clemson 64-57 at JPJ on Feb. 28. For the Hoos, that started a winning streak that also includes victories over Louisville and, now, UNC.
North Carolina, last year's NCAA runner-up, started this season ranked No. 1 nationally. The loss to No. 13 UVA (24-6) dropped the unranked Tar Heels to 20-13 and almost certainly ended their hopes of earning an at-large invitation to the NCAA tournament.
"It's not a great feeling," said UNC guard RJ Davis, who led all scorers with 24 points. "Not the expectations that we had coming into the year."
Like the Heels this week, UVA entered last year's ACC tournament on the NCAA bubble, only to lose in the quarterfinals. UNC ousted the Cavaliers last year in Brooklyn, N.Y., "so it's good to return the favor," Gardner said with a smile Thursday night.
Gardner, a fifth-year senior who grew up in Wake Forest, is one of two North Carolinians on the UVA roster, along with redshirt junior Kadin Shedrick (Holly Springs). Each played a leading role Thursday night in Virginia's second win over UNC this season.
Gardner, a 6-foot-6 forward, posted a double-double (17 points and 10 rebounds) and also had two steals. Such performances are not unusual for Gardner, who has started every game this season. But the 6-foot-11 Shedrick didn't play in either of UVA's final two regular-season games and, had Vander Plas not broken his shooting hand in practice Wednesday, might well have had a minor role against UNC.
With Vander Plas sidelined, the Cavaliers' frontcourt rotation changed. Francisco Caffaro, a 7-foot-1 center, started for the first time this season and contributed four points and two rebounds in 12-plus high-energy minutes. Shedrick came off the bench to score four points and block a season-high five shots in 18-plus minutes.
"Everything came together for him," Gardner said, "and I'm just so excited."
Learning that Vander Plas' season was over "was hard," Shedrick said. "Nobody expects that to happen. So when you're kind of just thrown back into the action, you've just got to make sure you're ready. I'm here to pick Ben up, because I know he's going through a lot right now, and I'm going to try to play as hard as I can, not only for myself and my team but specifically for Ben."
To defeat the Tar Heels, who were coming off a one-sided win over Boston College in Wednesday's second round, "I think we needed everyone, we really did," Bennett said. "It's [about] staying ready. That's why I was so proud of Kadin. I just told him, 'Stay ready, be a great teammate, and work tremendously hard,' and that's one of the beautiful things about sports. He had his number called, and he was ready."
In the final minute, Shedrick flexed his muscles at both ends of first court. After blocking a shot by Davis, Shedrick sprinted to the other end and, after getting a slick pass from Armaan Franklin, threw down a thunderous dunk that capped a 9-0 run for Virginia.
"That sequence was fun," said Shedrick, who started 14 of Virginia's first 15 games this season. "Brought back some memories. Hopefully we have a few more of those this year."
On UVA's bench, freshman guard Isaac McKneely jumped with joy after seeing Shedrick's slam.
"All the emotions just kind of came out," said McKneely, who was 2 for 4 from 3-point range in his ACC tournament debut. "I was super excited. We played really well, and I thought that dunk at the end just kind of was the exclamation point. I'm really happy for Kadin, because he had a great game. He showed some emotion after the dunk, and I think that got us all going."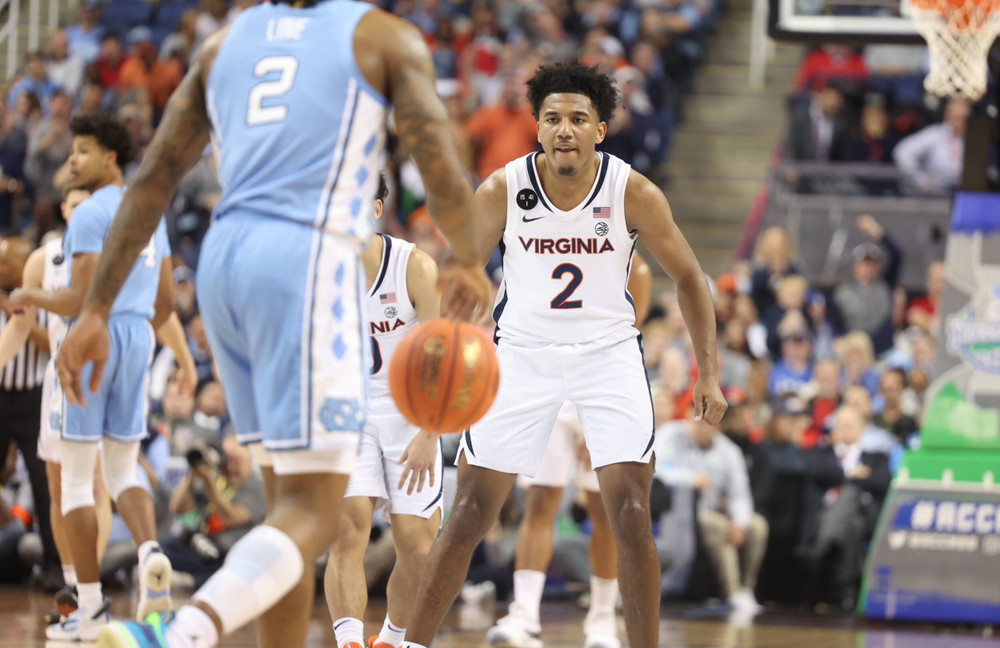 UVA's starting guards—Franklin, Kihei Clark and Reece Beekman—stood out at both ends of the court. Franklin, a 6-foot-4 senior, scored 14 points, and his final basket, a driving layup that made it 57-52 with 2:19 left, ended a stretch in which UVA went nearly five minutes without a field goal.
Clark, a 5-foot-10 fifth-year senior, totaled eight points, five rebounds, three assists and one steal, and Beekman, a 6-foot-3 junior, finished with 15 points, three boards, five assists and a season-high five steals.
Three days earlier, Beekman had been named ACC Defensive Player of the Year, and he showed off his skills against North Carolina. In the first half, Beekman swiped a pass and drove for a layup that tied the game at 11-11. On the Hoos' next possession, McKneely's first trey put them ahead to stay.
"You can always count on Reece to make a defensive play in a big moment like that," McKneely said, "and I think that just kind of gave us a little bit of momentum."
Beekman said: "It was kind of like a statement game for me. I got the award, and I got to back it up. There was definitely a little pressure, but I feel like I handled it well."
With nine minutes remaining, UVA led by 10, but Carolina refused to go away. UNC cut its deficit to four, only to see the Hoos build their lead back to eight. The Heels' final rally cut Virginia's lead to 57-55 with 2:03 left, but they got no closer.
Free throws have often been an adventure this season for the Cavaliers, but they hit 9 of 10 from the line in the final two minutes. Clark was 4 for 4 during that stretch, and Gardner was 5 for 6.
"I cannot believe that one went in and out," Gardner, smiling, said of his miss, "but I was able to dial in and knock down some clutch free throws. It's like déjà vu when we start missing it and giving teams an opportunity. So was important to cut Carolina off. Then they had to chuck up bad 3s, [which meant] more free throws for us."
Clark said: "I thought we did a great job of closing it out … It feels good to win it off those free throws."
POSITIVE FORCE: On Thursday morning, during the Hoos' shootaround at UNC Greensboro's Fleming Gym, the players warmed up with a ballhandling drill. Vander Plas was out on the court with his teammates, dribbling with his left hand.
Thursday night found him on the UVA bench, cheering on his teammates and often wearing his customary smile.
"I know him as a player and a person, and he was encouraging everybody," Beekman said. "It sucks for him not to be out there, but I feel like he's probably one of the greatest guys when it comes to energy and togetherness. I can see him now just cheering everybody on and bringing the energy, and it's great to have him."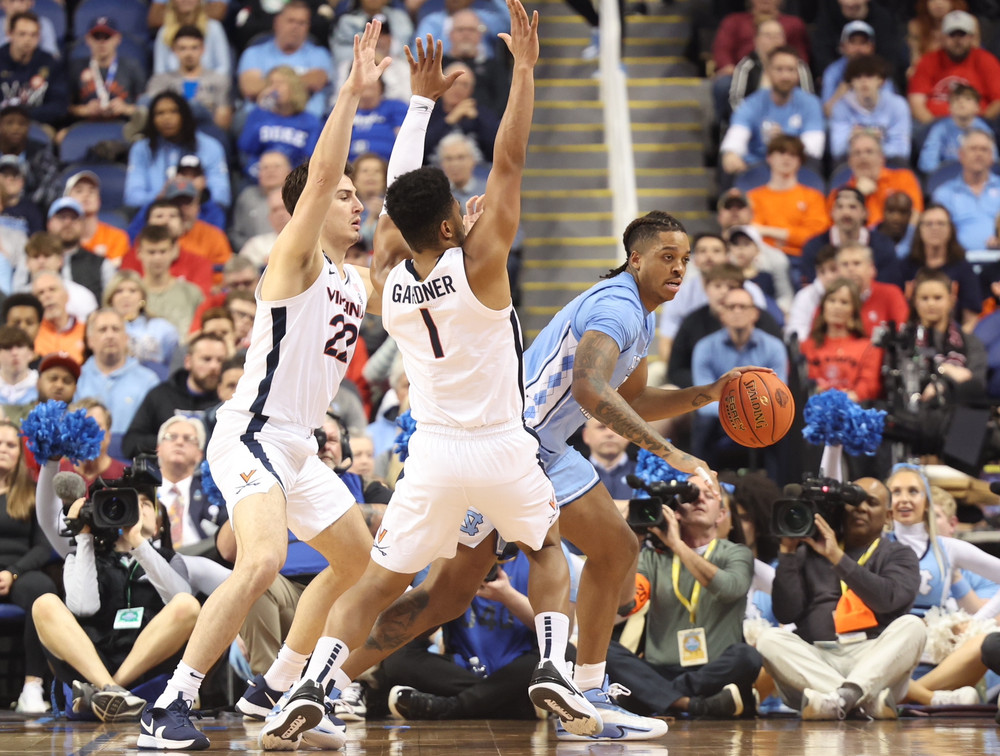 SOUND BITES: A moment of silence was held before the game to honor the memory of former UVA head coach and athletics director Terry Holland, an ACC legend who passed away last month. The Hoos then went out and honored him with their play. Among the postgame comments:
* Franklin on Shedrick and Caffaro: "We always have the mentality of the next man up. Kadin and Francisco haven't been playing that much, but we knew that they were gonna be ready just because of how we practice. Everybody's ready in practice. You're not missing out on reps because you're not playing [in games]. You're going be ready."
* Caffaro: "You've just got to come in and play. It's just the same basketball game. I didn't know I was going to start until this morning when we had our shootaround."
* McKneely on his first ACC tournament game: "The atmosphere was great. It was almost like a home game for Carolina. They had a lot fans, so it was just really cool [to win]."
* Gardner on UVA's defense, which held the Heels to 35.8-percent shooting: "We just stayed true to our principles. R.J. Davis got going some, but we were able to contain everybody else. Credit to our guards."*
* Clark: "I thought it was real tough, real physical on the defensive end, and I thought we made them make tough shots. That's all you can do. We did a great job of limiting the second-chance points as well. I thought Kadin and [Caffaro] did a good job of just getting ready when their number was called and bringing that physicality."
* Clark on Virginia's formula for success: "We've got a lot of veterans. Obviously, I've got the most postseason experience, but I think the experience showed today, and we can look to each other, especially down the stretch, for key plays. I thought we did a great job of just staying composed when they made their run in the second half."
* Beekman on Virginia's ability to withstand UNC's runs: "We've been through moments like this. From last year to this year, I feel like we've grown in those areas of staying composed and playing under pressure, and we did a great job of that tonight. We got stops when we needed them, we got big-time buckets when we needed them."
* UNC head coach Hubert Davis on the ankle injury that hindered his best post player, Armando Bacot, who scored only four points in 21-plus minutes: "It was really difficult for him to get position or hold position down low in the post, very difficult for him to make any moves. When he set screens, it appeared and looked difficult for him to get out of the screens."
To receive Jeff White's articles by email, click the appropriate box in this link to subscribe.