By Jeff White (jwhite@virginia.edu)
VirginiaSports.com
GREENSBORO, N.C. — Since losing Feb. 11 at John Paul Jones Arena on a night when a controversial call went Virginia's way at the end of regulation, the Duke Blue Devils have repeatedly cried foul about that result in public comments and on social media. That will add yet another storyline to the proceedings Saturday night at the Greensboro Coliseum.
At 8:30, second-seeded UVA (25-6) plays fourth-seeded Duke (25-8) in the ACC tournament's championship game. In their lone regular-season meeting, the Cavaliers defeated the Blue Devils 69-62 in overtime at JPJ.
"They're bringing it up a lot," Virginia forward Jayden Gardner said late Friday night, "but in the end result, they had five minutes in overtime to win the game, and we ended up winning the game. You just gotta let that go, and we'll figure out [Saturday night] where we stand."
In the first semifinal Friday night, Duke won 85-78 over top-seeded Miami, which lost its star big man, Norchard Omier, to an injury in the game's second minute. Virginia and third-seeded Clemson tipped off at 9:42 p.m., and the game was tight for a while. But the Cavaliers went ahead 11-10 on a reverse layup by point guard Kihei Clark at the 14:22 mark of the first half, and they never trailed again.
The Wahoos, who shared the ACC regular-season title with Miami, scored the last eight points of the first half and the first six of the second to blow the game open. The final score was 76-56, and the victory sent the Hoos to the ACC championship game for the fourth time in Tony Bennett's 14 seasons as their head coach.
"Coming into the ACC, you dream about stuff like this," junior guard Reece Beekman said.
Virginia has won the tournament three times: in 1976 (under the late Terry Holland), 2014 and 2018. To add another championship Saturday night, the Cavaliers will have to get past a Duke team that's won eight straight since losing in Charlottesville. UVA is on a four-game winning streak.
"I feel like they've been trending in the right direction," Gardner said of the Blue Devils, "and we've been trending in the right direction ever since we lost to Carolina [in Chapel Hill on Feb. 25]. I think you're gonna see the best of the best play each other."
Conventional wisdom held that Clemson (23-10) needed to win Friday night to stay in contention for an at-large invitation to the NCAA tournament. The Tigers were coming off a one-sided quarterfinal win over sixth-seeded NC State, and they appeared capable of knocking off Virginia, too. But the Cavaliers were ruthless at both ends of the court. They led by 23 with 13:30 to play and never appeared in peril in the second half.
"They played really well tonight," Clemson head coach Brad Brownell said. "They obviously were clearly better than we were. We thought at times we were a little step slow, and some of it is stylistically playing them. They're probably the hardest team in the league to play against in terms of what it takes, consistency of effort and discipline. Their offensive movement is very good and taxing on you, and if you're just a little fatigued and wear down a little bit, you're going to get burned."
Gardner, a 6-foot-6 forward who grew up near Raleigh, posted his second straight double-double (23 points, 12 rebounds). Also scoring in double figures for UVA were guards Armaan Franklin (16 points) and Clark (13), and Beekman had a game-high seven assists.
The Cavaliers have come to expect such production from their backcourt. More noteworthy was the play of their frontcourt on a night when the Hoos outscored Clemson 40-22 in the paint.
On the eve of this tournament, Virginia lost its tallest starter, 6-foot-8 Ben Vander Plas, to a season-ending hand injury. That meant larger roles for 7-foot-1 Francisco Caffaro and 6-foot-11 Kadin Shedrick, and both delivered strong performances Thursday night against seventh-seeded North Carolina.
Against Clemson, UVA's version of the Twin Towers turned in more solid work. Caffaro, who started for the second straight game, contributed four points, two rebounds and two assists in 11-plus minutes, and Shedrick totaled eight points, seven boards, one steal and one blocked shot in 17 minutes off the bench.
Shedrick, who like Gardner is from the Raleigh area, didn't play in either of UVA's final two regular-season games, and "I felt like I was super rusty in the first half [against UNC]," he said Friday night.
"I probably looked rusty, and I wasn't very confident, but in that second half, I felt like I got my feet under me. I felt a lot more confident, a lot better. Coming into today, my goal was to put two halves together. I thought I did that. There's obviously some things I could clean up, but yesterday definitely helped for today, and I'm going to build on this for [the championship game]."
Unsung heroes continue to emerge for the Cavaliers. Sophomore swingman Taine Murray didn't play in the quarterfinals, but Bennett turned to him at the 8:57 mark of the first half Friday night. Twenty-one seconds later, Murray hit a 3-pointer from the left wing. He made another jumper in the game's final minute, and in the locker room after the game Murray had the honor of affixing the UVA logo to the tournament bracket.
"We have nine [healthy] guys," Bennett said, "so everyone is going to get an opportunity, and I really thought Taine gave us a good lift coming in."
Murray said: "Obviously, it's been a long season being on the outskirts the rotation, so it was awesome to be able to play. Obviously, some games this year I haven't really shot that well, so it was great to see the first one go in."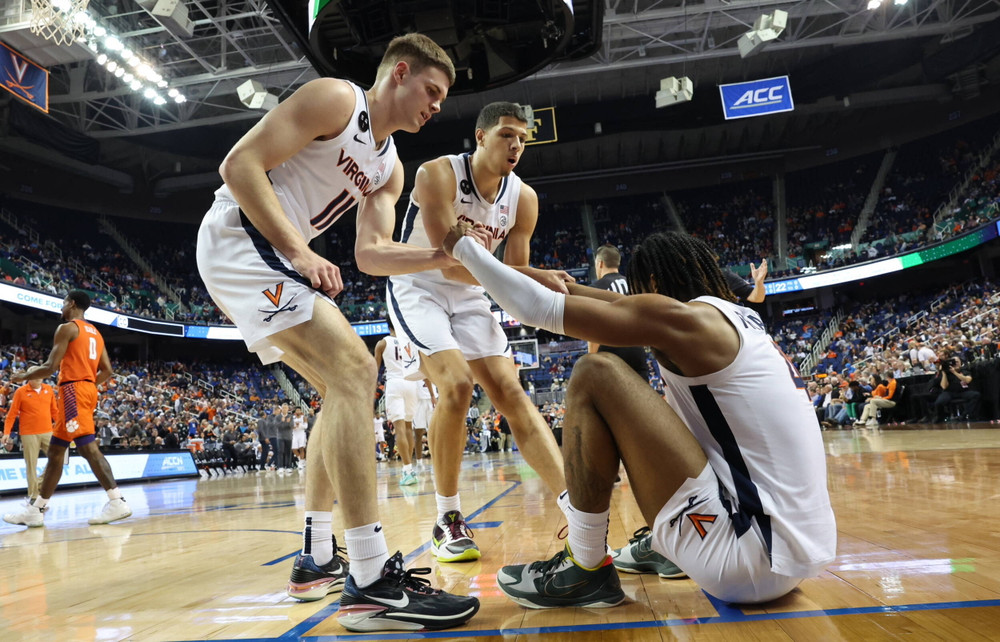 The Hoos, who shot 50 percent from the floor Friday night, ran their trademark Blocker-Mover offense nearly to perfection, and it took its toll on Clemson defenders, who had to try to fight through screen after screen.
"It's just constant movement, and there's a wearing effect," Brownell said. "You get a little bit behind and it's on any kind of cut, and there's going to be a crease."
The Tigers, who came in averaging 75 points per game, shot 35.8 percent from the floor against UVA's Pack Line defense.
"I think the thing that I always say about Tony and his program and his team, their offense and defense fit together perfectly," Brownell said, "and so that's why they're consistently very hard to beat and play against: Their system fits.
"It's obviously hard to guard. And then you go down on the other end, and it's hard to score against them, and you've got to really work physically to cut hard, screen hard, move the ball quickly and attack a close-out. And then to score on them, it's challenging. So you're using a lot of energy on both instances."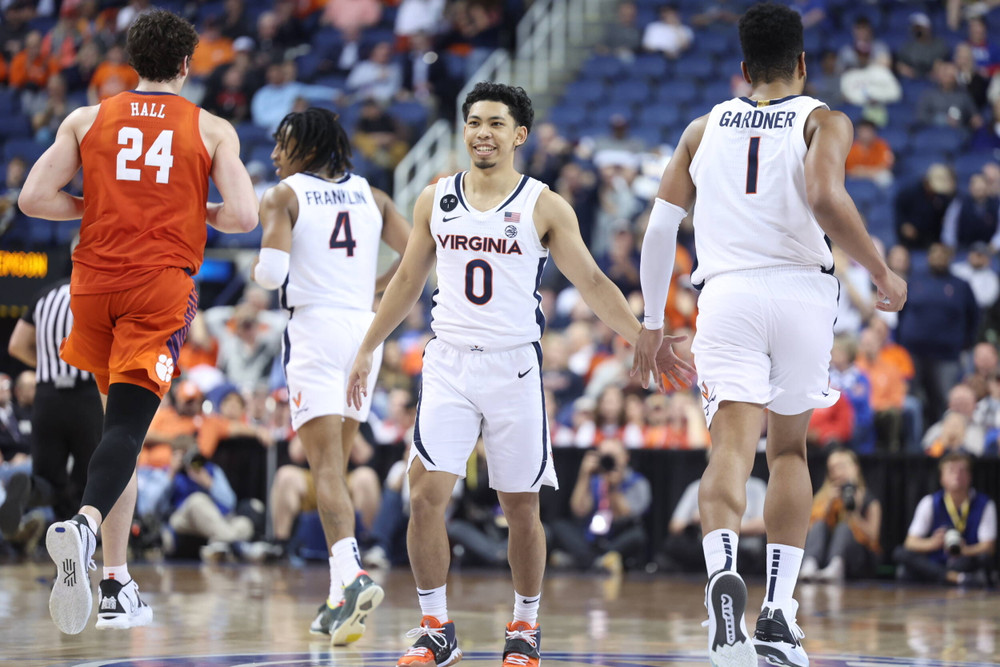 SOUND BITES: Virginia has hit the 25-win mark for the sixth time Bennett, whose record against Clemson is 16-4. Among the postgame comments late Friday night:
* Franklin, who's 6-foot-4, on his effectiveness around the basket: "I think it's what's being presented by the defense. I think they're doing a good job of not letting me get open 3-point looks, so just being to get in there and take my time at the rim and finish has been a big part of my game."
* Bennett on Franklin's increased versatility on offense: "He's done that on his own. We try to do some different things offensively, and a couple of the actions really get him on the rim in some of those situations where he can do stuff. But even [Thursday] he was driving the baseline and finishing. I think his finishing has improved as the year has gone on, and he's a strong, physical young man."
* Franklin on what an ACC tournament title would mean for Clark, a fifth-year senior: "I think this is another thing to cross off the list that he's done at this university, and I think it would be big for all of us, knowing what we went through last year and not being in this situation."
* Clark: "It would mean a lot. Something I haven't been able to accomplish."
* Shedrick on playing in the championship game: "I'm pretty excited about it. Just checking my phone a lot, my friends and family are super excited, because not only am in the championship, which is something I would have never dreamed of, but we're playing against Duke. It's going to be surreal feeling. I'm excited, but I think the main thing is just not letting the moment get too big."
* Shedrick on the rematch with Duke: "I think at the end of the day, we don't really care who's on the other side of the court. We just know what we have to do. I think it's more about ourselves than our opponent. We know what went down last game and we know they aren't very happy about that. But that's in the past. They're in the championship. So we're just gonna hoop."
* Beekman: "I'm definitely fired up, not just because we're playing Duke, but because this is the ACC tournament championship. We're playing for something, and just the passion for the game and the love for the game kicks in."
* Bennett on the Blue Devils: I know they're defending well and they're running efficient offense. And obviously they have very good players, well-coached, all that, so they're playing at a high clip. Our game was a battle against them at our place, so I haven't watched them like a ton, but we respect everyone and we're going to have to play some good basketball [to win Saturday night]."
* Brownell on his team's NCAA tournament résumé: "If you're truly looking for the 68 best teams, we're one of the 68 best teams."
* Clemson forward Hunter Tyson: "Like Coach said, if you really want the best 68 teams, we're one of them. And we'll have our fingers crossed on Sunday, but I truly believe we should get in. I believe our body of work has earned us a spot in the tournament. Obviously I understand we have some tough losses, but at the end of the day, we should be in the tournament."
To receive Jeff White's articles by email, click the appropriate box in this link to subscribe.