By Jeff White (jwhite@virginia.edu)
VirginiaSports.com
ORLANDO, Fla. — For Kihei Clark, his final NCAA men's basketball tournament is the third one of his illustrious career at the University of Virginia.
"One last run, so hopefully we'll make it a good one," Clark said Wednesday afternoon at the Amway Center.
Clark is in his fifth year with the Cavaliers, and he played in the NCAA tournament as a freshman in 2019 and as a junior in 2021. His teammates Armaan Franklin and Jayden Gardner are veterans, too, in their fourth and fifth years of college, respectively. For them, though, this is a new experience, and it's one they're savoring.
Both transferred to UVA after the 2020-21 academic year. Franklin spent two years at Indiana University and Gardner three at East Carolina University before joining head coach Tony Bennett's program at Virginia.
The chance to play in the NCAA tournament "was a big factor in me deciding to come here," said Franklin, a 6-foot-4 guard. "So to be able to come and finally get this opportunity is great. I've been waiting on this for four years."
Gardner, a 6-foot-6 forward, has waited even longer. "It means everything," he said. "It's the reason why I came here to Virginia, to play in games and environments like these, so I'm just ready to go out at it with my brothers with everything we've got, and hopefully we get the right outcome."
At 12:40 p.m. Thursday, in a South Region first-round game to air on truTV, fourth-seeded Virginia (25-7) meets No. 13 seed Furman (27-7) at the Amway Center. The winner will face No. 5 seed San Diego State (27-6) or No. 12 seed Charleston (31-3) in the second round Saturday.
A year ago, the Wahoos missed the NCAA tournament for the first time since the 2012-13 season. They ended up in the Natonal Invitation Tournament, where they reached the quarterfinals.
"Just to finally get through and cross that line, and to do with these guys is special," Gardner said, "because we fought hard last year, but we didn't end up where we wanted to be. So it feels good to get where we are, get [seeded] as highly as we did. It just shows off the work that we put in all season long. We got rewarded, so now it's time to do some more work and try to get far."
Not since 2019, when they were crowned national champions in Minneapolis, have the Hoos won a game in the NCAA tournament. The COVID-19 pandemic shut down college sports in March 2020 a week before the tournament was scheduled to start, and UVA lost to Ohio in the NCAA tournament's first round in 2021.
Francisco Caffaro redshirted as a freshman on the Virginia team that won the NCAA championship in 2019. A native of Argentina, the 7-foot-1 center knew little about college basketball when he enrolled at UVA, and after his first season he assumed victories in the NCAA tournament would be the norm.
"Being here for five years now, I know how hard it is," Caffaro said Wednesday. "So being here again and having the chance to be a part of it and play, I'm really excited for that."
Virginia, which shared the ACC regular-season title with Miami, lost to Duke in the championship game of the conference tournament last weekend in Greensboro, N.C. The Cavaliers are in the NCAA tournament for the ninth time in Bennett's 14 years in Charlottesville. Furman, which is in its sixth year under Bob Richey, is in the NCAAs for the first time since 1980.
"It's been a dream come true for all of us," said Furman forward Jalen Slawson, the Southern Conference Player of the Year.
The Paladins came agonizingly close to reaching the NCAA tournament last season. In the Southern Conference championship game, Furman took a two-point lead on guard Mike Bothwell's layup with four seconds in overtime, only to see Chattanooga hit a 3-pointer at the buzzer.
"Obviously with the way last year ended for us, it hurt," Slawson said. "But Coach Richey took us into the locker room the next morning, and he told us that this was either going to be a stepping-stone or a stumbling block. So we used that as motivation every day."
Fifth-year seniors Slawson and Bothwell lead a Furman team that, unlike UVA, prefers to push the pace.
"That's what we've done since the summer," Richey said, "and we're going to try our best to do it again, but we know they're incredible in transition defense. They don't send a lot to the offensive backboard, and they're going to put a big emphasis on getting back. That's the fun of the game, it's the chess match of the game, and they're going to be trying to slow it down and we're going to be trying to speed it up.
Asked about the Paladins, Bennett said, "I don't know if there's any teams in the ACC quite like them. That's what makes [NCAA tournament match-ups] always challenging and intriguing. But they have to do what they do well, and we've got to try to do what we do well."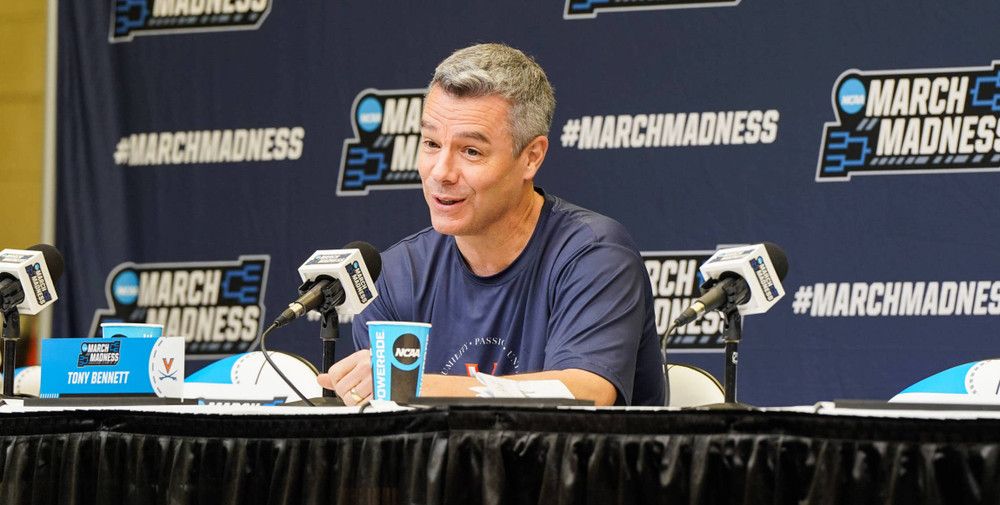 STILL SMILING: Ben Vander Plas, who transferred from Ohio University to UVA after the 2021-22 academic year, suffered a season-ending injury on the eve of the ACC tournament last week. A 6-foot-8 forward who started Virginia's final 14 reguar-season games, Vander Plas is a sixth-year senior, so his college playing career is over. But he remains characteristically upbeat.
"To be honest, it hasn't been too hard," Vander Plas said. "I've obviously got a lot of good people around me, with the team and the coaches and my family being around just from basically the moment that it happened. Obviously it's sad and it's disappointing not being able to play, but sitting on the bench and moping around, what's that going to help? So just that positive mindset has been really helpful, and the guys have all been really, really good and helped me stay positive. It's been a lot of fun to be on the bench and to get to cheer those guys on."
Vander Plas broke his shooting hand in practice last Wednesday at John Paul Jones Arena, about two hours before the team's departure for the ACC tournament.
"Watching the clip, it's hard to even tell like what happened," Vander Plas said. "It's kind of a freak thing, just one of those things that happens, and it is what it is."
Vander Plas starred on the Ohio team that ended Virginia's season in 2020-21. He'd been looking forward to playing in the NCAA tournament again, but he's not despondent about his injury.
"I'm looking at it more like it's exciting," Vander Plas said. "I still get to be a part of the team. It's not like I'm off the team or anything. Obviously, not playing, that part is a little disappointing, but just getting to experience it is something I'm grateful for."
WAITING IN THE WINGS: Two of the four freshmen who joined the Cavaliers last June—6-foot-4 guard Isaac McKneely and 6-foot-8 forward Ryan Dunn—have become important parts of Bennett's rotation. The other two—6-foot-5 swingman Leon Bond III and 6-foot-10 forward Isaac Traudt—elected to redshirt, and each says he's benefited from that decision.
"I see improvement just in every-day practice," Bond said. "I know I'm not competing in games, but in every-day practice when we compete, I feel myself getting better, and basically I'm turning into the player that I want to be."
Traudt said: "I feel like I've improved in a lot of areas, and also just helping make the top guys better every day. That's kind of what I've prided myself on mostly."
Bennett said choosing to redshirt is "always a hard decision" for players, but he's seen growth from both Bond and Traudt.
"I think it was wise," Bennett said, "because I think they really poured into their game. We've had a great track record when guys have redshirted and what's happened after."
Redshirting requires "some patience," Bennett said, "and when you do and you work and you're willing to wait for it, it's good. I've seen them really improve. They still have improvement to do, but I think it was significant what they did."
He smiled. "There's many times in practice where I've said, 'Did we do the right thing?' They could have helped us [this season], and that's a good thing. But they've gotten stronger and better, and they've had to learn perspective and patience, and I think that's never a bad thing in today's times."
Bond said: "Just seeing the whole experience and looking at the games and everything and watching my teammates play, and just like being a part of it, but not being able to really play, it really makes me just want to be out there."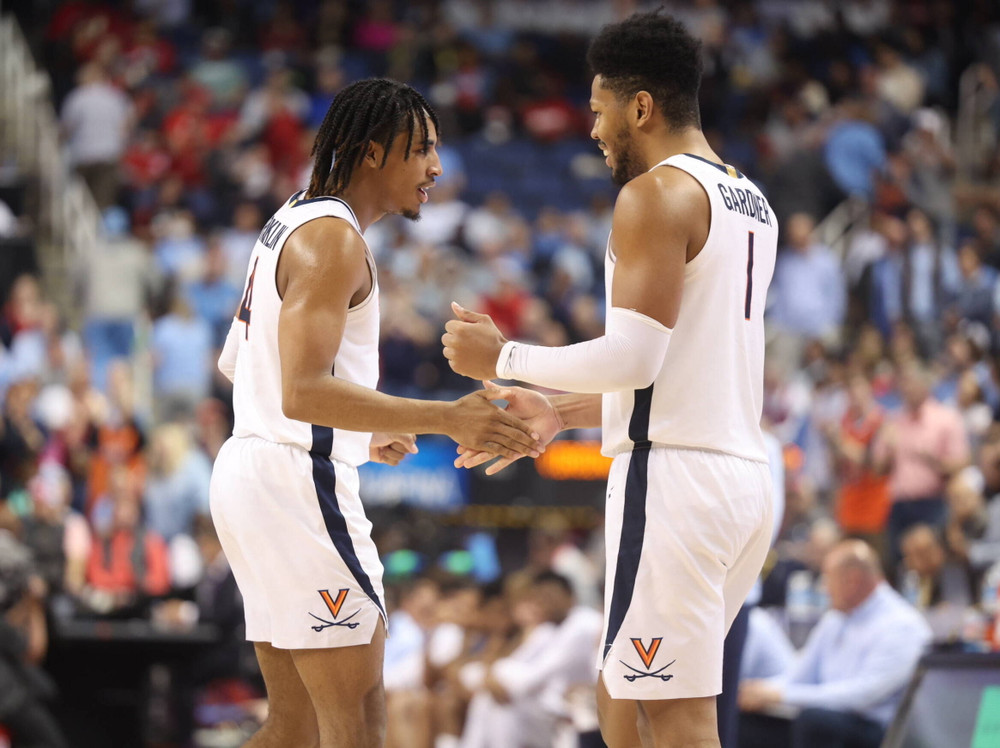 READY TO ROLL: McKneely and Dunn are looking forward to making their NCAA tournament debuts Thursday.
"The ACC tournament was cool, but there's nothing like March Madness," McKneely said. "I grew up making brackets, watching every single game I could, so it's just kind of surreal that I'm here actually playing in it, and it should be a lot of fun."
Dunn said he expects to feel some jitters when he checks in, "but I think once I get into the flow of the game, it's just kind of a basketball game. You can't think of it as March Madness; it's just another game."
One of Virginia's most athletic players, Dunn remains a work in progress offensively, but he's excelled as a defender, and he's second on the team with 32 blocked shots.
McKneely is shooting a team-high 39.8 percent from 3-point range, and only Franklin has made more treys among the Cavaliers. His role in the offense has steadily increased as the season has progressed. McKneely scored 10 points Saturday night against Duke in the ACC championship game.
"In the nonconference, I think I was kind of timid out there," McKneely said. "I wasn't playing like I usually do. But once we got into the ACC play, I feel like every single game I'm getting more confident out there and the coaches have been really telling me, 'You're good enough to be out there' and stuff like that. So I've just trying to have that mentality and build my confidence up each year."
WORDS OF WISDOM: Franklin's aunt Coquese Washington, who's the head women's basketball coach at Rutgers, is an NCAA tournament veteran. Her advice to her nephew?
"She just told me to stay poised," Franklin said. "It's gonna be a game of runs. Be able to take in the moment, take in the experience, but at the same time you don't want to go home, so you've just got to do what you got to do."
To receive Jeff White's articles by email, click the appropriate box in this link to subscribe.