By Jeff White (jwhite@virginia.edu)
VirginiaSports.com
ORLANDO, Fla. — The 25 victories, the share of the Atlantic Coast Conference regular-season title, the trip to the championship game of the ACC tournament: the day will come when the University of Virginia men's basketball team reflects on its 2022-23 season and takes some consolation from those and other accomplishments.
Thursday was not that time. An excruciating defeat in the NCAA tournament's first round at the Amway Center that afternoon left the Cavaliers stunned and dismayed.
After Virginia, the South Region's No. 4 seed, rallied to take a four-point lead with 19.2 seconds left, head coach Tony Bennett said, he "thought we were going to be playing Saturday. But we're not."
An improbable comeback by No. 13 seed Furman sent the Wahoos back to Charlottesville earlier than expected. After the Paladins' Garrett Hien hit two free throws with 12.3 seconds remaining, UVA point guard Kihei Clark committed an uncharacteristic and game-changing turnover.
Clark, one of the heroes of the Hoos' run to the NCAA title in 2019, found himself trapped in the backcourt. He picked up his dribble against full-court pressure from Furman, whose head coach, Bob Richey, wanted his players to foul, and flung the ball toward the frontcourt.
"I probably should have called time out," Clark said.
The ball never reached its target, 6-foot-11 Kadin Shedrick. Hien intercepted Clark's pass and passed to teammate JP Pegues. A 6-foot-1 sophomore, Pegues had missed his first three 3-point attempts Thursday, but he buried this one from a distance that would have been good in the NBA.
"When I saw the ball go up, I knew it was going in," Richey said.
With 2.4 seconds left, Bennett called a timeout to set up a final play. "You're kind of shell-shocked," he told reporters, "but you say, 'Hey, let's try to get a shot on the rim,' and we got that."
On the game's last play, junior guard Reece Beekman missed from about 35 feet, and there was no miraculous ending for the Hoos, who were making their first appearance in the NCAAs since 2021, when they also lost to a No. 13 seed in the first round.
Furman 68, Virginia 67.
"That's a gut punch," Bennett said of the late turn of events Thursday, "but you get to choose how you respond, and over time it'll all be OK. I know that. But I feel for the guys and the staff."
Clark, a fifth-year senior, will leave UVA as the program's all-time leader in assists, the most memorable of which was his pass to Mamadi Diakite, whose last-second shot forced overtime against Purdue in the Elite Eight in 2019.
"I've loved coaching him in his career." Bennett said.  "He had the most amazing assist to get us to a Final Four. We would not be in this spot without him, all the success, and he's had an unbelievable career."
Bennett, who's in his 14th year at Virginia, became the winningest coach in program history this season. Clark was part of 76 of those victories.
"His story is unbelievable," Bennett said. "This adds another chapter to it. He can handle it. We can handle this. Sometimes things happen, and again, I've said this, you get to choose how you respond. I feel bad that it happened and played out like that—for someone who's been so good for this program—but that's the madness of this tournament. You've seen it, we've lived both sides of it, and that's a hard way to go."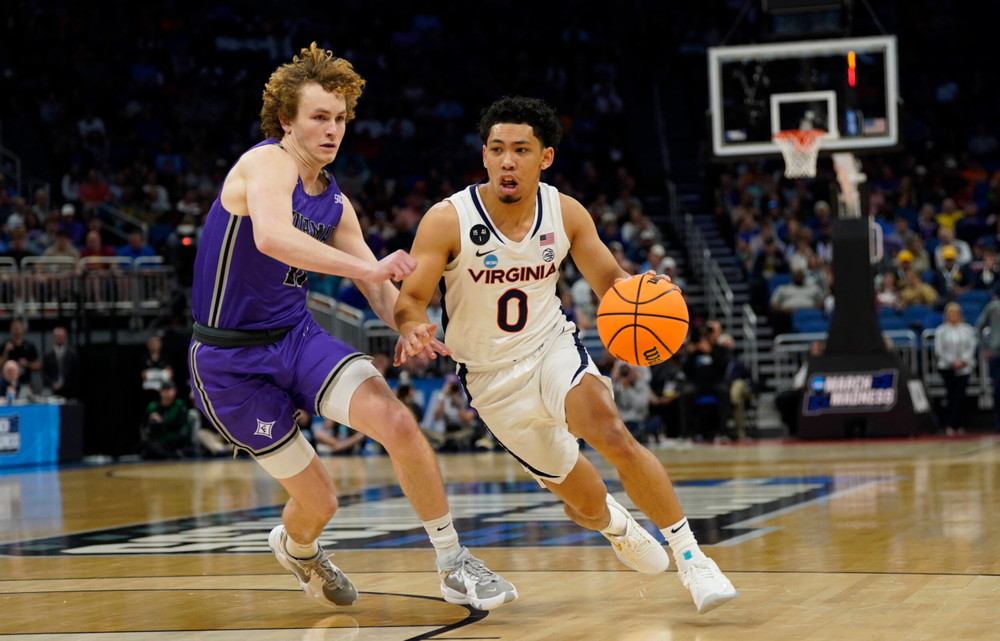 With 11 minutes remaining, the Hoos (25-8) led by 12 and appeared to have the game under control. But Furman (28-7), in its first appearance in the NCAAs since 1980, refused to capitulate. On an afternoon when the Paladins hit 10 treys, to two for UVA (both by freshman guard Isaac McKneely), their outside shooting got them back in the game. At the other end, Furman switched to a zone defense that stymied the Hoos.
"I feel like the zone slowed us down a little bit, took us out of rhythm," Beekman said. "I feel like that was a turning point in the game for them, and then they executed that pretty well."
Furman ran off eight straight points to cut Virginia's lead to four. The Cavaliers stretched their lead back to six, only to give up nine consecutive points to forward Jalen Slawson, the Southern Conference Player of the Year.
Slawson's three-point play with 5:02 to left gave the Paladins their first lead, at 57-54, and the upset-hungry fans in the arena—basically, everyone except UVA's supporters—roared their approval.
From there, the game went back and forth, and Furman still held a three-point lead with 2:33 to play. But a tip-in by Shedrick cut the Paladins' lead to 63-62, and then Beekman made two free throws to put Virginia back on top with 1:37 remaining. After a Furman turnover, two Shedrick free throws made it 66-63, and that was still the score when McKneely was fouled with 35.1 seconds left.
McKneely missed the front end of his one-and-one, and the Paladins rebounded. A 3-point attempt by Marcus Foster, though, was off the mark, and when Clark went 1 for 2 from the line with 19.2 seconds remaining, the Hoos appeared likely to advance to the second round.
"You feel like, 'We got it, we got it,' " Bennett said, "and then all of a sudden in a moment's notice, it changes at the end."
Richey said: "What a day to be a Paladin."
In the somber UVA locker room, senior guard Armaan Franklin said the "last 11, 12 seconds, at this point it's just all a blur. Everything happened so quick. I can't really put it into words right now."
In his first start since Jan. 10, Shedrick turned in a stellar performance, totaling 15 points, 13 rebounds and four blocked shots. His rebounds and blocks were game highs.
"At the end of the day I know what I can do as a basketball player," said Shedrick, a redshirt junior. "So I know who I am, and I know what I can do to help this team. I gave it my all today."
Bennett said: "I thought Kadin really responded, stuck his free throws and played good, tough basketball, so I was happy for him and proud of him."
When the game ended, fifth-year senior Francisco Caffaro consoled Shedrick as they walked to the locker room.
"I don't remember what he was saying," Shedrick said. "I know what was going through my mind. I was shocked and a little confused. I didn't think it was real. I was like, 'What was that?' "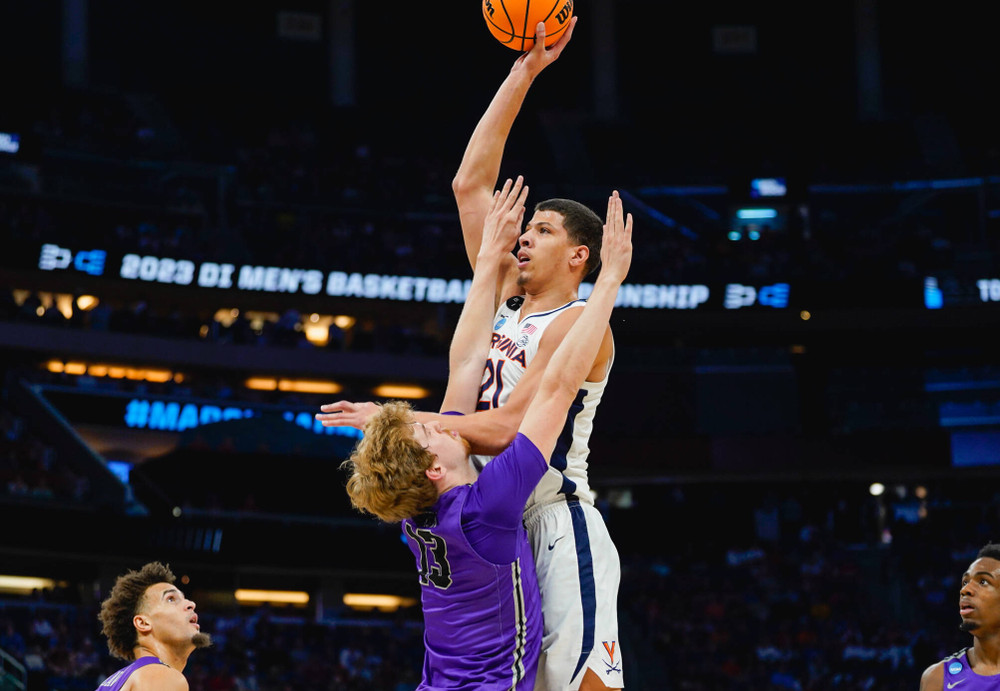 The Cavaliers had to play in the ACC tournament and against Furman without starting forward Ben Vander Plas, who suffered a season-ending hand injury in practice last week at John Paul Jones Arena. Vander Plas is out of eligibility, as are Clark and Gardner. Caffaro could return for a sixth year, but he's indicated that he's moving on.
All of the other Cavaliers, including Franklin, are eligible to return next season. Franklin, who scored eight points Thursday, transferred from Indiana to UVA after the 2020-21 academic year. He has another year because of the COVID-19 pandemic.
"I think I've improved so much since I got here, offensively and defensively, learning the ins and outs of the game from Coach Bennett, from my teammates," Franklin said. "I'm happy with what we did before this tournament, co-ACC champions after finishing sixth in the league last season. So just being able to come back and do this and be able to be in this position, it's just a blessing to be here."
Beekman scored 15 points and added five rebounds, five assists, two steals and two blocks. McKneely, in his NCAA tournament debut, contributed 12 points off the bench.
"I would just say everybody at this level is good," McKneely said when asked about the experience. "I know there's the seeding and all that, but everybody can beat everybody, as obviously you've seen. But I'm just thankful for the opportunity. A lot of people would die to play in March Madness. I'm just really thankful for that, and hopefully I'll be back [in the NCAAs] next year."
This was not first time Virginia has been upset in the NCAA tournament, and the pain of this defeat will linger.
"It doesn't take away from what these guys have done and what we've experienced over the years," Bennett said, "but you wanted it when you felt like you had it, and that was a tough one. But I'm grateful to coach them and [will] keep building, keep trusting. And you've got a choice how you respond, and I will choose to respond the right way."
To receive Jeff White's articles by email, click the appropriate box in this link to subscribe.