By Jeff White (jwhite@virginia.edu)
VirginiaSports.com
CHARLOTTESVILLE, Va. — She could have stayed in her hometown and attended Penn State, as many of her classmates at State College Area High School did, but Esther Seeland wanted to get away and try something different. She chose Messiah University, a much smaller school in Mechanicsburg, Pa., where she planned to study biomedical engineering and play a varsity sport.
That sport was not the one in which Seeland now stars at the University of Virginia, where she's pursuing a master's degree in exercise physiology.
"I actually went to Messiah to play soccer in the first place and wasn't going to run at all," Seeland said. "It was a last-minute decision to add the running in, and then by the end the running had kind of taken over."
Seeland remained on the women's soccer team at Messiah and started 51 games on defense during her career with the Falcons, who won the NCAA Division III national championship in 2019. (The COVID-19 pandemic forced the cancellation of Messiah's 2020 season.) Track & field, though, was where she shined brightest.
By the time she graduated from Messiah last spring, Seeland had captured three Division III national titles: one apiece in the 800 meters indoors, the 800m outdoors and the 1500m outdoors. Moreover, she'd set D-III records in the 800m and 600m indoors. And so when, with eligibility remaining because of the pandemic, she entered the transfer portal last year, UVA's coaches were interested and were confident Seeland would thrive in Division I.
"She is a talented and competitive athlete, so I had no concerns," said Vin Lananna, who directs Virginia's track & field and cross country programs. "I followed her progress as a soccer star and track star last year, and we are thrilled that she has joined us."
During her time at Messiah, Seeland said, she ran in meets "against D-I athletes and even pro athletes," and she even raced at UVA's Lannigan Field. The thought of competing full time in Division I was a little unnerving, Seeland said, "because you feel like you're in a different world [in D-III], but I know that I've competed with these girls before, and track is a sport where there's a number to it. It doesn't really matter how you feel, because it's kind of objective in that way."
She enrolled in a two-year master's program at Virginia, where she arrived last summer with two seasons of eligibility remaining in both cross country and outdoor track. At Messiah, she'd played soccer in the fall, so she was new to cross country.
"It was definitely a challenge, especially since I'd never done it before," Seeland said, "and honestly I think when I came here the coaches weren't even sure if they were going to have me do it or not. They were just going to train me with the team and kind of see what happened. I kept asking them over the summer, 'Am I going to run cross country, am I going to run cross country?' And they'd be like, 'We'll see, we'll see.' "
Seeland's best distance is probably the 800, though she's improved significantly in the 1500, an event in which she's already run the fourth-fastest time (4:12.55) in program history at UVA. Cross country is another challenge altogether. At the ACC meet, for example, runners compete on a 6,000m course. Nonetheless, Seeland picked up the sport willingly.
"It was a big learning experience and very humbling in a lot of ways," she said. "My body definitely is not built for that, but I think it was really good for me mentally to learn something new. And I'm really glad I did it, too, coming here, because I think it helped me get more involved with the team rather than throwing me into track training. There's a team aspect to track, but with cross country you definitely get to know people really well, because you're always running together."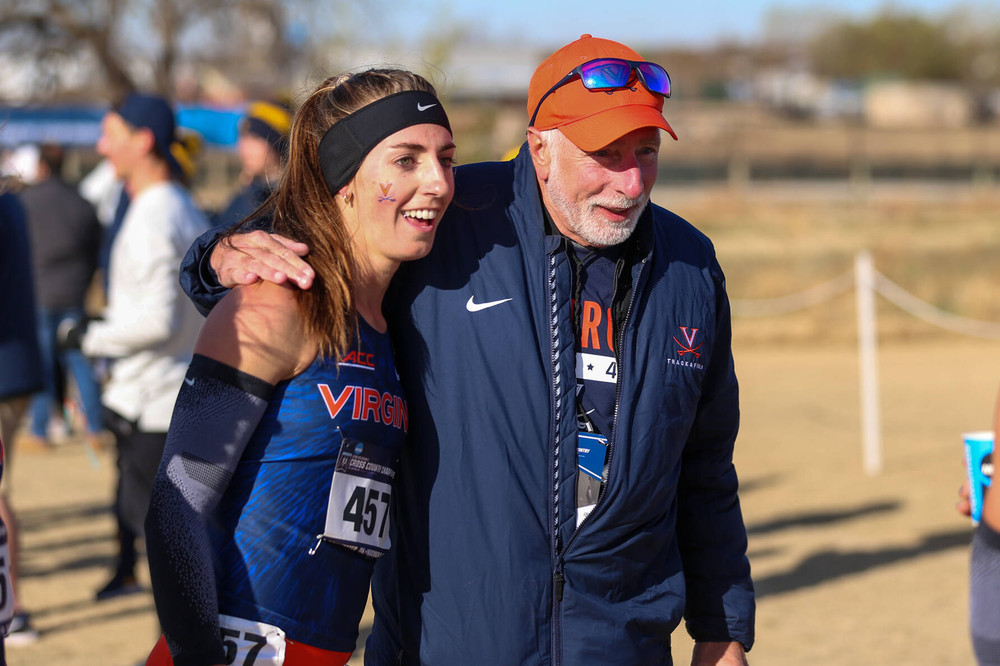 Last fall's ACC Cross Country Championships were held at Panorama Farms in Earlysville, and Seeland's 39th-place finish helped the UVA women take third. Then came the NCAA Southeast Regional, at which Seeland placed 33th, and, finally, the NCAA Championships.
The fifth of Virginia's five scoring runners, Seeland finished 114th in Stillwater, Okla. That helped the Wahoos place ninth, their first top-10 finish at NCAAs since 2013.
"Esther has made a smooth transition from D-III to a Power Five D-I program," Lananna said. "Her initial cross country season was a grand success, and she is a dynamic team leader on the track."
During the indoor season, running distances with which she was more familiar, Seeland added her name to the UVA record book. Her time of 2:03.43 in the 800m indoors was the fastest in program history, and Seeland placed second in that event at the ACC meet in Louisville, Ky. She also ran the first leg (1200m) on UVA's distance medley team, which placed fourth at ACCs.
Running cross country in the fall "was probably good for me to build a really strong aerobic base," Seeland said. "It was a lot more miles, and then I was also cross training. They had me biking, and they still have me doing that in track season, and that's something I'd never done before. So just my total volume is a lot higher during cross cross country and now as well."
She narrowly missed advanced to the NCAA Championships during the indoor season, and that's one of her primary goals this spring. The Cavaliers are preparing to host the Virginia Challenge, Thursday through Saturday at Lannigan Field, and Seeland is coming off an exceptional performance on that track.
At the Virginia Grand Prix last weekend, she won the 800 in her UVA outdoor debut in that event. Her time (2:04.89) ranks fourth all-time at Virginia.
For elite runners, the 800 is more or less a sprint.
"It's horrible," Seeland said, laughing. "It's really interesting that I'm in an [exercise physiology] program, to actually look at what's happening in your body. Because it's that one distance that's [both] strictly anaerobic and aerobic, so it's the weird in-between distance. Normally, they say anything over two minutes is pretty aerobic, but for the best 800 runners you're running for two minutes, so it's right on the border."
The youngest of four children, Seeland was born in Australia. Her parents were missionaries in Papua New Guinea then, not far from the northern coast of Australia.
Seeland lived in Papua New Guinea until she was 5, when the family moved back to the United States. Her parents now teach at the high school she attended in State College.
Two of her siblings attended Penn State, and Seeland considered doing her graduate work at the Big Ten school. But she's happy to be in Charlottesville.
"I actually feel like it's pretty similar to home in a lot of ways," she said, "but I think I kind of like it better. It's a little warmer down here. I really like the [master's] program I'm in, and the team's awesome."
What she'll do with her master's degree has yet to be determined. "I'm still working on figuring that out, because I got to the end of my four-year engineering degree and didn't particularly love it," Seeland said. "I think I'd like to do something sports performance-related. I think women's healthy in sports performance could be really interesting, but I'm not set on anything particular yet."
To receive Jeff White's articles by email, click the appropriate box in this link to subscribe.