By Jeff White (jwhite@virginia.edu)
VirginiaSports.com
CHARLOTTESVILLE, Va. — The University of Virginia men's tennis team is 24-4 and will enter the NCAA tournament on a 16-match winning streak after capturing its third consecutive ACC title Sunday in Cary, N.C.
"I like where we are," said head coach Andres Pedroso, who in 2022 guided the Cavaliers to the program's fifth NCAA championship.
Pedroso's mood wasn't as upbeat in mid-February. After opening the ITA National Team Indoor Championships in Chicago with a 4-3 win over Tennessee, Virginia lost 4-0 to Michigan and then, in its final match, 4-0 to Ohio State.
"It's two years in a row that we've had a little bit of a tough start to the year indoors," Pedroso said Tuesday. "So when it happened again this year, I as the head coach took a look in the mirror and said, 'What do I need to adjust with this program? What do I need to adjust with this program in order to maximize and make sure that we learn from these losses, just like we did last year?' At the end of the day, it starts with the head coach. I took a look in the mirror, and there were some things that I needed to do better as the leader."
In addition, the coaching staff—Pedroso, associate head coach Scott Brown and volunteer assistant Treat Huey—took "a look at our practices and took a look at our strength and conditioning workouts and how we were talking to the guys and the messages that we were giving them," Pedroso said. "Something that I've learned in this program is that you learn a lot more from the losses than you do from the wins, unfortunately, and we took some good lessons from them."
The Wahoos haven't lost since leaving Chicago. They closed the regular season with 13 straight victories and then won three more matches in the ACC tournament, defeating Miami 4-2, Florida State 4-1 and, in the final, Duke 4-1.
The Hoos might be better outdoors than indoors, but Pedroso didn't want to use that an excuse. "I can do a better job of coaching guys indoors, and I personally wasn't doing a good enough job as a coach on the sidelines and in practice," he said, "and I think it was good for me to kind of come to this realization that I needed to get better. And, as a result, if I get better, I feel like the [other] coaches get better and the players get better."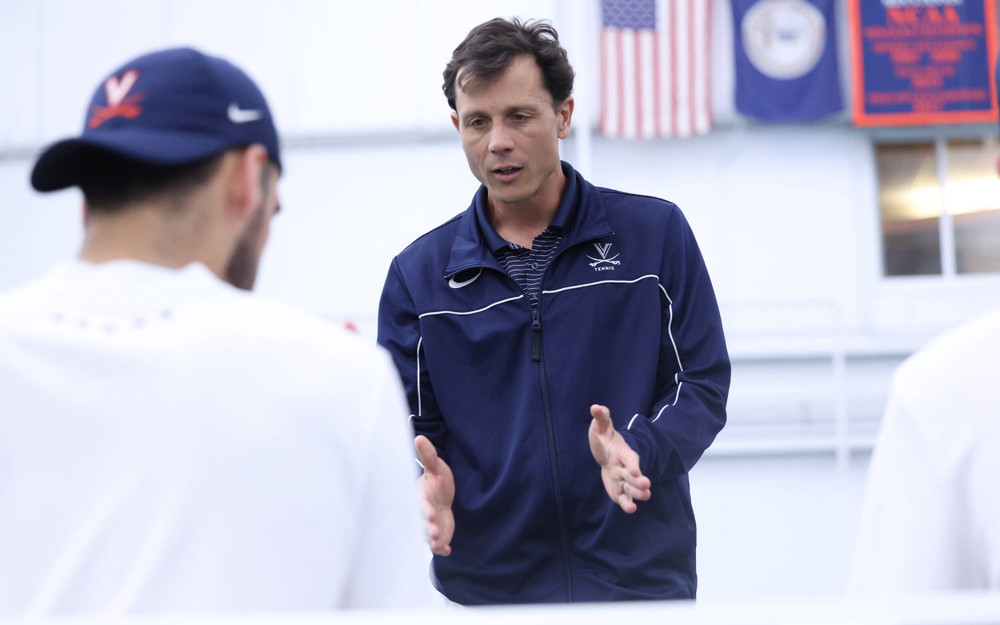 From last year's NCAA championship team, Virginia returned a strong core of players, including graduate student Ryan Goetz and juniors Chris Rodesch, Inaki Montes, and Jeffrey Von Der Schulenberg.
"I think it's a really professional group, blue-collar group, an experienced one," Pedroso said. "I think they're all very comfortable in those ACC finals and NCAA tournament matches. They've been through a decent amount of them, and that can only add value, because at the end of the day, I think maximizing in May is about composure, and experience can only lead to a lot more composure out there, especially when you have the players with the games and the skill sets and the ability that these guys have. So I think the experience only helps us. It's a very tight group, and the camaraderie and the experience and, as a result, the composure really helps us perform."
Rodesch, who's from Luxembourg, was named the ACC tournament's MVP.
"Chris has really stepped up for this program, and he's beaten some of the best players in college tennis," Pedroso said, "and so he's looking very comfortable as a leader out there."
Junior Alex Kiefer and freshman Mans Dahlberg can't match the NCAA tournament experience of many of their teammates, but they've "really stepped up and embraced their roles and kind of created an anchor for our singles lineup at 5 and 6," Pedroso said. "And then you've got the consistency of Inaki Montes, Jeffrey Von Der Schulenburg and Ryan Goetz. Those guys, they're just there every day. They perform every day and you know what you're going to get from them, and they bring a tremendous amount of experience in the middle of that lineup. We've got a good combination of experience, a lot of skill, and just gritty, gritty competitors."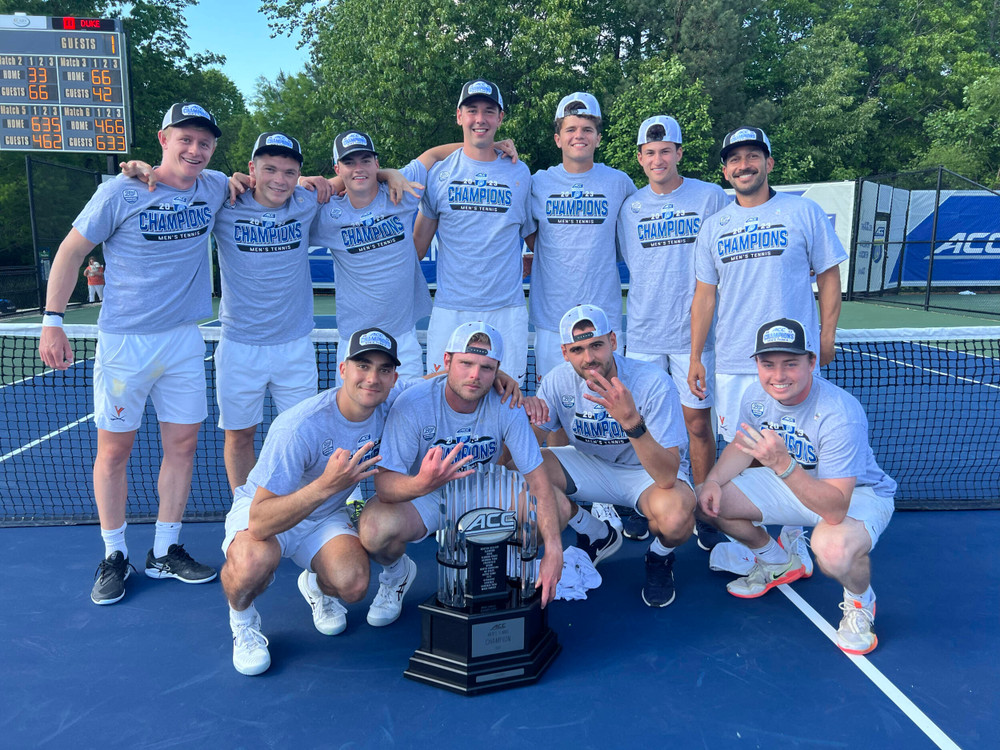 Pedroso also singled out the contributions of William Woodall, who's in his fifth year at UVA.
"William has really stepped up for us doubles-wise," Pedroso said, "and the energy and passion that he brings to the doubles court has always been contagious to our other doubles teams. He's a fun player to watch and I know it means the world to him every time he competes with the V-Sabre on his chest."
The NCAA selection show will be streamed online at NCAA.com on Monday at 6 p.m., and the tournament begins days later. The Cavaliers are expected to be one of the tournament's top eight seeds, and as such would play at home in the round of 16, provided they advance out of the opening weekend.
The final three rounds of the tournament will be played at the USTA National Campus in Orlando, Fla.
In last year's NCAA tournament, No. 7 seed UVA's final two opponents in Champaign, Ill.—Tennessee and Kentucky—were seeded Nos. 6 and 8, respectively. Pedroso said the tournament could be similarly unpredictable this year.
"There's a lot of parity," he said, "and there's a lot of teams that have had great wins and great tournaments. That's what's so difficult about college tennis right now. You need to show up for every single match, and there's no days off. I honestly think the tournament is wide open. It's about who's the best prepared, who's got the most clarity in terms of what they need to do to play their best out there, who stays composed and, at the end of the day, who's the tightest team and who's the closest team, because that really helps in the final moments of the year."
To receive Jeff White's articles by email, click the appropriate box in this link to subscribe.