By Jeff White (jwhite@virginia.edu)
VirginiaSports.com
Dropping the doubles point is never ideal in an NCAA tennis tournament, especially in the later rounds, but the University of Virginia men's team stayed poised after falling behind 1-0 in its quarterfinal with Kentucky on Thursday night.
The reigning NCAA champion Cavaliers had faced—and overcome—such obstacles before, so they weren't fazed as they headed into the singles matches.
"They know that it's part of the experience of going all the way to a national championship," UVA head coach Andres Pedroso said Friday afternoon. "Most likely you're going to need to lose the doubles point and come back in singles at least once on your way to the final. So it's just part of the process, and to be a great team you have to be able to bounce back from [dropping] a doubles point."
Storms forced the suspension of play Thursday night before any of the singles match could be completed at the USTA National Campus in Orlando, Fla. Play resumed Friday at 10 a.m., and the fifth-seeded Wahoos went back to work against No. 4 seed Kentucky.
The result was a 4-2 victory that sends Virginia to the NCAA semifinals for the 12th time in the past 16 tournaments.
"We just came in with the right mentality," graduate student Ryan Goetz said after the quarterfinal, the rematch of last year's NCAA final. "You win some doubles points, you lose some. That's part of the game. After the doubles point, whether we win it or lose it, it's 0-0, and we fight to the end in singles."
UVA (28-4), which has won 20 consecutive dual matches, will meet top-seeded Texas (26-3) at noon Saturday in Orlando. Second-seeded TCU will play third-seeded Ohio State in the other semifinal.
Kentucky finished the season at 27-5. The Wildcats edged Virginia 4-3 in Charlottesville on Feb. 3 and had momentum after winning the doubles point Thursday night, but the Hoos felt confident when play was suspended.
"We felt like we were in a good position," Pedroso said. "We got off to good starts on most of the courts, and it gave us a look at their singles and how they were going to play against us. So I think we had a pretty clear idea of what we needed to do today to get four singles points and eventually, after a lot of ups and downs and a lot of challenges, which is what this tournament is all about, we got those four points."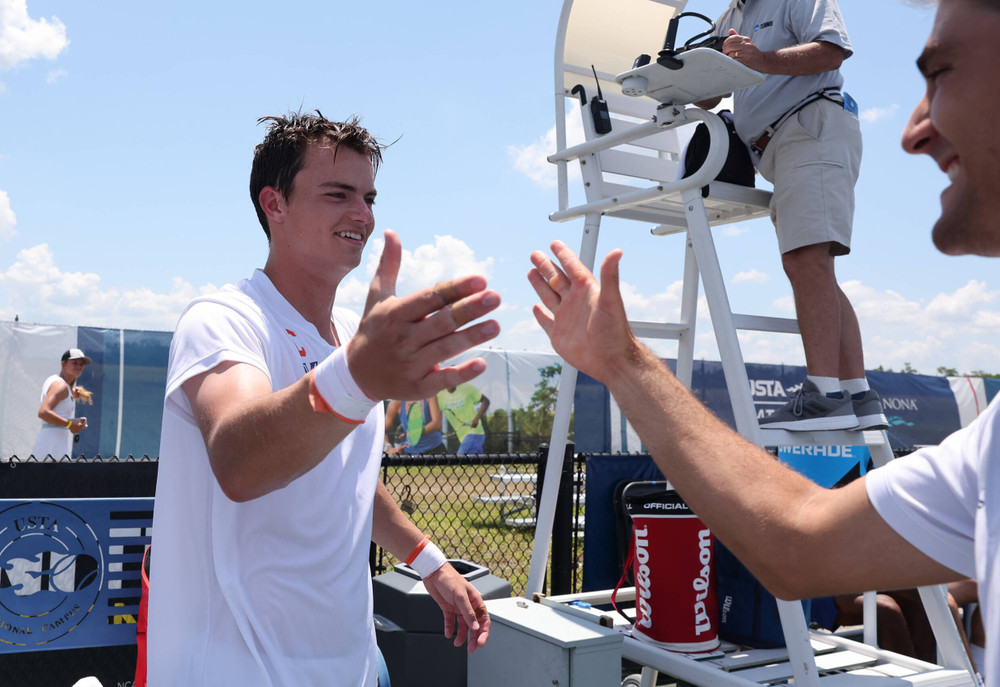 Wins by junior Alexander Kiefer at No. 5, junior Chris Rodesch at No. 1 and Goetz at No. 4 put the Hoos up 3-1. The fourth-seeded Wildcats then won at No. 2 singles, cutting UVA's lead to 3-2. To advance to the NCAA semifinals for the 12th time in the past 16 tournaments, UVA needed a win from junior Jeffrey von der Schulenburg at No. 3 or freshman Mans Dahlberg at No. 6.
Dahlberg crossed the finish line first. After dropping the first set of his match with Charlelie Cosnet, Dahlberg won the second 6-4. The third went to a tiebreaker in which Cosnet won the first two points. Dahlberg, who's from Sweden, responded with six straight points and then, after giving up a point, clinched the victory for the Cavaliers.
"He's got great poise," Pedroso said of Dahlberg, who enrolled at UVA in January. "You really don't see him panic. He believes in his game. He's got clarity out there of how he wants to play, and he's the fittest guy out there. He's an absolute workout machine, and he's obsessed with fitness, and so he can go the extra mile against anyone."
Dalhberg's comeback win "shows how much he's grown since he came to onto Grounds in January," Goetz said. "It's a testament to who he is as a person and as a teammate and how he is on the court, how he goes about his daily business. So we're all really proud of him for clinching today."
In the Sweet Sixteen, Dahlberg's singles win clinched the victory for Virginia against ACC rival Duke last weekend, and "he's just gotten tougher and tougher and more and more acclimated the longer he's been in Charlottesville with us," Pedroso said. "He was one of the best juniors in the world before he came to Virginia. He's been through a lot of adversity, so he's definitely battle-tested. We all feel good if it comes down to him and if he needs to win a big match, because he's just a great competitor."
The Cavaliers were seeded seventh last season when they won the program's fifth NCAA title. The difference between winning and losing on this stage is often "a point here or there," Pedroso said. "It's a net cord here or there. We had match point in doubles yesterday and [Kentucky] hit a net cord to save match point. I think that's just the way it is. All these teams are so good, and they're so prepared. And so you've got to be on your A-game and just wait for your moment to show up, and then capitalize."
To receive Jeff White's articles by email, click the appropriate box in this link to subscribe.