By Jeff White (jwhite@virginia.edu)
VirginiaSports.com
The University of Virginia men's tennis team, riding a 21-match winning streak, hasn't experienced defeat in more than three months. That doesn't mean this has been a stress-free season for the reigning NCAA champion Cavaliers.
"We had some setbacks at the beginning of the season," junior Alexander Kiefer said Saturday, "so I'm really just proud of the whole team for fighting and staying in there."
The Wahoos' four losses, all indoors, came during a 17-day stretch in February. The Hoos avenged one of those defeats on Friday, eliminating fourth-seeded Kentucky 4-2 in the NCAA quarterfinals, and they have an opportunity to get more payback on Sunday.
At noon, fifth-seeded Virginia (29-4) meets No. 3 seed Ohio State (34-2) for the NCAA title at the USTA National Campus in Orlando, Fla. The match will stream live on NCAA.com. This will be the third meeting between these teams this season.
The Buckeyes, then ranked No. 1 nationally, beat the Cavaliers 4-1 on Feb. 11 at the Boar's Head Sports Club in Charlottesville. Eight days later, Ohio State blanked UVA 4-0 in a consolation match at the ITA National Team Indoor Championships in Chicago. But the Hoos haven't lost since then, and his players are eager to take on the challenge awaiting them Sunday, said head coach Andres Pedroso.
"They work super hard, they're super prepared, they've been in a lot of big moments," Pedroso said. "So we'll be ready with our best stuff. It's gonna be a great match."
To advance to the final, Virginia had to vanquish the tournament's No. 1 seed, Texas, in the semifinals. At times momentum swung in the Longhorns' direction Saturday, but the Hoos grew stronger as the match went on and secured a 4-1 victory.
"Credit to the Texas Longhorns," Pedroso said. "That program is so professional, their coaches are so classy, their players battle so hard. It was such a fair match."
In 2022, when the Hoos captured the program's fifth title, Kiefer was not in their NCAA tournament lineup. But he's been playing No. 5 singles in the NCAAs this year, and he won in straight sets in the quarterfinals and then prevailed a third-set tiebreaker to clinch the Cavaliers' triumph Saturday.
"It was a huge team effort," said Kiefer, who's from The Woodlands, Texas. "Like Coach said, the Longhorns, they always fight. They are there until the end. So right now I just feel very grateful and fortunate that we get to be in another NCAA final. We've worked really hard the whole season."
Against Texas' Cleeve Harper, Kiefer dropped the first set, then stormed back to win the second 6-1. The key to his comeback, Kiefer said, was "staying in the moment, I guess, and just not thinking about the past or what happened, just fighting every point, focusing on what I can do with what I have."
Ohio State, which defeated No. 2 seed TCU 4-0 in the other semifinal Saturday, is seeking its first NCAA title. The Buckeyes have been NCAA runners-up twice (2009 and 2018).
For the Hoos, this will be their eighth appearance in the NCAA final. Runners-up in 2011 and 2012, they were crowned champions in 2013, 2015, 2016, 2017 and 2022.
"Another NCAA final," Pedroso said. "It's awesome."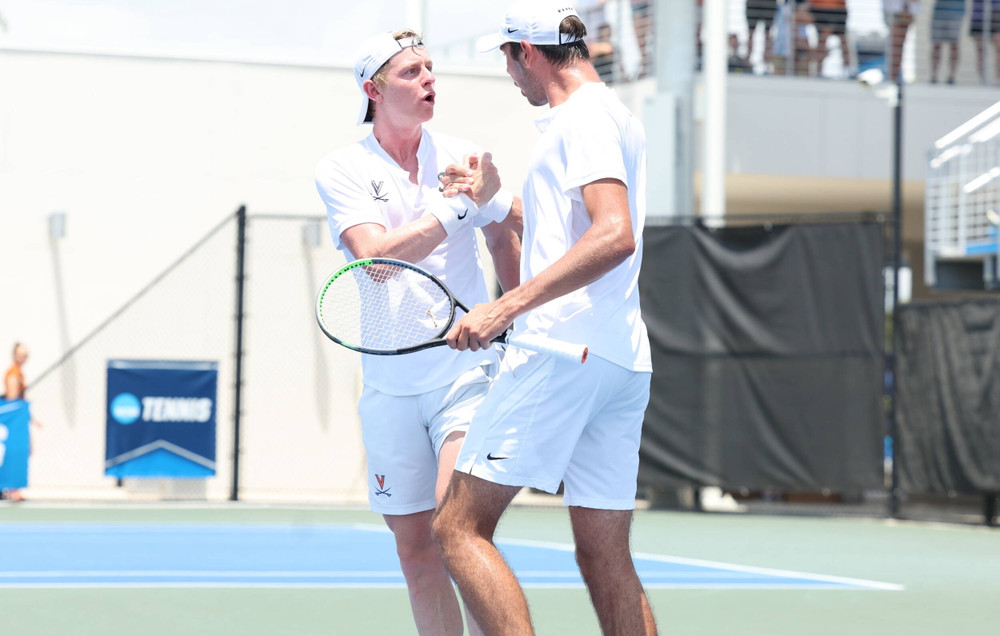 In its 4-2 win over Kentucky, Virginia had to rally after dropping the doubles point. The Cavaliers won that point Saturday—juniors Chris Rodesch and Jeffrey von der Schulenberg romped 6-1 at No. 2 doubles, as did Kiefer and graduate student Ryan Goetz at No. 3—but Pedroso didn't consider that a significant advantage for his team.
"I really feel like at this level, in a final four, the match is 0-0 [heading into singles] whether you win the doubles point or you lose the doubles point," Pedroso said. "These teams are so good, if you're not on your game, you could lose at every spot … You've got to show up. If you feel momentum [after winning the doubles point], if you feel any complacency, any sense of relaxation, it's dangerous."
There was no letdown on the Cavaliers' part. After the Longhorns (26-4) evened the match at 1-1 with a win at No. 3 singles, freshman Mans Dahlberg won in straight sets at No. 6 to put Virginia back on top.
Goetz followed with a win at No. 4 singles, stretching the Cavaliers' lead to 3-1, and then Kiefer applied the finishing touches. Had he lost, Rodesch and classmate Inaki Montes held third-set leads at Nos. 1 and 2 singles, respectively.
Most of the players in Virginia's lineup have extensive experience in the NCAA tournament, and that paid dividends again Saturday.
"We just know what to expect," Pedroso said, "and when things go south, we don't panic, because they've gone south for us before in moments like this, and we've come out of them. So we've got that faith. We've got that little inner voice that tells us, 'Hey, it's OK.' "
His players know they can't go on "cruise control during matches," Pedroso said. "It's gonna be up and down, and we talk about it all year. It pertains to their life off the court: how they deal with academics, how they deal with their social lives. That's life, ups and downs. So especially in these moments, we just know that they're coming, the tough times, and we just hang in there and we just stick to our game plans."
After the match, Pedroso singled out several of the program's unsung heroes, including strength and conditioning coach Igda Mendez and athletic trainers Caroline Fitch, Emily Buccigross and Rachel Obmann.
"They spend so much time with these guys," Pedroso said.
The players are similarly committed.
"These guys are fit," Pedroso said. "These guys really take care of their bodies. This team in particular shows up to practice sometimes 45 minutes before practice to get things done in the training room with our amazing athletic training staff."
The match with Texas "was a war," Pedroso said, and his players' superior fitness was telling.
"It's just a credit to all the work they've done all year," Pedroso said, "and our strength and conditioning staff and our sports medicine staff, I can't tell you how many hours they put in a day to make sure our guys are ready. They're staying late. They don't have weekends. They don't have days off. They don't have vacations. They're just fully dedicated to the student-athletes, and I'm so thankful for everything they've done for us."
To receive Jeff White's articles by email, click the appropriate box in this link to subscribe.