By Jeff White (jwhite@virginia.edu)
VirginiaSports.com
CHARLOTTESVILLE, Va. — A light breeze blew on a picture-perfect spring evening, adding to the festive mood of those gathered outside the McCue Center. But even if it had poured Thursday, this would have been a landmark day for the University of Virginia athletics department.
Three hundred and sixty-four days after UVA broke ground on a new football operations center, another such ceremony was held, this one to signal the start of another major piece of the department's Master Plan: the Olympic Sports Complex. Before any shovels sliced into the ground, however, the last steel beam was placed atop the football operations center.
"It's not every day you get to top out one building and break ground on another, but today we get to do both," said Dirk Katstra, executive director of the Virginia Athletics Foundation.
"This is the most interesting doubleheader I've ever been to," UVA president Jim Ryan told an audience that included members of the Board of Visitors, football staffers and players, and other athletic department personnel.
Other speakers Thursday included athletics director Carla Williams, UVA rector Whitt Clement, head football coach Tony Elliott, head rowing coach Kevin Sauer and UVA law student Ashley Anumba, a record-setting thrower in the women's track & field program.
"This is a day many of us have been waiting for a long time," Clement said.
"What a beautiful day and what a special occasion," said Elliott, who's in his second year at Virginia. "I'm extremely excited for our football program, but I'm even more excited for all the Olympic sports programs and what this day means to y'all. We were here just a year ago, and, look, it's going to happen."
The 90,000-square foot operations center for football is scheduled to open next spring. Since 1991, the football program has been based in the McCue Center.
"It's been stated that we know that this new facility is going to make an impact in recruiting, and I don't doubt that," Elliott said. "I've actually already felt the impact. But more importantly, this building is going to change the lives of our current student-athletes … The ability to have safe, efficient access to nutrition, sports medicine, strength and conditioning, position-specific development, will result in a well-prepared student-athlete for competition.
"The new facility also provides the space and the setting for our student-athletes to truly bond and grow as teammates and friends. We're so excited about the new facility and the direct impact that it's going to make on our program and give us the ability to reach our full potential."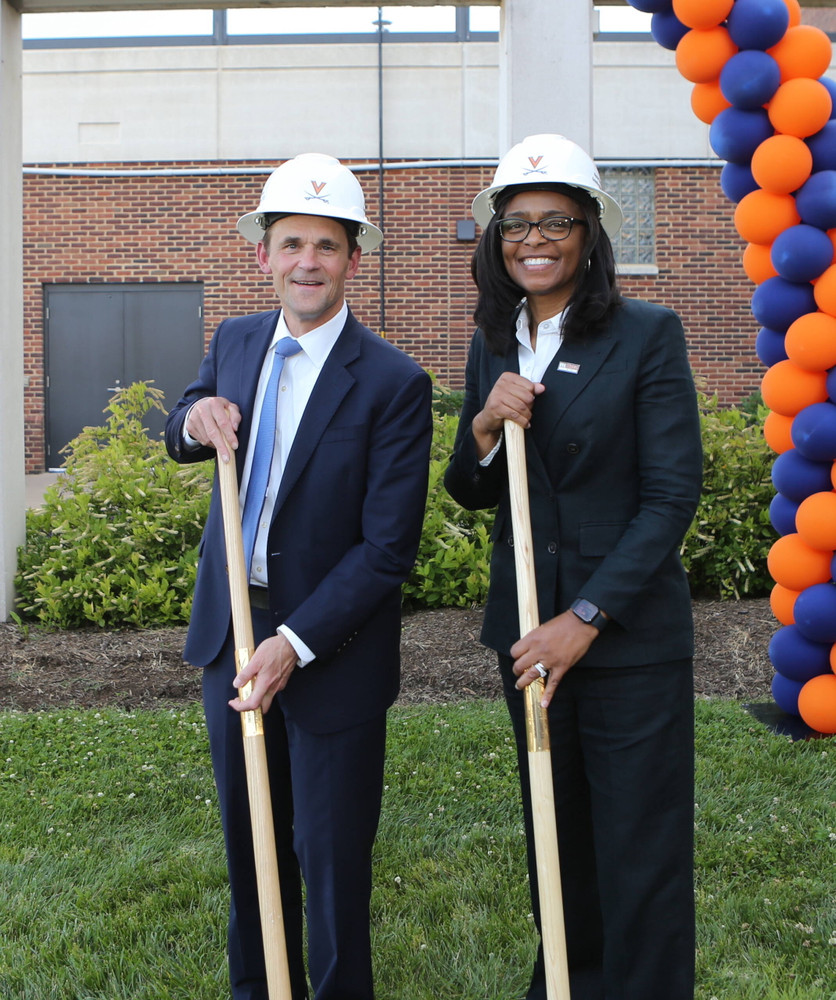 The Olympic Sports Complex is scheduled to open in the summer of 2025. The project includes a renovation of the McCue Center and will allow UVA's field hockey, cross country, track & field, lacrosse, rowing and soccer programs to move into new locker rooms.
For many years, those teams had their locker rooms in University Hall, which was demolished in the spring of 2019. Since the end of the 2017-18 academic year, they've been using trailers at the Training Grounds, located on what was the Onesty Hall parking lot.
"They've been able to do more with less," Williams said. "The coaches are phenomenal. The student-athletes love being at UVA, and now they'll have even better facilities will help them compete even more."
The Olympic Sports Complex "will be a huge relief and a huge step forward," Julie Myers said. "It will be very, very helpful. To see it actually taking shape is going to be amazing."
Myers, a 1990 graduate of the University, recently completed her 28th season as head women's lacrosse coach at her alma mater. Her tenure matches that of Sauer, the only head coach UVA's varsity rowing program has had.
Sauer noted that over the years his team has had to use several off-water training sites on Grounds, including the Russian House on Cresap Road, Halsey Hall, Onesty Hall, the Cage, U-Hall and, now, Slaughter Recreation Center.
"Now, with the [Olympic Sports Complex], we're going to be able to be in one place, instead of four," said Sauer, whose teams have won two NCAA titles.
Sauer thanked everyone involved with the projects. "This doesn't happen without hard work, everybody knows that: hard work in fundraising and hard work in construction."
He also singled out Elliott. "Besides his leadership of the football program, he also cares about the little guys like us," Sauer said. "He cares about the Olympic sports as well."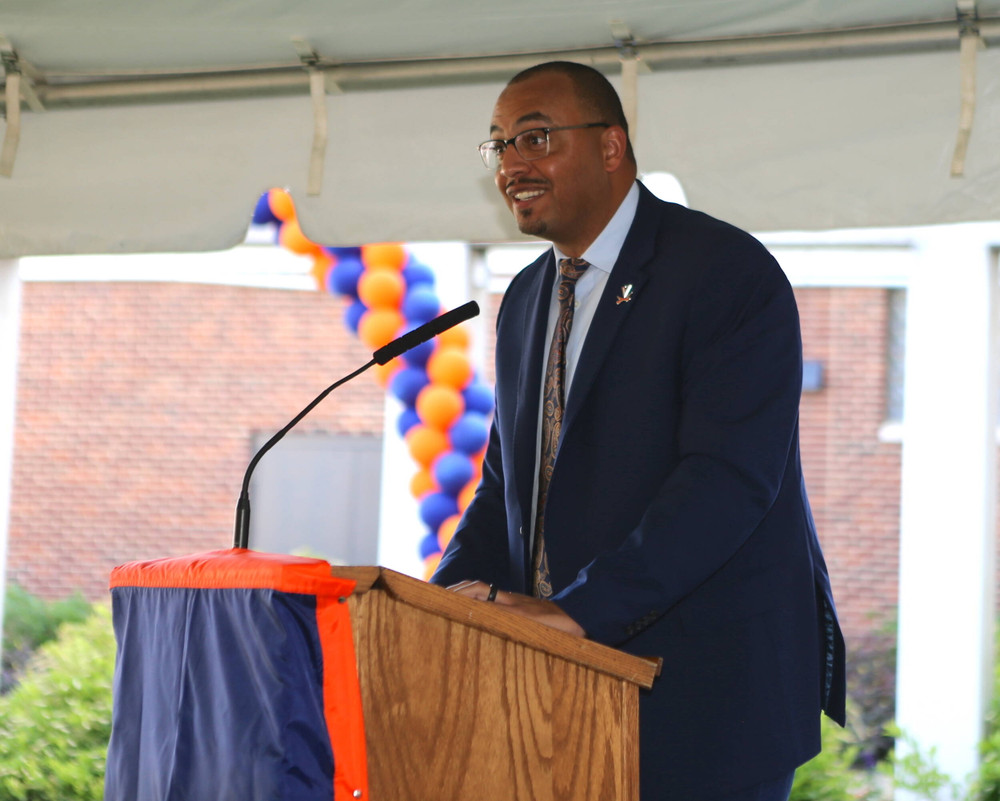 ZGF Architects designed the new facilities. The construction manager is Barton Malow Builders, whose flag flew from the final steel beam for the football operations center, along with a United States flag and an orange banner with the V-Sabre. (An evergreen tree, a tradition in construction, was also on the beam.)
Members of the football team signed the beam, as did Williams, whose message paid tribute to Devin Chandler, Lavel Davis Jr. and D'Sean Perry, the UVA players killed in a tragic shooting in November.
"To all those responsible for the construction, I extend my gratitude as well," Elliott said. "I've had a front-row seat to watch you guys work tirelessly, and on behalf of all of us, we say thank you."
A key feature of the Olympic Sports Complex will be the Center for Citizen Leaders and Sports Ethics, an initiative Williams launched after arriving at UVA in 2017.
"One of the things that I admire the most about Carla, and I admire a great deal about her, is that her north star is always about student development," Ryan said. "Developing students as athletes and preparing them for their best performances possible, but also developing them as students and developing them as young men and young women who are going to go on to become leaders one day. And the design of these facilities reflects that focus."
Anumba enrolled in the UVA School of Law after graduating from the University of Pennsylvania in 2021. She'll have left Grounds by the time the Olympic Sports Complex opens, but Anumba has no doubt its impact will be enormous.
Thankfulness was a recurring theme Thursday, as the contributions of Ryan, the Board of Visitors, the VAF, donors and many others were noted.
"Thank you on behalf of the hundreds of current and future student-athletes at this university," Anumba said. "Thank you for investing in our future success, on and off the field."
It's a sound investment, said Ryan, a longtime supporter of UVA sports. He's seen, Ryan said, "how much sports can shape and transform lives and also how much sports can bring a community together, like almost nothing else."
To receive Jeff White's articles by email, click the appropriate box in this link to subscribe.