By Jeff White (jwhite@virginia.edu)
VirginiaSports.com
CHARLOTTESVILLE, Va. — Reece Beekman awoke May 31 with a choice to make: return to the University of Virginia for his fourth year or remain in the pool of players eligible for this month's National Basketball Association draft.
It was the final day players could withdraw from the draft, and the 6-foot-3 point guard was home with his family in Milwaukee, Wis. The night before, he'd talked to friends and relatives and other "people I really trusted," Beekman recalled Wednesday, "just to hear what they were thinking, but I still woke up that day not certain on what I wanted to do and still trying to make a real decision."
UVA's coaching staff wasn't sure what deadline day would bring.
"It was probably a 50/50 roll of the dice for me," associate head coach Jason Williford said. "Quite honestly, I thought the longer this went on, the more names that were coming back to school, the likelihood of him staying in was getting higher. I was nervous, but also happy for him, because he was pursuing his dream."
Morning gave way to afternoon, with Beekman still deliberating. Finally, that evening, he texted Tony Bennett with his decision. The Cavaliers' head coach was on a plane at the time, but upon landing, Bennett turned on his phone and received wonderful news: Beekman was coming back to school.
"He was very excited," Beekman said of Bennett's response. "He was proud of me just to go through that [process]. He said he knows it's very stressful, and he said he would have been happy either way it went."
After texting Bennett, Beekman shared his decision with UVA's players—"They were excited," he said—and then talked with assistant coach Orlando Vandross.
The coaches, Williford said, had Beekman's "back regardless of what he decided to do. He earned the right to pursue his dream and chase that dream, and we were going to support him 100 percent."
Which is not to suggest the Wahoos are anything but ecstatic that Beekman, the ACC Defensive Player of the Year in 2022-23, is returning for another college season.
"It's huge for us," Williford said.
In 2022-23, Beekman led all ACC players in assist-to-turnover ratio (3.36), and he was second in steals (57) and third in assists (168). He averaged 9.5 points, 5.3 assists and 3.0 rebounds per game for the Hoos, who earned a share of the ACC regular-season title and received a No. 4 seed in the NCAA tournament.
From that team, UVA lost five of its top seven scorers. Only three players who averaged at least 10 minutes per game for the Cavaliers last season are back: Beekman (32.6), who was a third-team All-ACC selection, and sophomores Isaac McKneely (21.5) and Ryan Dunn (12.9).
"Reece obviously has the most experience," Williford said, "and now he'll be our bona fide leader. We've got some portal guys that are transferring in, but with his experience in what we do and how we operate, it was huge that he came back."
Six new scholarship players are joining the program for 2023-24: transfers Jordan Minor (Merrimack), Andrew Rohde (St. Thomas) and Jake Groves (Oklahoma); and freshmen Blake Buchanan, Elijah Gertrude and Anthony Robinson.
Beekman declared for the draft on March 30 and spent most of the next two months away from Charlottesville, but UVA's coaches made sure to brief him on the additions to the roster.
"It was exciting to see those guys," Beekman said.
He has already familiar with Rohde, a 6-foot-6 guard who's also from Milwaukee.
"We played on the same AAU organization," Beekman said, "so I knew of him and I knew he was a good player. I'm a big fan of his, so I was happy to see we got him."
The pipeline from Wisconsin to John Paul Jones Arena continues to flow. Bennett and Virginia's director of scouting, Brad Soderberg, are from Wisconsin. So are such former players as Sam Hauser and Ben Vander Plas and current players Leon Bond III, Beekman and Rohde. On Tuesday, Beekman, Bond, Rohde and Vander Plas played pickup at Carroll University in Waukesha, Wis., some 850 miles from Charlottesville.
"We had some good runs," Beekman said.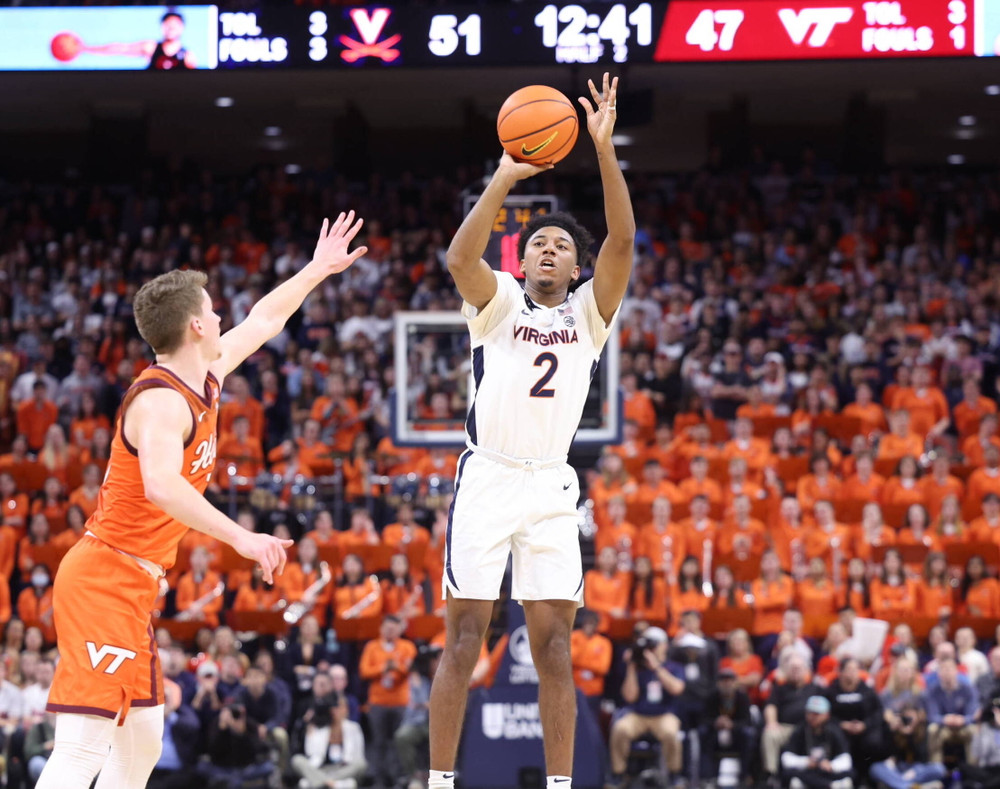 Beekman, who's represented by Excel Sports Management, was among the players invited to last month's NBA Draft Combine, and he was pleased with his performance in Chicago. He also worked out for eight NBA teams: San Antonio, Portland, Utah, Detroit, Boston, Oklahoma City, Minnesota and the Los Angeles Clippers.
Some NBA teams told him he'd benefit from another year at UVA, Beekman said. Others told him they believed he was ready for the NBA now. But he was not a lock to be selected in the two-round draft, and that uncertainty played a role in his decision.
"It's a risk either way," Beekman said. "It was a risk going back to school, but it's also a risk staying in. And so I just felt like going back, it's still a risk, but I felt more comfortable with that one."
Academics also were a factor for Beekman, an American studies major who finished his spring-semester classes online.
"That was a big part of me coming back, actually," he said. "Virginia is a great school, and just have to that degree will mean a lot to me, and my family as well. My grandma, she said she wanted all her grandchildren to get their degrees. So for me to get that just to make her proud, and for myself as well, that would be a big accomplishment, and I really wanted to get that done."
Former UVA players abound in the NBA, including Trey Murphy III, Anthony Gill, Jay Huff, Joe Harris, Malcom Brogdon and Hauser. They didn't try to steer him in one direction or the other, Beekman said. "They were just like, 'Whatever decision you make, we're with you. It's just a matter of time, whether it's this year or next year that that you're gonna be in the league.' They believe in me and just want me to succeed."
After making only 24 percent of his 3-point attempts as a freshman, Beekman improved to 34 percent as a sophomore and 35 percent last season. But outside shooting is not the strongest part of his game, so "that's been a big focus and something I've been working on," Beekman said.
"I feel like shooting it from the NBA range and getting comfortable with that will help me in the future, because [the college 3-point line] is a little closer. This draft process, it's a lot of work. I've been in the gym for about two months, just going at it, and I feel like that's gonna help me."
For the Cavaliers, summer practice starts at JPJ in about 10 days. For Beekman, this will be the first time since he enrolled at UVA that he's not paired in the backcourt with Kihei Clark.
With Clark gone after five years at Virginia, Beekman will "have more leadership responsibility," Williford said. "He'll have to be more vocal, and those are the areas I think that we're excited about and look forward to his growth in."
Beekman said he plans on "coming out every night with a different mentality. This year's gotta be different for me. So I feel like with that mindset coming in, I can help the team as well."
Williford said: "I think he's looking forward to taking on that leadership role. I've got a group text with all the [players], and I kept Reece a part of that. I send them texts periodically and inspirational messages and stuff like that, and we talk a little trash about the NBA playoffs on this text. The day he announced, Reece texted that group and said, 'Coming back. We got work to do. Let's go!' I thought that was a huge step in the right direction from a leadership standpoint."
When he declared for the draft, Beekman said, his goal was to be on an NBA roster in 2023-24. That won't happen, which is "a little disappointing," he said, "because you come in with a certain goal trying to achieve that. But for the long run, I feel like I made the right decision. And it was good just to go through [the pre-draft process and] kind of see what's required to perform on a high level."
Williford agreed. "The experience of having gone through it and then knowing what [NBA] teams are looking for and what that process will look like this time next year, I think it gives Reece a better understanding of what it takes to be a pro and how he needs to go about and attack that process when the time is right next year.
"To be in that position is big time, and I was so happy for him. But I'm extremely excited he's back, and I know everyone in the program is excited he's back."
To receive Jeff White's articles by email, click the appropriate box in this link to subscribe.