By Jeff White (jwhite@virginia.edu)
VirginiaSports.com
CHARLOTTESVILLE, Va. — He wasn't sure what answer he'd receive, but Tony Bennett figured he had nothing to lose, and he knew he'd kick himself if he didn't at least try. And so he called Ron Sanchez to see if his former assistant would be interested in rejoining the University of Virginia men's basketball staff.
"I said, 'Ron, I know it's late. You've been putting your team together, and I've been putting mine, but if it's something you want to consider, let's talk about it,' " Bennett recalled. "And he said, 'Well, let's talk about it.' "
Bennett and Sanchez first worked together at Washington State, where Bennett spent three seasons as head coach (2006-07 to 2008-09), and they formed a strong friendship in Pullman. When Bennett left Wazzu to become Virginia's head coach in the spring of 2009, Sanchez followed him to Charlottesville. He worked for nine seasons on Bennett's staff—the final three as associate head coach—before departing in March 2018 to become head coach at the University of North Carolina at Charlotte.
Five years later, he's back at John Paul Jones Arena, filling the vacancy created when Kyle Getter left in April to join his close friend Micah Shrewsberry's staff at Notre Dame. Sanchez's title is associate head coach, as is Jason Williford's. Williford, who joined Bennett's staff as an assistant in the spring of 2009, was promoted to that position when Sanchez left for Charlotte. The Wahoos' third assistant coach, Orlando Vandross, is heading into his sixth season on Bennett's staff.
Sanchez has longstanding ties to other members of Bennett's staff, including Ronnie Wideman, Brad Soderberg, Johnny Carpenter, Mike Curtis, Ethan Saliba, Larry Mangino and Isaiah Wilkins, and that's made for a seamless return to JPJ. The Cavaliers started summer practice this week.
"It's funny, because I went back to my first staff meeting, and it was like walking back on your team," Sanchez said. "It was very comfortable. It didn't feel like a first meeting, it just felt like us meeting again, and it was really refreshing to get that feeling when I was in that space."
With Sanchez back, there's "such continuity," Bennett said. "He's always been part of this thing."
At Charlotte, Sanchez took over a team that had finished 6-23 overall in 2017-18. The 49ers finished with a winning record three times during his tenure, including a 22-14 mark in 2022-23, when they captured the College Basketball Invitational title in Daytona Beach, Fla.
"I do feel that I left the woodpile a lot higher than I found it, absolutely," Sanchez said. "I do feel that there was a foundation built that can be sustained. It was a struggling program when we arrived, and right now it is a program that won its last game, and I really do feel a tremendous sense of satisfaction in my time there through some very difficult times. The part that makes it even more satisfying is that we accomplished some things through probably the most difficult time in college athletics with COVID-19 and all the changes that have come and impacted the game."
When the 2022-23 season ended, the immediate priority for both Bennett and Sanchez was filling holes in their respective rosters. From the team that earned a share of the ACC regular-season title, Virginia lost Kihei Clark, Jayden Gardner, Armaan Franklin, Kadin Shedrick, Francisco Caffaro, Ben Vander Plas and Isaac Traudt.
"We wanted to go attack that, and that takes time," said Bennett, who guided UVA to the NCAA title in 2018-19.
Once the Cavaliers replenished their roster for 2023-24—six new scholarship players have joined the program, including transfers Jordan Minor (Merrimack), Andrew Rohde (St. Thomas) and Jake Groves (Oklahoma)—Bennett turned his attention to rounding out his staff.
"Ron was always at the top of my list, but I thought it was probably a long shot," Bennett said. "I had some really solid guys I was thinking about, but I kept saying, 'Look, if I had my dream hire, would Ron consider leaving a head-coaching job?' "
Bennett asked Williford and Vandross for their input, and "they both said, 'The home-run hire would be if Ron would ever want to come back.' "
Rarely do coaches willingly give up head jobs to become assistants, but it's not unprecedented. Ritchie McKay did so in the spring of 2009, leaving Liberty University, where he was in charge of the program, to become Bennett's associate head coach at UVA.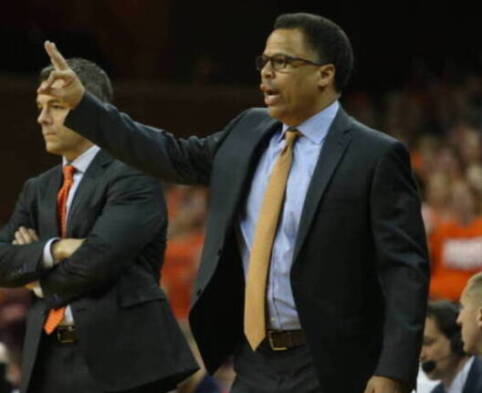 "That played a role in my decision-making," Sanchez said, "seeing the impact that Ritchie had on the program as a former head coach, coming in and really just deciding to serve Tony the best way that he could in that transition.
"If I can have any similar impact to what Ritchie had on the program then, then this will really be worth it, because Ritchie was such a catalyst in what we started building here."
The opportunity to be "reunited with Wahoo Nation" also appealed to him, Sanchez said. "This is such a special place. It was really hard to say no to being back with Tony and [the staff]."
After the 2014-15 season, McKay returned to Liberty for a second stint as head coach, and he's had consistent success there. He and Sanchez spoke several times this spring before Sanchez accepted Bennett's job offer.
"I think some people will wrongly look at it as running from something," McKay said. "I think he saw an opportunity and a small window to rejoin Tony and try and maybe help Coach win another national championship. It's hard to do that, and Ron was on the ground floor of the erecting of the program in its pursuit of its first championship."
McKay has also been head coach at New Mexico, Oregon State, Colorado State and Portland State. Another member of Bennett's staff, director of scouting Brad Soderberg, is a former head coach at five schools: Loras College, South Dakota State, Wisconsin, Saint Louis and Lindenwood University.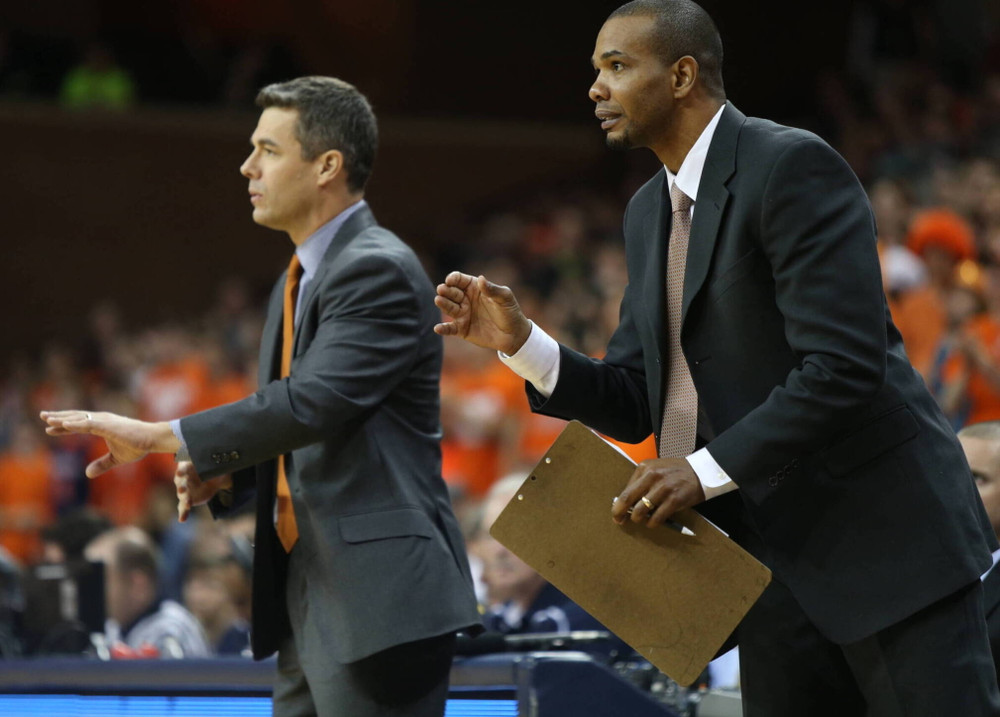 Moving back into a supporting role after being a head coach can be beneficial, McKay said, "because [everything] slows down when you're an assistant. You don't have the same anxiousness about every single decision and every single player. You get a little bit more mind space and can see through a different lens. I got to learn from Tony the power of patient persistence and staying true to your convictions. I think Ron going back and rebranding some of the staples in his DNA will be healthy for him and for Coach."
After five seasons as a head coach, Sanchez said, "my scope is completely different. I look at this through a completely new lens. It's like taking off a pair of 3-D glasses and seeing things how they really are. We can talk offense, defense and things that I've experimented with, because of course all of that comes with the territory, but the perspective that comes with running a basketball staff and running a basketball team, I think that's the one area that I'd say that I've grown the most.
"A friend of mine told me, 'Whenever you go back to something, it's not the same. It will not be the same as you left it, so don't anticipate that where you're going back to is going to be the same.' And the same is true for me. I'm hoping that the staff and Tony understand that the person coming back is not the same person that departed. If you asked me how have I changed, I'd tell you that I thought I was a really good assistant before, because I really thought that I understood what it was that Tony was dealing with on a day-to-day basis."
Sanchez learned otherwise at Charlotte. "There is nothing like sitting in that chair to really give you a true and clear perspective of the things that a head coach carries. It's a heavy crown that every coach in the country carries, and not many can carry it."
Not only is he more equipped now to assist Bennett, Sanchez said, he expects to be a better colleague to the program's other staffers. He said he plans to "jump on their coattails and just help every single person any way that I can, and at the same time, take the load off some of them, so that their workload is a little lighter and we can all function a little better."
Sanchez and his wife, Tara, have two children. Their son, Rae, is a rising ninth-grader, and their daughter, Rose, is a rising seventh-grader.
It was through his wife that Sanchez came into the orbit of the Bennett family. Tara, whose maiden name is Jones, played basketball at Indiana University, and when she was a senior there her head coach was Kathi Bennett, one of Tony's sisters.
Sanchez spent two seasons as a volunteer assistant on the men's team at Indiana, during which time he got to know Kathi Bennett. In 2003, when Dick Bennett came out of retirement to become head coach at Washington State, she contacted her father and suggested he consider Sanchez for a position on the Cougars' staff.
"I guess she maybe saw something in me and said, 'Hey, maybe somebody can give this kid a chance. He'd be OK,' " Sanchez, who earned a master's degree from Indiana, said in a 2009 interview. "I'm really thankful. She was pretty much my agent in that whole situation with Washington State and her father. I guess I was in the right place at the right time."
Sanchez moved to Pullman and served as Dick Bennett's coordinator of basketball operations for the next three seasons. Tony Bennett was his father's top assistant during that period, and when he took over as head coach after the 2005-06 season, he hired Sanchez as an assistant.
After a five-year hiatus, they're together again, and Bennett couldn't be happier about this turn of events.
"He kind of took a step of faith," Bennett said. "I think he sees what can happen here. I'm grateful, and we're all so excited about it.
"He's such a relational guy, and retaining your guys and having continuity in your players in this new age of college basketball is huge, and I think Ron's one of the best for that. Plus, I know if I had to go back and be an assistant coach, I think I'd be a heck of a lot better assistant coach now after being a head coach. There's just stuff you learn, and he's got some new ideas that he'll bring to the table."
To receive Jeff White's articles by email, click the appropriate box in this link to subscribe.