By Jeff White (jwhite@virginia.edu)
VirginiaSports.com
CHARLOTTESVILLE, Va. — Isaac McKneely made the varsity basketball team as a freshman at Poca High School, and even at that young age his talent was evident. He averaged 17.1 points per game for the Poca Dots that season.
"I kind of had to be the man from day one," McKneely recalled after a recent practice at John Paul Jones Arena.
His role was different during the 2022-23 season, his first at the University of Virginia. McKneely was a freshman on a team dominated by upperclassmen, seven of whom had been in college for at least four years.
"It's not my responsibility to come in and try to take 20 shots a game or something like that," McKneely said. "I just did what I was supposed to do, played my role, and I thought I did it pretty well."
A 6-foot-4 guard from the small town of Poca, W. Va., McKneely played in all 33 games for the Cavaliers, who earned a share of the ACC regular-season title and received a No. 4 seed in the NCAA tournament. He shot a team-high 39.2 percent (51 for 130) from 3-point range and averaged 6.7 points and 21.5 minutes per game.
"I thought I had a good year," McKneely said. "I feel like this year I'm gonna have to step into a bigger role, though."
After the Wahoos' season ended with a stunning first-round loss to Furman in Orlando, Fla., McKneely began training for his sophomore year.
"The biggest area of improvement I'm trying to work on is probably my handle," he said. "Last year I was off the ball a lot, but I feel like this year I might have more ball-handling responsibilities. Obviously, we've got Reece, and he's a great ball-handler. But I feel like I might have to take some responsibility as well this year."
On May 31, the last day for college players to withdraw their names from the NBA draft pool, point guard Reece Beekman opted to return to UVA for his senior season. The ACC Defensive Player of the Year in 2022-23, Beekman led the conference in assist-to-turnover ratio (3.36), and he was second in steals (57) and third in assists (168).
"Very, very, very, very excited," McKneely said of his reaction to Beekman's decision. "I can't over-exaggerate how excited I was. He actually texted us first before he announced it all over social media, so that was cool. And I was super excited because we really, really needed him, and his leadership's gonna be big for us."
The Wahoos' summer practices began last month at JPJ. Joining returning players Beekman, McKneely, Ryan Dunn, Taine Murray, Dante Harris, Leon Bond III and Tristan How were seven newcomers: freshmen Blake Buchanan, Anthony Robinson, Elijah Gertrude and Desmond Roberts, plus transfers Andrew Rohde, Jordan Minor and Jake Groves.
"I think we're gonna be way better than people think we are," McKneely said. "Just because we lost a lot, a lot of people are doubting us and putting us bottom of the ACC or middle of the ACC, but we've got guys that bring different things to the table. Rohde is gonna be another ball-handler and can facilitate for others. Jordan is a bully down in the paint. Jake can stretch the floor a little bit. We've got good guys and I'm really excited for this group."
Another newcomer of sorts is associate head coach Ron Sanchez, who spent the past five seasons running the program at Charlotte. Sanchez returned to Charlottesville last month for a second stint on Tony Bennett's staff at UVA.
Whenever his schedule allowed last season, Sanchez said, he would watch Virginia games. "But as far as attention to detail with the players, none," he said. "I was more watching Tony, how he ran his team, etcetera. So I really didn't know many of the players' names or actually even their faces [before rejoining Bennett's staff]."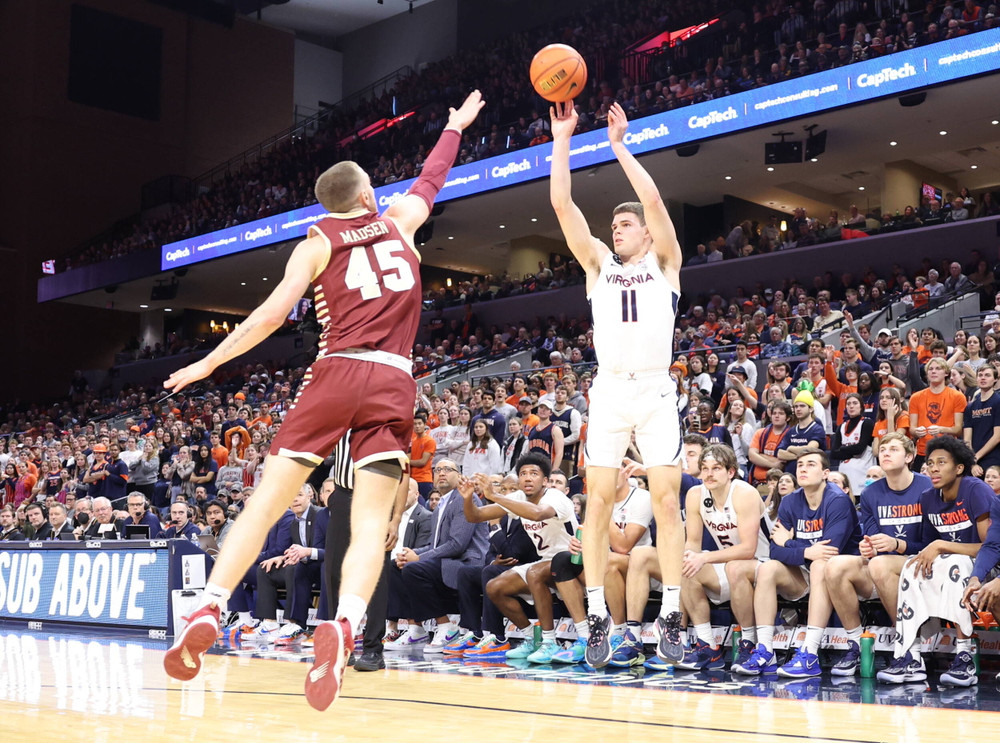 Sanchez didn't spend time reviewing videotape of the Hoos' 2022-23 games, he said, "because what I wanted to do was develop my own evaluation of guys. I think it would be unfair to watch a guy or try to get feedback from coaches and allow them to influence my thoughts. I wanted to have an unbiased opinion of the guys."
His evaluation of McKneely?
"His talent is unique to the team," Sanchez said. "He has an ability to make shots. Sometimes we talk about our pillar of servanthood. If he's not doing that for the team, then he's not serving our team. So he has to understand that in his role is to take the parking brake off, take those shots, demand those shots, ask for those shots. That's important for us to have that."
Unlike, say, former UVA standout Ty Jerome, who now plays in the NBA, McKneely is never the loudest guy in the gym.
"I think the one thing I am noticing about him is he's a little quiet," Sanchez said, "and I'm hoping that he starts understanding his role here is to be vocal, to demand the ball when he's open, so that he can impact the game with his shooting ability.
"The biggest thing for him is: 'Can I get to the point where whenever I'm open, my teammates are finding me?' You can't be a mouse on the floor when that happens. You've got to articulate some things better. But I think his work ethic is phenomenal, he's an eager learner. He wants to be good. He spends time crafting his skills. He's amazing in all those areas."
At times as a freshman, McKneely appeared hesitant on the floor and passed up shots his coaches wanted him to take. When he was aggressive, good things often happened for the Hoos. In Virginia's Jan. 7 win over Syracuse, for example, a McKneely hit 4 of 7 shots from beyond the arc.
"I told him, 'Take the parking brake off … If you have a rhythm shot, take it. Be assertive,' " Bennett said after that game at JPJ. "It's a process for everyone, but we needed that, and he's rising up and bouncing up and hitting some shots, and I want him to keep developing."
The coaches' message to No. 11 hasn't changed in his second year at UVA. "That's a good problem to have, if the coach is telling you to take more shots," McKneely said, smiling.
In practices this summer, he said, "I've definitely been more aggressive, and I've been working on my handle, so I'm starting to get to the rim more. Not just living and dying by the 3-point line, but trying to attack and create for others as well."
Beekman said he's seen a change in McKneely. "He's been hunting his shot a lot. His shot was great last year, but I can tell he stayed with it over the summer.," Beekman said. "I just feel like he's adding a little more off the dribble. He's getting to the middle of the paint, shooting floaters. He's still doing his catch-and-shoot stuff, but also being able to put it on the ground.
"We're going to need that this year from him. He's going to be a big part. I'm telling all the guys, 'If you're in the right spot, take it and be aggressive.' Especially him. He played a lot his first year, so he's due for a big sophomore year, and I'm just excited to see what he does."
When the Cavaliers arrived in Orlando for the NCAA tournament, McKneely talked about how excited he was to get to play in an event he'd grow up watching on TV. That made Virginia's loss sting even more.
"Especially your first March Madness, you're super excited to play and then in the blink of an eye it's over," McKneely said. "It's just hard to believe, because we'd been working since June last year, and it's just hard to see an end like that. But I'm excited for this year. We take that loss as motivation going into this year."
He's gone back and watched the game. Virginia led Furman by four points with 13 seconds to play but ended up losing 68-67.
"It was hard, I'm not gonna lie," McKneely said, "but I had to bring myself to watch the whole game and just see how things went wrong, because it felt like we had the game under control there for a little bit and then it just slipped away. But you learn from things like that."
Jerome and another former UVA star who's now in the NBA, De'Andre Hunter, have been working out at JPJ, and they scrimmage with Bennett's players from time to time.
"It's just kind of unreal," McKneely said. "They're two of the best players in the world, so it's really good for us to get to go against them. They're super competitive, they're not gonna let us do anything, so it's lot of fun and it's always good to have them back."
At a recent practice, Bennett divided his players into three teams for games to seven. McKneely knocked down two 3-pointers in one of those games to help his squad send a team with Hunter and Jerome back to the sideline.
"I feel a lot more comfortable out there, and I feel like I'm more of a leader this year," McKneely said. "Last year I was, I don't want to say taking a backseat, but just kind of sitting back and learning from the others. But this year I've had a year in the system, and now it's my job to teach the first-year guys and the transfer guys how we do it here. I feel like there's a little bit more on my shoulders now, and I'm being more aggressive each and every day."
To receive Jeff White's articles by email, click the appropriate box in this link to subscribe.