By Jeff White (jwhite@virginia.edu)
VirginiaSports.com
CHARLOTTESVILLE, Va. — When the NCAA passed a rule allowing Division I basketball programs to add two assistant coaches, Tony Bennett didn't need to deliberate. He promoted Johnny Carpenter and Isaiah Wilkins.
"Easiest decisions I've ever had to make," Bennett said. "Being a head coach, you have to make some hard decisions. Those were simple decisions and no-brainers, as they say."
Bennett has led the men's basketball program at the University of Virginia since the spring of 2009. Carpenter has served the program in various roles for nearly all of that time: as a student-manager, as a technology assistant and, for the past five seasons, as director of player personnel.
"It's so cool to have someone who has been with you for so long, to be able to reward him," Bennett said.
Wilkins played for Bennett and helped the Wahoos post a 113-26 record, with four trips to the NCAA tournament, during his career.  A 2018 graduate of the University, Wilkins rejoined the program in the spring of 2021 and spent the past two seasons as a graduate assistant.
"There are some guys you coach where you're like, 'At some point they're born to be coaches,' " Bennett said. "They just have charisma and that eye for things that you want."
In their new roles, Carpenter and Wilkins are permitted to do everything associate head coaches Jason Williford and Ron Sanchez and assistant coach Orlando Vandross can do except recruit off-Grounds.
"A lot of things we complain about with the NCAA," Bennett said. "They got this right, and I think it's the way the rule was intended."
Continuity and stability have been hallmarks of Bennett's staff at UVA.
Vandross is heading into his ninth year in the program. He spent three seasons as the Cavaliers' director of recruiting/player development before being promoted to assistant coach in 2018.
Williford, a former UVA player, has been on Bennett's staff since 2009-10, first as an assistant coach and, since April 2018, in his current role. Sanchez spent nine seasons with Bennett at Virginia—the final three as associate head coach—before departing in the spring of 2018 to become head coach at the University of North Carolina at Charlotte. He returned to UVA in June.
"I think it speaks to Ron's love of Charlottesville," Bennett said, "and his desire to help us in this ever-changing landscape of high-major college basketball. With everything that's going on, with retention being so important and with transfer portals and NIL and all those things, it's important to surround your program with trustworthy, knowledgeable guys that can help in all areas, which our current staff has done, but the addition of Johnny, Isaiah and Ron, it's really helping us move the needle and navigate at a time that's unprecedented."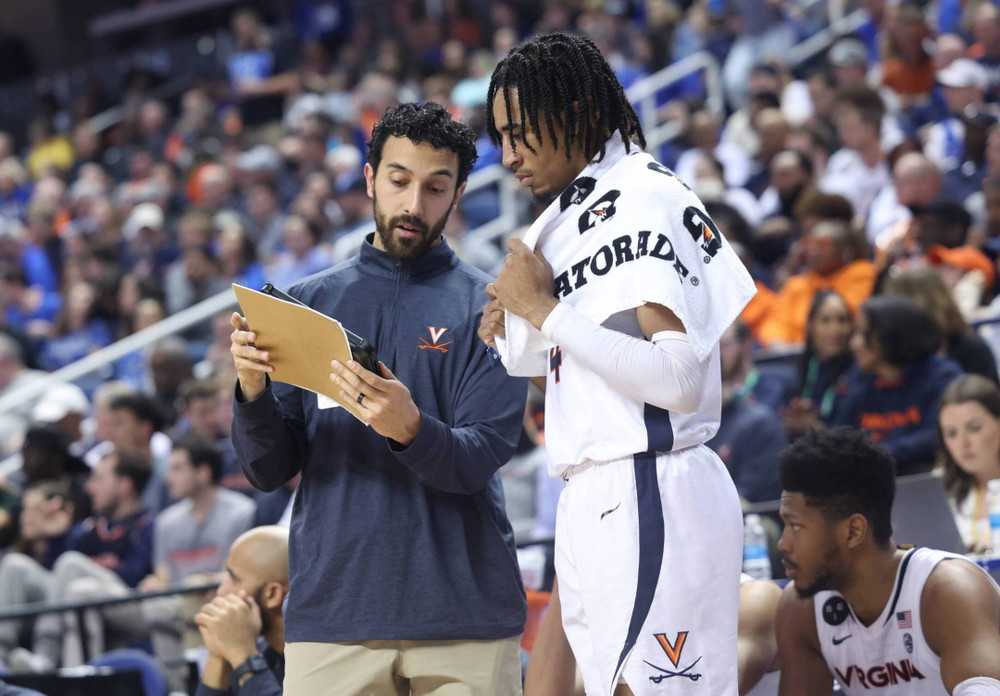 Bennett's staff, which also includes Ronnie Wideman (associate athletics director for basketball administration/operations), Brad Soderberg (director of scouting), Larry Mangino (director of player development), Mike Curtis (head strength and conditioning coach), Ethan Saliba (head athletic trainer/associate AD for sports medicine) and Stelios Tzoutzis (program and operations assistant), has added a new member: Chase Coleman.
Coleman, one of the Cavaliers' guards for the past four seasons, has moved into Wilkins' slot as graduate assistant. He had another year of eligibility and considered using it at a school where he'd get significant playing time, but Coleman has long wanted to become a coach, and he decided the opportunity at UVA was one he couldn't pass up.
"I thought about it pretty much the whole year," Coleman said, "but it wasn't till after the season that I really made my decision, that I really had 100-percent belief after I wrote it down a thousand times trying to figure out if that was what I really wanted to do, and after talking to my family and my close friends. I had to think about what I really wanted to do in life and where I wanted to get to and how I could get there, and it led me to the position I am now."
Coming out of high school, Coleman turned down scholarship offers from several schools, choosing instead to walk on at UVA, in part because he wanted to study and learn from the coaching staff.
"So he had a player-coach, coach-player mindset from pretty much day one," Bennett said, "and as the years progressed, we gave him more [responsibility], relied on his input, his ability to work with guys and talk to the guys. So having him now in this role that Isaiah was in is another great thing for our program, because there's times we can't work with our players, but as a graduate assistant Chase can be on the court with them in those situations."
Six current UVA players—Reece Beekman, Leon Bond III, Taine Murray, Isaac McKneely, Ryan Dunn and Tristan How— were Coleman's teammates last season. "They still call me Chase," Coleman said, smiling. "I told them nothing had to change. The only person who had to call me Coach was Reece, and he doesn't like it. It's our little joke, though."
Wilkins' advice to Coleman about the GA role?
"I think the best part for me was being able to pick the brains of everybody upstairs," Wilkins said. "So I told him, whenever you get a chance and [the coaches] aren't busy, go sit in their offices and just try to learn from them. That's what I did, and that helped me a bunch."
Carpenter, Wilkins and Coleman are younger than their colleagues on the staff, and they're still fit enough to get on the court and play during practice and drills.
"For me it's a cool way to teach guys," Wilkins said. "It's hard sometimes to verbalize [instructions], but when I can walk them through a move or a defensive thing, that always helps."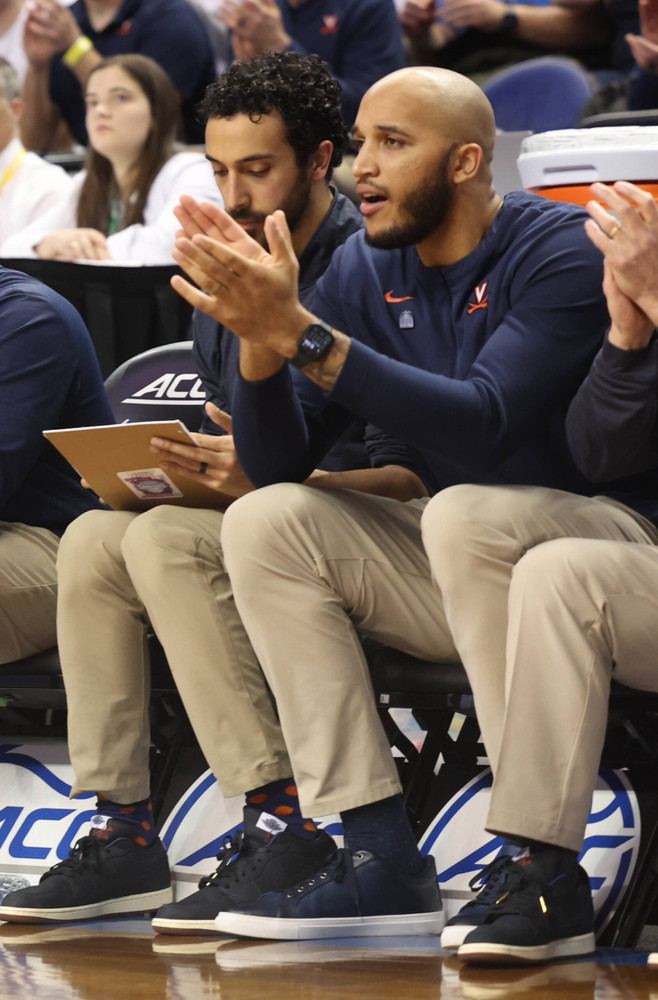 Coleman graduated in May with a bachelor's degree in youth and social innovation from the School of Education and Human Development. He's starting a master's program in higher education.
Wilkins earned his bachelor's degree in African American and African studies. He received a master's in higher education in May.
Carpenter, whose brother Mikey also was a student-manager for Bennett, is a triple Hoo. He received a bachelor's in foreign affairs in 2013, a master's in higher education in 2014, and an MBA from the Darden School of Business in May.
From his days as a student-manager, Carpenter wanted to become a coach, and he worked tirelessly toward that goal. In 2013-14, he served as a graduate assistant for then-head coach Joanne Boyle in the UVA women's basketball program, and "that's where I got to see more of the coaching side," Carpenter said.
After the 2013-14 season, he left Charlottesville to become assistant video coordinator for the NBA's Dallas Mavericks, whose head coach was former UVA guard Rick Carlisle.
"It was 20 hours a day, seven days a week," Carpenter said. "It was non-stop, and the fun thing was, you got to be on the court, too, so you got to be involved with drills. Back then I was helping with workouts of guys that I had action figures of in my room: Tyson Chandler, Dirk Nowitzki, Rajan Rondo."
Carpenter, who grew up in Northern Virginia, returned to UVA before the 2015-16 season. Bennett offered him a position on the Cavaliers' staff, and "it was just a dream of mine to work for someone who was so instrumental in my life, in terms of who I was as a person, on the court, off the court," Carpenter said. "I wouldn't have left [the Mavs] for anybody except him."
He sought out coaching opportunities away from Charlottesville. In the summers of 2018 and '19, Carpenter helped coach Slovakia's U18 and U16 men's national teams, respectively, and in the summer of 2022 he served as a training camp coach for the Indiana Pacers, whose head coach is Carlisle.
"He's challenged himself to learn," Bennett said of Carpenter.
Carpenter learned of his promotion June 7 in a meeting with Bennett at John Paul Jones Arena.
"It was actually the day before my birthday, so it was the best birthday present I could have asked for," Carpenter said. "Coach Bennett brought me in and told me what he was doing for me and Zay. My jaw hit the floor. I think I was tearing up. He was like, 'What's going on?' I said, 'You don't know what this means. This is a dream that's come true.' I couldn't have even imagined it actually happening, and for it to happen and be an assistant coach at my alma mater, the place I'll do anything for, for a coach I'll do anything for, and for a program I'll do anything for, there's nothing better than that."
Wilkins and Carpenter are close friends, and they're thrilled that they'll continue working together.
"Johnny has helped me a bunch on my journey, and to be side by side has been awesome," Wilkins said.
"It just couldn't be better than to do it with Zay, someone I respect so much as a basketball mind, player, person, friend," Carpenter said.
Wilkins was playing professionally in Germany when Bennett called him in May 2021 to offer him a graduate assistant's position.
"It was kind of like a shot in the dark," Wilkins recalled that summer. "He was like, 'Are you interested at all? I know you're in the middle of your playing career, but how does this sound?' "
Wilkins didn't hesitate. And now, two years later, he's a full-time assistant at his alma mater.
"This is unbelievable," he said. "The way they took care of me, you can't make that up."
To receive Jeff White's articles by email, click the appropriate box in this link to subscribe.