By Jeff White (jwhite@virginia.edu)
VirginiaSports.com
CHARLOTTESVILLE, Va. — When he decided not to return to George School for a third and final year, Christian Bliss wanted to make sure his fellow Cougars heard the news from him first. So he set up a players-only Zoom call on which let his basketball teammates know he was reclassifying and planned to enroll at the University of Virginia this summer.
"I thought that was really mature of him," George School head coach Ben Luber said. "I didn't tell him to do that. Obviously, he and I had talked for a while about it, but he set up the Zoom link himself. He's a different type of kid."
A 6-foot-4 guard, Bliss was named the top independent-school player in Pennsylvania in 2022-23 after averaging 20 points, five rebounds and five assists per game for George School. He'll redshirt this season at UVA while honing his skills in practice and training with strength and conditioning coach Mike Curtis.
"I'm so glad that he's here," Virginia head coach Tony Bennett said, "and I think it'll be invaluable for him to spend this time working with M.C., competing and getting used to this environment."
Bliss, who's from Queens, N.Y., spent his freshman and sophomore years in that borough at Archbishop Molloy High School, whose basketball alumni include Kenny Anderson, Kenny "the Jet" Smith and Brian Winters, all of whom went on to play in the NBA, and current University of Miami head coach Jim Larrañaga, a former UVA assistant. Bliss made the varsity as a ninth-grader, but the COVID-19 pandemic wiped out the end of that season and all of the next one.
After a sophomore year in which his classes at Archbishop Molloy were online, Bliss was ready for a change. He transferred to George School in Newtown, Pa., about 30 miles northeast of Philadelphia. He enrolled as a boarding student and in 2021-22 repeated his sophomore year.
"It was my first time being away from home from that distance," Bliss said. "It was cool. It was definitely an adjustment, but it made the adjustment here a lot easier in terms of living on my own."
Returning to the Class of '23 was always an option for Bliss, Luber said. "We talked about it from the day he stepped foot on campus, really. He's a great student. He's never got a B in his life, straight-A student, distinguished honor roll, so it wasn't going to be a function of coursework. He was going to have that done."
Luber said Bliss knew that if "he had his dream school at his fingertips, [reclassifying] would definitely be something I'd support. I was always on the same page with him and really happy he did what he did, to be honest. From a selfish standpoint, I want to see him grow and get to the levels that he's aspiring to get to, and I know this is the next step."
Bliss, who turns 19 in December, committed to Virginia in late June after also considering Villanova, Miami (Fla.) and Xavier, where his former George School teammate Kachi Nzeh is a freshman center. At that time, Bliss was considered a 2024 recruit, but he and his family knew UVA had another scholarship available for 2023-24. After meeting with the coaching staff on his visit, they began thinking seriously about moving up the timetable for Bliss' enrollment.
"When we saw the development program they have for me," Bliss said, "we just thought it was the best thing if I came a year earlier and started to develop sooner, so that I can get my body and everything ready sooner rather than later."
The Wahoos' coaching staff loved the idea.
"I think it's great for him," said Bennett, who's in his 15th year at UVA. "We have a very connected group of guys, and he's fit right in. He's a relentless worker, and you're seeing that already. I think it was really a good decision on his part. He's all about developing his game and helping the team."
Bliss is primarily a point guard, "but he has the ability to play off the ball, because he's got good size," Bennett said.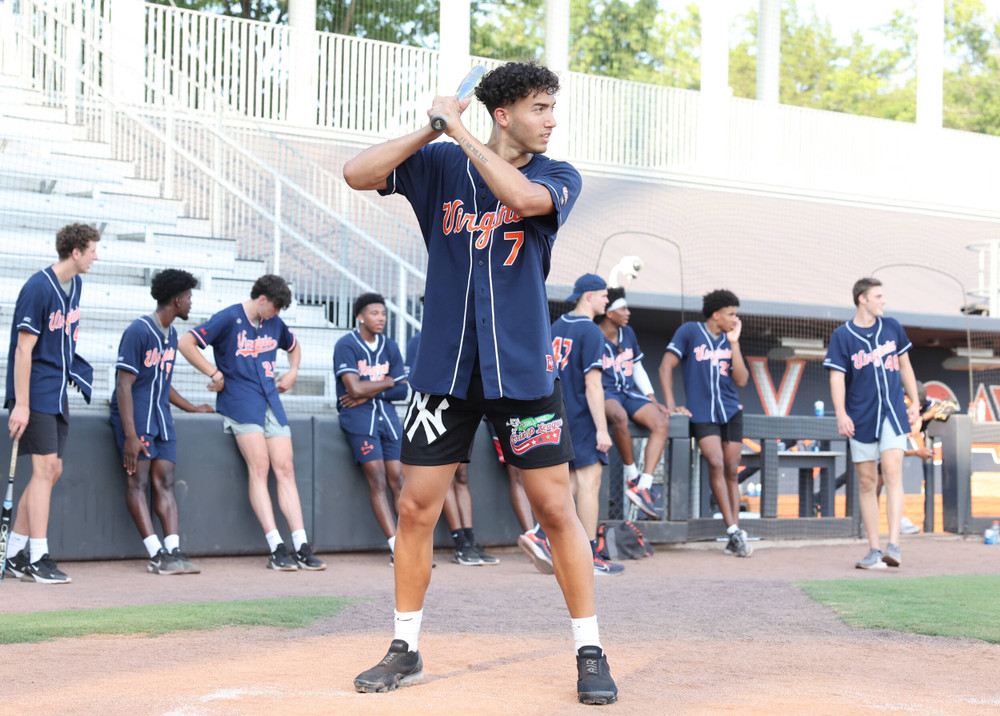 In 2022-23, Bliss helped George School win its first Friends Schools League title and place second in the Pennsylvania Independent Schools Athletic Association state tournament. (The Friends Schools League also includes Friends' Central, from which former UVA great De'Andre Hunter graduated.)
"That was definitely something that I'm proud of," Bliss said of George School's success, "but I felt like I was ready for the next step, and I wanted to just start this learning curve and getting better."
His family supported his decision. "My parents love the University, academically and basketball-wise," Bliss said, "and they love the coaching staff, and they just kind of saw the benefit of me being here a year earlier and developing as both a player and a person."
Curtis is a former NBA strength and conditioning coach, and his PowerPoint presentation on the science behind his training methods wowed Bliss.
"Obviously, I didn't understand a ton," Bliss said, "but you know when someone knows what they're talking about, and when they're serious about their stuff, and that attracted me a lot."
In early August, UVA announced the addition of Bliss to its 2023-24 roster, and he arrived on Grounds in time for the start of the fall semester. The other Cavaliers had been in town practicing all summer, but they immediately welcomed Bliss as a family member.
"I'm just trying to find my groove and help the team," Bliss said, "but the guys have definitely made it an easy transition, and the coaches are there for me, making it a smooth transition."
He arrived in time for the annual softball game between UVA's players and staffers at Palmer Park. "I did pretty well, actually," Bliss said, smiling. "I'm better out in the field than I am hitting, but I think I did well, and most importantly we got the W."
He also enjoyed whitewater rafting with the team in West Virginia. "That was super fun," Bliss said. "I've never been on one of those rafts, and just spending more time with my teammates and getting to know them on a personal level was cool."
Bliss fell in love with hoops at an early age, and his passion hasn't waned. "He's a basketball junkie," UVA assistant coach Johnny Carpenter said, and Luber will attest to that.
"He's very competitive," said Luber, a former Penn State guard. "He challenged me to be my best and provide my best on a daily basis, which made me a better coach. He's a relentless worker. He challenged me, and I was there every morning, during lunch, after school. It was a two-year process that was a lot of learning, but more so learning how to be winner, champion, great teammate. Individually, he's a superstar, but he needed to learn how to make four guys around him better and believe in them.
"That was more our process at George School. It was a different kind of development, but he turned himself into the best teammate on the team, a guy who believed in others, led us to a championship, and made the others around him better. So he fulfilled everything he was coming here to do."
Bliss' family lives in the Whitestone neighborhood in Queens. Growing up, he played for several AAU programs, including two—the Riverside Hawks and PSA Cardinals—whose other alumni include former UVA star Ty Jerome.
"When I was younger, like elementary school, I played with Riverside, and they always told me about him," Bliss said of Jerome, who's now with the Cleveland Cavaliers. "It's nice to see that comparison, but I just want to carve my own lane."
Jerome moved on to the NBA after helping the Hoos win the NCAA title in 2019, but there's plenty of talent at JPJ for Bliss to learn from. In practice, he regularly finds himself matched against senior Reece Beekman, a 6-foot-2 guard who's projected to be chosen in next year's NBA draft.
"It shows I've got a lot more to get better at," Bliss said, "with just the speed and strength [of players] and how everyone, not just a few guys, how everyone moves. It's just a step faster, a step quicker, so it's something I've got to work on and try to become better at and just improve day by day."
To receive Jeff White's articles by email, click the appropriate box in this link to subscribe.