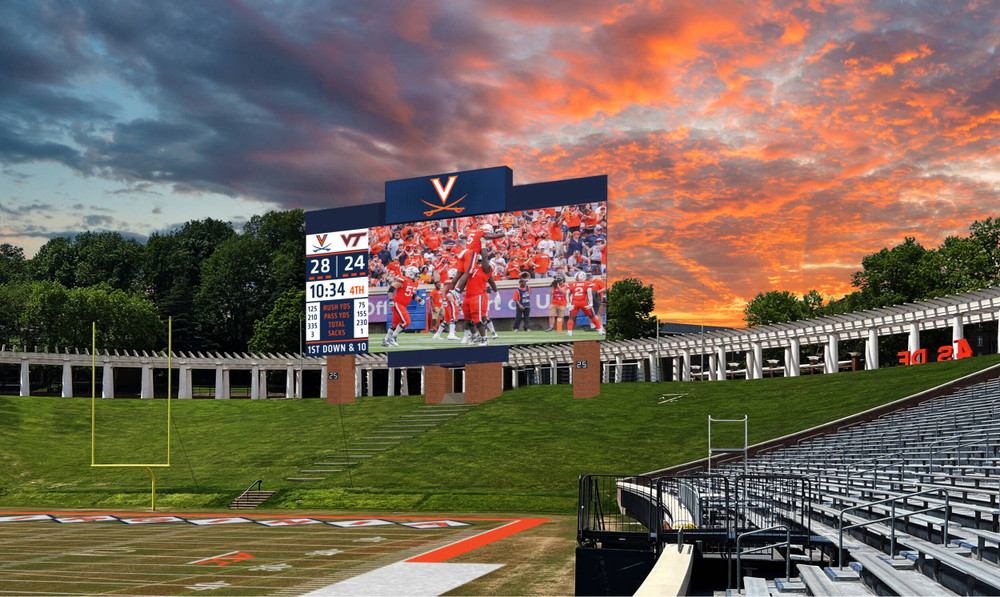 CHARLOTTESVILLE, Va. – During Friday's (Sept. 15) University of Virginia Board of Visitors meeting, the schematic design for a new video scoreboard at Scott Stadium was approved. The proposed schedule for the project has a tentative completion date before the start of the 2024 season.
The new video scoreboard will replace the existing structure on the north end of Scott Stadium that was installed in 2009. The new video scoreboard and accompanying sound system will significantly enhance the game day experience for Cavalier fans.
With a display area of over 6,500 square feet, the video scoreboard will be more than twice the size of the current unit at Scott Stadium (approximately 2,500 square feet).
The scope of the proposed project includes replacing the entire video scoreboard and stadium sound system, as well as associated improvements to the existing structure to deliver a markedly improved audio-visual experience during future Cavalier home games.
Technology will allow the new video scoreboard to integrate more game day information into the video presentation at home football games in addition to offering a higher resolution screen to improve viewing throughout the venue.
The schematic design for the new video scoreboard was prepared by VMDO Architects, in collaboration with representatives from the Office of the Architect for the University and UVA Athletics facilities management.