By Jeff White (jwhite@virginia.edu)
VirginiaSports.com
CHARLOTTESVILLE, Va. — He's been gone from the Pacific Northwest for nearly 15 years, but University of Virginia men's basketball coach Tony Bennett still has connections in that part of the country, including Vince Grippi and Jim Psomas.
For Bennett's final two seasons as head coach at Washington State, Grippi covered the team for The Spokesman-Review in Spokane, Wash., and he still writes a daily column for the newspaper. Psomas is a dentist in Spokane whose patients included Bennett.
Those are their day jobs. Grippi and Psomas are also basketball junkies who coach in the Spokane-based Hooptown Elite AAU program, and when Virginia went looking in the transfer portal last spring for a forward with a sweet shooting stroke, they had a recommendation: Jake Groves.
"It pays to have cavities," Bennett said with a smile at John Paul Jones Arena.
The 6-foot-9 Groves, who was about to graduate from the University of Oklahoma, had a year of eligibility left because of the COVID-19 pandemic. After entering the transfer portal, he heard from UVA assistant coach Johnny Carpenter, who put him in touch with Bennett.
Groves' family remembered Bennett from his days at Wazzu, and Groves was familiar with Bennett's accomplishments at UVA.
"It's hard to be a college basketball fan and not know the success that Virginia has had in the ACC and with their national championship," Groves said.
He visited Charlottesville in late April and signed with the Cavaliers shortly thereafter, and he's impressed from his first practices with the team in June.
"He's got a clear vision of who he is as a player, which you love," said Bennett, whose team plays its annual Blue-White scrimmage Saturday afternoon at JPJ.
Groves grew up in Spokane with a hoop in the driveway, and he's been playing basketball for about as long as he can remember. It's a family tradition.
His grandfather, Jim Groves, played and coached at Shadle Park High School in Spokane. Jake's brother Tanner plays professionally in Poland, and their father, Randy Groves, played in college. None of those men, however, can claim the title of the family's most accomplished basketball player.
"It's Mom, probably," Jake Groves said.
The former Tara Flugel scored 2,040 career points, still a program record, during her four seasons at Whitworth University in Spokane. She was named the Northwest Conference's player of the year three times and made the NAIA All-America team as a senior.
Jake Groves can't match his mother's résumé, but his slow, steady rise in the sport is still noteworthy.
"His story is a great one," Bennett said.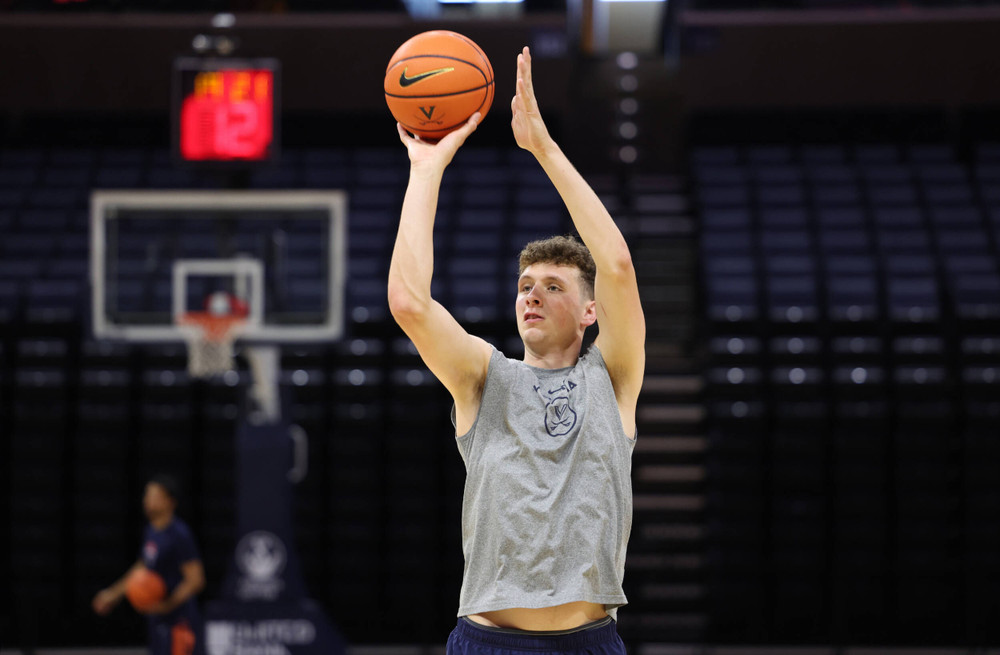 Grippi, who began coaching with Hooptown Elite (then called Eastern Washington Elite) after Bennett left Washington State, had Groves on his eighth-grade travel team.
"The one thing you knew about Jake was he was going to be a basketball player, because he wanted it so badly," Grippi said.
Groves stood about 6-foot-1 when he enrolled at Shadle Park High, where Tanner was two grades ahead of him. By the time Groves graduated in 2019, he'd grown about six inches. He averaged 17.6 points and 9.5 rebounds per game as a senior: solid numbers, but nothing that wowed Division I recruiters.
"I wasn't a great high school basketball player," Groves said. "I was a good player. But I was very fortunate."
Tanner had enrolled at Eastern Washington University as a scholarship player in 2017, and the coaches there invited Jake to join the team as a walk-on. He averaged 2.5 points and 1.5 rebounds per game as a freshman and, after being awarded a scholarship, 9.3 points and 4.2 rebounds as a sophomore.
In the 2021 NCAA tournament, Jake Groves totaled 23 points and nine rebounds in Eastern Washington's first-round loss to Kansas.
"Jake goes through high school, nobody recruits him, he walks on at Eastern and, lo and behold, just keeps growing, like everybody in his family does, and he becomes pretty darn good," said Grippi, whose AAU teams played the Pack Line defense that was invented by Bennett's father, Dick, and which has become one of Virginia's trademarks.
After the 2020-21 season, the Groves brothers decided they wanted to continue their college careers elsewhere, and they entered the transfer portal. "We definitely weren't set on staying together," Jake said, but if an attractive option emerged, they had no objection to remaining teammates.
Virginia was a possibility. There was mutual interest between the Hoos and Tanner, but he was so far along in his academic career that a move to UVA, which has strict policies about how many transfer credits it will accept, would have been challenging. Moreover, the Cavaliers didn't have a scholarship for Jake, of whom Grippi also spoke highly, and neither brother ended up in Charlottesville. Both landed at Oklahoma, where they played for head coach Porter Moser in 2021-22 and 2022-23.
Jake Groves averaged 4.6 points and 2.9 rebounds per game for the Sooners in 2021-22, when he started 12 games, and 6.8 points and 2.5 rebounds last season, when he made 22 starts. What especially piqued the Cavaliers' interest was his ability to stretch the floor. Groves made 38.1 percent of his 3-point attempts in 2022-23.
"He can shoot," said Bennett, who as a player had few peers in that part of the game.
Groves, who received a bachelor's degree in business administration from Oklahoma, said he considered staying in Norman for one final season. "But it was just one of those things where some different things happened throughout the season," he said. "I just wanted a change of pace as far as basketball goes. And so I wanted to go somewhere where I was kind of more valued and where I would be utilized to my full capabilities."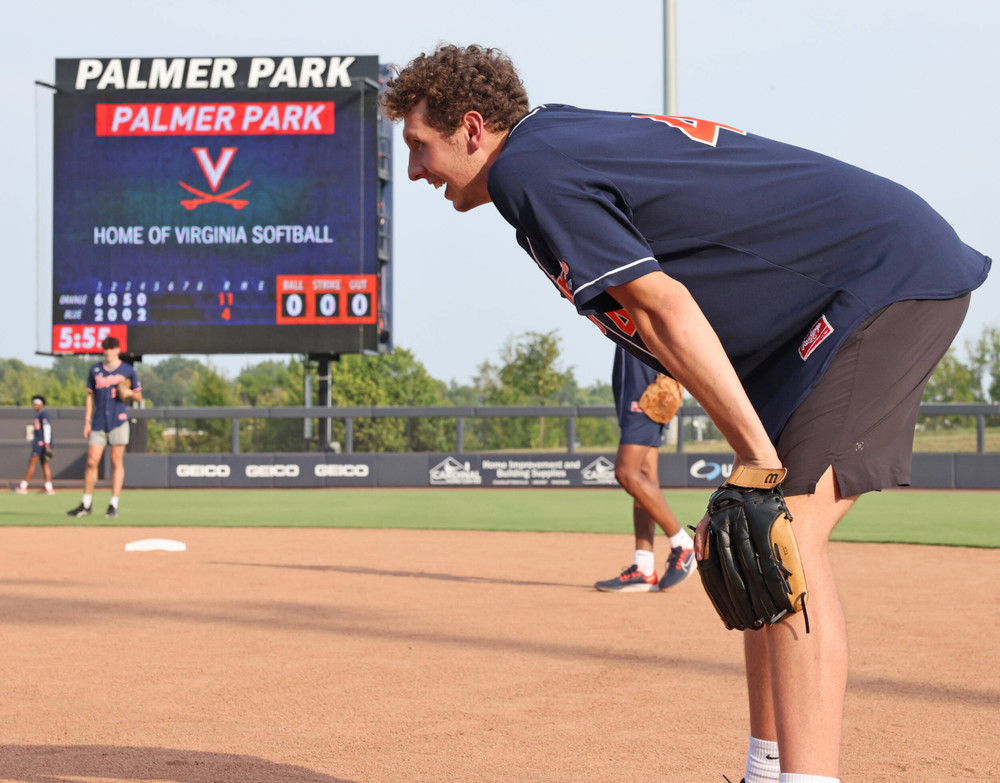 Had Isaac Traudt stayed in the Wahoos' program, Groves would have ended up elsewhere. But Traudt's decision to transfer after last season sent the Hoos looking in the portal.
"I just said, 'We've got to get a skilled 4-man with some experience to stretch the floor and shoot it, because we're so inexperienced [at that position],' " Bennett recalled. "We just said, 'Jake's tough and knows how to play, and we have a need.' "
During his official visit, Groves said, Bennett explained how the Hoos would use him on offense. "I got a lot of Sam Hauser clips, which is good," Groves said. "You love being compared to guys who are in the NBA."
Virginia's freshmen include Blake Buchanan, who also played for the Hooptown Elite AAU program (though not with Groves). Grippi had recommended Buchanan to the UVA staff a few years ago and was convinced Groves would be a good fit in Charlottesville, too.
"Jake was a little worried," Grippi said. "He wasn't sure that he could compete defensively at the level Tony would want, and I understand that. They ask a lot of you defensively.
"What I told Jake and what I really believe is, Dick developed the Pack defense to be able to compete with better athletes by just out-thinking them defensively in a lot of ways. You outwork them, yes, but you have to be in the right place at the right time, sometimes even before the right time, and I've never had a kid that did that better than Jake, and I told him that."
Oklahoma's coaches stressed defense, too, Groves said, but "here it's a little more intense, a little more blatant. This is just a defensive school, which is pretty clear. Coach Bennett is a defensive coach, which is what I knew coming into this, and so it's different in that sense that it's a lot more intense. The energy is higher on the defensive end, but as far as the principles and stuff like that, it's not too different than stuff that I'm used to."
On offense, Groves excels in pick-and-pop actions, and UVA's offense provides him "a lot of opportunities to make shots, which is kind of what I do," he said. "I'm supposed to be a shot-maker for us. This offense is a lot read-based, and I'm playing with really good guards who get me the ball in the right spot, and then it's just up to me to make the shot."
Groves is an avid fisherman and golfer who's enjoyed both of those pastimes in Charlottesville. He's also a strong student who's pursuing a master's degree in educational psychology in UVA's School of Education and Human Development. He comes from a family of educators, and he could see himself working in that field one day.
For now, though, he's focused on making the most of his final season of college basketball. The Cavaliers, who finished 25-8 in 2022-23, have added seven scholarship players since the end of last season, including freshmen Elijah Gertrude, Anthony Robinson, Christian Bliss and Buchanan. Their roster also includes redshirt freshman Leon Bond III and sophomores Ryan Dunn and Isaac McKneely.
Virginia's most experienced players are senior Reece Beekman and its two graduate students: Groves and Jordan Minor, a transfer from Merrimack College.
"It's such an interesting vibe," Groves said, "because a lot of these guys probably don't feel the pressure, the urgency, that we've got to win games and we've got to clean up what practices look like and we've got to get better every single day, because they're young, and they have time to figure stuff out. But the clock is ticking for a guy like me, for a guy like Jordan Minor, and Reece could very well be in his last year. The clock's ticking for us a little bit. And so hopefully our leadership and our experience can kind of come out here as we prepare to play games and we can kind of get everyone on board towards the same goal."
To receive Jeff White's articles by email, click the appropriate box in this link to subscribe.