2022-23 Men's Basketball Ticket Information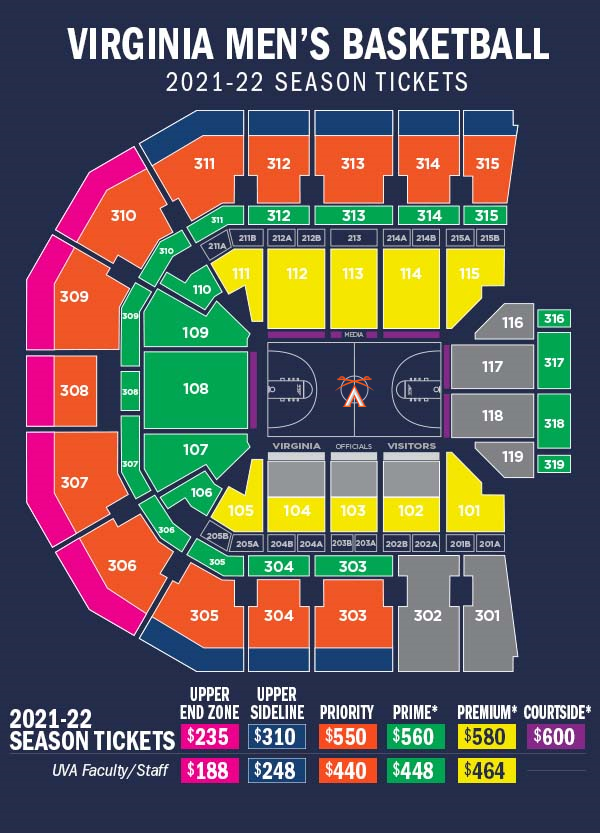 Season Tickets
Virginia men's basketball season tickets are expected to sell out for the upcoming season. Please read the information below if you are interested in purchasing 2022-23 season tickets.
---
Returning Season Ticket Members
Renewal information and ticket pricing will be announced later in the year.
---
New Season Tickets
Fans who did not hold season tickets for 2021-22 season may sign up for the waitlist here . There is no cost to join the waitlist. If you previously signed up, you do not need to sign up again.
---
Giving Levels
Customers who have made capital contributions of $25,000 or more to the John Paul Jones Arena have long term rights to purchase their same seats annually. Seat locations in Premium and Prime Seating require a Virginia Athletics Foundation annual contribution at minimum giving levels based on the quantity of season tickets (2 tickets – $3,500 gift or more, 4 tickets – $5,000 gift or more, 6 tickets – $15,000 gift or more, 8 tickets – $25,000 gift or more).
Seat locations in non-Premium and non-Prime Seating (Priority/Upper Sideline/Upper End Zone) require a Virginia Athletics Foundation annual contribution (2 tickets – $100 gift or more, 4 tickets – $1,750 gift or more, 6 tickets – $15,000 gift or more, 8 tickets – $25,000 gift or more). Requests for new/additional seats or changes in seat location will be reviewed in Virginia Athletics Foundation priority point order. Click here for more information on VAF giving levels and benefits.
Seating Requests
Season ticket members interested in seating improvement or adding seats within the priority area will have the opportunity to view availability through an online improvement and selection tool. Individual time slots will be assigned based on VAF priority points held by the ticket holder.
Faculty/Staff 
Full-time University of Virginia faculty and staff are eligible to purchase a maximum of 4 discounted (20% discount) season tickets in most seat locations.
Single Game Tickets
Tickets – Home Games
Information on single game tickets for 2022-23 home games will be announced at a later date.
Tickets – Away Games
Virginia Athletics does not sell tickets for regular season away basketball games. Please check with the host institution for availability.
Parking
Reserved Season Parking
Season ticket members who are Virginia Athletics Foundation donors may request one reserved season parking pass per ticket account. Reserved season parking passes are $272 and offer a specific reserved space in the John Paul Jones Arena garage, with locations assigned based on VAF priority points. Renewing season ticket holders must have their 2022 annual pledge in to VAF in order to maintain their parking location. In addition, all VAF donors must maintain their annual giving level from the previous year in order to renew their 2021-22 season parking location.
Single Game Parking
Click here to view information on single game parking for men's basketball home games.
Postseason Tickets
ACC Tournament
The 2023 ACC Men's Basketball Tournament will be held at the Greensboro Coliseum in Greensboro, NC.  Qualifying Virginia Athletics Foundation donors and season ticket members will be notified by email of an opportunity to request ACC Tournament tickets through their online ticket account. For more information, click here.
NCAA Tournament
Information on NCAA Tournament tickets will be announced in March 2023.