2020-21 Men's Basketball Ticket Information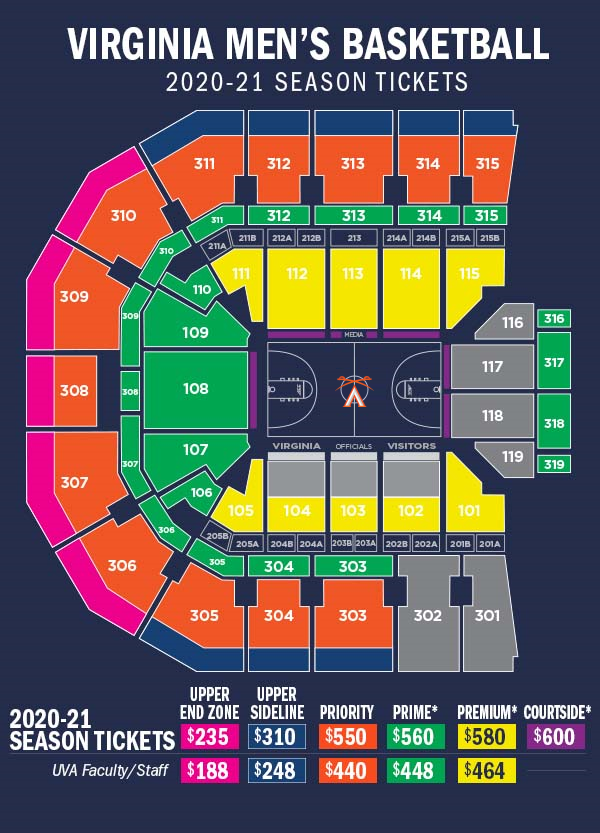 Season Tickets
Virginia men's basketball season tickets are expected to sell out for the 2020-21 season. Please read the information below if you are interested in purchasing 2020-21 season tickets.
Season Tickets
Season ticket prices for the 2020-21 season will start at $235 per seat. UVa faculty and staff members may purchase up to four season tickets at a 20% discount. Seating locations in the lower level and first 4 rows of the upper level are considered Premium and Prime seating. Please contact the Virginia Athletics Foundation (VAF) for additional information regarding Premium and Prime seating.
---
Returning Season Ticket Holders
Priority Renewal Deadline: August 14
Beginning July 6, returning season ticket holders may sign in online to renew season tickets for the 2020-21 season. Customers enrolled in the Auto Renewal Program have already renewed their season tickets for 2020-21, and do not need to submit a renewal application. Click here to sign in to your account and complete your online ticket application.
For priority, please place your season ticket order no later than August 14. Orders not received by this date will be considered late and subject to possible seat relocation or cancellation.
Renewing season ticket holders must make their 2020 annual pledge to VAF by August 14 in order to maintain their seat location and/or qualify for additional season tickets. In addition, all VAF donors must maintain their annual giving level from the previous year to renew their 2019-20 seat location. Payments must also be current on previous year pledges.
---
New Season Tickets
Fans who did not hold season tickets in 2019-20 may request new season tickets online at VirginiaSports.com through August 14. Click here to place a new season ticket request.
Following the renewal period, requests for new season tickets will be fulfilled and seated in Virginia Athletics Foundation priority point order. Fans requesting new season tickets are strongly encouraged to make a contribution to VAF by the August 14 deadline. Contributions to VAF support Virginia Athletics by helping to fund scholarships, the Athletics Academic Affairs office and sport-specific operational needs. Click here to make your contribution.
Fans will be notified if their season ticket request is filled with seat location(s) during the new season ticket sales period. The number of season tickets and the assigned seat locations will be based on priority points and information provided as part of the request form. Season tickets in Priority, Upper Sideline and Upper End Zone locations will be allocated in accordance with VAF giving levels. For more information, please call or text the Virginia Athletics Ticket Office at (434) 924-UVA1.
---
Giving Levels
Customers who have made capital contributions of $25,000 or more to the John Paul Jones Arena have long term rights to purchase their same seats annually. Seat locations in Premium and Prime Seating require a Virginia Athletics Foundation annual contribution at minimum giving levels based on the quantity of season tickets (2 tickets – $3,500 gift or more, 4 tickets – $5,000 gift or more, 6 tickets – $15,000 gift or more, 8 tickets – $25,000 gift or more). Seat locations in non-Premium and non-Prime Seating (Priority/Upper Sideline/Upper End Zone) require a Virginia Athletics Foundation annual contribution (2 tickets – $100 gift or more, 4 tickets – $1,750 gift or more, 6 tickets – $15,000 gift or more, 8 tickets – $25,000 gift or more). Requests for new/additional seats or changes in seat location will be reviewed in Virginia Athletics Foundation priority point order. Click here for more information on VAF giving levels and benefits.
Seating Requests
Seating requests may be made in the online comments box when submitting your season ticket request or by calling or texting the Virginia Athletics Ticket Office at (434) 924-UVA1. Please bear in mind that due to anticipated high demand from renewing season ticket holders, available seat locations for seat improvement and new seat requests are expected to be very limited, even for those with VAF priority. The ability to handle your seating request is dependent on attrition and your priority point standing. All seating requests will be individually reviewed and seats assigned from available locations in priority point order. Athletics Ticket Office and/or Virginia Athletics Foundation staff will select the best possible seats for you based on your specific request and will contact you if necessary.
Auto Renewal Program
Season ticket holders may sign up for an auto renewal program. Enrollment is open through August 14.
Program Benefits:
Payment automatically made. Choose from one or four installment options.
Ensure that you'll order your tickets on time and never miss a renewal deadline.
Avoid getting multiple reminder emails, phone calls, and mailings.
At the start of next season your order will automatically be in, unless you choose to opt-out of the program. No need to place renewal order online or by phone or email.
One installment option: Your total order amount will be processed at the time of order (week of July 31 for returning auto renewal customers).
Four installment option: First payment will be a 25% deposit at the time of your renewal or new order. Four payments will be processed in total, with the remaining payments processed on approximately the last business day of August, September and October.
Current members of the auto renewal program needing to make updates to their account should call the Athletics Ticket Office by July 31. Please note that auto renewal programs for football, men's basketball, and baseball are separate. Updating your information for one auto renewal program does not automatically update your information for other sports. Also note that updating the payment card information stored in one's online account profile does not update the payment card information for any auto renewal accounts.
Faculty/Staff & Young Alumni Discount
Full-time University of Virginia faculty and staff and alumni within 5 years of graduation are eligible to purchase a maximum of 4 discounted (20% discount) season tickets in most seat locations.
Single Game Tickets
Tickets – Home Games
Information on single game tickets, if available during the 2020-21 season, will be announced at a later date.
Tickets – Away Games
Virginia Athletics does not sell tickets for regular season away basketball games. Please check with the host institution for availability.
Parking
Reserved Season Parking
Season ticket holders who are Virginia Athletics Foundation donors may request one reserved season parking pass per ticket account. Reserved season parking passes are $272 and offer a specific reserved space in the John Paul Jones Arena garage, with locations assigned based on VAF priority points. Renewing season ticket holders must have their 2020 annual pledge in to VAF by August 14 in order to maintain their parking location. In addition, all VAF donors must maintain their annual giving level from the previous year in order to renew their 2019-20 parking location.
Single Game Parking
Click here to view information on single game parking for men's basketball home games.
Postseason Tickets
ACC Tournament
The 2021 ACC Tournament will be held Tuesday-Saturday, March 9-13 at Capital One Arena in Washington, DC. Beginning January 4, qualifying Virginia Athletics Foundation donors will be notified by email of an opportunity to request ACC Tournament tickets through their online ticket account.
Donors whose requests cannot be fulfilled will be contacted by email by Monday, February 1.
Important Dates
Date

Information

June 30, 2020

Virginia Athletics Foundation 2nd quarter bonus points payment deadline.

July 6, 2020

Season ticket sale begins for returning customers. Ticket renewal applications sent via email to the registered email address of customers holding season tickets during the 2019-20 season.

August 14, 2020

Season ticket priority deadline. Last day to update address for season ticket mailing.

Virginia Athletics Foundation priority pledge deadline for season tickets.

Deadline to enroll in or make changes to Auto Renewal Program.

September, 2020

ACC releases complete 2020-21 schedule.

Late October, 2020

Season tickets delivered in digital format via email.

March 9-13, 2021

2021 ACC Men's Basketball Tournament in Washington, DC.