By Jeff White (jwhite@virginia.edu)
VirginiaSports.com
CHARLOTTESVILLE, Va. — Never mind the final margin. Ever the perfectionist, University of Virginia head coach Tony Bennett saw multiple lapses from his team in its season opener, and they'll be addressed at practice Wednesday.
Bennett also saw plenty of positives in UVA's 80-50 victory over Tarleton State at John Paul Jones Arena. On a night when the Cavaliers missed 15 free throws, they still won going away.  Afterward, Bennett chose to praise his team's ability to get to the line and noted that several players, including Ryan Dunn and Dante Harris, made free throws late in the game after missing them earlier.
"That's important, to be in those spots and get game reps at the free-throw line," Bennett said, "so actually, I thought that was at least promising."
He smiled. "See how positive I am."
In the first-ever men's basketball game between these schools, UVA never trailed. The Wahoos hit their first three 3-point attempts and, led by sophomore guard Isaac McKneely (4 for 8) finished 10 for 22 from beyond the arc.
"We have to be able to stretch [defenses]," Bennett said. "We're not a dominant interior scoring team … So at times you've got to stretch it and hopefully we'll be able to shoot it at a decent clip this year."
On a night when the officials called 47 fouls, 28 of them on Tarleton, the game became a ragged affair with little flow. That didn't faze Virginia, which led 43-19 at the break.
The Texans (0-1) ran off eight straight points midway through the second half to cut their deficit to 19, but the Hoos quickly reasserted themselves. Forward Jake Groves sank 3-pointers on back-to-back possessions, and swingman Andrew Rohde added a trey during a run that pushed UVA's lead back to 28.
"It was good old-fashioned butt whupping," Tarleton head coach Billy Gillispie said. "They played very, very well. We didn't play nearly as well. They had a lot to do with that."
From a team that captured a share of the ACC's regular-season title in 2022-23, Virginia lost five of its top seven scorers. But its returning players include Reece Beekman, and the 6-foot-3 senior showed Monday night why he's one of the nation's most versatile guards.
The ACC Defensive Player of the Year last season, Beekman totaled 16 points, seven assists, four rebounds and three steals, and he had no turnovers.
"That's a performance," said Gillispie, a former head coach at the University of Kentucky. "Totally under control, totally dominating the game."
Six players made their UVA debuts Monday night: Harris, Rohde, Groves, Leon Bond III, Blake Buchanan and Jordan Minor.
Buchanan is a freshman, and Rohde (St. Thomas), Groves (Oklahoma), Minor (Merrimack) and Harris (Georgetown) are transfers. Bond enrolled at UVA as a freshman in June 2022 and redshirted last season. (Harris enrolled after the fall semester in 2022-23 and practiced with the team for the rest of the season.)
A 6-foot-5 swingman, Bond missed practice because of an illness Sunday, and Bennett wasn't sure if he'd be available for the season opener. Not only did Bond play Monday night, he sparkled. In 16:42 off the bench, he scored 12 points, grabbed nine rebounds and came up with two steals.
"He gave us a nice lift, that was obvious," Bennett said.
No. 35 appears destined to be a fan favorite at JPJ, where a sign in the student section Monday night read: Bond Leon Bond 0035.
The crowd of 14,080 was in a full voice throughout, but a spectacular sequence by Bond with 7:02 left drew the loudest applause. On a missed 3-point attempt by Rohde, Bond corralled the rebound with his right hand and threw down an emphatic dunk.
"I got lucky," Bond said. "The ball happened to be in the right spot. So then I had to let out a little scream because I got lucky, and I was excited."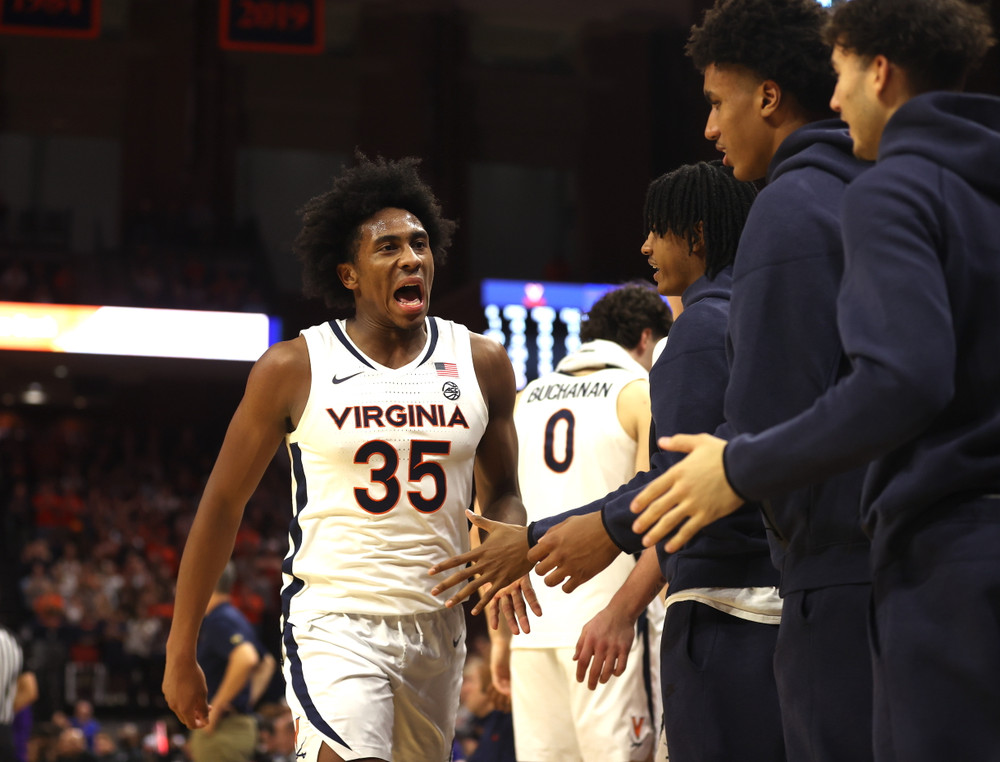 McKneely (15 points) also scored in double figures for Virginia, and Groves and Dunn, with nine points apiece, nearly reached that mark too. Dunn, a 6-foot-8 forward, also contributed seven rebounds and a team-high two blocks.
"I thought we played real hard," said Bennett, who's in his 15th season at UVA. "We talked about what genuine passion would look like, and I thought our guys battled. Tarleton is real scrappy, they're athletic and they're physical and the way they play they force you to, you've got to be sure with the ball, you've got handle it, you've got to work to get open."
The Cavaliers have a full complement of 13 scholarship players. Three of them are freshmen who are planning to redshirt this season: guards Christian Bliss and Elijah Gertrude and center Anthony Robinson.
Bliss graduated from high school a year early to enroll at Virginia in August. Gertrude continues to recover from the knee injury he suffered in November 2022, and Robinson has immense potential but is still learning the game.
"I just have been telling them to attack every day," Bond said. "Understand that it's a slow grind and don't get discouraged, because discouragement's a loss of perspective."
UP NEXT: The Cavaliers (1-0) don't play again until Friday, when they meet Florida (1-0) in the Hall of Fame Series event in Charlotte, N.C. The 7 p.m. game will air on ACC Network.
The Gators, who finished 16-17 in 2022-23, also opened Monday night, routing Loyola (Md.) 93-73 in Gainesville, Fla.
UVA is 1-2 all-time against Florida, all in the postseason. In 1992, Virginia defeated Florida 62-56 in the NIT semifinals at Madison Square Garden. In 2012 (in Omaha, Neb.) and again in 2017 (in Orlando, Fla.), the Gators knocked the Hoos out of the NCAA tournament.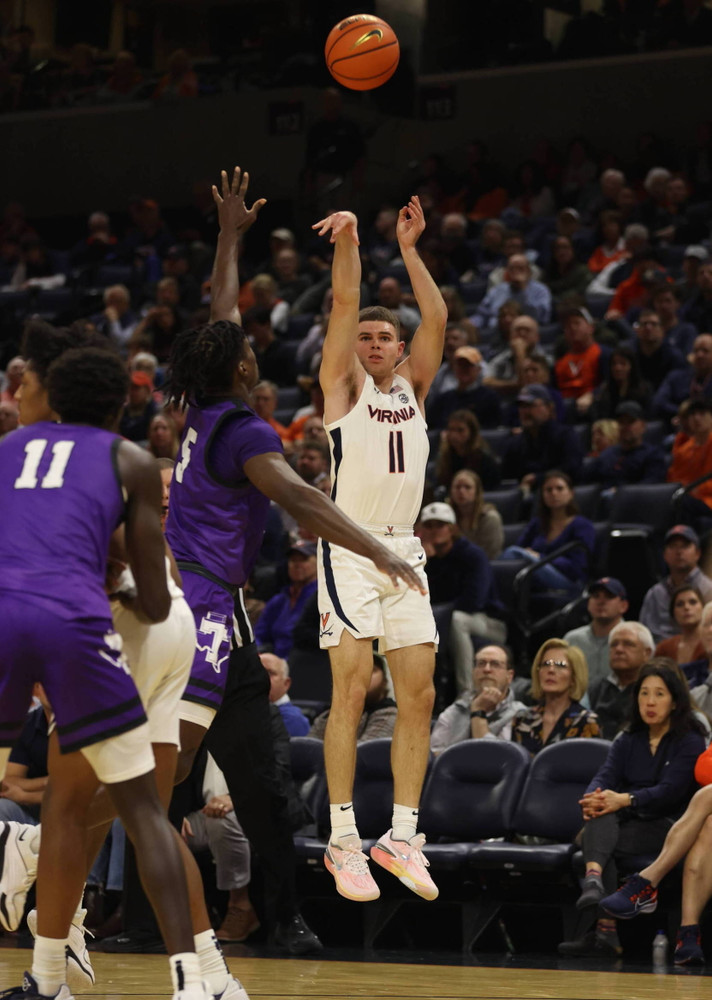 SOUND BITES: Virginia improved to 13-2 in season openers under Bennett. Among the postgame comments Monday night:
* Bond on his UVA debut: "I was really nervous coming in. I'm not gonna lie. I had no expectations. I just went out there and was hoping to score. It was surreal."
* Bond on how redshirting has helped him: "I know last year if I would have got that putback dunk, I probably wouldn't have run back on defense, I probably would have still been flexing under the rim. So it definitely helps. Just maturing and just understanding, trying to keep a level head and not get too low, not get too high."
* McKneely on Beekman: "I've always loved playing with Reece. He's just such a smart player. Of course, he's a great defender and everything else, but he just knows how to make the right plays on offense as well. He doesn't try to force anything."
* McKneely on Bond: "He's here to stay. Leon's a great player, a great guy, one of my best friends. So I'm really happy for his play tonight, and he's just going to continue to do that over the course of the season as well."
* More McKneely: "I thought we just brought a lot of energy. First game of the season, you don't really know what to expect, but you know you've got to come out with energy, especially against a team like that. They're scrappy, they play hard, so you've got to match that energy. I thought we did a good job of doing that today."
* Bennett: "We'll keep chipping away. It's a group with so many new guys that you don't quite know what to expect … but hopefully we'll settle in and keep improving as the season progresses."
* Gillispie, smiling, on the Cavaliers: "We didn't foul them enough. They missed 15 foul shots."
* Gillispie: "We haven't played a team in a guarantee game that performed as well as Virginia did tonight."
To receive Jeff White's articles by email, click the appropriate box in this link to subscribe.