By Jeff White (jwhite@virginia.edu)
VirginiaSports.com
CHARLOTTE, N.C. — The stakes were not as high as in these programs' previous two meetings, both of which came in the NCAA tournament, but the first-ever regular-season men's basketball game between Virginia and Florida turned out to be a November classic.
There were nine lead changes in the first half alone. In the second half, UVA stretched its lead to 11 points with 13:24 to play, but the Gators answered with a 12-0 run that quieted most of the partisan crowd at Spectrum Center. The Cavaliers regained the lead on a 3-pointer by sophomore guard Isaac McKneely with 6:34 left, only to see Florida rally to tie the game four times: at 62-62, 65-65, 67-67 and 69-69.
Finally, with 63 seconds remaining, 6-foot-11 freshman Blake Buchanan hit two free throws to put the Wahoos ahead 71-70. Those proved to be the winning points, but the final minute brought still more drama, and Virginia's victory wasn't assured until senior guard Reece Beekman, the reigning ACC Defensive Player of the Year, foiled the Gators' last possession.
Beekman's third steal came with UVA up two, and he sank 1 of 2 throws with seven-tenths of a second left to make it 73-70. That's how this Hall of Fame Series game ended, and the Hoos walked off with a hard-earned victory.
"It's great to be in this position with a new team," said Beekman, who also had 13 points and a team-high five assists. "I feel like that's gonna take us a long way. You gotta go through things. Even if we lost, it still would have been a good opportunity just to learn from that and be in those positions. So just later down the road, we'll be a little more comfortable, but I'm glad that we could stick with it today and came out with the win."
UVA head coach Tony Bennett, sitting to Beekman's right at the postgame press conference, echoed those comments.
"I think Reece said it best," Bennett said. "We talk about what it means to have genuine passion, and you can't fake it in games like this. A lot of mistakes were made by us and I'm sure Florida feels the same, but it wasn't an 'excuse me' game, and at times when we did play 'excuse me' basketball, we kind of got crushed."
In the end, the Cavaliers (2-0) outlasted the Gators (1-1), "and I think if you can have that mindset of being relentless defensively, and offensively, that's the name of the game," Bennett said.
"No one knows exactly how good Florida is. No one knows how good Virginia is," Bennett said. "It was just a hard, competitive game that … showed us some things that we got to keep working at."
The game also showed that the Hoos have a gem in Buchanan, who's from C'oeur d'Alene, Idaho. He's still lean at 225 pounds, but he helped negate some of Florida's decided size advantage Friday night, totaling 18 points and seven rebounds in nearly 27 minutes off the bench.
"We don't win that game without him," said forward Jake Groves, a graduate transfer who grew up in Spokane, Wash., and came through the same AAU program as Buchanan.
Not every post player moves well enough laterally to shine in Virginia's Pack Line defense, but Buchanan has been a fast learner.
"He's got quick feet and he's very active and mobile," said Bennett, who's in his 15th year at UVA.
When Bennett refers to a player as "continuous," that's high praise, and Buchanan already qualifies as such.
"As he gets stronger, he'll get better, but that really was important," Bennett said.
The Pack Line doesn't always make opponents turnover-prone, but the Hoos came up with 15 steals Friday night, their most since they had 15 against William & Mary in 2015. Sophomore forward Ryan Dunn had seven of them, tying the program's single-game record.
"Sometimes you find ways in your base system to be disruptive," Bennett said, "and good defense has to disrupt. It can't just be vanilla and let teams do stuff. There's too many good offensive players nowadays where they can make some plays and do things, and I thought whether we had to trap the post at times and scramble out a bit or be aggressive on ball screens, those things in this game were important."
Virginia's tallest starter Friday was the 6-foot-9 Groves, and he operates more on the perimeter than in the low post. Florida started 7-foot-1 Micah Handlogten and 6-foot-10 Tyrese Samuel and brought 6-foot-11 Alex Condon off the bench.
Not surprisingly, the Gators dominated the backboards. They pulled down 21 offensive rebounds and outrebounded UVA 47-30 overall. Dunn led Virginia with eight boards, and the 6-foot-4 McKneely grabbed six.
Had the Hoos lost, they would have pointed to their struggles on the glass and at free-throw line. In their season opener, the Cavaliers missed 15 free throws, and they misfired 10 times against Florida. Twice in the second half, a UVA player went to the line and missed two free throws.
In both games, though, Virginia showed an ability to attack the basket and draw fouls, and that's encouraged Bennett.
"You can't always settle for 3s," he said.
Buchanan struggled at times at the line, but he finished 10 for 16 and was 6 for 8 in the final 6:16. He was 1 for 4 on free throws against Tarleton State, which "was a little rough," Buchanan said Friday night, "so I just had to get the confidence on the line, get the nerves out. Once I started seeing them go in, I just started getting the confidence, just kind of started rolling."
Virginia had an 11-0 run in the first half and took a four-point lead into the break. In the second half, the Hoos appeared on the verge of breaking the game open when Groves, who'd scored their previous 10 points, missed a breakaway dunk.
"Flat tire right there," Groves said.
His miss seemed to energize the Gators, whose comeback had started with an off-the-glass 3-pointer as the shot clock expired. By the time the Cavaliers scored again it was a tight game, and it stayed that way until the end.
"We're going to work on his dunking game a little bit," Bennett said.
He smiled when he said that, but Bennett wasn't as happy when, with 56.1 seconds left, the officials reversed a call and awarded possession to Florida after the ACC Network crew, including analyst Cory Alexander, a UVA alumnus, interjected itself into the decision.
Dunn helped his coach re-focus on the task at hand. "Ryan's like, 'Next play, next play,' " Bennett said.
He saw Bennett get upset, Dunn said, "and I didn't want him to get a tech or something. So I told him, 'Control what we can control.' "
Virginia's players did the rest, and Bennett said he liked the way they "kept their composure. They battled through some mistakes and a couple of breakdowns and then had to make some plays [late] … We struggled our first game from the line, we weren't great this game, but we made some key ones down the stretch. So those are invaluable experiences."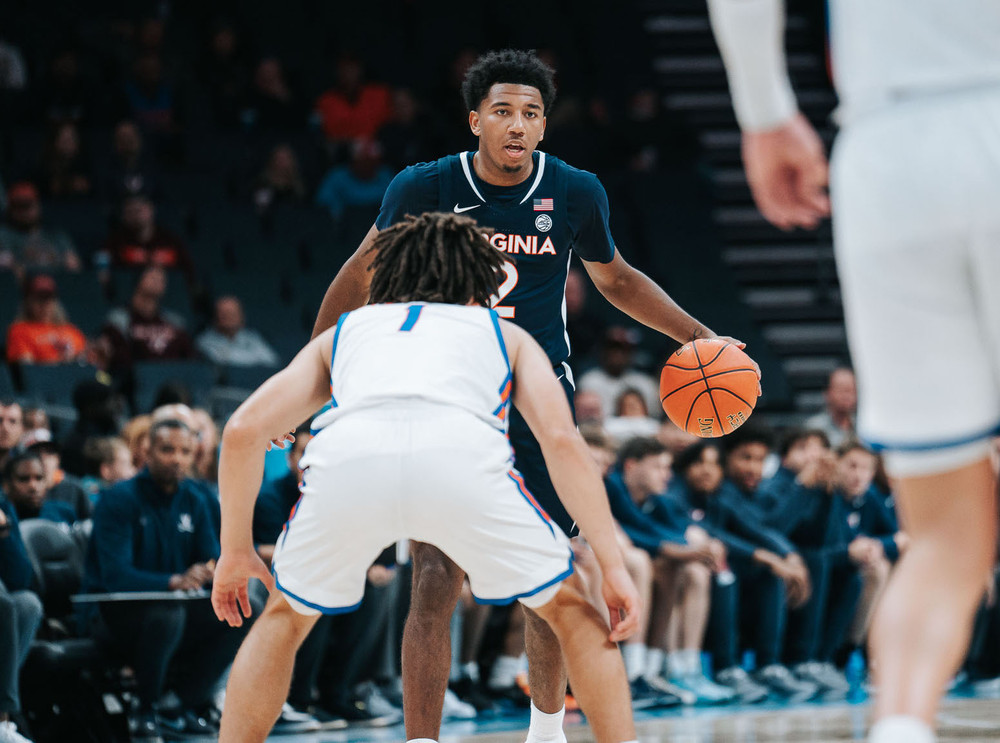 UP NEXT: Virginia will play two games at John Paul Jones Arena next week before heading to Florida for the Fort Myers Tip-Off.
UVA hosts North Carolina A&T (0-2) on Tuesday and Texas Southern (0-1) on Thursday. Each game will start at 7 p.m.
SOUND BITES: UVA evened its all-time record with Florida to 2-2. In the teams' first meeting, in 1992, the Cavaliers defeated the Gators in the National Invitation Tournament semifinals at Madison Square Garden. Florida ousted UVA from the NCAA tournament in 2012 and 2017. Among the postgame comments Friday night in Charlotte:
* Buchanan: "It was a really cool experience for me just to be out here with these guys in this environment, playing against a great team. So it was just kind of exciting to kind of take it all in, enjoy every moment of it, but it was fun just to compete and get a win with these guys."
* Beekman on Virginia's composure late in the game: "It showed a lot. We had a lead, we ended up losing it, but we stayed with it."
* Bennett on Groves, who transferred to UVA from Oklahoma: "He's an ideal stretch-4, but he's not just a guy that only shoots 3s. He'll take a guy in the post, he'll drive. Sometimes you look at him and he's not Roger Federer, poetry in motion on the court. He sort of moves in his own way, but he's effective and he's aggressive and he's got the experience."
* Groves on his hot shooting in the second half: "I think a big thing of it was just settling in and then seeing that first shot go down. My teammates do a great job of looking for me and finding me, and so it's my job to just finish the play and make the shot."
* Groves on the value of winning a high-pressure game early in the season: "We have a really young team, so just getting them in experience in these games that are really tight, against really good teams like Florida, is huge, especially as the season goes on. We're probably going to be in a lot of games that are close like that, and so just having more experienced guys in those scenarios is going to hopefully help us win a lot of them."
* Groves, deadpan, on his missed dunk: "I don't even know what you're talking about."
* Dunn: "There's a lot of stuff to work on for us, but we're just glad that we gutted it out and got a win."
* Former UVA great Ralph Sampson, who was inducted into the Naismith Basketball Hall of Fame in 2012, when he addressed the crowd at halftime: "We have the best college basketball coach in the country in Tony Bennett."
To receive Jeff White's articles by email, click the appropriate box in this link to subscribe.