Virginia Cavaliers Official Athletic Site
Ben Vander Plas
Ohio University
Previous School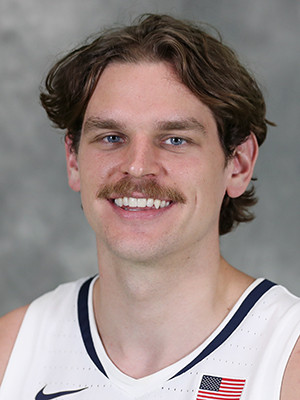 2022-23
• CSC Academic All-America Team Member of the Year
• CSC Academic All-District Team
• All-ACC Academic Team
• VaSID Academic All-State
• NABC Honors Court
• Started 15 of 29 games
• Averaged 7.4 points, 4.6 rebounds and 1.4 assists per game
• Shot 41.2 percent from the field, 30.3 percent from 3-point range and 50.9 percent from the free throw line
• Finished career with 1,787 points, 892 rebounds, 376 assists and 242 3-pointers
• Secured his 800th career rebound at Georgia Tech (12/31/22)
• Netted 20 points (4-9 3FG) at Miami (12/20/22)
• Registered 17 points, eight rebounds and career-high three blocks vs. UNC (1/10/23)
• Netted 15 points along with team-high seven rebounds and three assists at Florida State (1/14/23)
• Scored 14 points vs. Baylor (11/18/22)
• Scored 13 points and added four steals vs. Duke (2/11/23)
• Recorded 10 points and 11 rebounds at Louisville (2/15/23)
• Recorded 10 points, seven rebounds and three assists vs. Virginia Tech (1/18/23)
• Tallied 10 points, three rebounds and three assists vs. Monmouth (11/11/22)
• Scored 10 points at Michigan (11/29/22)
• Tallied eight points and game-high 10 rebounds vs. Illinois (11/20/22)
• Contributed eight points and seven rebounds at Wake Forest (1/21/23)
• Recorded seven points, six rebounds and six assists at Syracuse (1/30/23)
• Tallied seven points, four rebounds and three steals vs. Louisville (3/4/23)
• Recorded seven points and four rebounds in UVA debut vs. NCCU (11/7/22)
• Lettered
2021-22 (at Ohio University)
• Played in 35 games making 35 starts
• Averaged 14.2 points, 6.8 rebounds and 3.1 assists in 35.4 minutes per game
• Shot 45.9 percent from the field, 33.8 percent from 3-point range and 71 percent from the free throw line
• Averaged 1.8 steals
• Scored a career-high 30 points against Miami on Feb. 15
• Recorded a triple double on 10 points, 10 rebounds and 10 assists vs. Central Michigan (Feb. 22)
• Had five 20+ point games and one 30+ point game
• Grabbed a season-high 11 rebounds three times
• Named MAC Male Scholar Athlete once
• Named All-MAC First Team
• Named Academic All-MAC
• 2021-22 Academic All-America® Division I Men's Basketball Team selected by the College Sports Information Directors of America (CoSIDA)
• Named Division I Academic All-America® of the Year
2020-21 (at Ohio University)
• Played and started in all 24 games for the Bobcats
• Scored 12.8 points per game for third on the team
• Recorded a double-double against Bowling Green with 13 points and 11 rebounds on Dec. 30
• Scored over 20 points twice including 26 points in MAC Semifinal on Mar. 12 against Toledo
• Named Academic All-MAC, Academic All-District Team and Academic All-America with 4.0 GPA
• Named to All-MAC Third Team
• 2021 MAC Medal of Excellence award recipient
2019-20 (at Ohio University)
• Appeared in 31 games for Ohio, starting all 31
• Was second on the Bobcats with 15.7 points per game and was first on the team with 6.9 rebounds per game
• Shot 49.2 percent from the field and 29.9 percent from 3-point range while averaging 33.0 minutes per game
• Dished out 86 assists
• Scored a career-high 27 points at Buffalo on Jan. 14
• Grabbed a career-high 13 rebounds against Western Michigan on Jan. 4
• Scored 25 points while going 8-of-14 from the field and grabbing 10 rebounds and dishing out seven assists in Ohio's lone MAC Tournament game
• Scored in double figures 27 times and scored 20 or more points seven times
• Had seven double figure rebounding games
• Named Academic All-MAC
• Named the MAC Male Scholar Athlete of the Week on Dec. 12
• Named to the All-MAC Third Team
• Graduated with his undergraduate degree in Communication Studies on May 2.
2018-19 (at Ohio University)
• Appeared in 31 games for the Bobcats averaging 8.6 points, 6.8 rebounds, and 1.5 assists per game
• Shot 40.7 percent from the field, 30.9 percent from 3-point range and 70.7 percent from the free throw line
• Scored 16 points off the bench in his first career game while also recording eight rebounds and two assists against Wilberforce (Nov. 7)
• Scored 14 points going 4-7 from 3-point land in a 81-73 victory over Campbell (Nov. 12)
• Recorded his first career double-double scoring 18 points and recording 11 rebounds in a win against Iona (Nov. 27)
• Had a career-high 24 points with 13 rebounds in a loss at Central Michigan (Feb. 16)
• Recognized on MAC All-Freshman Team and named MAC Freshman of the Year.
2017-18 (at Ohio University)
• Redshirted due to a leg injury suffered prior to the start of the season
• Earned both Fall and Spring Athletics Director Honor Roll selection.
HIGH SCHOOL
• Averaged 16.0 points, 10.0 rebounds, 3.6 assists, 1.8 blocks and 1.8 steals over 70 career games at Ripon High School under head coach Dean Vander Plas, his father
• Averaged a double-double with 19.5 points and 12.2 rebounds per game as a senior in 2016-17, earning first team all-state laurels and East Central Conference Player of the Year honors for the second straight season
• Helped lead the Tigers to an undefeated regular season and a Wisconsin Interscholastic Athletic Association state tournament appearance
• A first team all-state pick and ECC and Oshkosh Northwestern Player of the Year pick as a junior in 2015-16, averaged a career-best 20.6 points as well as 11.4 rebounds, 3.8 assists, 1.8 blocks and 0.6 steals over 25 games, helping to guide the Tigers to their third-straight Division 3 regional crown
• A three-year team captain, Vander Plas garnered First Team All-East Central Conference laurels his final three seasons after receiving second team recognition as a freshman
• Competed at the AAU level for Wisconsin United.
PERSONAL
• Born, Sept. 19, 1998
• Son of Dean and Mary Vander Plas
• Has a brother, Samuel, and a sister, Taylor
• Father, Dean, played basketball at Green Bay, helping to guide the Phoenix to an National Invitational Tournament appearance in 1990 followed by an NCAA tournament appearance in '91
• Sister, Taylor, played basketball at Cedarville University, helping to lead her squad to a NCAA Division II tournament berth in 2015