Virginia Cavaliers Official Athletic Site
Brandon Neeck
Horace Greeley
High School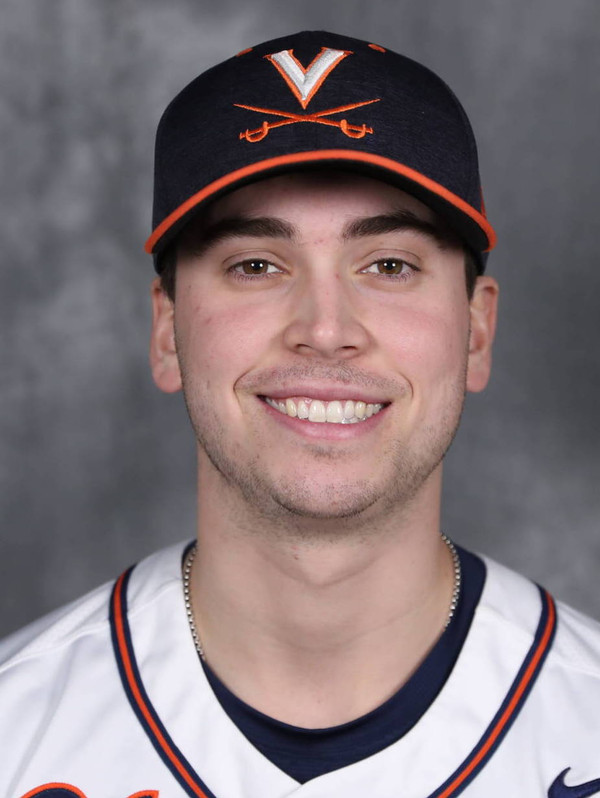 Brandon Neeck Pronunciation
CAREER
• Owns the UVA NCAA postseason record for strikeouts in a game with 16 against Old Dominion on June 6, 2021. It is also the most strikeouts ever by a UVA reliever in a single game
2022
• Drafted in the ninth round (285th overall) by the Los Angeles Dodgers in the 2022 MLB Draft
• Appeared in 17 games and made six starts, the first six starts of his career
• Went 2-2, struck out 57 batters in 42.1 innings pitched and sported a 4.04 ERA
• Was named UVA's opening day starter and pitched 4.1 innings of 1-hit baseball in a 1-0 win over Bellarmine on Feb. 18
• Over his first three starts went 3-0 with two earned runs and 18 strikeouts in 19.1 innings pitched
• Transitioned into UVA's closer and led the staff with three saves. All three saves were against ACC opponents (UNC – April 22, Virginia Tech – April 30 and Clemson May 13). All three saves required five outs or more including a three-inning save against Virginia Tech
• In 11 relief appearances he posted a 2.45 ERA with 32 strikeouts in 18.1 innings pitched
• Inherited nine runners as a reliever, none came around to score
• In start against Cornell on Feb. 27, pitched five innings and struck out a season-high eight batters in five innings pitched
• His April 22nd save against North Carolina, he struck out four of the six batters he faced
2021
• Appeared in 22 games, all out of the bullpen
• Allowed five earned runs over 23.1 innings pitched and struck out 40 batters
• His 1.93 ERA was the second lowest of any UVA reliever
• Allowed a run in only four of his 22 outings
• Inherited 19 runners and only allowed two to score
• Credited with three holds, all came in ACC play (4/3 at GT, 4/10 at Clemson & 4/24 vs. Wake Forest)
• Set a UVA postseason record with 16 strikeouts in 5.2 innings of relief against ODU on June 6. Became only the fifth UVA pitcher ever to strikeout 16 or more batters in a game. Combined with Griff McGarry to strikeout 24 batters in the contest, a new program single-game record. The 24 combined strikeouts were the most in a nine-inning game in the NCAA in 2021 and the most in nine-inning game NCAA Division I baseball since Auburn struck out 25 against Arkansas on May 19, 1994. The nine-inning NCAA record is 26 strikeouts by Miami (OH) in 1971.
• Neeck's final line against ODU was 5.2 IP, 0 R, 3 H, 2 BB & 16 Ks. He recorded 17 outs in the contest, 15 by way of the strikeout and it was the first win of his career
• Before 16-strikeout performance, his longest outing was 2.1 IP vs. Virginia Tech on May 1 where he struck out four batters
• The 16 strikeouts were also a record a UVA reliever
• Was the winning pitcher in game two of the Super Regional against Dallas Baptist on June 12 after pitching a scoreless eighth inning
• Did not allow a run in his first 10 relief appearances (7.1 IP) and his final six relief appearance (10.0 IP)
• Logged an inning of relief in shutouts against Richmond (March 9) and Dallas Baptist (June 6)
• Listed on the ACC Academic Honor Roll
2020
• Appeared in three games, all in relief
• Totaled two innings of work, allowed one run and struck out four batters
• Made his collegiate debut on Feb. 22 in the first game of a doubleheader against Bucknell. Pitched one inning, did not allow a run and struck out one
2019
• Sat out 2019 season due to injury
HORACE GREELEY HIGH SCHOOL
• Played in the 2017 Under Armour All-American Game at Wrigley Field
• No. 8 freshman in the ACC according to Perfect Game
• As a senior, posted a 0.84 ERA and struck out 51 batters in 25 innings pitched
• Ranked as the No. 63 recruit in the country and the top left-handed pitcher in the state of New York according to Perfect Game
• 2018 Rawlings-Perfect Game Second Team All-American and First Team All-Region
• Was ranked as the 185th best MLB Draft prospect according to MLB.com, elected to honor college commitment prior to the 2018 Draft.
PERSONAL
• An Economics major at UVA
• Son of Jeff and Lynn Neeck
• Born in Mount Kisco, N.Y.