Virginia Cavaliers Official Athletic Site
Brendan Rivoli
Douglassville, Pa.
Hometown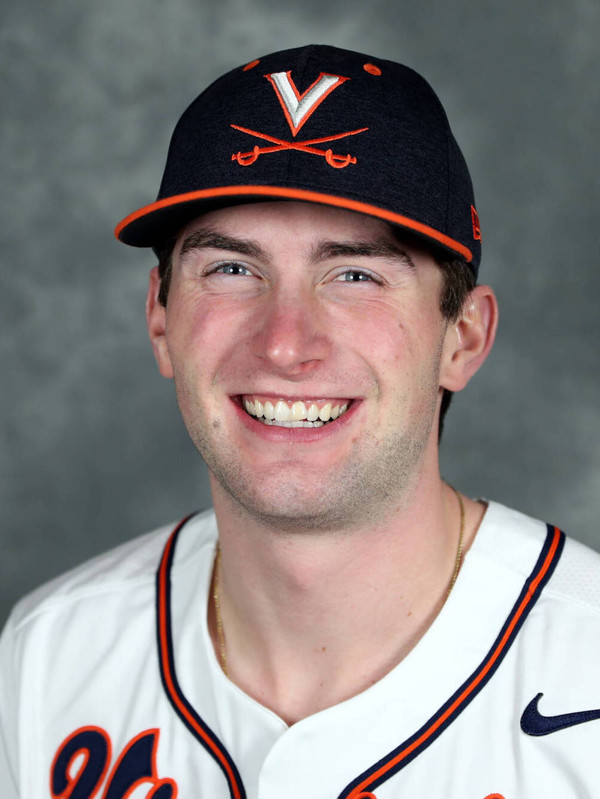 Brendan Rivoli Pronunciation
2021
• Started 49 of the 52 games in which he appeared. Made 42 starts in left field and seven as a DH.
• Batted .272 (53-for-195) with 10 doubles, a triple, a home run and 24 RBI
• His batting average was the third-highest on the team
• Led the team and was tied for 11th in the ACC with with 10 hit by pitches
• Had 19 multi-hit games, tied for the third most on the team
• Co-led the team with three outfield assists
• Hit a home run as part of a 2-for-4, two RBI effort against Wake Forest on May 14
• Went 2-for-4 with a season-high three RBI against Liberty on April 27. His two-run single in the seventh tied the game at five in an eventual 6-5 UVA victory.
2020
• Started all 14 games of which he appeared (7 in LF, 5 at DH & 2 at C)
• Batted .320 (16-for-50) with a double and a triple
• Went 3-for-3 with three RBI in second game of doubleheader against Bucknell on Feb. 22
• Against then-No. 7 NC State on March 8 went 2-for-4 with a triple and an RBI
• All six of his multi-hit games came in his last 10 starts
• Had a team-best, two outfield assists
2019
• Started all 51 games in which he appeared (31 in LF & 20 at DH)
• Co-led the Cavaliers in RBI with 42 and was third on the team with a .320 batting average
• His 13 doubles and five home runs were both tied for second most on the club
• Over the final 15 games of the season batted .379 (22-for-58) with five doubles, a triple and 17 RBI
• Put together 21 multi-hit games, the second most in the league
• In opening game of Georgia Tech series, went 4-for-5 with two runs, a home run and three RBI
• Hit a pair of home runs in 2-for-5 effort, four-RBI day at James Madison on April 9
• Drove in seven runs in three games against Virginia Tech after going 6-for-13 with a double
2018
• Appeared in 33 games with 18 starts (all at DH)
• Batted .247 (21-for-85) with five doubles, a triple, two home runs and 15 RBI
• Hit a walk-off double in the 12th inning to help UVA get past George Washington on April 17, part of a 2-for-6 effort at the plate
• Go-ahead RBI single in the ninth inning to clinch series at Louisville on April 22
• Homered in the nightcap of a doubleheader against UNC on April 14
• First career home run was a solo shot in the nightcap of a doubleheader against Virginia Tech on April 6
• Tied the game up with one-out triple in the bottom of the ninth to help eventually clinch the series against Virginia Tech on April 8
• Went 5-for-11 and hit for the series cycle in the Virginia Tech series
DANIEL BOONE HIGH SCHOOL
• Three-time All-County selection (Reading Eagle, Berks County, All-League), All-Conference
• Three-time All-Area pick (Pottstown Mercury)
• Four-time Carpenter Cup selection
• Was Big 26 Baseball selection (PA vs MD) in 2016
• Was four-year varsity starter
• Earned team's Sportsmanship/MVP Award
• Coached by Jason McCord at DBHS
• Also played two years of ice hockey (left wing) and was an All-Berks County selection his sophomore year (scored 27 goals)
• Scored the game-winning overtime goal as DBHS earned its first-ever EPSHL championship in 2015
PERSONAL
• A Foreign Affairs major
• Son of Mark and Kendra Rivoli
• Has one older sister, Kayla