Virginia Cavaliers Official Athletic Site
Chris Newell
Newtown Square, Pa.
Hometown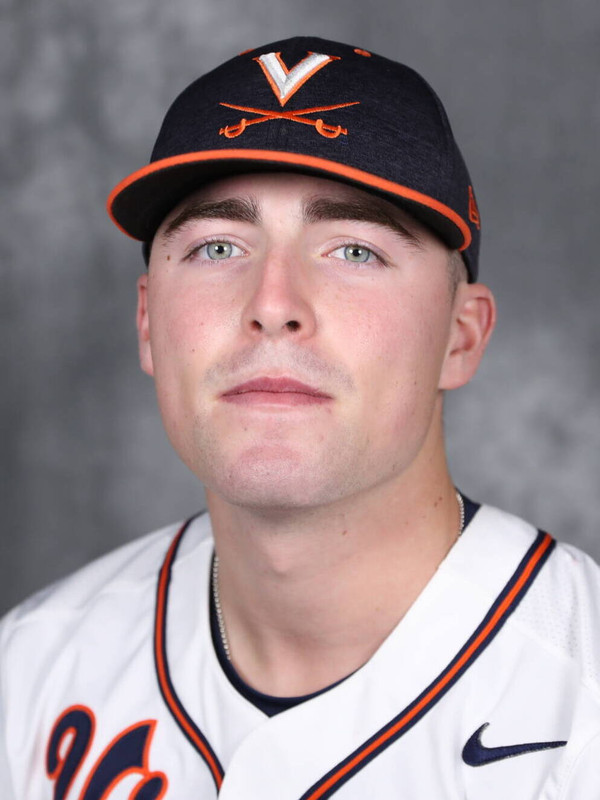 Chris Newell Pronunciation
CAREER
• UVA's all-time NCAA postseason leader with five career stolen bases, all came in the Cavaliers' 2021 run to Omaha.
• Hit four NCAA Tournament home runs, tied for the second most in program history including two in the 2021 College World Series.
• Hit three career grand slams, one in each of his three seasons at UVA
• His .902 career stolen base percentage (37-for-41) is the third highest of any Cavaliers since 2000 (min. 20 attempts)
2022
• Drafted in the 13th round (405th overall) by the Los Angeles Dodgers in the 2022 MLB Draft
• Started 54 of the 58 games, all 54 starts came in center field
• Established career highs in home runs (12), runs (51), total bases (89) and stolen bases (16) in his junior season
• Was 16-for-18 in stolen bases, the 16 swiped bags were tied for the ninth-most in the ACC
• Hit a walk-off single in the bottom of the 10th inning against Boston College on March 18
• Blasted a 446-foot home run over the "blue monster" in center field at Disharoon Park, the first UVA player to clear it since Joe Koshansky in 2004.
• Hit his third career grand slam in a 2-for-5, four-RBI effort against Boston College on March 19
• Went 4-for-5 with a home run, two runs scored and two RBI against then-No. 8 Miami on April 10, his second four-hit game of his career.
• Homered in three-straight starts against VMI (2/23), Cornell (2/25) and William & Mary (3/1).
• Made highlight reel catches against Boston College (March 20), Virginia Tech (April 29) and VCU (May 4)
• Ranked No. 49 on Perfect Game's Top 100 juniors list prior to the season
2021
• Started 56 of the 58 games in which appeared. All 56 starts were in center field.
• Batted .258 (50-for-94) with six doubles, a team-best three triples, five home runs and 34 RBI
• Was successful on 13 of 15 stolen base attempts. The 13 SBs were tied for the 10th-most in the ACC.
• Hit .353 (12-for-34) with three home runs, seven RBI and a five stolen bases in the NCAA postseason
• His five stolen bases and six stolen base attempts were the most in a single NCAA Tournament and postseason career in program history
• In three College World Series games, was 6-for-10 (.600) with four runs, two home runs and five RBI (all team bests)
• Had a hit in 19 of his last 24 games of the season
• Robbed a DBU home run in game three of the super regionals, UVA took the lead for good in the bottom half of the inning.
• Tied the game at two in the fifth inning against in CWS elimination game against Texas on June 24 with a solo home run
• Pulled UVA within a run in the eighth inning with a opposite field, solo blast against eventual national champion Mississippi State on June 22
• Went 2-for-4 with a triple, home run and a season-best five RBI against Clemson on April 10
• Hit the second grand slam of his career on Feb. 23 against VMI. He was 2-for-5 with a double, home run and four RBI in the contest.
• Made highlight reel catches against VCU on May 4, Wake Forest on May 16 and robbed Henry Davis of a home run against Louisville on April 18
• Listed on the ACC Academic Honor Roll
• Collegiate Baseball Newspaper Preseason Second Team All-American
• D1Baseball.com Preseason Second Team All-American
SUMMER 2021: Named a Cape Cod League All-Star … played 19 games for the Harwich Mariners … went 19-for-76 (.250) with two doubles, a triple and five home runs … began his summer with a hit in seven of his first eight starts … Harwich reached the semifinals of the 2021 CCL playoffs … One of 16 Cape Leaguers to hit five or more homers this summer, only one other player hit five in 19 or fewer games.
2020
• Collegiate Baseball Newspaper co-National Freshman of the Year
• A Second Team All-America selection by Collegiate Baseball Newspaper
• Listed as the ACC's Best Freshman by D1Baseball.com
• Started all 18 games in center field as a true freshman
• Batted 24-for-59 (.407) with five doubles, a triple, four home runs and 20 RBI
• His 19 runs scored were the second most on the team and ranked T-19th in the NCAA
• Led the team in batting average (.407), RBI (20), stolen bases (8) and on-base percentage (.545)
• Ranked in the top-10 in the ACC in RBI (T-2), on-base percentage (2nd), slugging percentage (3rd), runs (T-3rd), total bases (T-4th), stolen bases (T-5th), batting average (9th)
• Co-led the Cavaliers in multi-hit games (8), all eight came over the final 13 games of the year
• Started the season 1-for-11 at the plate and over the final 13 games went 23-for-48 (.479) with five doubles, a triple, four home runs and 20 RBI
• Hit a grand slam against Dartmouth (Feb. 28) as part of a 2-for-4, two-run day
• Drove in a season team-high, five runs against UMass Lowell on March 10
• Lone triple of the season came with the bases loaded and two outs in the eighth inning against Dartmouth to extend UVA lead to 11-4
• Hit additional home runs against Bucknell-1 (Feb. 22), NC State (March 7) and UMass Lowell (March 10)
MALVERN PREP
• 2019 Pennsylvania Gatorade Player of the Year
• 2019 Under Armor All American
• Won three state championships with Malvern Prep and one league championship
• Hit game-tying home run in bottom of the seventh and scored the game-winning run in the 2019 state championship game
• Three-year letterwinner and served as team captain his senior year
• Collected All-State and All-League (Inter Academic League) three times
• Was the No. 9 outfielder in the country and No. 3 overall recruit in Pennsylvania according to Perfect Game
• Drafted by the St. Louis Cardinals in the 37th Round (1,115 overall)
PERSONAL
• An American Studies major
• Recipient of the 2022-2023 Jack Murray Endowed Baseball Fund
• Son of John and Christine Newell
• Has one sister, Sarah