Virginia Cavaliers Official Athletic Site
Christian Hlinka
Frenchtown, N.J.
Hometown
Delaware Valley Regional
High School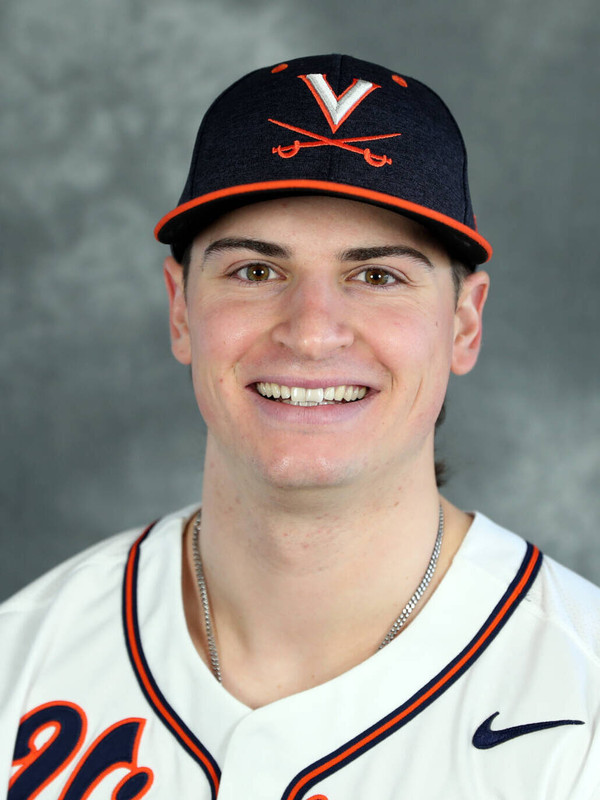 Christian Hlinka Pronunciation
2021
• Appeared in 23 games and made 12 starts (6 RF, 2 1B, 2 DH, 2 LF)
• Batted .233 (10-for-43) with four runs scored, four doubles and five RBI
• In the home finale, delivered a walk-off double to complete the series sweep of Wake Forest on May 16
• Was 2-for-3 with an RBI against North Carolina on Feb. 28 before a collision at second base that forced him out of the game
• Matched a career-high with three hits, including an RBI double in the second inning against Miami on March 26
• As a pinch-hitter, was 1-for-8 with three walks and two runs scored. Lone pinch hit was an RBI single against Wake Forest on May 14
• Listed on the ACC Academic Honor Roll
2020
• Appeared in 11 games and made seven starts (all at DH)
• Went 8-for-25 (.320) with four home runs, a triple and nine RBI
• Hit a home run in three consecutive games in which he played – both games of a doubleheader against Bucknell and a solo blast against William & Mary on Feb. 25
• Went on to hit his fourth home run in five games in which he played with a two-run homer against Dartmouth on Feb. 29
• His four home runs were tied for the second most on the team
• He was one of nine hitters in the NCAA with four home runs in 11 games or less
• He and Samford's Tyler McManus were the only two hitters in the country to hit four or more homers with 25 or less at bats
• Was the team's top pinch-hitter – went 2-for-4 (.500) with a homer and two RBI
2019
• Sat out the 2019 season due to injury
• Included on the ACC Academic Honor Roll
• In the summer of 2019, played for the Charlottesville Tom Sox where he batted .346 (36-for-104) with three home runs and 26 RBI. The Tom Sox won the 2019 Valley League Championship
2018
• Listed on the ACC Academic Honor Roll
• Appeared in 16 games with two starts (at DH vs. EKU on 2/25; LF at Miami on 3/23)
• Collected five hits in 20 at bats (.250), scored three runs and drove in three
• As a pinch-hitter went 4-for-10 with two runs scored and two RBI
• Recorded an outfield assist against Miami on 3/23, cutting down a potential go-ahead run at third in the 7th inning
• One of his six putouts on the year, one was a diving catch in LF to end the top of the eighth inning against Clemson on Apr. 28
DELAWARE VALLEY REGIONAL HIGH SCHOOL
• Enrolled in July 2017 at UVA after graduating a year early
• Had .400 career batting average
• Three-time First-Team All-County and All-Skyland Conference honoree
• Led team to first state sectional championship in 57 years in 2016
• Broke program's single-season RBI record his freshman year and set the record again his sophomore year; finished with 70 career RBI
• Was two-time team captain in baseball and also was a team captain in basketball
• Twice named team MVP
• Played outfield, shortstop and pitcher while in high school
• Coached by Marty White
• Played three years on basketball team (forward) and averaged 11 points per game
Led team to the 2017 conference championship and its first district tournament finals appearance
• Member of National Honor Society and Distinguished Honor Roll
PERSONAL
• A Public Policy and Leadership major
• Son of Vasil and Joanne Hlinka
• Has one brother, Matt
• Father played baseball at Saint Peter's
• Comes from athletic family: cousin (Michal Hlinka) is a professional hockey player in Czech Republic; cousin Brandon Becker wrestled at Indiana University, cousin Robert Becker wrestled at George Mason University, and Brandon Becker is a professional MMA fighter; cousin Vicky Becker was an alternate for the U.S. women's field hockey team.