Virginia Cavaliers Official Athletic Site
Derek Casey
Mechanicsville, Va.
Hometown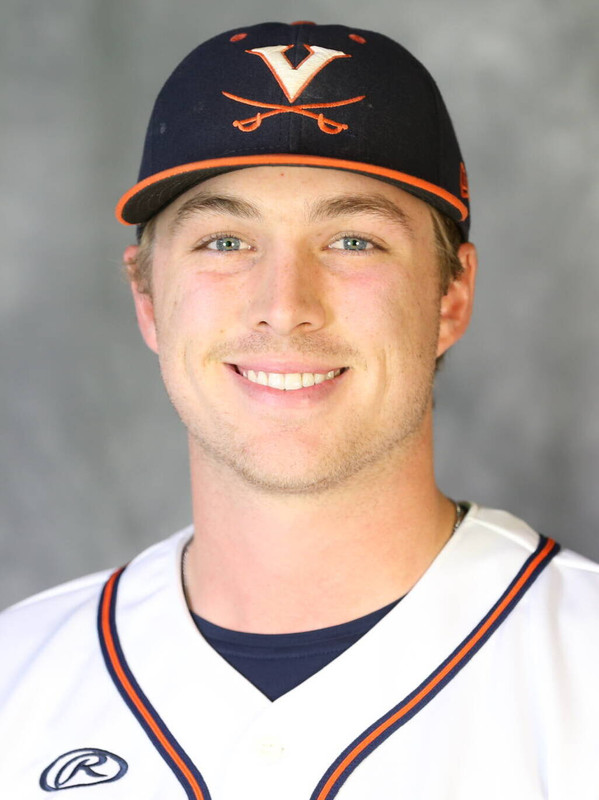 2018
• Selected in the ninth round (278th overall) of the 2018 MLB Draft by the Chicago Cubs.
• Third Team All-ACC selection
• Served as the team's Friday night starter for the majority of the season
• Went 7-4 and boasted a staff-low, 3.48 ERA in 14 starts
• Fanned a career-high 106 batters, tied for 6th most in the ACC, in 95.2 innings pitched.
• Posted a team-high nine quality starts, including seven against ACC opponents
• Struck out a career-high 12 batters in back-to-back starts against Eastern Kentucky (2/24) and Yale (3/3)
• Struck out 10 batters in 7.2 innings at Duke on March 9th, to make it three-straight starts with 10+ strikeouts. One of three UVA pitchers since 2000 have replicated that feat (Danny Hultzen – 2011, Daniel Lynch – 2018)
• Pitched a complete game shutout while striking out seven against Virginia Tech on Apr. 6. One of six ACC pitchers with a CG shutout in 2018
• Secured his team-best, seventh victory in pool play of the ACC Tournament. He struck out nine in 7.2 innings of work, his fifth outing that went into the eighth inning
• He and teammate Daniel Lynch were the first UVA pitching duo to each strike out 100 batters in a season since 2011.
2017
· Made 14 starts, including five in ACC play
· Worked seven innings of three-run baseball and did not issue a walk to earn win in his NCAA regional start against Dallas Baptist (6/3)
· Pitched 5 1/3 innings, allowing two earned runs, in ACC tournament start against Duke (5/25)
· Matched career high by pitching seven innings in last regular-season start against Georgia Tech, earning the win (3ER, 3 H, 3 BB, 8 K)
· Also worked seven innings in his first ACC start in win over Pitt (4/7)
· Struck out career-high 10 batters in 6 1/3 innings in no-decision at VCU (3/29)
· Allowed two runs or fewer in each of his first seven starts
2016
• Sat out season after undergoing elbow surgery late in the 2015 season
2015
• Pitched in 10 games, including six midweek starts
• Made midweek start for five straight weeks from March 25 to April 21, with UVA earning wins in all of them
• Left April 21 game vs. Longwood after 2 2/3 innings with injury and did not pitch again in 2015
• Earned first college win on March 25 at Liberty
• Worked seven-plus innings of one-run baseball in win in hometown of Richmond on March 31 at VCU
• Made UVA debut on Feb. 14 out of bullpen at East Carolina
HANOVER HS
• Selected by St. Louis in 22nd round of 2014 MLB Draft
• 2014 Virginia Player of the Year
• Named 2014 Second-Team High School All-American by Perfect Game
• Named to MaxPreps 2014 Medium Schools All-America Team
• Went 27-0 with 0.51 ERA during his high-school career
• Led team to 2013 and 2014 Virginia state championships
• 2014 All-Metro Player of the Year; two-time All-Metro selection
• Coached by Charlie Dragum
• Played travel team baseball with EvoShield Canes
PERSONAL
• Parents are Dale and Pia Casey
• Has one sister, Emma