Virginia Cavaliers Official Athletic Site
Jimmy Sullivan
Wethersfield, Conn.
Hometown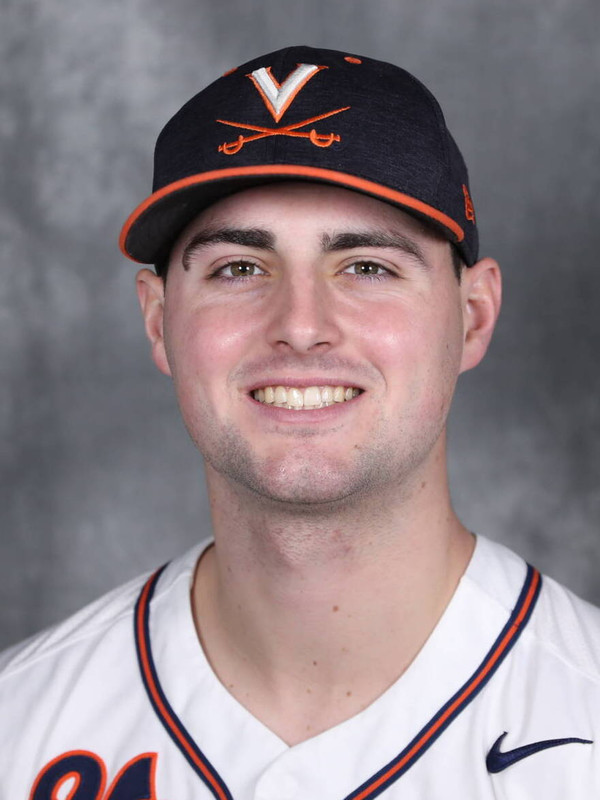 Jimmy Sullivan Pronunciation
2022
• Appeared in 19 games and made one start in center field at Louisville on May 19.
• At the plate was 4-for-18 (.222) with two runs scored.
• Was 2-for-8 (.250) with a run scored as a pinch-hitter.
• Made a sliding catch to rob a hit in his start at Louisville.
2021
• Appeared in 12 games and made four starts (2 in CF, 1 in LF, 1 in RF)
• Was 1-for-17 at the plate (.059)
• Came off the bench against VMI on Feb. 23 and went 1-for-2 in his season debut
• Listed on the ACC Academic Honor Roll
2020
• Appeared in 10 games and made seven starts, all in left field
• Went 7-for-30 (.233) with four home runs and seven RBI
• Hit his four home runs in a string of five starts and 15 at bats
• First collegiate home run came against Dartmouth on Feb. 29 and went off the top of the scoreboard in right center field at Disharoon Park. The long ball was part of back-to-back home runs with Christian Hlinka in the fourth inning
• Capped a three-run second inning with a two-run homer in a 7-3 win over then-No. 7 NC State on March 6
• Hit opposite field home runs against Richmond (March 3) and UMass Lowell (March 10)
2019
• Listed on the ACC Academic Honor Roll
WETHERSFIELD HIGH SCHOOL
• Four-year letterwinner in baseball and basketball at Wethersfield
• 2018 Hartford Courant Player of the Year and three-time All-Conference selection
• A three-time All-Conference and two-time All-State honoree
• Helped Wethersfield capture the 2018 Class L Connecticut State Championship his senior year. In the state championship game, went 4-for-5 with two triples, two home runs, six RBI and four runs scored.
• Batted .525 with 42 hits, six home runs and 31 RBI in his final prep season
• Also recognized as a two-time All-Conference performer in basketball
PERSONAL
• A History major
• Son of Jim and Maureen Sullivan
• Born in Wethersfield, Conn.
• Has one sister, Kathleen