Virginia Cavaliers Official Athletic Site
Nic Kent
Charlottesville, Va.
Hometown
St. Anne's Belfield
High School / Club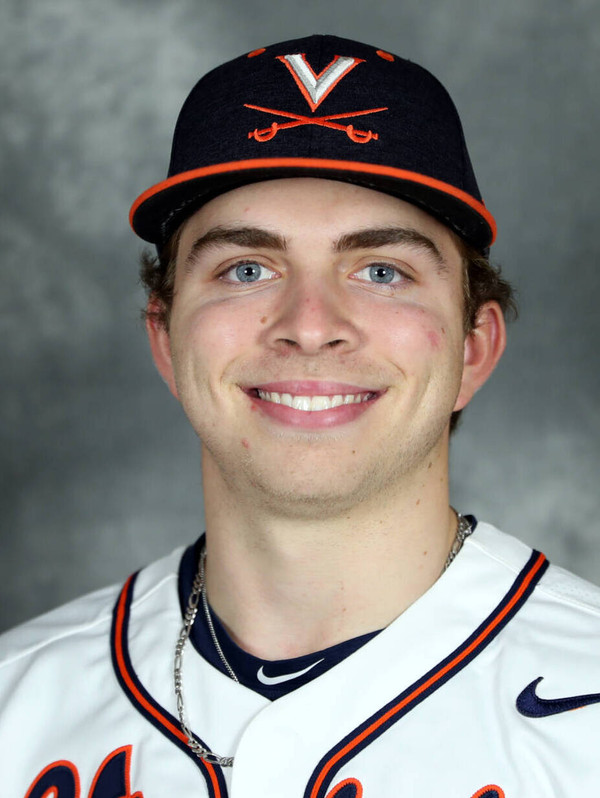 Nic Kent Pronunciation
2020
• Started and batted leadoff in all 18 games (17 at SS; 1 at 2B) – Has started in 67-straight games, the second-longest active streak on the team
• Batted .328 (22-for-67) with four doubles, a home run and seven RBI
• Put together four-hit games against Bucknell-1 and Dartmouth, two of the team's three four-hit efforts
• Against Dartmouth on Feb. 28 went 4-for-4 with three runs scored, a home run and three RBI
• Went 5-for-11 (.455) with two doubles, two runs scored and three stolen bases in series against then-No. 7 NC State
• Extended his hit streak from 2019 to 15 games with hits in the first two games of the season against Oklahoma
• Reached base in 13-straight games Feb. 19 – March 8, the second longest streak on the team
2019
• Named a Second Team Freshman All-American by D1Baseball.com
• Listed on Collegiate Baseball Newspaper's Freshman All-America team
• First Virginia freshman to earn First Team All-ACC Honors since Danny Hultzen in 2009 and first Cavalier position player to be on the first team since Dean Pallotta in 1973
• Included on the 12-man ACC All-Freshman team
• Lone Cavalier freshman on ACC All-Academic team, also a member of the ACC Academic Honor Roll
• Played in all but one of the 56 games in 2019 and made 52 starts (all at 2B)
• His .337 (68-for-202) batting average was the second-highest on the team and 11th-highest in the ACC
• Led the ACC and ranked 15th in the country with 12 sacrifice bunts
• Led the team and tied for eighth in the ACC with 17 stolen bases
• Finished the season on a 13-game hit streak and a 16-game reached base streak. During his hit streak he batted .429 (24-for-56) with three doubles and seven RBI
• Put together 11 multi-RBI games to lead the Cavaliers
• Had four-hit games against Norfolk St. (April 10) and Louisville (May 11)
• Batted ninth for 19 of the first 24 games before finishing the season batting second the final 31 games
• Hit his first career homer on March 24 against Pitt, a three-run shot to break a 2-2 tie
• Got an All-Star Game nod playing for the Duluth Huskies in the Northwoods League. Batted .373 (57-for-153) with eight doubles, two home runs and 22 RBI.
ST. ANNE'S BELFIELD
• A two-time first-team VISAA Division I All-State selection
• Earned All-Prep League honors as a junior
• Served as a team captain for both baseball and basketball teams at St. Anne's-Belfield
• Batted .530 as a senior
• Teammates with former Cavaliers Jalen Harrison and Tanner Morris at STAB
PERSONAL
• Yet to declare a major at UVA
• Son of Brian and Missy Kent
• Born in Charlottesville, Va.
• His sister Hayley was a four-year starter on the women's soccer team at William & Mary (2014-17)
• His father Brian spent 17 seasons as the head basketball coach at St Anne's-Belfield and coached Nic in High School
• Recipient of the James E. Rutrough Jr. Endowed Scholarship for Baseball for the 2020-21 academic year