Virginia Cavaliers Official Athletic Site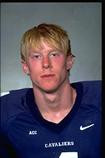 WORTH NOTING: Just the third punter to play as a true freshman since 1972 ? dropped 15 punts inside the 20-yard line, second most by a freshman in school history and the most since Jeff Walker had 18 in 1981 ? was the only freshman punter in the ACC last season ? his 62 punts were third most in the conference ? also finished third in the ACC with 15 punts inside the 20 and touchback percentage (just four of 62 were touchbacks) ??did a good job of limiting returns ??opponents averaged just 8.6 yards per return, the 24th-lowest average in the country ? the return average by the opponents is UVa?s lowest since an 8.0 average in 1997 ? that was also the last time the Cavaliers held the opposition under 10 yards per return ??outstanding athlete ? started as a true freshman in two sports ? starter in left field on the UVa baseball team before getting injured and missing most of the season … started 13 of 15 games before his injury and batted .385 with 10 RBI and one home run.
HONORS: 2002? ACC All-Freshman Team by The Sporting News
AT VIRGINIA: 2002?Tabbed the starting punter by head coach Al Groh before he reported for training camp ? averaged 36.7 yards per punt ? third in the ACC with 15 punts inside the 20-yard line ? dropped at least one punt inside the 20 in 11 games ? averaged 39.6 yards on five punts in his first college game against Colorado State ? boomed a 51-yarder on his fourth attempt ? had a 44.0-yard average against Akron, the best of his young career ? career-long 55-yard boot vs. Duke ? had a 51-yarder the next week against Clemson ??dropped three of four punts against Clemson inside the 20 ? held dangerous return man Derrick Hamilton to two returns for 15 yards in that game ? had a 40.2-yard average vs. Georgia Tech with two inside the 20 ? held Maryland return man Steve Suter to just two returns for eight yards as the Cavaliers upset the Terrapins late in the season ? punted just once, following UVa?s first possession, against West Virginia in the Continental Tire Bowl, but forced a fair catch inside the 20.
HIGH SCHOOL: Four-year starter at Cave Spring High School for coach Ben Foutz ? standout wide receiver and defensive back, as well as punter ? PrepStar All-American ? listed as the top punter/place-kicker in the Atlantic region by PrepStar ? ranked as the #12 kicker in the nation by Rivals.com ? listed as the 25th-best player in Virginia by SuperPrep ? rated the #28 player in the state by the Roanoke Times ??Prep Football Report?s #63 player in the Mid-Atlantic Coast region ? ranked as the #31 player in Virginia on the Charlottesville Daily Progress ?Gold List? ? five stars by Max Emfinger ? first-team Group AAA All-State as a junior and senior ? averaged 42.3 yards per punt as a senior and placed 15 punts inside the 20-yard line ??also caught 30 passes for 625 yards and five touchdowns on offense, while adding 22 tackles, 12 pass breakups and seven interceptions as a defensive back ? handled the team?s kicking duties, too ? 26 of 35 kickoffs were not returned ? team captain and MVP ? averaged 47 yards per punt in a state playoff game during his senior season ? he tied a state playoff record by booting a 52-yard field goal in that game ? also caught six passes and had two interceptions in the game ? had a 43.0-yard punting average as a junior ??caught 20 passes for 358 yards and five touchdowns, made 35 tackles, broke up 13 passes and had seven interceptions that season ? first-team All-District and All-Region his last two seasons ? averaged 38 yards per punt and was a second-team All-District selection as a freshman ? is a highly touted baseball player ? first-team All-District and All-Region and second-team All-State his sophomore, junior and senior seasons ? who batted .575 with 11 home runs as a junior … also played basketball and was a key member of the state championship squad as a senior ? second-team All-District.
PERSONAL: Thomas Johnson Hagan ? born 9-22-83 in Charleston, S.C. ? son of Hugh and Anne Hagan ? has a brother, Tye (16), and a sister, Piper (11) ? both parents attended Virginia ? graduated from same high school as current NFL stars and former UVa standouts Tiki and Ronde Barber ? Beta Club member ? finalist for the Harry F. Byrd Leadership award ? listed in Who?s Who Among American High School Students ? B?nai B?rith award winner ? involved in Habitat for Humanity ??Relay for Life volunteer ? active in various enrichment programs and service projects at local churches ? enjoys playing the guitar and skiing … enrolled in UVa?s School of Engineering and Applied Science.
Hagan Punting
YearGNo.Blk. YardsLPFCTBI2050+Avg. Net 200214623 227355 5415 436.732.7