Virginia Cavaliers Official Athletic Site
William Citron
Eastchester, N.Y.
Hometown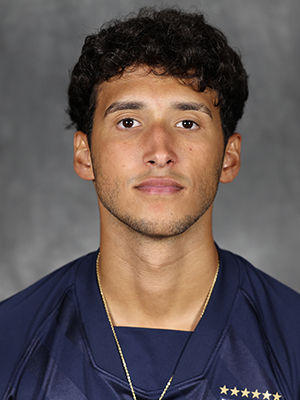 2022
• Played in 12 games, making nine starts
• Helped UVA to a 4-3-2 record in his starts
• Started crucial matches for UVA in the turning point of its season leading UVA to a 2-1-1 record in games against the top-25
• Named to the College Sports Communicators Academic All-District team
• Made a game-saving challenge inside the penalty area to salvage a 0-0 draw with No. 2 Duke (10/7/22)
• Named to 2022 All-ACC Academic Team
• Named to the 2022-23 ACC Honor Roll
2021
• Played in 16 games, making 10 starts
• Finished with two goals on the season
• Headed in the game-tying goal in the 90th minute to send the game to overtime vs. Pitt (10/22/21)
• Scored a goal in the 79th minute against Duke (10/29/21)
2020
• Started his first five games of his UVA career before suffering an injury
• Made his UVA debut on March 2 at home against George Mason
• Played in four UVA's five shutouts in the spring season.
• Did not come off the field in shutouts against George Mason (3/2/21), Notre Dame (3/7/21) and Virginia Tech (3/19/21). Played 30 minutes in a 1-0 clean sheet against Central Arkansas (3/23/21)
PRIOR TO VIRGINIA
• Transferred to Virginia in January 2021 from Cornell University
• Played for the Big Red in the fall of 2019 and appeared in 15 games as a true freshman, starting in nine.
• Named Ivy League Rookie of the Week on Sept. 9, 2019 for his performance against against Michigan State on Sept. 8, 2019. Scored the game-winning goal against the Spartans in a 2-1 overtime victory, is second collegiate match.
• Finished the season with one goal and one assist
PREP
• Attended Iona Prep in New Rochelle, but played club for NYCFC, an MLS academy team.
• Helped NYCFC to the U19 DA National Championship
• Team also claimed the U16 Generation Adidas Cup Premier Division Championship.
PERSONAL
• Born in White Plains, N.Y.
• Son of Bill Citron & Yolanda Citron
• Has a sister, Sonia, is a two-time New York State Gatorade Player of the Year and is a freshman on the Notre Dame women's basketball team
• Majoring in commerce