Virginia Cavaliers Official Athletic Site
Zack Gelof
Rehoboth Beach, Del.
Hometown
Cape Henlopen
High School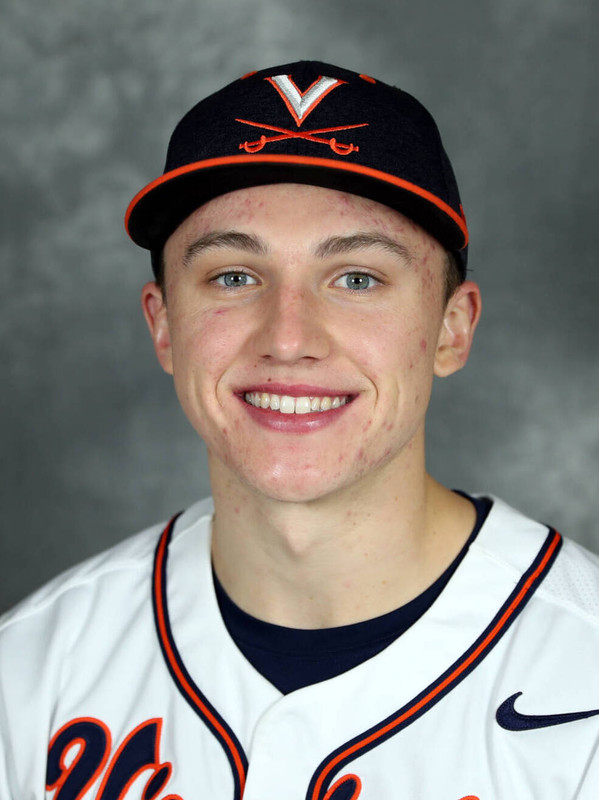 Zack Gelof Pronunciation
CAREER
• Started all 137 possible games of his Virginia career, primarily as the Cavaliers' third baseman.
• His 260 at bats in 2021 were the 10th-most in a single season in UVA history
2021
• Drafted in the second round (60th overall) by the Oakland Athletics in the 2021 MLB Draft
• Earned Second Team All-ACC honors (3B)
• One of two Cavaliers to start all 63 games (60 at 3B & 3 at 1B)
• Batted .312 with 18 doubles, nine home runs and 41 RBI.
• Was successful on 12 of 13 stolen base attempts, tied for 14th most in the ACC
• Led the ACC and ranked 31st in the country with 81 hits
• Team leader in runs (50), hits (81), doubles (18), home runs (9), total bases (126), walks (32), multi-hit games (24) and multi-RBI games (12)
• Tied for fourth in the ACC doubles (18), Tied for 7th in runs (50) and tied for sixth in total bases (126)
• Garnered ACC All-Tournament honors after going 4-for-13 (.308) with a double, home run and a team-best five RBI
• Part of the NCAA All-Columbia Regional Team after going 8-for-23 (.348) with five runs scored, a home run and two RBI
• Only Cavalier to be included on the College World Series All-Tournament Team after he reached base nine times and went 7-for-12 with three runs scored, a home run and two RBI
• Moved into the leadoff position in the lineup for the final 39 games of the season and UVA went 25-14 in that stretch. He hit .353 (61-for-173) with 13 doubles, seven home runs and 29 RBI to go along with eight stolen bases from the top spot.
• Homered in the same game as his brother Jake twice – the first time against Notre Dame in the ACC Tournament and again in the NCAA Regional opener against South Carolina on June 4
• Hit a go-ahead homer in the bottom of the eighth in game two of the Super Regional against Dallas Baptist on June 13
• Rounded the bases for an inside-the-park home run against Miami on March 26, the second of his career
• Blasted a go-ahead home run that broke a 4-4 tie against Clemson on April 11, an eventual 8-4 UVA victory
• His 100th career hit was a solo homer against VMI on Feb. 24
• Listed on the ACC Academic Honor Roll
• First Team Preseason All-American selection by Collegiate Baseball Newspaper and NCBWA
• Second Team Preseason All-American according too Baseball America and Perfect Game
• Ranked the No. 5 third baseman in D1Baseball's preseason position rankings
2020
• Started all 18 games at third base and batted third in 17 of the 18 games
• A Second Team All-America selection by Collegiate Baseball Newspaper
• Named the third-best third baseman in 2020 D1Baseball's Top 30 Power Rankings
• Batted .349 (22-for-63) with six doubles, two triples, five home runs and 18 RBI
• Led the ACC in total bases (47), slugging percentage (.746) and runs scored (24)
• Ranked in the top-15 in the NCAA in runs (4th) and total bases (11th)
• Recorded multi-hit efforts in six-straight games from Feb. 22 – Feb. 29
• Led the Cavaliers and tied for 6th in the ACC with five home runs, including a two-homer game against then-No. 7 NC State on March 1
• Scored four times in a 16-7 win over Richmond on March 3
• Led the team with six multi-RBI games and co-led the Cavaliers with eight multi-hit performances
• Scored a run or drove in a run in 15 of the 18 games
2019
• Started all 56 games at third base, one of three Cavaliers to start every game
• Batted .313 (71-for-227) with 13 doubles, two home runs and 32 RBI
• Was second on the team and tied for 11th in the ACC with 16 stolen bases
• Led the team and tied for third in the ACC with sacrifice flies
• Reached base in his first 28 games of his career, the second longest streak by a freshman in school history. During that span he put together a 17-game hit streak the longest by a UVA freshman since 2000.
• In his collegiate debut against eventual National Champion and then-No. 2 Vanderbilt went 4-for-5 with three doubles and four RBI. The three doubles in the contest matched a school record
• Leadoff man for the first 28 games of the season before moving to the middle of the lineup
• Hit his first career home run on March 24 against Pittsburgh
• Matched a season-best by driving in four runs in a 2-for-4 effort against Louisville, including his second homer of the year
CAPE HENLOPEN HIGH SCHOOL
• Named 2018 Delaware Gatorade Player of Year and voted Delaware Baseball Coaches Player of the year.
• As a senior batted .465 and led state in hits (35), runs (37), home runs (7) and was 28-for-28 in stolen bases. Added 17 RBI and sported a .613 OBP. On the mound he went 4-0 with a 1.30 ERA and 34 strikeouts in 26 IP.
• Collected First Team All-State SS honors as a senior from the Delaware News Journal.
• Graduated as the state's all-time leader in runs scored (103) and stolen bases (81-for-81), second in career hits (105).
• Four-year full-time starter, voted by teammates 3-time Team MVP, received 4-time Henlopen Conference Honors as SS & RHP, two-time Conference Player of Year.
• Helped Cape Henlopen capture its first baseball state championship in 2018.
• Perfect Game/Rawlings 2018 honorable mention All American, 1st Team Northeast All Region and rated No. 73 Top-100 freshman in the ACC prior to the 2019 season.
• As a freshman earned varsity football starter position and was named Academic All-Conference.
• A four-year starter in soccer, playing primarily a defensive midfield position. He finished his career as the leading goal scorer in the State of Delaware for his four-year career span 2015-2018 (with 61 goals and 16 assists).
• In soccer he was a four-time All-Conference honoree and a three-time All-State selection, including first team honors as a junior and senior. Voted Captain twice by his teammates and was a three-time team MVP.
• As a senior he led the State in goals scored (29), was named Conference Player of the Year, "Top 11 All State," finishing fourth in statewide POY voting.
• In 2017, he was recognized with the distinction as a United Soccer Coaches Association All-American.
Personal
• An Economics major at UVA
• Born in Lewes, Del.
• Son of Kelly and Adam Gelof
• Has a younger brother, Jake who also a member of the 2018 state championship team at Cape Henlopen and is a first year on the baseball team at UVA in 2021.
• Drafted in the 38th round (1,153 overall) by the Cleveland Indians in the 2018 MLB Draft.
• Served as Cape Henlopen High School's Class President, member National Honor Society and Leo Club
• Recipient of the Ron and Barrie Tydings Endowed Baseball Scholarship for the 2020-21 academic year